January is a turbulent time of the year. Despite the long break, it's likely that you're still feeling a little jaded. Despite the dawn of a new beginning, not much has changed. And despite the fact that you've shopped more in the last three weeks than you have ever before, it's time to do it all again. But, don't worry. Now is the time to shop for yourself. The OPUMO Winter Sale has just launched online this week and it comes at the perfect time for you to snap up those items you secretly wished for over Christmas, or just an opportunity to make the most of the steep discounts – with up to 50 percent on selected items. Whatever your intention, you're sure to find something in our choice selection of sale items below.
Wax London Dogtooth Wilton Wool Coat
At full price, this elegant but charmingly understated wool coat from Wax London represents very good value for a piece of genuine English tailoring. At 20 percent off, it's a deal not to be missed. Crafted in London from a soft, insulating wool-blend, the Wilton Coat is designed for easy layering with its fully lined interior, contemporary Dogtooth pattern and contrast collar detailing.
One of the more artistically expressive bags in the latest Mismo Collection, the MS Flow Bag is a dynamic everyday bag that is defined by it's four neatly placed buckles on both front and back that support an adjustable leather strap. The buckles also call for different ways of customising the shape and look of the bag to either give emphasis to its generous size or to the natural folds of the fabric. Plus, it also features a large inside document compartment, a range of small zipped pockets as well as an adjustable and detachable shoulder strap - making it the perfect accompaniment to any adventure.
Adidas EQT Support 93/17 Black/FT White Sneakers
Running sneakers reigned true in 2017 and it's not going to be much different in 2018. Despite Adidas revitalising a number of classic silhouettes and introducing a number of new models with a little help from Messrs Kanye West and Pharrell Williams, one of their most popular sneakers over the past two years has been the EQT silhouette. With its roots in the origins of early 90's Equipment running shoes, the Adidas EQT Support series freshly interprets 1993 runner-influenced design in the spirit of today's streetwear revolution. The interpretation is styled in mesh with a pixelated knit upper, graphic embroidered lines and the brand's signature boost outsole.
YMC Black Lambswool Montand Turtle Neck
The turtle neck is a certified everyday staple thanks to such elegant and refined variations of the form such as the above from YMC. Incredibly easy to dress up or down depending on the circumstance, this classic Black Lambswool Montand Turtle Neck features raglan sleeves and a seam-free edge for a relaxed fit.
Cut in a comfortable classic fit with a wrapped finish, the Tomo Pant has become a stalwart in Garbstore's expanding selection of collectable and covetable menswear essentials. Best of all, because of their unique high-density cotton construction and hybrid design between a smart and casual trouser, they are incredibly versatile. But the real beauty of the Tomo Trouser exists in the fact that they can be easily worn with the above Turtle Neck or for a more relaxed style, with a simple white tee and a classic black sneaker, such as the Diemme Veneto Low – which also finds itself in the OPUMO Winter Sale.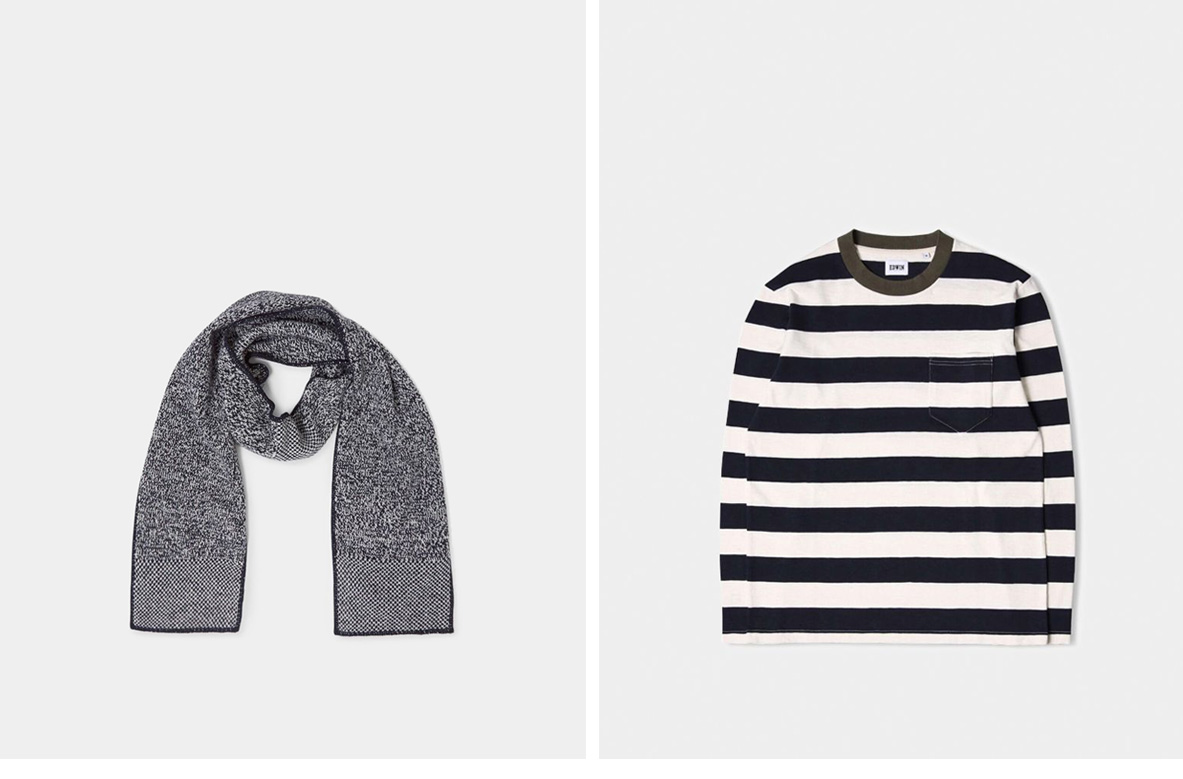 Scarves don't just keep you warm – they look good too, adding texture and visual interest to outfits, which is why we always reach for one as soon as the temperature drops. This winter, one of our favourite names, Garbstore, provide some of the finest winter accessories around that are all traditionally crafted from premium wool in England. The classic honeycomb knit of this Flight Scarf is crafted from an incredibly soft lambswool blend and features a solid coloured mid-section with delicate racking details. Plus, it's a lot slimmer in comparison to traditional woollen scarves, making it perfect to layer through winter.
Edwin Ringer Bar Striped Long Sleeve T-Shirt
If there's one thing that you can always expect from Edwin, it's that every single one of its pieces, from selvedge denim to a simple cotton tee, it built to last. The company, which boasts some of the finest Japanese denim and best-fitting jeans out there, is best known for its modern adaptations of traditional workwear styles and silhouettes. The above striped long sleeve t-shirt is an example of one such classic. With its contrast crew collar, raglan sleeves and simple chest pocket it is the kind of t-shirt that is so easy and comfortable to wear that you will not regret picking up this particular piece, especially at its current price.
Shop the entire OPUMO sale here.