Price: £44,995 | Year: 1955 | Engine: 2,495 cc Flat Four 230 bhp
If this Porsche 550 Spyder was the real thing, you'd be looking at a price tag of more than three million pounds. Just 90 were made in the 1950s, the most famous being the car in which James Dean was killed, as he gave it a shake-down before a motor sport event. This California-made Evocation is a fraction of the price – and it's so good that it's registered as a 1955 car even though it's effectively brand new.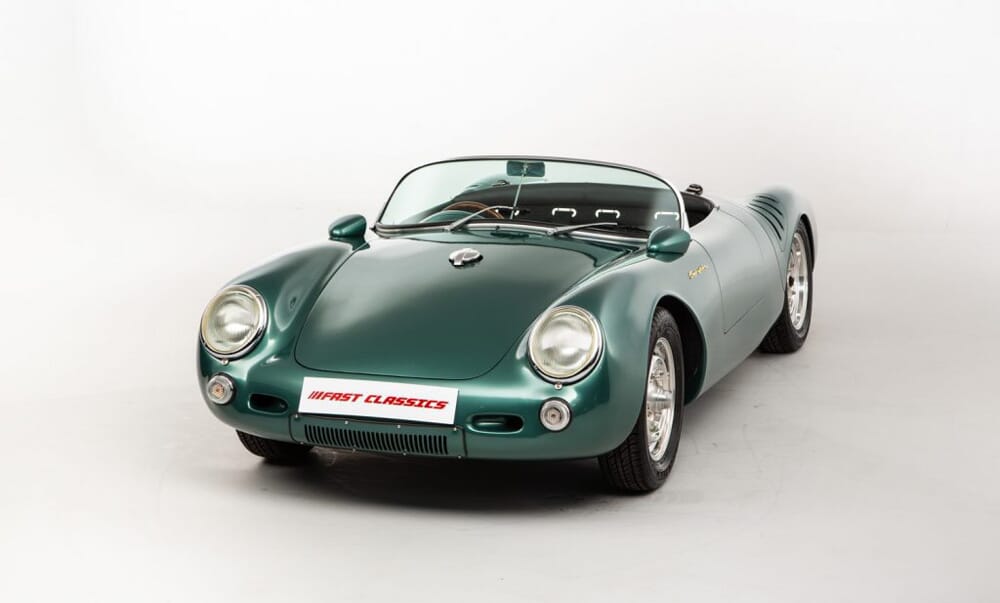 The original Spyder was far more than a tragic toy for the era's most charismatic star. Porsche designed the Spyder 550 to go racing. Spyders scored famous successes at both Le Mans and at the formidable Nurburgring. The meticulous collector who commissioned this Evocation wanted a car with all that spirit, along with 21st century technology and all at an affordable price.
Most replicas of this type are based on a VW Beetle chassis. Not this one. Underneath the sinuous curves of the fibreglass body, finished in Aston Martin Racing Green, there's a custom made powder coated tubular steel chassis. In the place of Porsche's flat four there's a powerful Subaru unit. It's also a flat four and promises an evocative exhaust note. This is a very light car, so expect explosive performance, too.
The minimalist interior features everything you need and absolutely nothing more. The luxury is in the materials and craftsmanship, with hand diamond-stitched leather to the seats and milled aluminium or stainless steel used for all of the switchgear, pedals and gear lever. The Nardi steering wheel is wood rimmed. Ahead of the driver, there's a version of the famous three dial Porsche dashboard, with a rev counter front and centre. A flimsy soft top is provided, but keen drivers will brave the elements and wear a suitably period cap, with a crash helmet on hand for track days.
---
---
Detailing extends to mimicking the original Spyder's differing wheel sizes, front and rear. The all round disc brakes are bespoke, in aluminium to save yet more weight. The Evocation has covered a mere 80 miles since it was completed, so you'll be buying what amounts to an entirely new bespoke sports car. 
It would take a brave owner to use the Evocation every day. But just imagine the looks you'll get when popping out for a few bits and pieces at the supermarket. 
Like this? Check out another classic Porsche – the 1992 944 S2.
Read more articles from The Garage.
---
---