Here's a trio of German luxury performance machines transformed into low-flying supercars and produced in such small numbers as to make each one effectively bespoke. They're being auctioned at a star-studded RM Sotheby's auction in Miami, and are the work of three of Germany's most revered tuning houses. Ruf Automobile was founded to transform Porsches, Alpina remain obsessed with BMWs while AMG, then an independent tuner rather than the name on the side of Formula One cars, felt even the fastest Mercedes-Benz was simply too tame. Only task now: to decide which of our picks would best grace your German performance garage. Long road trip? Obligatory.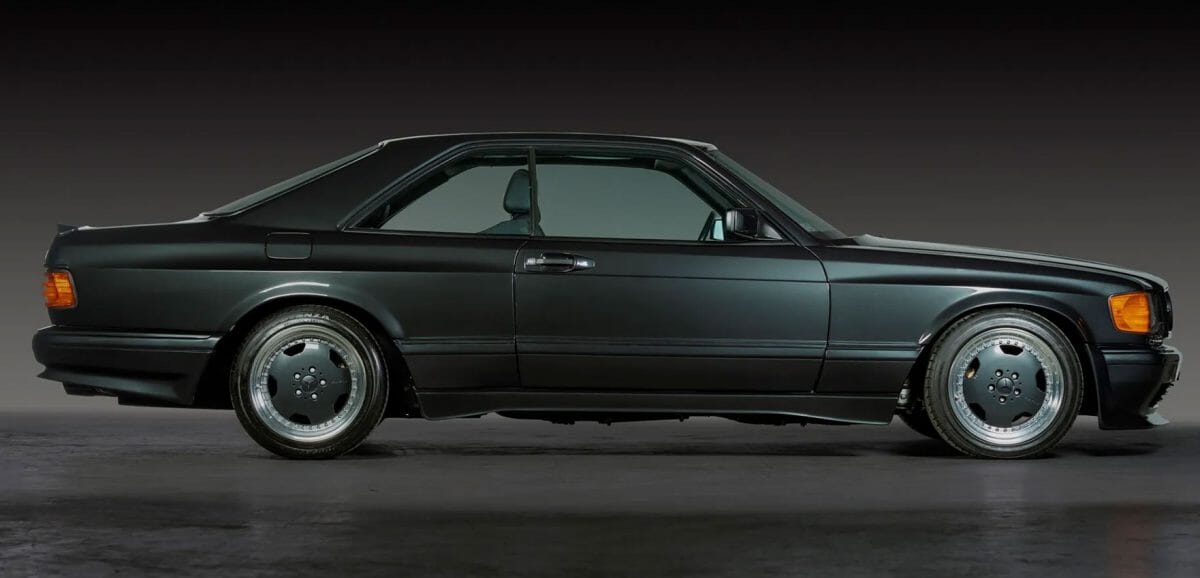 Super-rare 1980s super-coupé that stints in neither speed nor luxury. This extravagant machine is the work of the performance obsessives at AMG, the Mercedes tuning specialists who at the time were semi-independent from the parent firm in Stuttgart. AMG modified each 560 SEC deluxe express to client order, and it's believed that no more than 75 were made.
AMG modifications include a super-aggressive wide-body kit, with hugely flared front and rear wings, deep chin spoiler and - relatively - discreet wing to the tail. Blue-Black Metallic paintwork is immaculate, speaking of this example's cosseted life, with just 14,913 miles covered in 35 years. The colourway also offers AMG's monster an air of unlikely stealth. Look inside and the original leather in Anthracite is just waiting for its next driver, while typical-for-the-period burr walnut dash speaks of bulletproof Mercedes-Benz quality.
Real jewel here lies under that long bonnet. Stuttgart were rightly proud of their powerful V8. But that was before the performance-obsessed engineers at AMG headquarters in Affalterbach got hold of it. They stripped down the Mercedes V8, bored it out from 5.6 to a hefty 6.0 litres and added then-innovative features such as two bespoke cylinder heads, giving the SEC a total of 32 valves, boosting engine output to 385 bhp, a figure achieved in the 1980s mostly by Italian thoroughbred supercars. Top speed as you leaned back into all that luxury? 177 mph. Simply brilliant.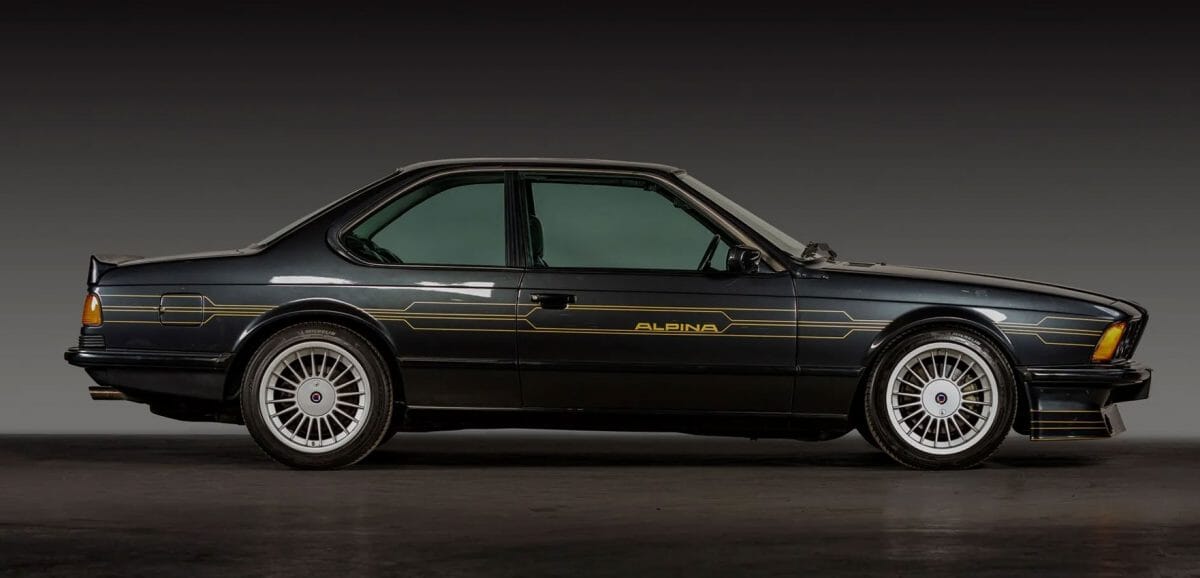 Alpina are the connoisseurs' choice when it comes to tuning German super-sports cars. The challenge for these still-independent modifiers with BMW's mid-1980s pride and joy, the high performance 6-series coupé, was to make it even more distinct, even faster. The B7 Turbo/1 - to use Alpina's idiosyncratic nomenclature - is the result, wearing the correct non-too-discreet gold Alpina graphics, a speciality of the firm and specified by this client.
Exterior, along with those decals, is in Diamond Black, again exactly as ordered by the Alpina's first owner, who lived just outside Düsseldorf, in easy reach of the Autobahn required to make the most of his new pride and joy. The Alpina's bodykit was designed to be both effective and discreet with bib spoiler and small wing to the edge of the boot. Signature Alpina turbine-style alloys are, beyond those graphics, the easiest way of telling an Alpina apart from its run-of-the-mill BMW cousins.
Any tuner, though, is always all about the engine. Alpina took BMW's straight-six 3.5 litre engine, already no slouch, uprated it and bolted on their own turbocharger, to produce an impressive 334 bhp. The Getrag five-speed gearbox is a help in bringing up 60 mph in less than six seconds on the way to a just-about-satisfactory top speed of 166 mph. Inside, optional Recaro seats show the patina of age and stand ready to offer support around corners while green-tinted electrically-heated glass takes care of anonymity. Oh, and there's a cassette player, too.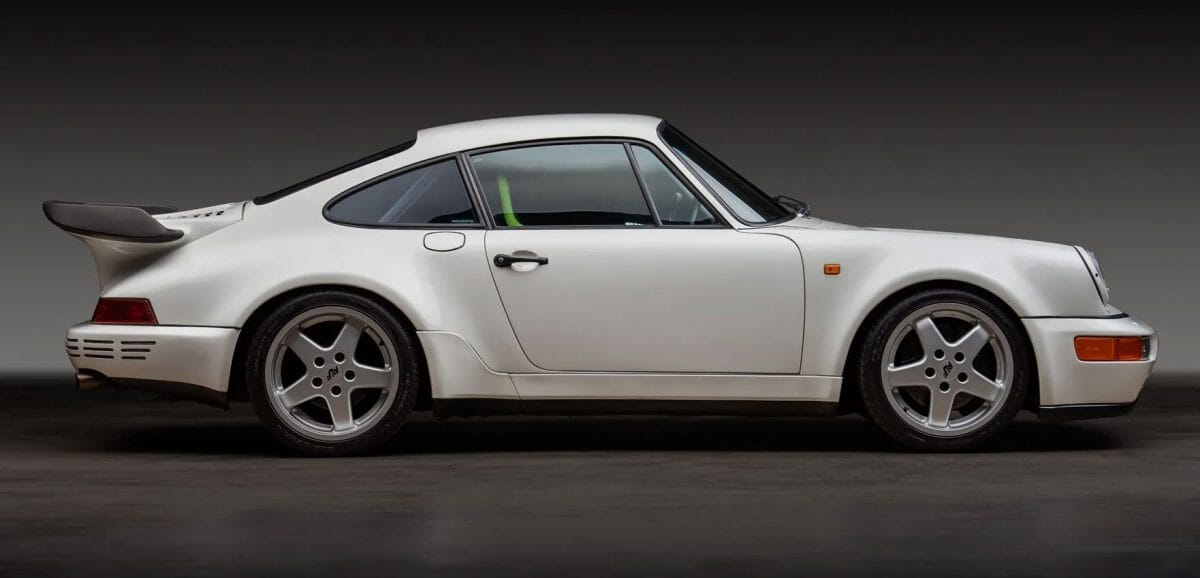 Looking for 211 mph from your 1990 Porsche? RUF had the rip-snorting answer - and for a pair of performance-hungry American brothers even that wasn't quite enough. Steve and David Beddor wanted a four-wheel drive Porsche they could use in hill climbs and cross-country races. They shipped a pair of 1990 Porsche 911 Carrera 4s to Ruf Automobile in Pfaffenhausen, Germany and the high-performance conversion began. This is one the two resulting machines.
Along with four-wheel drive, for the Beddor brothers Ruf installed a twin-turbocharged 3.4 litre engine to the rear, further to boost the already more-than-adequate performance. The finished cars, one black, one white, went on to distinguished competition careers in the US, underlining the excellence of Ruf's engineering. What might be loosely be described as the "standard" two-wheel drive Ruf CTR had stunned motoring journalists with its top speed, faster than a Ferrari F40. The test car was a bright yellow, and Yellow Bird became the official nickname of all subsequent CTRs, here marked on the Porsche's steering wheel, as if to warn unsuspecting drivers that this is no ordinary 911. 
Interior is race-ready form-follows-function rather than oozing with traditional Porsche luxury. Moulded Recaro seats are equipped with racing harnesses and the stripped out dash, while still featuring the 911's famous five-dial set-up, majors on the needs of motor sport. There's a roll cage, too. Exterior is in correct Polar White and, to the untrained eye, looks like an almost unmodified period 911 Turbo, which of course is part of the appeal. Unique.
Get your fix of all things automotive at The Garage.
---
---