It looks like it's been ridden straight out of a sci-fi movie. This stealth black stripped back cafe racer though is very much the real thing.
The Tripla 0.0 675 cc was built by the bike fanatics at Italian Dream Motorcycle as a strictly limited- edition model. This radical bike is the latest in a line of customised Triumph Street Triples to emerge from this small company's workshops in Reggio Emilia, northern Italy.
From front to rear this is a cafe racer that speaks of minimalism and craftsmanship. The bike floats over the solid black rear wheel - itself a piece of Italian craftsmanship - courtesy a mono shock conversion of the suspension.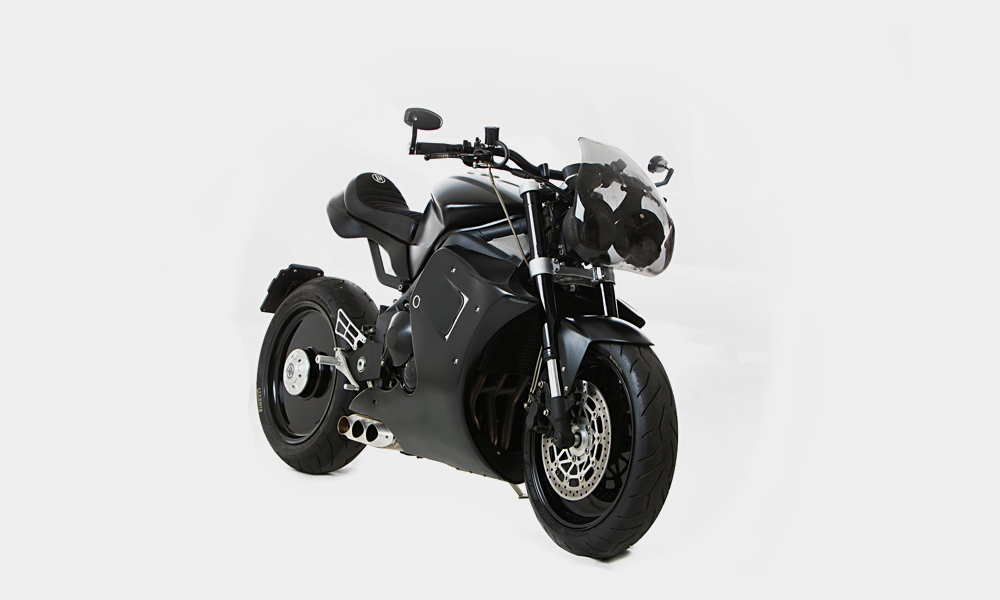 A side exiting triple exhaust allows each cylinder greater ability to breathe and thus greater performance. The entire tail of the machine is hand-made by Italian craftsmen. The detailing is, as you'd expect from specialists more used to dealing with racing motorcycles, exquisite: form follows function taken to its logical extreme. Along with black, all the eye sees are the exposed steel of essential parts. A tiny fairing is the sum total of the protection the intrepid rider of the Tripla 0.0 675 cc gets.
The machine is based on the already formidable Triumph Street Triple production machine, the latest version of which has been manufactured by Triumph for the past ten years. By most standards, this standard bike is radical enough because Triumph delivers the Street Triple as a stripped back "street fighter" with as little in the way of extraneous addenda as possible.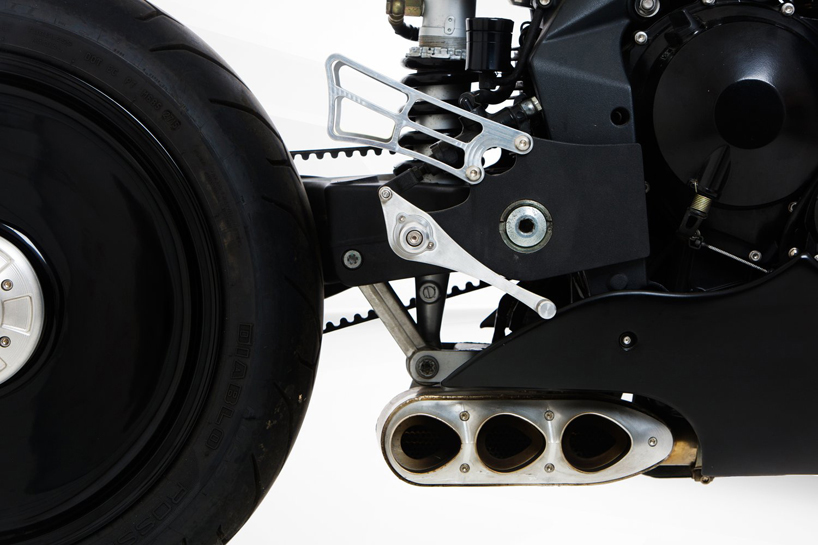 }
Naturally, for Italian Dream Motorcycle the factory approach is not nearly stripped back enough and their first task is to take the Street Triple apart and start again. The resulting Tripla 0.0 675cc may or may not be road legal. Certainly, it would be right at home trailered to a track day.
Italian Dream Motorcycles are obsessed with the Speed Triple, preferring it over the home-grown Ducati Monster for their custom work. As there is another two customised cafe racers based on the standard Triumph machine in the pipeline.
In the meantime, there's still one of the production run of five of the Tripla 0.0 675 cc available. If you have €35,000 to spare you might want to place your order in fast.