Studio MK27 has been an ever-present in the 'Architecture' tab of the OPUMO Magazine for some time now, and all it takes is one look at the Osler House to see why.
For their latest project, the Brazilian studio has rotated the top volume of this concrete house in Brasilia so it gently extends out over a narrow swimming pool to rest on a pair of silts.
The property is located on the top of the Paranoa Lake estuaries in Brazil's capital, which was originally envisaged in 1958 by iconic modernist architects Oscar Niemeyer and Lucio Costa.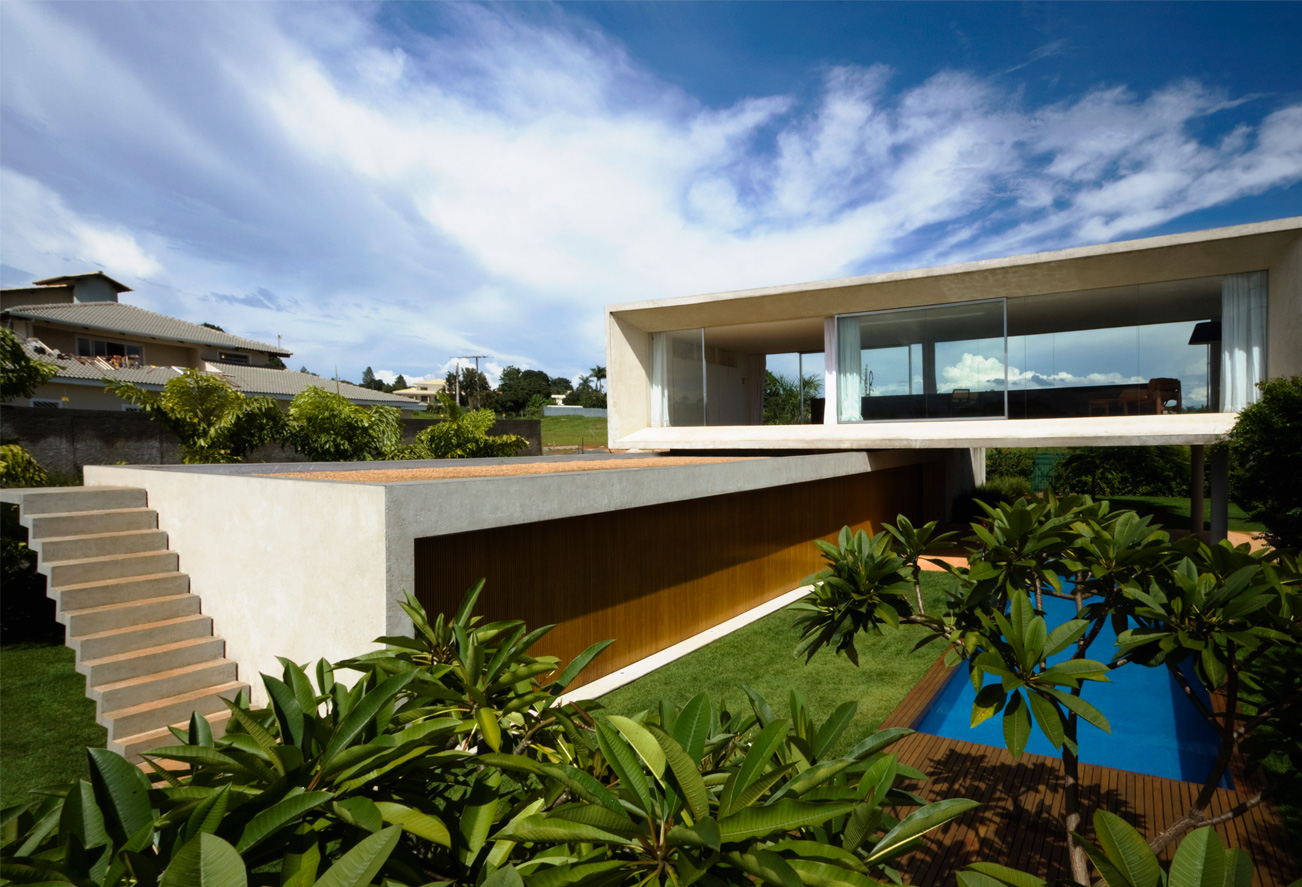 The site's prestigious history prompted Studio MK27 to design the residence as a contemporary version of the original vision. Which is why the Osler House draws on the key features of boxy concrete volumes and raised, sculpted volumes.
"The house is a poetic commentary on modern architecture, above all on Brazilian modernism, starting from a contemporary re-reading of the building materials and techniques," Studio MK27 explained.
Nods to the 20th-century style and design are frequent across the home, and they include the large glass expanses which encase both sides of the storey. Each glazed side contains doors that slide open to provide the kitchen, living and dining room with access to a pair of private terraces on the roof and lower level.
Alongside the wide-reaching glass facades, wooden brise-soleils run along the ground floor to filter light into the bedrooms. The wooden slats – which were also an important part of Brazil's modernist renaissance due to the country's tropical climate – are carefully hinged so they can be opened up fully to the garden and also shut making for a quiet, secluded space.
Credits: Architecture: Studio MK27 - Marcio Kogan +  Suzana Glogowski.
Interiors: Studio MK27 - Diana Radomysler.
Photography: Pedro Vannucchi.