Because there is more to life than nights out, new sneakers and holidays; these are the items that will make your day-to-day that little bit brighter, make those menial tasks a little bit more enjoyable and above all, make your house a home. Check out some of our favourite homeware items to launch as part of our new curated Lifestyle offering, featuring everything from homeware, furniture and contemporary art; to skateboards, cosmetics and gifts. Make yourself comfortable.
Tom Pigeon Islanders Set of 3 Prints
Your wardrobe may be full of depth and colour, but if your walls are bare and lifeless, then you're not finding the right balance in life. Just like you should refresh your wardrobe with every new season, your interior should follow suit and the easiest way of adding a touch of colour is with an abstract screen print. One of favourite, the 'Islanders', from British studio Tom Pigeon, is comprised of three-screen prints that take inspiration from Mediterranean islands and architecture; exploring the shapes made by light, shadow, texture and colour to create a series of abstract views.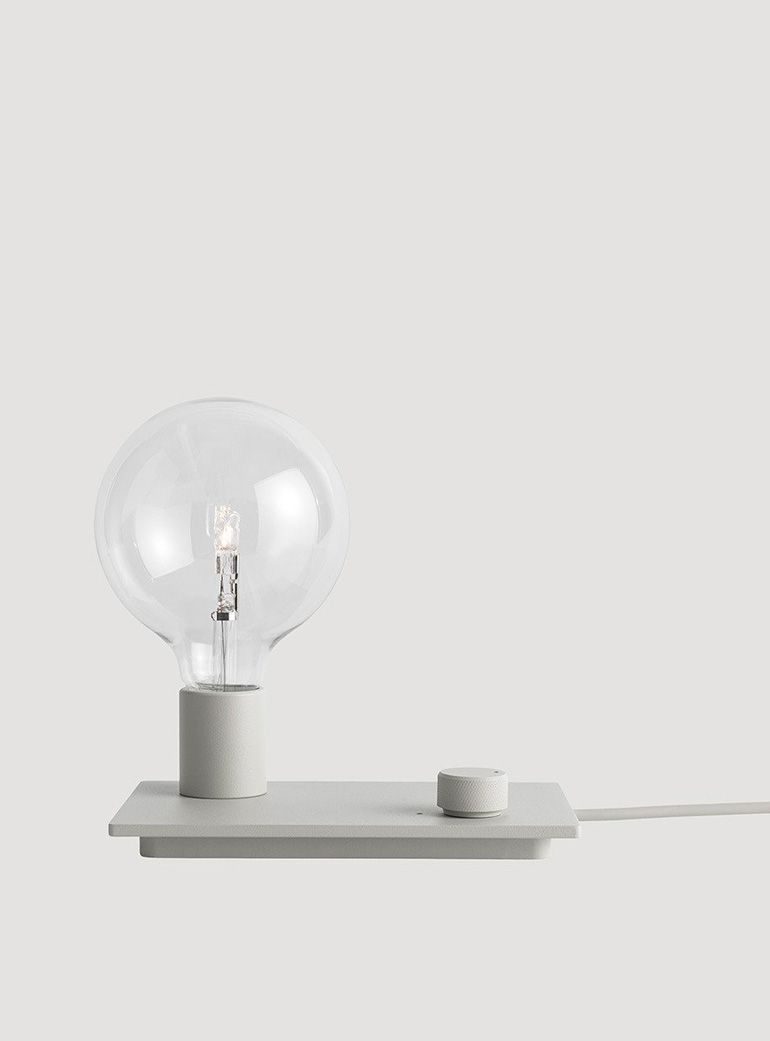 Future and Found Muuto Grey Control Lamp
With a vision for what's to come and a love for what's been before, North London-based Future and Found offers an expanding range of its own designs alongside the items it loves from designers around the world – including one of our favourites, TAF Architects' Control Lamp. Designed for Muuto, the elegant Control Lamp is a redesign of the simplistic E27 bulb that invites you to control the lamp's light using a playful control dial.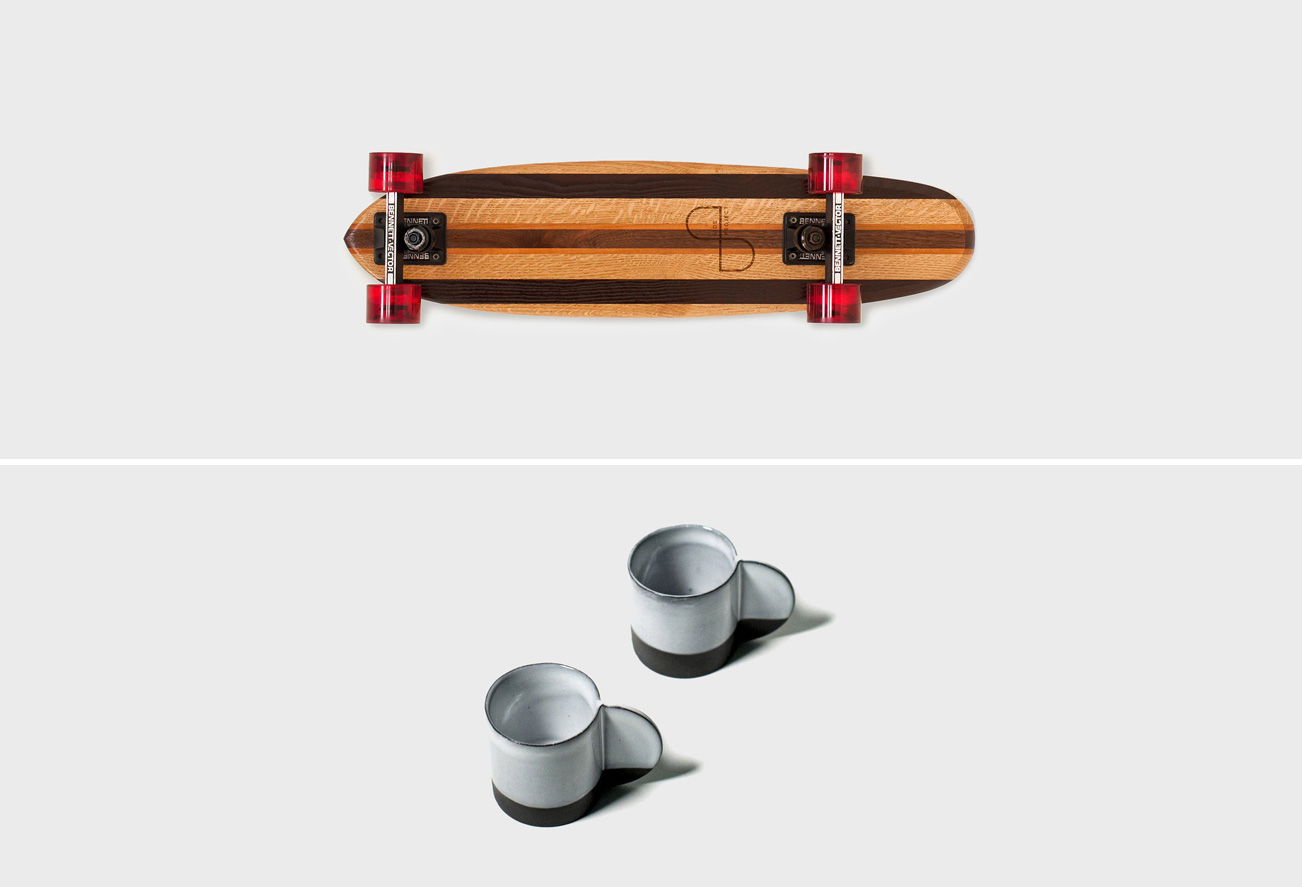 Side Project Skateboards No.10 Mini-Cruiser Skateboard
Inspired by a range of old-school designs, Jake Eshelman of Side Project Skateboards looks back to the heyday of 1960's skating to create his handmade selection of hardwood boards. This super-short mini-cruiser skateboard is suited to every skating style – whether you favour dropping curbs, kicking up dust or carving out campuses. The handcrafted skateboard features a classic-stripe profile, rounded edges and bevelled kicktail details. Finished with two coats of marine grade varnish for a completely one-of-a-kind board. We think it looks equally good on a wall, too.
Nina + Co Set of Two Black White Glaze Espresso Cups
With a strong focus on sustainability and natural materials, Nina + Co produces a beautiful array of homeware items built on the principles of functionality and simplicity. This set of two Matte Black White Glaze Espresso Cups is one of the brand's most popular pieces courtesy of its handcrafted design and unique white gloss glaze. Plus, it pays to invest in some top-quality china for when those unexpected visitors arrive.
Maison Margiela Replica Fragrance Jazz Club Scented Candle
You know that comforting, heady scent that hangs over a smoky Jazz club – that mix of rum, tobacco and light musk? Maison Margiela has kept all the good bits and managed to filter that into a candle using notes of vanilla, vetiver, tobacco leaf oil, rum absolute and an injection of sage oil to keep things from getting too heavy when it's confined to your living room. And if you already wear Maison Margiela's Replica fragrance, it's a given that you're going to love this.
Slowdown Studio Harrison Throw
The creative project of graphic designer Marc Hendrick, Slowdown Studio offers a limited-edition collection of woven blankets made in collaboration with some of the world's finest artists. Inspired by a love of playful prints and patterns, Marc handpicks his favourite illustrators – including US artist Marleigh Culver, who is the creative mind behind this Harrison Throw – to create their own unique blankets. Perfect for the home, for picnics, or to hang on the wall.
Sygns Neon Letter Edition Sign
With a mission statement of 'keeping neon alive,' the independent design collective known as Sygns, produce bespoke neon signs for 'all your cravings' – including everything from handmade designer lamps and light decorations to one-of-a-kind neon installations. One of our favourite pieces, the Neon Letter Edition, allows you to freely compose your own neon message by selecting individual characters and becoming creative.
YUYU YUYU Amsterdam Grey Linen Denim Pillow
You don't appreciate a good pillow until you have one, and this Grey Linen Denim Pillow from YUYU Amsterdam is one worth investing in. Entirely derived from waste denim fabrics, the new YUYU Amsterdam cushion experiments with clean, modern lines and luxuriously soft duck feather linings to give a contemporary twist to the traditional cushion. The cushion is generously sized, surprisingly light, incredibly soft and crafted from a premium cotton that hasn't harmed the planet – so you can sleep easy.
Kitchens are getting inundated with a range of new gadgets; but no, you don't need a pineapple peeler and although an ice cream maker is a great idea in principle, it won't help you cook in the long run nor will it make your kitchen look nicer. That's where Crane comes in, though.  The small, independent British design and manufacture company specialise in professional cookware and accessories, and the brand's expansive kitchenware collection is entirely made in France using high-grade materials, including vitreous enamelled sand-cast iron. Including this C1 Casserole Dish – which is not only good for the famed French dish, but it can conquer any tasty one-pot recipe too.
LEFF Amsterdam White Scope Clock
Dutch-based design studio LEFF Amsterdam is gaining a reputation for beautifully minimalist clocks whose straightforwardness, wit and functionality are defining a new era in minimalist design. Its ranges, such as the Stainless Steel Arabic Clock and the more luxurious Natural Scope Clock, offer a sculptural focal point in comparison to the regimented wall clocks you're used to wishing the time way with.