Mr Yinka Ilori is one of a rare breed of receptive designers; for he is more interested in working with what we already have than in creating something new. A graduate of London Metropolitan University, Yinka revives upcycled chairs into intoxicating hand-me-down hybrids – inspired by the traditional Nigerian parables that shaped his upbringing. "I'm a storyteller," Yinka responds when asked to find a title befitting of his riches. "I use the parables that got told to me as a kid and put them into my designs – and much like people, I always see potential in every story and every chair".
It's that strong and unique focus that makes Yinka's lifelong creations of colour and pattern a sustainable business. For his flair, drive and personal experiences have not only shaped his life, but that of his craft too. From his East London studio Yinka specialises in humorous, provocative and enchanting furniture that brings together Nigerian verbal traditions, playful conversation and contemporary design. His upbringing - growing up in North London to Nigerian parents – acts as the glue that binds the charm, design and storytelling of each piece together.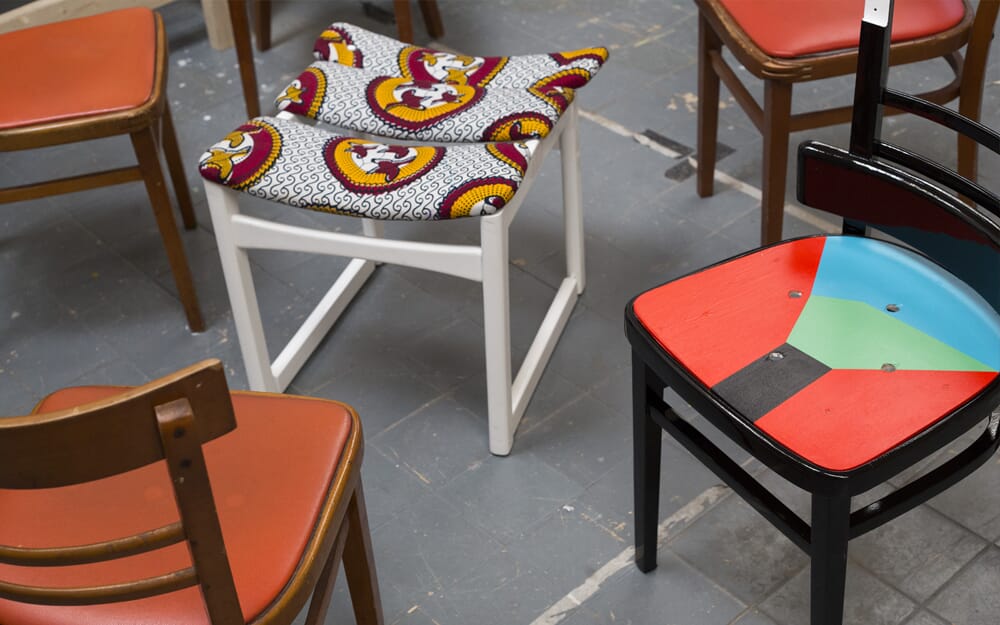 "Growing up was hard," Yinka remembers when asked what defined his childhood belonging to a Nigerian home in the heart of London. "My parents were really strict. We weren't allowed to go anywhere; we weren't allowed to go to clubs; we couldn't be out late. My brother was a bit disobedient to those rules, so perhaps my parents went harder on me. But the most important thing is now I know why; all they wanted was for me to be successful and I wouldn't be doing this now if they weren't for that."
Yinka's charismatic smile signals the end of his anecdote into early family life, but rather then acting as a cover-up his smile appears naturally. His love for family, tradition and culture is real. After all it is the driving force behind everything he does. "I know no different," he exhales stretching in his chair. "Look I'm 29, I grew up in North London, there wasn't a lot of designers around that I looked up to when I was young. Of course there are amazing designers out there, like Tom Dixon for example, but we didn't grow up in the same time or era – so we can't relate in the same way."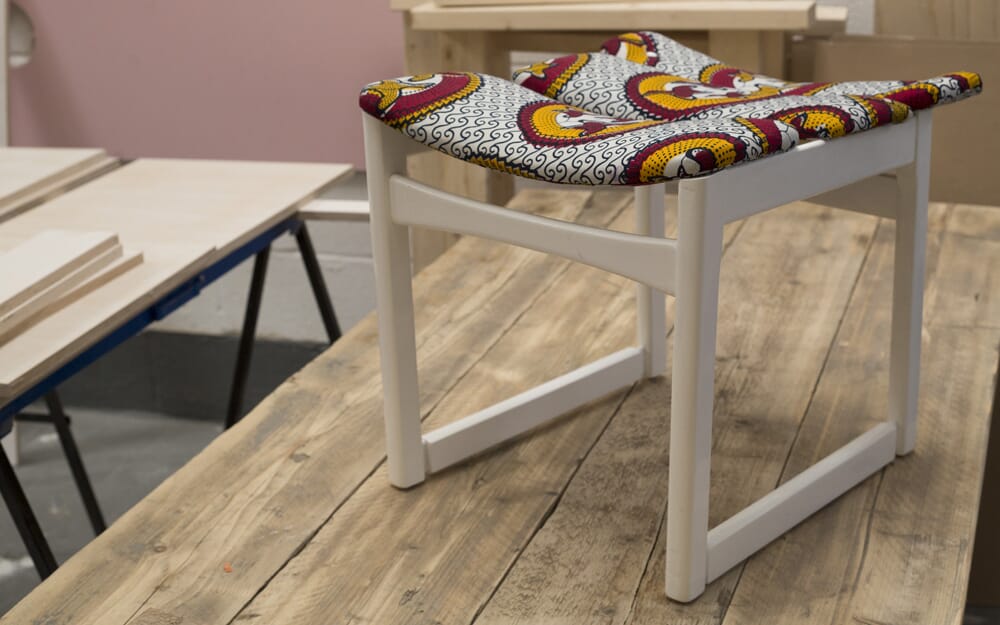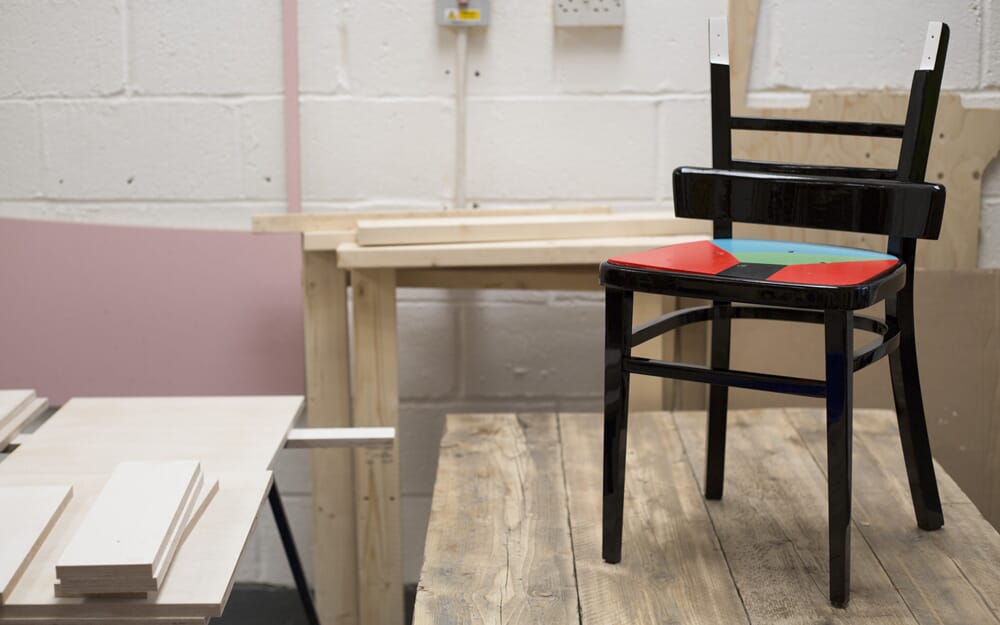 Instead, Yinka relates to his own experiences, referencing the stories, encounters and people he has met along the way as the fuel that keeps his fire for creation burning. "People I grew up with are not where they should be. I know people who have taken the choice of the easy life without it working out. I mean my parents being tough was a blessing, they made me understand my culture, my heritage and I'm proud of that and I want to tell that story to the world."
The significance of telling 'the world' is not only a sign of Yinka's infectious ambition but it also represents his standing as a young British designer. Following in the footsteps of a host of young British creatives - namely Skepta who he refers to as an inspiration throughout - Yinka successfully combines his parents' heritage with the experiences of a 21st century London-boy. In doing so, he represents the life, times and adventures of every 20-something aspiring creator – and he is doing it his own way.
For instance, one of his most popular collections – If Chairs Could Talk – takes inspiration from five figures form Yinka's childhood; all of whom were talented across different creative fields but chose the easy life and turned their back on education. Those people who 'went down hill astoundingly quick' made Yinka realise that 'it's better to work hard, like this, and just be real and be you.' In spite of the success of If Chairs Could Talk, Yinka concedes that a different, albeit equally emotive, design remains his favourite.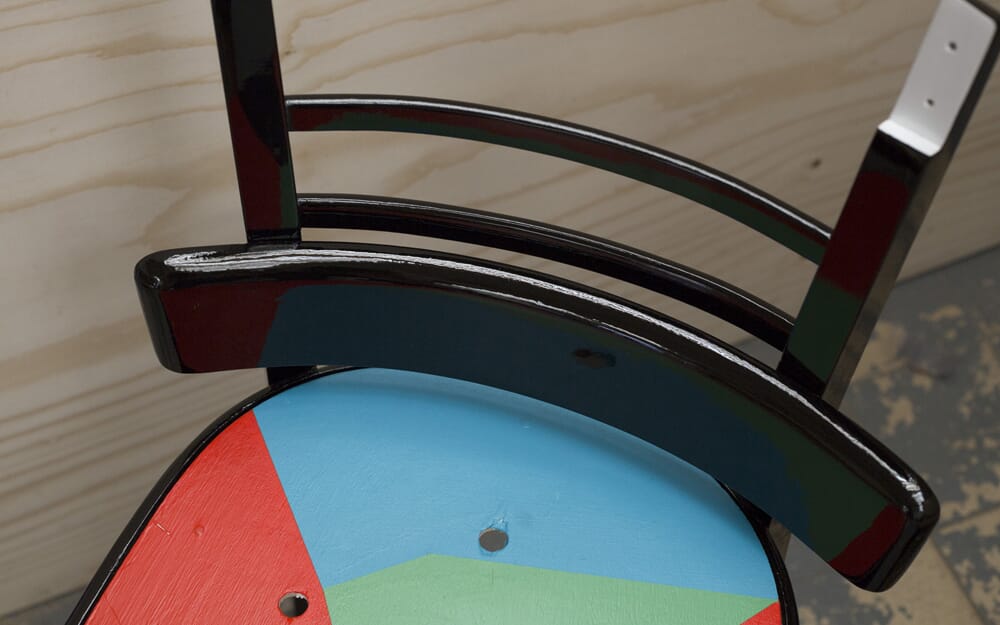 Titled 'A Trapped Star', the piece, which is currently on permanent display in Brighton, references a classmate who Yinka grew up with. An 'extremely talented musician' who chose the 'street life' instead of honing his talent. Yinka has not seen the subject since school nor does anyone know who exactly the subject in the piece is, but the message is one that everyone can relate to – an individual 'trapped' in the system and ushered into the wrong crowd. "To portray the tragedy and to show what really could've been I used a 1950's chair and attached a kids chair right in the middle of it. It's simple but it signified what he could've achieved and what he could've evolved to be. He could've been this amazing, proud, strong captain's chair but he'll never be. He's restricted by the constraints of the small chair and he wont be able to move from that – not ever."
The serious sentiment of Yinka's work is delicately curtailed by the vivaciousness of print, colour and fabric – once again inspired by his Nigerian heritage and the fabrics that have always been his mothers' 'greatest extravagance'. All of his collections are also underlined by the parables that were passed down to him – and Yinka uses his talent to communicate those narratives and evoke strong emotional responses to new audiences.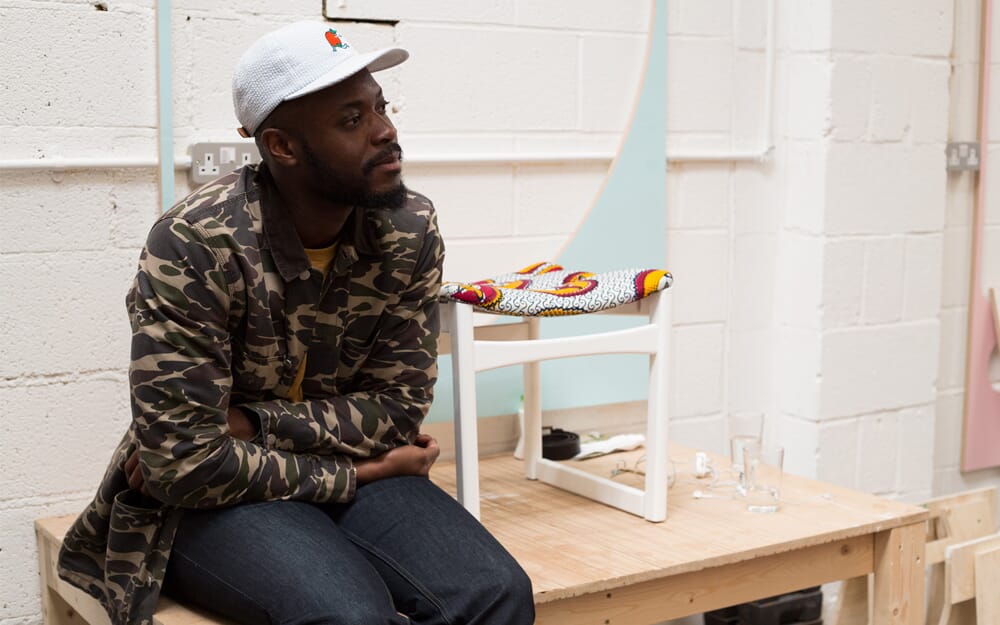 "They started as means of discipline; but when we got older Dad started telling us parables as words of wisdom. At the time he'd tell you the story, you would take it in and think nothing. But its not until like 3 to 4 hours' time when you click – and go like, yeah, wow, that was powerful. Seeing these parables and how they made my parents better people and how they transferred into me and my siblings, I couldn't ignore that." But what about now, I interject. How do a range of traditional parables communicate into contemporary furniture? "I look at a parable now and I take two or three words out and then try to put that into the chair and not the whole message," Yinka responds while illustrating his point over at one of the many mesmeric pieces on display in his workshop. "For instance, if it's a parable about light, I may put a candle into the piece. I did a piece about hierarchy and status previously so I used the backrest of the chair as a focal point. The smallest piece had the candle attached as it might be seen as the smallest piece but it has hope, it has growth. It shows people they can be whatever or whoever they want to be."
Today, with the desire to bring back 'proper craftsmanship and make people appreciate quality', Yinka showcases his work all over the world. From London, Miami and Stockholm, Yinka has seen his work transcend the materiality of art, the pertinence of African parables and the functionality of design, to be celebrated for its originality. Perhaps that in itself is the greatest proof that you can in fact be 'whoever you want to be'.
Take a closer look at Yinka's work on his website and be sure to follow him on Instagram, @yinka_ilori, to stay updated with his latest movements.
Shop all furniture at OPUMO.