When it comes to grooming products, we bet that your shelves are packed full of unused, unnecessary and probably out-of-date, lotions and potions. Not only a strain on space and time, but the array of bottles will no doubt cloud your judgement when it comes thinking about what you actually need to be using. So, what if we said there is a way to declutter cupboards and skincare regimes by having just the basics to hand. With just five integral products in its range, this is the ethos behind Barcelona-based grooming brand Alex Carro – the modern cosmetic label that cites simplicity and natural ingredients as the two core values of its capsule collection. But with a range of different names and functions from cleansers to face oils, choosing the right one and understanding what they actually do can be a bit overwhelming. So we've made it simple by giving you a lowdown of all Alex Carro's grooming products, and how they can be used to reinvigorate your morning routine.
The thinking behind the theory of Alex Carro is that if you have the right skincare staples, you can either use them on their own or combine them to suit different needs, moods, times of year, genders and skin types. The brand's essential unisex building blocks include the Balancing Face Oil – a smoothing and regenerating everyday formula – the gel-based Facial Cleanser – that transforms into a workable oil and milk formula when mixed with water – an Exfoliating Powder – for a unique multi-textured cleanse – a hydration boosting Face Cream that smooths and soothes dryness, and finally, a Multiuse Balm that can effectively be used to target dry patches of skin that require a little extra attention.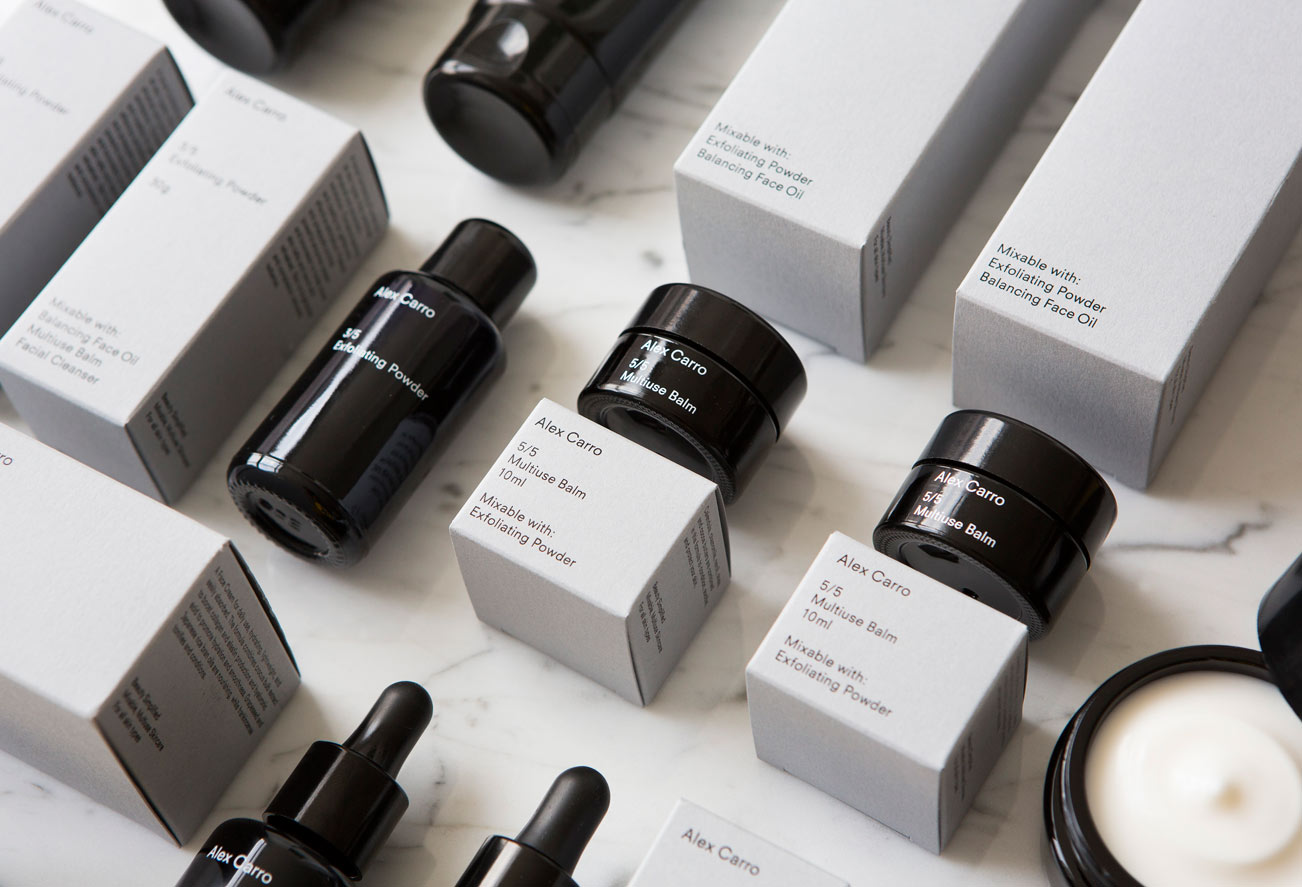 We are all well aware of the benefits of incorporating a moisturiser into your day-to-day routine, but have you tried a face oil? This super-hydrating natural balancing face oil from Alex Carro is suitable for all skin types and it contains a smoother and more effective regenerative formula than your usual moisturiser. Extremely light and easily absorbed, the Face Oil is made from an effective blend of rose, geranium and patchouli oils that will enhance your natural complexion.
How to use: Warm 3-4 drops in your hands and massage into your face, neck and décolletage.   
Exfoliating, which is basically the removal of the finest layer of skin, helps to cleanse and soften the hair follicles on your face and lift them away from your skin; cleaning and preventing ingrown hairs in the process. This three-in-one natural face cleanser is an easy way to introduce an effective facial cleanser to your night-time routine. The simple gel massages into your skin as a luxurious oil, and emulsifies with warm water to create a hydrating milk formed of jojoba oil, known for being an excellent emollient, petitgrain, to rebalance sebum production, palmarosa, to regulate hydration, and an uplifting bitter orange scent.
How to use: Massage into your dry face and neck using light circular movements. Add warm water to emulsify, then rinse and pat dry. For best results use a warm, damp cloth during the cleansing process.
For a more powerful, deep cleanse opt for this Exfoliating Powder. The natural facial exfoliator combines physical and enzymatic exfoliation and contains bamboo and rosehip for gentle and effective cleansing. Skin is brightened and complexion rediscovers radiance quickly courtesy of papaya and pineapple that provides power enzymes and bromelain to break down skin cells and leave skin thoroughly refreshed.
How to use: Mix about half a teaspoon of exfoliator powder with water for intense exfoliation.
Multipurpose products that work overtime are essential to any effective grooming routine. Not only do they streamline the entire process, but they save time and effort in the long run. This Alex Carro Face Cream, which can be used both morning and night, contains a unique formula of crocus bulb extract to boost collagen and elastin production alongside hyaluronic acid to promote hydration and smoothness.
How to use: Apply the cream morning and night to your freshly cleansed face and neck.
The summer sun does a great job of depleting skin hydration, so it always pays to have a soothing multiuse balm to hand to combat dryness and help protect your skin by retaining moisture. Alex Carro's multiuse skin and lip balm uses calendula, chamomile, neroli, shea and cocoa butter to condition, soothe and protect your skin – and particularly your lips – around the clock.
How to use: Use as needed on dry and damaged lips and skin.
Shop all Grooming collection at OPUMO.
https://www.opumo.com/alex-carro/