We love a classic car, there's something pretty magical about how the curvature of lines or a certain leather interior can transport you to another time completely. This is the reason that we're so fascinated by Timeless Garage's builds. While each custom stays true to the car's original beauty, tasteful updates bring each model to the modern day, effectively giving these machines a new lease of life.
Based in Portugal, Timeless Garage is a self-confessed dreamland for car fanatics. With the combined experience of the garage's skilled engineers, customers can build their dream vehicles piece by piece. After seeing a few of the garage's new builds, we felt that it was only right to show our readers some of our favourites and talk to the minds behind the machines.
The first build that we'll be focusing on is the delightful Audrey. This car is Timeless Garage founder Tyson's 1959 Porsche 356 Type A. Altogether, Audrey has only seen small adjustments to give better handling and more horsepower along with some slightly rebellious touches: she's been lowered, red wheels and racing stripes to the bonnet have been added. Audrey has been Tyson's dream car since he was a little kid and he finally found the right one and purchased it 8 years ago. Keep reading to find out why she's named Audrey and how the car found itself on the coveted pages of Playboy.
How do you decide the style of a custom?
Tyson: Each one is tailored to the client and end owner of the car in consultation with the Timeless team. Think of it like getting a tattoo, the client comes to us with an idea and we build on that idea with our experience, knowing what works well and where the best value for money is. Our ultimate aim is to build a car that lives up to expectations on performance and style. 
What was the inspiration behind this custom?
Tyson: The inspiration behind Audrey was to make subtle changes that didn't insult the original design which is one of the most iconic car designs of all time. Small changes were made that we thought emphasised the beauty of the body and performance and handling of the car. 
What was the hardest part of this build?
Tyson: Letting her go and seeing her leave the garage, you become attached to them like they're your children. 
What's the highlight of Audrey?
Tyson: Audrey and all 356s are probably the most drivable classic Porsches. Whether it's a daily commute, Sunday drive or a long distance road trip they are a really comfortable and exhilarating car to drive and Audrey is no exception. 
Why Audrey?
Tyson: The name? Well let's just say that this may or may not have belonged at one point to a particular Hollywood icon, but the secret is safe with you, right? 
How long did this build take?
Tyson: Just over 12 months.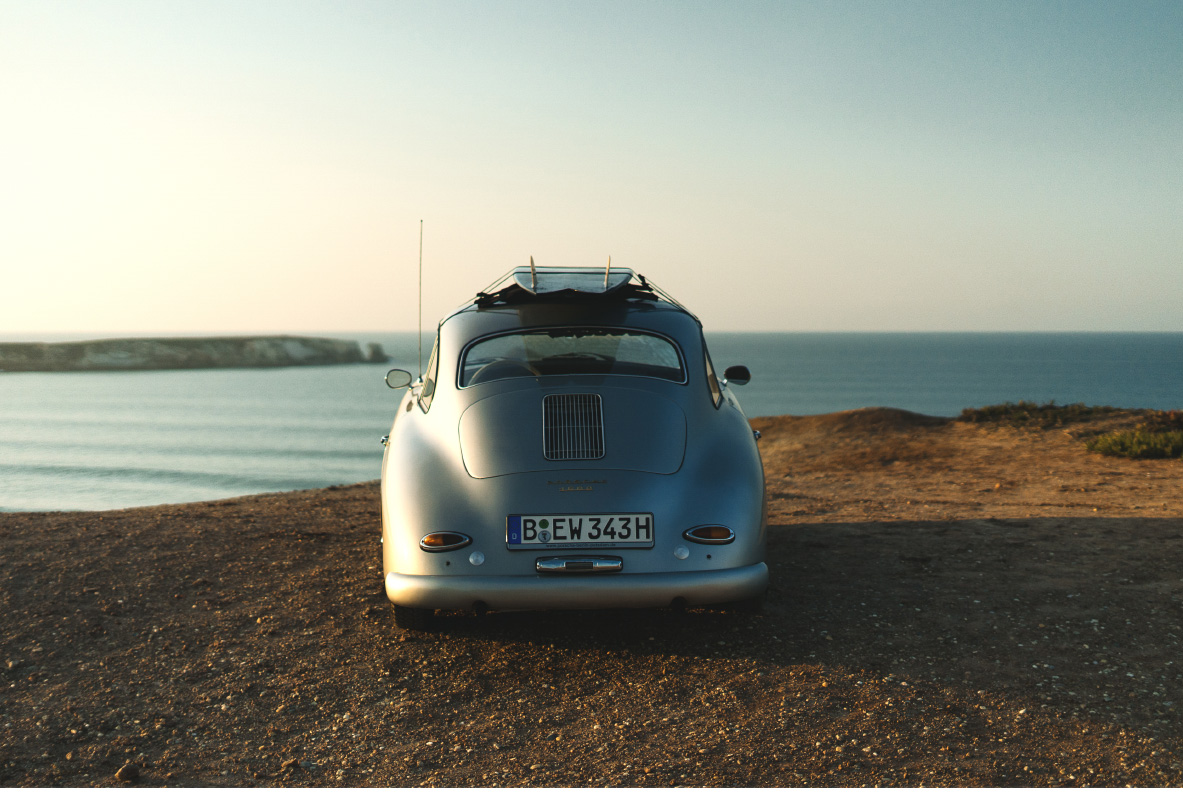 How did this build come to be featured in Playboy?
Tyson: When the build was complete we did a number of photoshoots. One was with our good friend who we work with a lot on photo shoots, Daniel Espirito Santo. We just lucked out on an epic night in Peniche, Portugal with an amazing sunset, amazing waves and a secret spot we know where you can literally drive the car to the cliff top. Playboy picked up the photo and Audrey went viral. It was a very humbling experience and credit to Daniel's amazing skills. 
For more information, visit Timeless Garage.
This 1966 Sunbeam Tiger is another of Timeless Garage's best builds.