The highlight of every summer is the holiday. But once you've burnt yourself to a crisp, used up all of your allocated holiday allowance at work and somehow managed to rescue your luggage on the carousel at Heathrow – the realisation that the holiday is officially over soon sets in. But, inevitably, it gets worse. The first day back at work – when you have to fall-back into the routine of everyday life without a hiccup or a consideration of what you've been doing for the last two weeks. But this week's Top 5 is set up to make sure those feelings of inadequateness and post-holiday-confusion are subdued. So, here are the five items to help you get back to work – with minimal fuss and maximum enjoyment. Well, we can't promise the latter, but here's to having a go.
The Monocle Guide To Good Business
Whenever inspiration is not striking, this Monocle Guide To Good Business features a range of multifaceted perspectives on the world of work today and in the future – from compelling business ideas to inspiring company cultures. The Monocle Guide is a book for would-be business leaders, start-ups, and established companies that feel it's time for some new idea. But above all, it's a book the is made to be used. Write in its margins and turn over the corners of its pages. But don't expect management speak or miracles of untold riches. This is not a book about staging a revolution. Rather, this is a book about doing things well – from how you run the show to the pens you buy.

Inventery Brushed Chrome Mechanical Pen
Inventery has become known for its 'new age thinking tools' and this Chrome Mechanical Pen demonstrates the brand's uncompromising commitment to quality and innovation. A modern, minimal take on a traditional writing implement, the pen has been precision machined from a single brass rod to achieve a smooth, unibody finish. The sleek chrome pen also features an all-brass click mechanism from Schmidt that guarantees a smooth and silent click in comparison to its contemporaries. Each Inventery pen is also completely unique and is marked with an individual serial number.
What's the worst thing to do on your first day back at work? Yes, it's being late. Being early makes people think that you've had such good holiday that you're so refreshed and raring to go that you've arrived early for the new working week. Which is why you need a reliable and understated wristwatch to get you to work on time. This week's pick, the Farer Meakin, named after the intrepid British author Annette Meakin, is the perfect everyday timepiece. Defined by its beautiful white dial, silver numerals and elegant gold skeleton hands, the watch also features a subsidiary dial with gold hands and a date marker – which comes in handy when you need a reminder of what the date is after two long weeks away from the office.
Whenever inspiration strikes – or you've been handed another important date to remember – it pays to keep a notebook in easy reach in order to jot those important ideas and reminders down. This graphic notepad comes from Danish typography, Playtype, on behalf of Future and Found, is printed in its own 'Nationale' font and is filled with hundreds of blank pages – no lines here – because sometimes you don't just need notes, you need space for a few doodlings in there, too.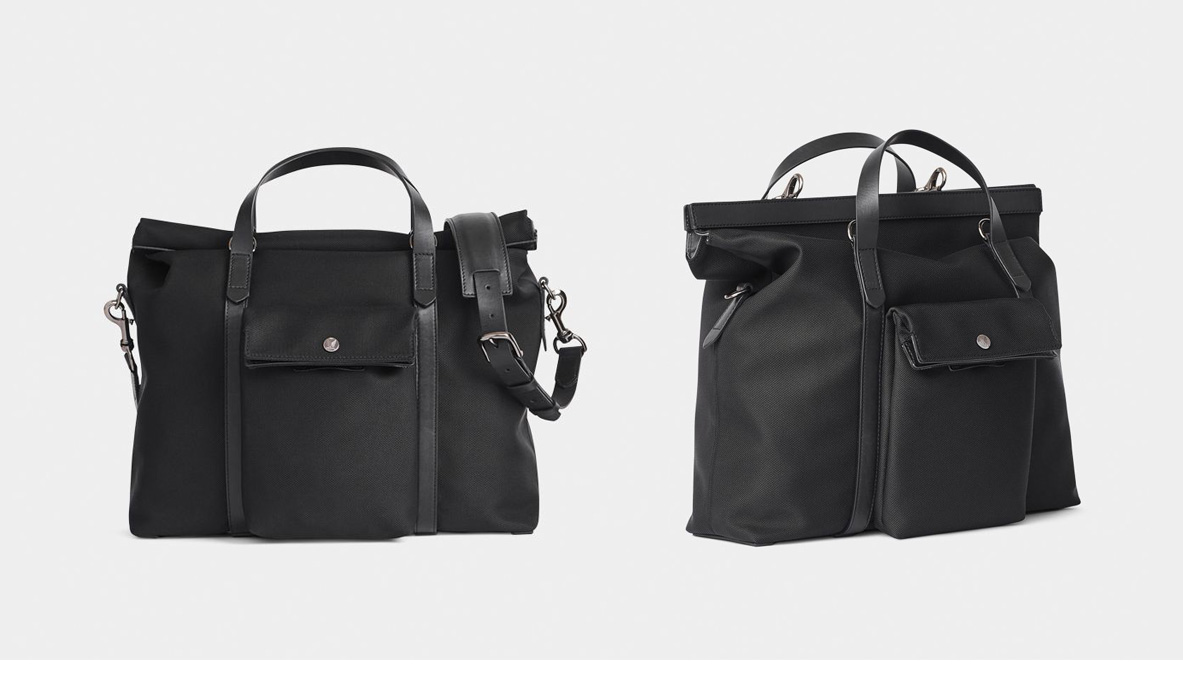 Mismo M/S Black/Black Soft Work Briefcase
If you're looking for a bag that can take you from the office and into the night – without looking too corporate or too casual in either situation – then look no further than the Soft Work Briefcase from Mismo. Inspired by old-fashioned grocery bags, the M/S Soft Work is the result of an ambition to create a stylish, yet casual and highly functional bag for the working week. The bag's signature is its folded top closure; just button the top part together, then fold down and secure with the two sailor snap hooks attached behind the handles. The functional aspects of the bag ensure that you'll have a multitude of space to store all the daily essentials, and if things get a little bit overloaded, then you can use the adjustable and detachable leather shoulder strap for added carrying comfort.