In today's world collaborations are commonplace and the latest collaboration from esteemed publishers Monocle and Comme des Garcons is definitely one of the more successful ones. Produced exclusively for Monocle by Comme des Garcons' perfumer, Antonie Maisondieu, the Hinoki fragrance takes inspiration from a perfectly still, slightly chilling spring morning spent soaking in an outdoor tub at the Tawaraya in Kyoto. It pulls together Monocle's memory of the mosses and trees outdoors and the sharp notes of the boxy Hinoki tub into a modern unisex fragrance.
It goes without saying – even though we have said it many times before – that a classic overcoat, particularly in a camel colour hue, is an essential in every winter wardrobe. This week's new arrival from Sunspel is a contemporary take on the brand's classic Harrington jacket that has been updated for winter in a slim, sleek profile. Cut from a luxurious compact wool jersey sourced in Italy, this jacket has a natural stretch which is complemented by the jacket's functional detailing including a concealed internal pocket, slim-line fit and soft shoulder shape.
Jeans are the one item in our wardrobes that are inimitably comforting; the clothing equivalent to a warm cup of coffee on a cold day, or better still, a long Sunday morning lie-in. And they feel personal to us, as every wash, fit and detail tells its own little story of how long you've had them or where you have worn them to. But, there is always room to expand your selection. Take this pair of Slim Tapered Organic Denim Jeans, for example. Not only are they crafted from Hawksmill Denim Co.'s signature 14oz organic cotton denim that will age expertly over time, but they are also cut in a contemporary slim tapered fit with a low rise and a narrow leg opening. Which means they'll suit almost everyone and look good for almost any occasion, both smart and casual.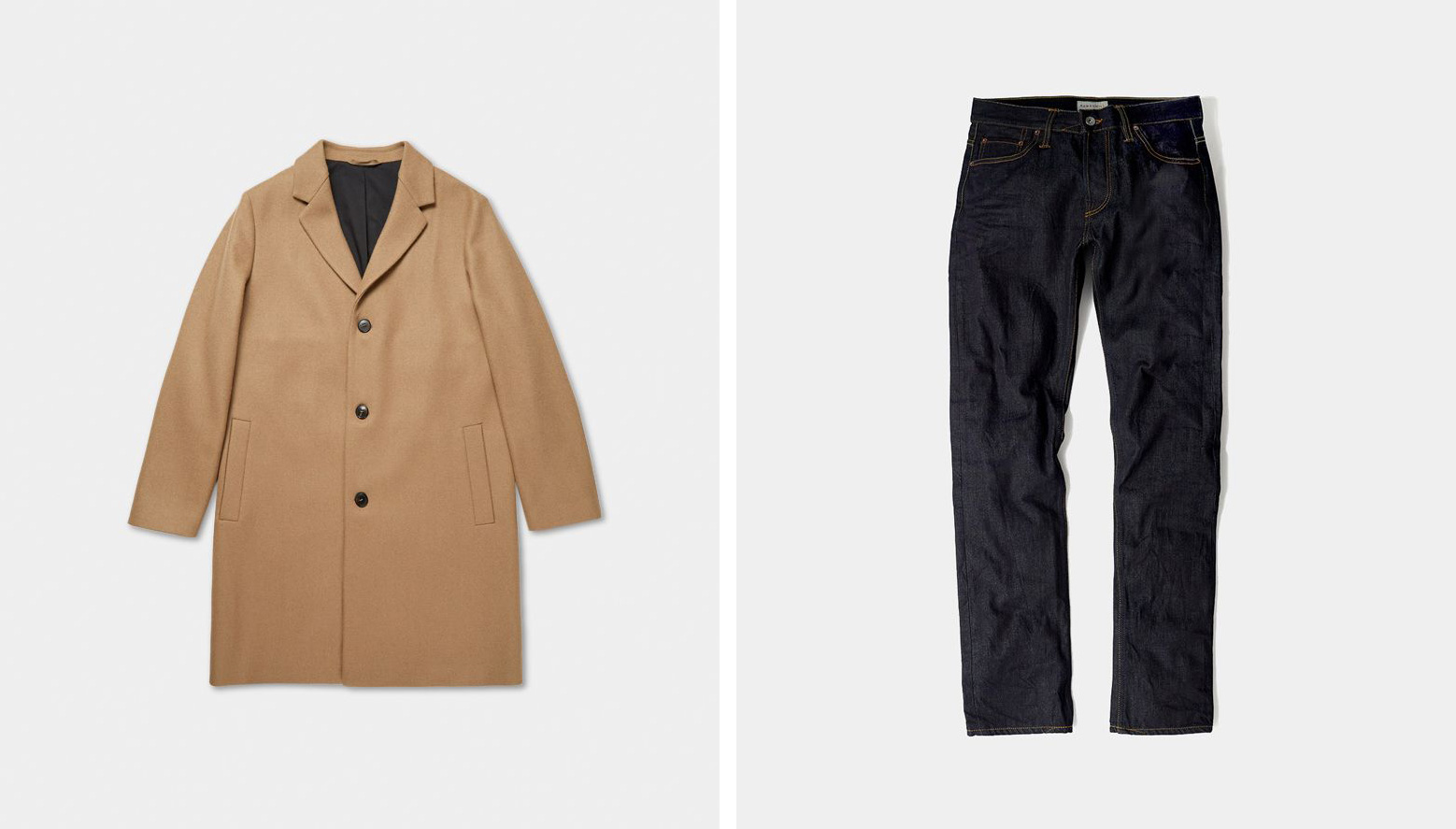 A phone case is the type of item that you don't truly appreciate, or you don't think you really need, until you have one. That's because, although you may not think so, something so simple can really be so effective. Dutch-based tech and accessories brand Mujjio is intent on proving that to be true with its premium range of leather tech accessories. The simplistic design of the brand's signature iPhone 8/7 Wallet has been specially developed to hold 2-3 of your essential cards such as ID and bank cards, and is slim-lined to eliminate bulky pockets. While the use of Mujjo's 'Moulded Edge Technology' gives the simple leather wallet added durability thanks to its high-quality vegetable tanned leather construction and soft suede interior lining.
The Sanders Brothers established their footwear brand in Northamptonshire, England, in 1873 and were appointed by the British Military to produce their shoes. Timothy Everest have collaborated with Sanders on the exclusive Japanese Military Collection, which takes inspiration from the company's extensive archive. This particular pair of Chukka Boots in dirty buck suede are handmade with leather welts that go around the shoe 360 degrees to aid flexibility and comfort. Limited to just 12 pairs, the incredibly comfortable Chukka Boots are finished with a thick tonal crepe sole for added protection and support.