We're heading into February and so far a lot of the new year resolutions that you set yourself remain incomplete; you haven't kept to dry January, you haven't set aside any more time for yourself and, as always, the days seems to be passing you by quicker than ever. But it needn't be so stressful. To help you take some time back for yourself, this week's Top 5 is full of the latest homeware arrivals that will be sure to transform your home into something a little bit more comfortable and cosy. Relax and enjoy the latest arrivals below…
22 Design is a studio based in Taipei that re-envisions the use of concrete and steel to create a beautiful collection of everyday items. The Dimension Clock is the result of nearly two years of skilled and experienced craftsmen work, which is apparent in the end result as the nature of the Dimension wall clock makes this object not just a useful timepiece, but also a work of art.
Hem Walnut / Black Key Side Table
New year resolutions often fall by the wayside due to time - and so do home improvements, as the stress associated with putting together new furniture is not worth the time you invest in it. But, with the Hem Walnut Key Side Table, those problems subside.  When it comes to the Hem side table it's just a case of locking in the legs and you're done – the whole table can be assembled in around 30 seconds. But, the ease of construction doesn't mean that the table is lacking in quality, as the Key Side Table consists of a solid table top which has been extended to an eye-catching vast degree to rest on light, slim metal legs.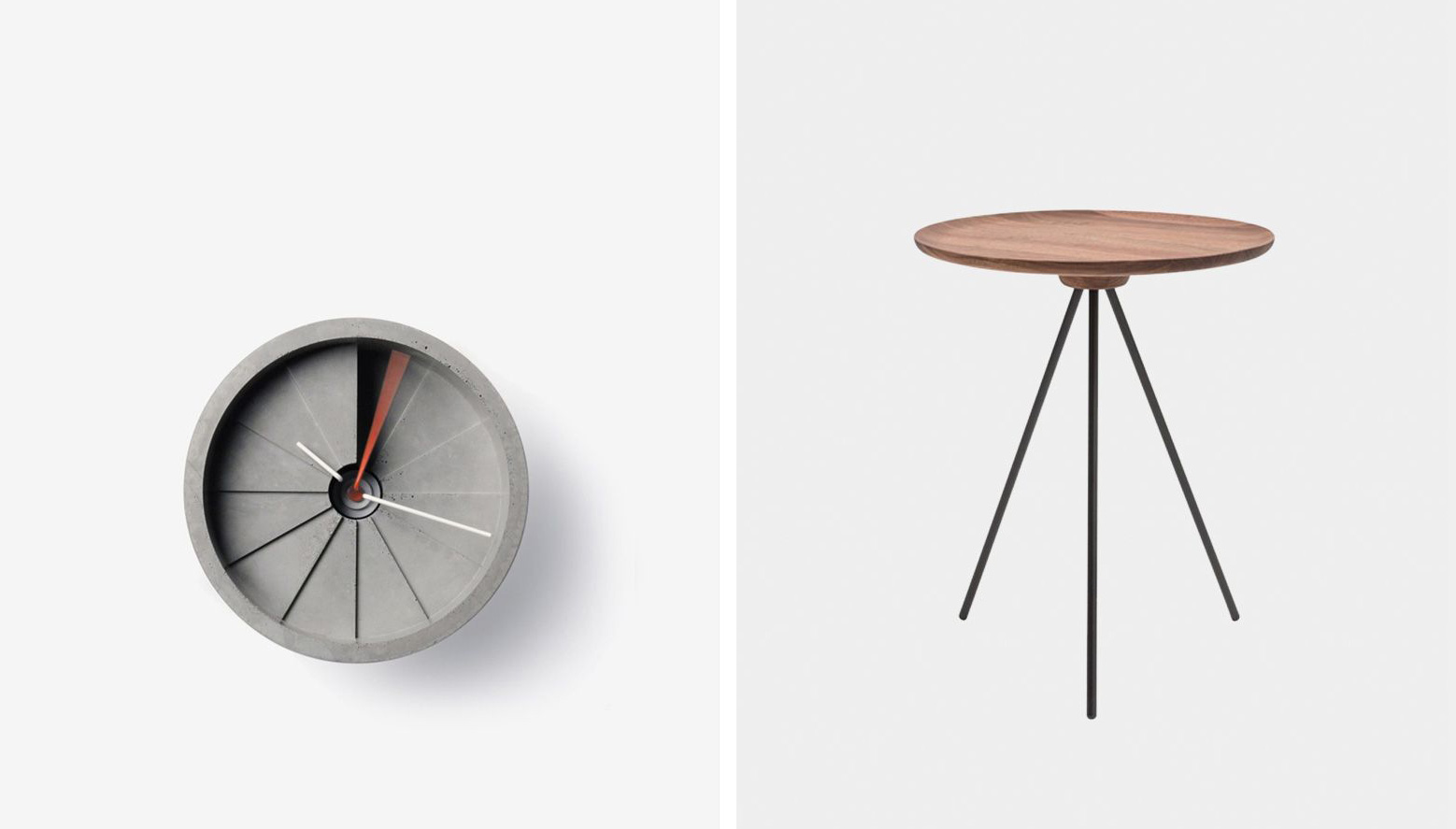 We don't believe that Scandinavian design will ever reach its peak but it's always good to note its evolution, and that's exactly what the 'Think Radical Vintage' book from Mendo provides. The all-new publication tracks the small changes that some of the best Scandinavian designers are experimenting with in order to keep the Nordic countries at the epicentre of the design world. In Think Radical, the book investigates a range of beautiful houses that create cosy, warm and colourful interiors, developing contemporary unity through a blend of personal favourites and rediscovered design classics. Piet Swimberghe and Jan Verlinde are always on the lookout for radiant interiors with personality, spaces that have been decorated with passion and patience, and this book is brimming with them.
Swoon Editions Mango Wood Spencer Shelving Unit
London-based design studio Swoon Editions has a worldwide reputation for beautifully minimalist homeware whose straightforwardness, elegance and functionality are defining a new era in minimalist design. One of our current favourites, the Spencer Shelving Unit, adopts a striking asymmetric shape that sets it apart from its contemporaries. By playing on the current vogue for stacked storage, the Swoon Editions Spencer unit makes a fantastically eye-catching display that comes complete with a lacquered finish to compliment the natural colouring of the solid mango wood.
Ruark Audio R2 Music Streaming System
If you are anything like us, then you will have had enough of speakers and sound systems that are too complicated to use, too time-consuming to set up and simply, too ugly. So that's what makes Ruark Audio so good. Every single one of its products not only makes your music sound better, look better and feel better in your home – they're incredibly easy to use too. Ruark Audio's beautifully discrete R2 Music Streaming System is this week's favourite as the all-in-one music system incorporates Bluetooth, Spotify Connect and Wi-Fi technologies which allow you to stream your music wirelessly. Plus, you can even listen to a wide range of music without a Spotify Premium account as you can explore a huge library of amazing music without interruption. It's essentially the only sound system you'll ever need as you can control all the modern features within the reassuringly understated old school tuner design.