Each and every week, we preview the latest arrivals and finest pieces of design from some of the best brands in the world. So here's the latest roundup of our favourite items hitting the website this week.
Schanyderman's Grey Denim One Shirt
The last fews years we've seen the denim shirt updated with various patches and embroidery but this season specialist shirt-makers Schnayderman's are taking it back to basics with the Grey Denim One Shirt. Cut in a classic fit, the heavy denim shirt is simply detailed with a button under collar, single chest pocket and snap buttons making it an exceptional modern take on a traditional workwear silhouette. Plus, its incredibly hard-wearing which means it will look this good for years to come.
Nordic: A Photographic Essay of Landscapes, Food & People
Given his first camera at the age of six, celebrated Swedish chef Magnus Nilsson has been taking photographs for over twenty-five years. As part of his research for The Nordic Cookbook, Magnus travelled extensively throughout Scandinavia, not only collecting a range of authentic recipes but also photographing the landscape, food and people along the way. This personally curated selection of Nilsson's photographs from The Nordic Cookbook, also includes previously unpublished images taken during his trip.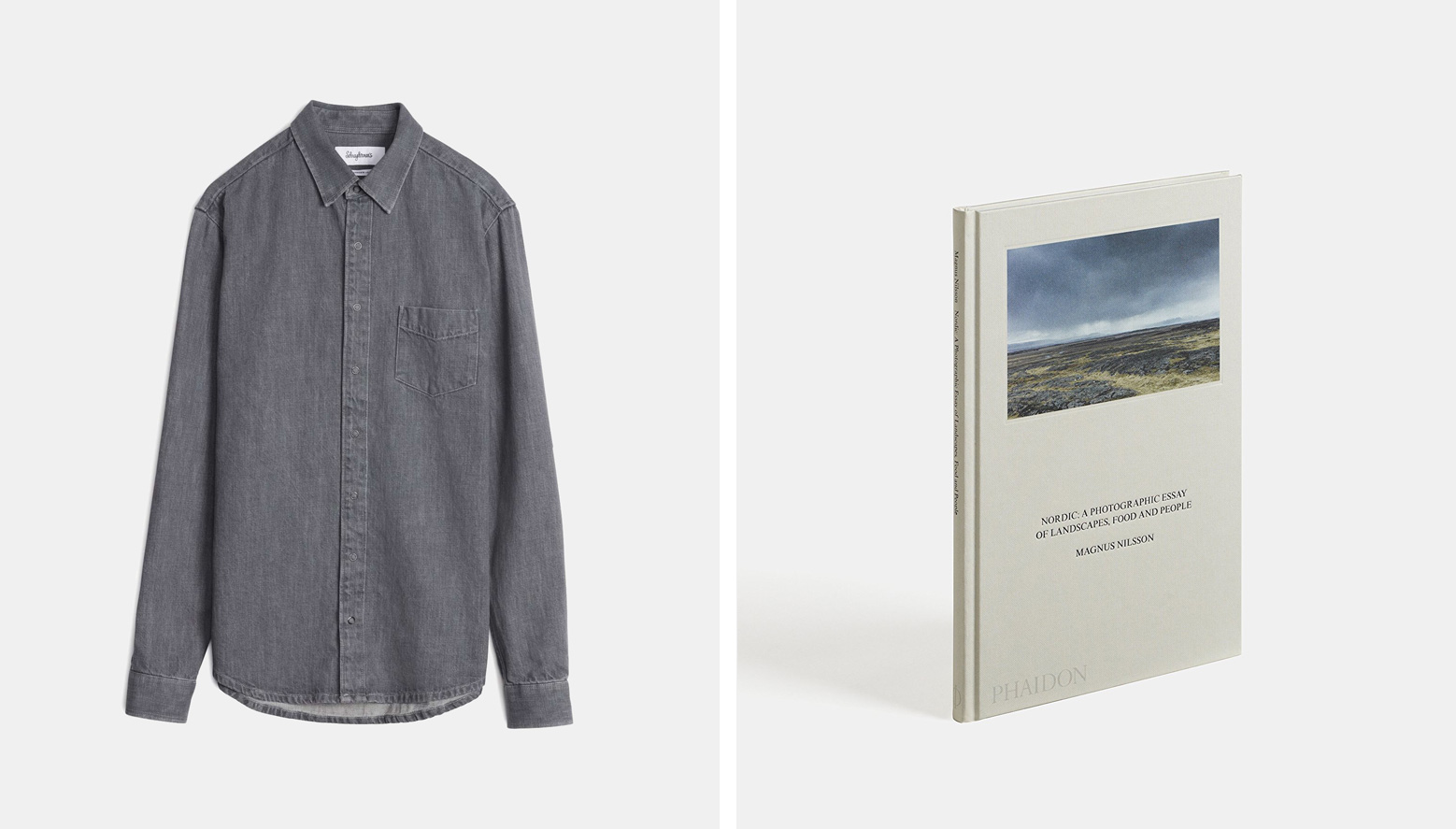 Grenson Vigona Suede Declan Chelsea Boots
Grenson has forged its own lane in the bustling world of British show making by simply doing its own things; and the greatest strength of the brand is its subtle twists on classic men's styles, including the Chelsea Boot. As you would expect, their latest invention, the Declan, is a modern interpretation of the classic and incredibly popular Chelsea boot. Expertly crafted from Grenson's new vigona suede on a single suede leather sole, the Declan has a long and elegant line which makes it the perfect complement to both tailoring and denim.
Urbanista Dark Clown Tokyo Wireless Earphones
Wireless headphones are one of those luxury items that you don't truly appreciate until you have a pair; and these Dark Clown Tokyo Wireless Earphones are as good as they get. The unique ergonomic design not only makes them more comfortable than most headphones, but they're also incredibly versatile courtesy of their obvious lack of wires and three-hour playtime capabilities. What is more, Urbanista's first truly wireless earphone also comes with a complimentary charging case so you can easily recharge on the go – plus, it can charge earphones up to 3 times, offering a total battery time of 12 hours.
19-69 Purple Haze Eau De Parfum
All of 19-69's fragrances take inspiration from a different culture or setting from Africa, Europe, United States and Asia and each one is suitable for any gender as they allow the individual to explore the beauty across the borders of the world. One of our particular favourite fragrances, Purple Haze, embraces the hippie movement and counter-culture just like John and Yoko's bed-ins in Amsterdam and Montreal in the 60's. It's a deep, powerful and quirky scent that includes notes of Cannabis, Accord, Violet Leaf and Patchouli.