Each and every week, we preview the latest arrivals and finest pieces of design from some of the best brands in the world. So here's the latest roundup of our favourite items hitting the website this week.
Schnayderman's Black / White / Yellow P.O.W One Overshirt
The simplicity of the overshirt – and its shirt-meets-jacket origins – makes it an ideal outer layer during the transition from winter to spring, and as a single layer when temperatures rise higher (whenever that may be). With its roots set firmly in workwear, this Schnayderman's P.O.W overshirt is cut in a vintage fit that ensure its not only easy to layer through the seasons, but it's also incredibly comfortable. Plus, the delicate virgin wool fabric and Prince of Wales checks ensures that it looks and feels better than most overshirts out there, too.
L'Estrange Grey Cashmere City Scarf
Scarves don't just keep you warm – they look good too, adding texture and visual interest to outfits, which is why we always reach for one as soon as the temperature drops. Right now, one of our favourite names in modern menswear, L'Estrange, provide some of the finest staples and accessories in menswear including Grey Cashmere City Scarf. The classic smooth finish of this City Scarf is crafted from an incredibly soft Scottish cashmere by Johnstons of Elgin and it is hand-finished with a lightly combed surface for extra softness.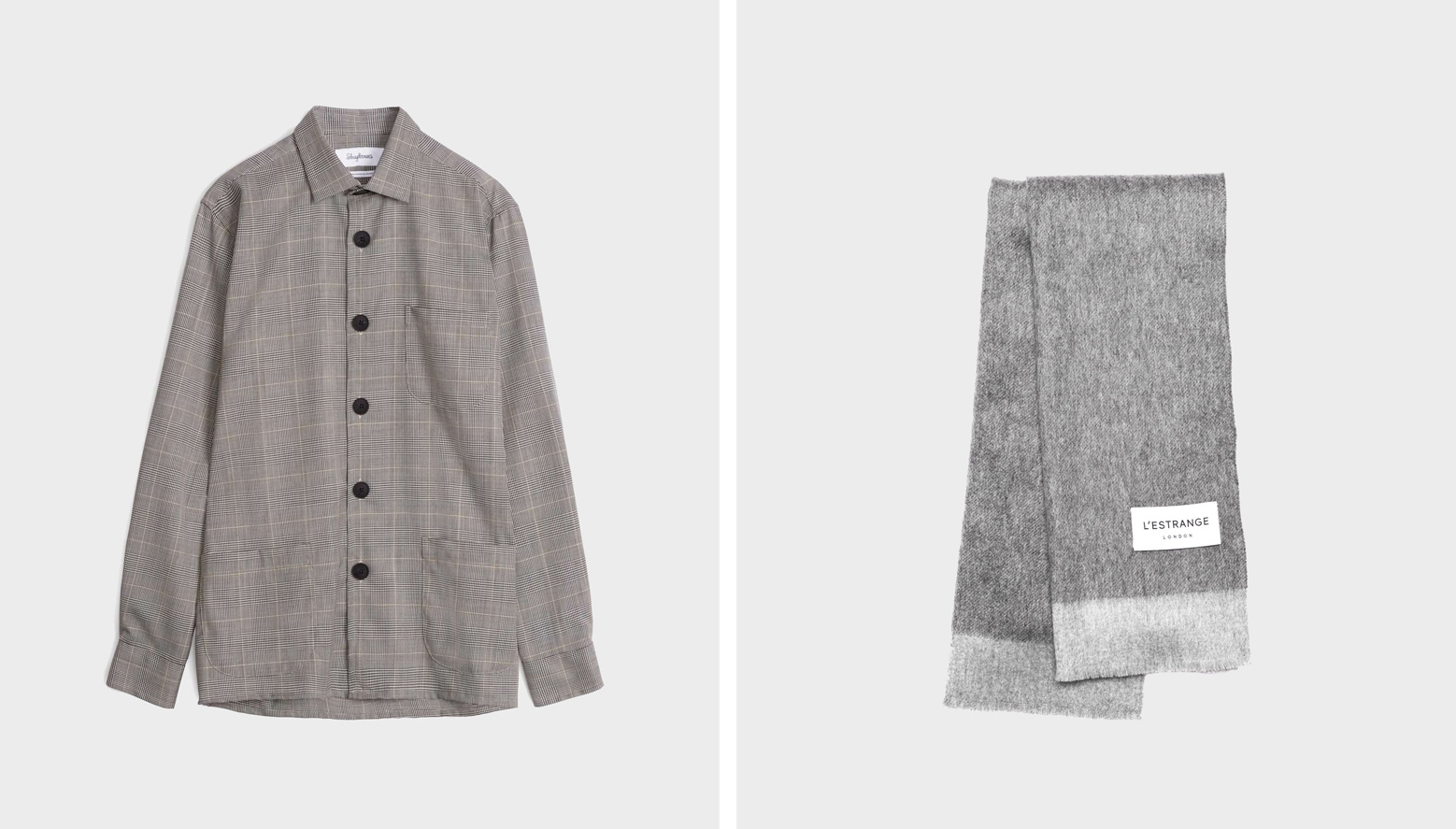 Hawksmill Denim Co Sand Army Cramerton Cloth Trouser
Hawksmill Denim Co take great pride in their manufacturing processes. This pair of Sand Army Cramerton Cloth Trousers not only pay homage to classic workwear silhouettes but also to the brand's unrivalled quality. The Cramerton Army Cloth was first woven for the US military in 1929, and is considered by many to be the first US khaki material produced. Here's it's available in the form of the limited-edition new officer trousers that come complete with a comfortable loose tapered fit, slant pockets and button fly - making them versatile enough to be worn day-in, day-out.
CQP Granit Racquet SR Sneakers
The things we should all look for in a minimalist sneaker; versatility, comfort, reliability and elegant design are the cornerstones of the CQP Racquet Sneaker. Partially unlined to offer the comfort of a slipper, the sneaker contains the same well-built sole as all other CQP sneakers but features soft suede uppers for added comfort. So, for those of you who are looking for a sneaker that can take you from the office and into the evening, the Racquet – available in our current favourite of Granit, Beige, Dust Blue and White - is the perfect choice.
Naoto Fukasawa: Embodiment Book
A brand new monograph on one of Japan's best-known product designers, Naoto Fukasawa, features more than 100 of his latest works including furniture, phones, watches, fashion, luggage and accessories. Naoto Fukasawa's simple, restrained and user-friendly products have an extraordinarily universal appeal, and this new book perfectly captures Fukasawa's perspective on the dynamic interplay between people, places and things. It is not so much of a traditional page-turner, but its visuals and tapestry of designs will ensure that it is easy-to-pick-up and a chance to gain some much needed inspiration away from the constraints of everyday life.