"We wanted to make the best for the most for the least," Charles Eames famously said about his first foray into the world of mass-produced furniture. The sentiment, however, could be considered the same for Hem – the six-year-old Swedish furniture brand that specialises in modernist, high-quality furniture.
If you think about it, it's hardly surprising that Hem's designs are so popular considering the ever-increasing virtual world that we live in. Within the crowded furniture arena, every other brand boasts its own variation of 'handmade' or 'hand-finished' furniture, but the truth is, if you want something that is more personable like it has really been made for modern living in mind, from start to finish, then that is what Hem is for.
Hem represent a new era of designer-maker who take on the design, product development, manufacturing, technology and logistics. Which means, instead of pushing the margins of mass manufacturing, Hem opt for revisiting traditional craftsmanship techniques and forging collaborative working relationships with a range of the world's best independent designers to create furniture that is unique, understated and incredibly high-quality. Here are ten such pieces, available now at OPUMO, from the latest Hem collection.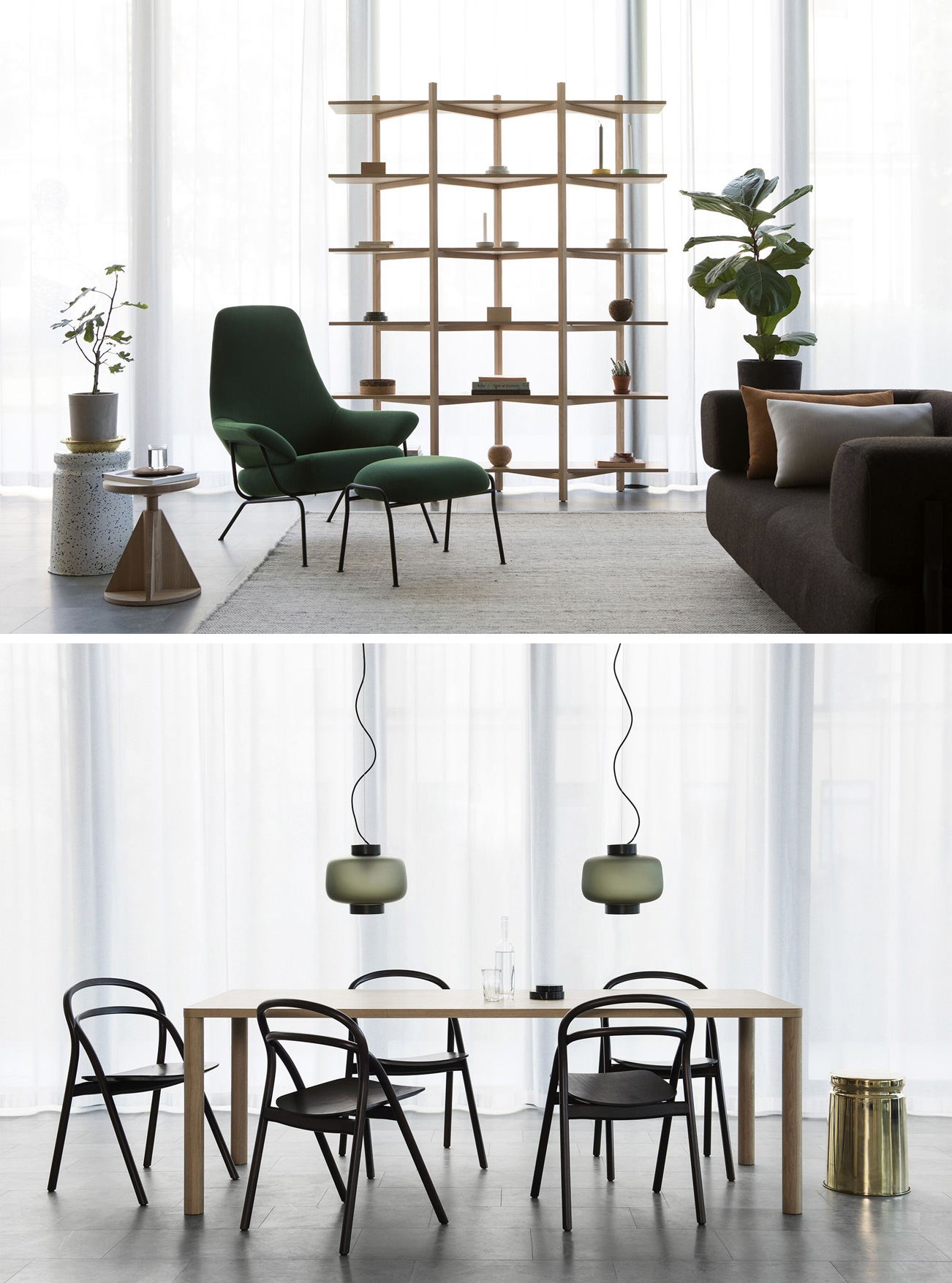 Designed by the in-house team at Hem, Palo is the sofa concept that 'evolves with you'. Thanks to an innovative frame featuring removable struts, its components can be easily added, removed or rearranged as your living circumstances change. Plus, it's available in three different colours and with cushions and armrests compatible across the whole series, the Palo allows you to mix and match as much as you like.
With nods to both Italian and Nordic design and a twist of mid-century feel, Luca Nichetto's high-end Hai Chair merges classic and contemporary design. Inspired by the sleek form of a whale shark – as suggested by the Finnish "hai" name – the armchair comprises a slender, elegant metal frame and invitingly soft upholstery. The Hai also boasts comfortable functionality as it can be assembled by hand with no tools – which is something that should not be underestimated.
The Bons are Hem's signature collection of characterful and colourful pouffes that are ideal for either sitting or for propping up tired feet. Made with hard-wearing and warm wool blend covers, the variety of pouffes allows you to find the colours and shapes to match to your own space.
The Alphabeta has been specifically designed to lighten up any interior. Made of brushed metal in Italy, Alphabeta assembles in 1 minute and hangs up to 2 meters. What is more, you can choose from 8 shapes and a range of colours to find the perfect pendant for your interior.
Joyful, deliberate imperfection is at the heart of Sylvain Willenz' Scribble collection, which brings the designer's own geometric hand sketches to life with decadent accent linens and throws. One part playful, one part monotone style, the elegant throws have been dreamt up in 100% superfine New Zealand lambswool for the coloured variation and 100% superfine merino wool for the black and white throw, which means they not only look good but they're incredibly warm, practical and luxurious too.
A contemporary ladder-like shelving unit designed by Mikko Halonen to cater for modern storage behaviour, Verso's lacquered ash rungs make the perfect home for magazines, clothes, accessories, or whatever else comes to mind. Both wide and standard sizes of the Verso come in two parts and can be assembled in a matter of minutes, but they perhaps work best when paired with other models in contrasting colours to create a statement storage piece.
Hand-woven from fine New Zealand wool, the Dune Rugs feature natural colours, contrasted by the cotton warp. The generous loops create a feeling of depth and texture that have been carefully produced by a select number of family business' in India, to ensure that quality, warmth and comfort is at the heart of each and every one of its rugs.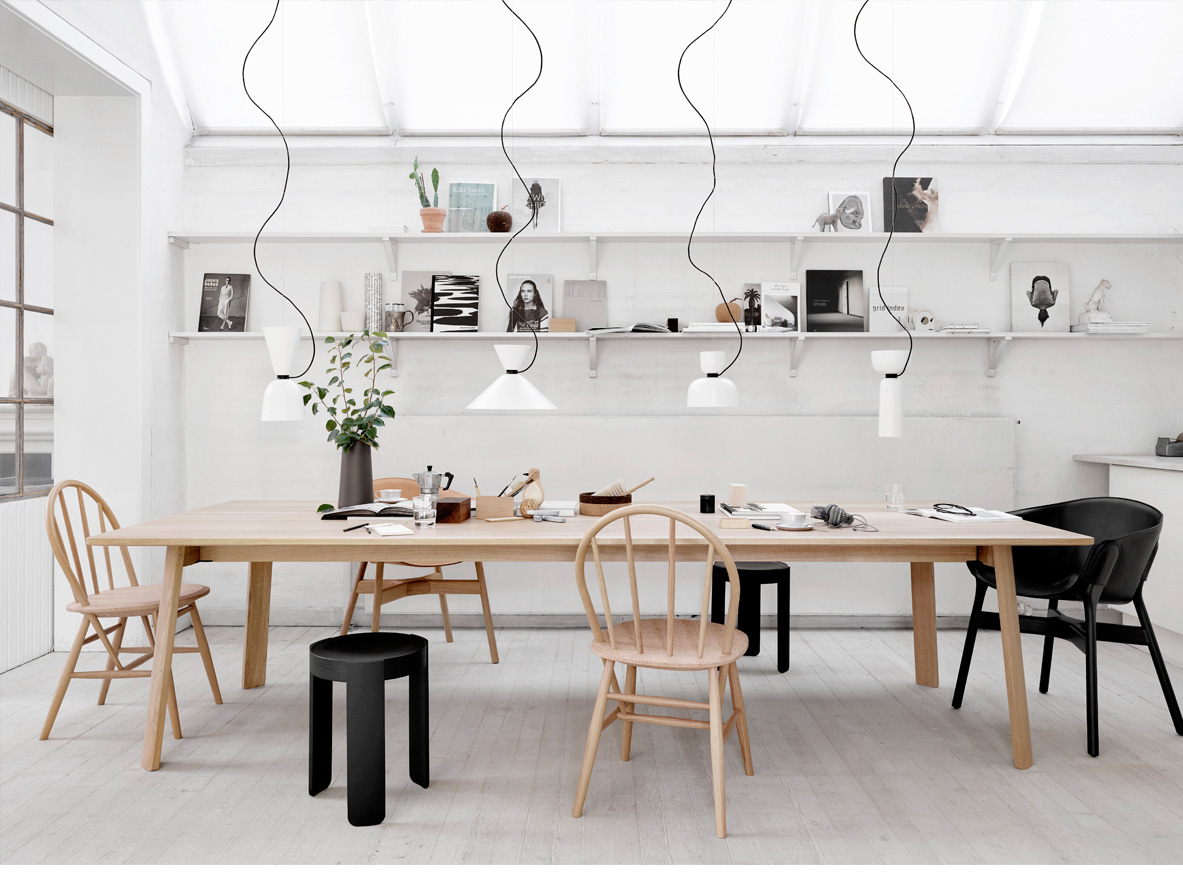 Inspired by simple Japanese wood-joining techniques he saw in Zen temples, Staffan Holm created Alle, a generously proportioned solid oak table that features his trademark mix of modernity and tradition. The Alle's thin, rounded edges give an impression of lightness and elegance unusual for such a large piece, while the legs attach to the tabletop via a continuous beam, eliminating the need for tools.
The Side Table – The Hide Side Table
With its sleek and minimal cylindrical design, the Hide Side Table is the epitome of Fesser's signature form meets multipurpose function design. Made from powder-coated steel, the Hide Side Table's formal geometric body conceals useful storage compartments; simply rotate it to display or hide your favourite items. Plus, with its bold monolithic look and hidden wheels, the table also represents a minimal piece of practicality.
The Finishing Touch – The Punched Metal Candle Holder
The minimal curves of Julien Renault's Punched Metal Candle Holder, stamped into shape from thick plates of steel with a heavy-duty industrial press, give surprising space and significance to whatever candle that may sit inside it. Both suitable for tealights and dinner candles and perfect as part of a collection or as standalone pieces, the powder-coated Punched Metal family is also available in a selection of elegant and contemporary hues, allowing you to get creative by mixing and matching as you please.
Shop all Hem furniture at OPUMO.