If you're looking for a unique piece of automotive sculpture that's one of the all-time greats, with go-anywhere ability updated to match 21st century style, then first-class British Land Rover company Twisted are the go-to experts.
A recent special creation based on their top of the range T80 model, the Alpine 110, adapts the name of a French rally classic - the Alpine A110 - and gives it to a Land Rover Defender that's been shaped, tuned and lavished with a high-end luxurious finish.
The Land Rover is one of the all-time greats of world automobile history. Born in 1947 as a breed of British Jeep designed to serve farmers and the military, the original Land Rover's square looks and no-nonsense go-anywhere abilities have conquered the world.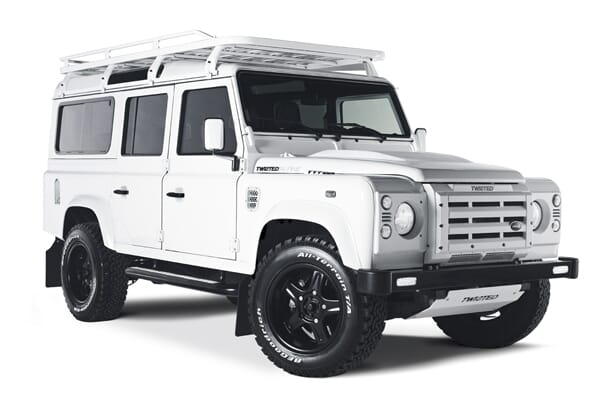 Now parent company Jaguar Land Rover is preparing to phase out the vehicle that's now known as the Defender. That means there's never been a better time to buy one of the last of the originals new. After the demise of Alec Issigonis's Mini in 2000, the Defender is the final remaining vehicle that will become a classic the instant you drive it out of the showroom.
At Twisted Automotive, they believe in taking the Defender to its logical limits, and the Alpine 110 is the most incredible example yet of that philosophy. Finished in dazzling Fuji white, with custom grille, bumpers and trim and your choice of offset, colour and size of the distinctly Twisted five spoke alloy wheels, this Twisted Defender's aesthetics are spot on.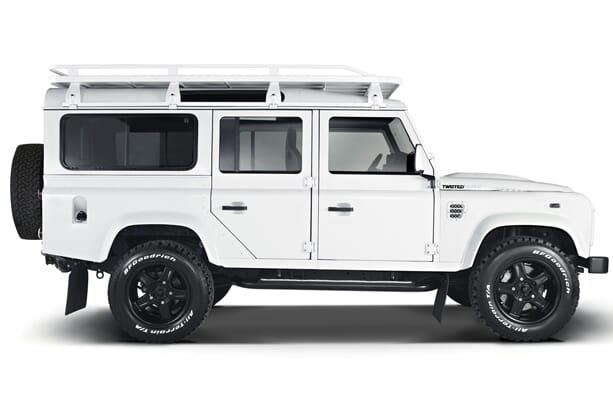 This is the long wheelbase model, and it's conceived to be a practical, safe and super-stylish family cruiser. The large alloy roof rack - also finished in white - is ideal for outdoor holiday essentials such as bikes or a canoe. There's a rear step and a ladder for easy access.
Inside, there's plenty of room for everyone's luggage, and passengers are carried in some splendor. Front and rear seats by race specialists Recaro, with the Twisted engineered subframes and tip up bases and trimmed in beluga Nappa, with 4/5/6 and 7 seat options available, it just fits family life.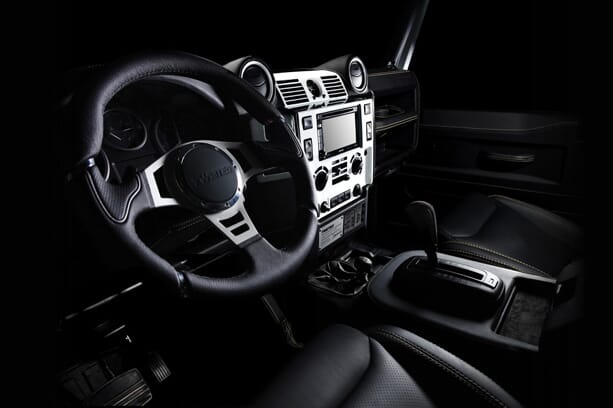 There's the option of an Alpine 110 with a windowless storage area behind the rear seats for added utility.
But the real news is what's underneath that sparkling paint job. Twisted founder Charlie Fawcett has been obsessed with Land Rovers all his life, and it shows in every car his company lavishes their attention on in their Yorkshire workshops.
The Alpine 110 gets Twisted's P10+ performance kit and progressive suspension, both of which takes the humble Defender to a new level.
Twisted's achievement with this vehicle is in making all of these modifications while retaining the Land Rover's restrained DNA. There really is nothing extraneous about this tribute to a great off-roader.
The current stock list and contact details can be found here.