Hanging your plants upside down might sound like a strange concept – not to mention physically impossible – but it could be the exact direction that your household plants are heading thanks to the Boskke Sky Planter.
That's because Boskke – which means 'little forest' in old English – is inviting us all to 'enjoy nature' in an entirely new way courtesy of its selection of beautiful, functional gardening products that understand the challenges of city living. So, whether you're looking for Boskke Sky Planter instructions or just wanting to see where it could fit in your house, you'll find it all in our Boskke Sky Planter Review below.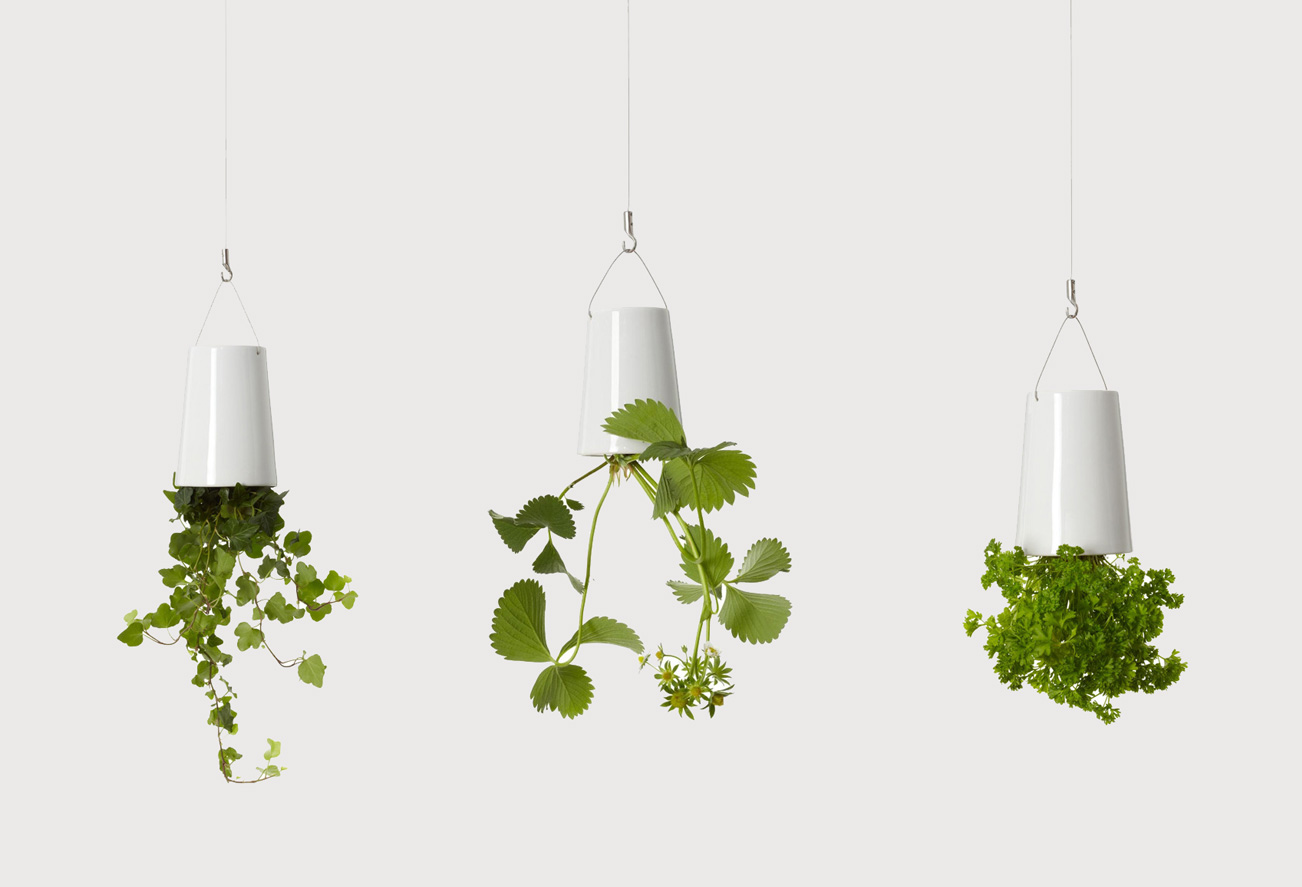 What Is The Boskke Sky Planter?
The Boskke Sky Planter – available in large and small sizes at OPUMO – is more than a stylish upside down pot plant. It's crafted with beautiful stoneware ceramic, as well as a smaller Sky Planter recycled from plastic, and uses the Boskke Slo-Flo irrigation system to provide your plant with water for up to two weeks at a time.
The unique irrigation system makes the Boskke Sky Planter ideal for frequent travelling and the less committed gardeners among us. Potted plants commonly lose water through evaporation and drainage, but the Sky Planter's unique reservoir feeds water gradually to the plant's roots. Because there is no excess water to drain away, they can be used indoors, without losing water to evaporation too.
Why Do I Need The Boskke Sky Planter?
Whether it's at home or in your office, on the floor or on the table, surface space comes at a premium. But ceiling lights aside, most of us have no shortage of space on the ceiling – which is why suspending plants could be the perfect way to breathe life into a room without adding to the clutter.
Not only is the Sky Planter a uniquely beautiful object, but it's is also incredibly practical. The sophisticated contemporary design is a complete reimagining of the classic plant pot; and it can hold a variety of different plants including: Anthurium, Areca Palm, Boston Fern, English Ivy, Geranium, Kentia Palm, Orchid, Peace Lily, Rubber Plant and herbs.
Boskke Sky Planter Instructions
How Do I Plant A Sky Planter?
Every Sky Planter comes with simple planting instructions. You can watch the short video demonstration of the Boskke Sky Planter below for further detail but here's the simple step-by-step guide to installing your planter at home.
Unpack Sky Planter and install ceiling hook securely. Remember it's important to hang your Sky Planter from a secure anchor point.
Ensure the Sky Planter Slo-Flo reservoir is secure by pressing it down firmly
Simply place the soil and your chosen plant into the Sky Planter
Cut supplied mesh to fit plant stem and place on top of soil
Insert locking disc and rotate to lock in
Invert Sky Planter and hang
How Often Should I Water It?
The great thing about the Boskke Sky Planter is that it is very low maintenance. The plant's roots will draw the water it needs through the terracotta Slo-Flo reservoir, so with most common house-plants it's simply a case of topping up the reservoir from time to time. Boskke also advise that you monitor the health of the plant, as some varieties may benefit from a little extra attention with a spray-mister, for example.
How Do I Water The Sky Planter?
A porous ceramic reservoir sits at the top of the Sky Planter and connects with the soil. It's filled through a small hole at the top of the planter and water is gradually released into the soil by diffusion. This means most of the water reaches the plant roots directly, reducing evaporation and conserving water. It also means you'll only have to fill the reservoir when it's empty, saving time.
The Boskke Sky Planter Review
The great thing about the Boskke Sky Planter is that it's so easy to use. The combination of a plastic mesh and a teapot-style locking mechanism keeps everything where it's supposed to be, and the low tech but incredibly effective Slo-Flo reservoir gradually releases water into the soil from above, so there's no mess.
Not only that, the product is incredibly well-designed so it looks and feels great. Plus, you can either choose from a beautiful textured ceramic or a smaller, Sky Planter made from recycled materials to suit the aesthetic of your home.
The Sky Planter is also incredibly practical as it works the same as any conventional planter. Plus, it can hold a variety of different plants including Anthurium, Areca Palm, Boston Fern, English Ivy, Geranium, Kentia Palm, Orchid, Peace Lily, Rubber Plant and herbs.
Of course, any part of Boskke Sky Planter Review should touch on how it looks. Not only is the planter an interesting focal point, but it also saves precious counter and floor space. So, wherever you fix the planter, it pays to be creative. The corner of the room is often a neglected space and the Sky Planter can work beautifully to bring a certain space like that alive, or it can be suspended high above a desk space to offer a sculptural focal point.
Now you're equipped with the full 'Boskke Sky Planter Review' you can now start furnishing your home by shopping the entire Boskke collection at OPUMO.