There was a time where we could only dream about portable speakers. A time before Bluetooth, before smartphones and before you had the ability to stream your favourite music in a matter seconds. It isn't good to dwell too long on the past, though. Embrace the moment, pick up a portable speaker and go outside – especially as we're hurtling towards the start of summer. But there are a few things you need to know first. Scroll down to check out our full portable speaker review featuring the best portable speakers for the outdoors, your iPhone, for under £100 and more.
 The Best Portable Speaker For Your iPhone - Marshall Black Acton Bluetooth Wireless Speaker
Connectivity to your iPhone is now one of the most important considerations when it comes to purchasing a portable speaker. So it pays to look to a speaker that has a considerable battery life and easy Wi-Fi and Bluetooth connectivity.
We believe that the Marshall Black Acton Speaker excels as the best portable speaker for your iPhone because, despite its small size, it packs in hi-fi quality into a classically designed, compact frame. What is more, the Marshall Acton comes with a custom control panel featuring three analogue interaction knobs that allow you to fine tune the exact sound you desire.
 The Loudest Portable Speakers- Marshall Kilburn Portable Wireless Speaker
For its latest Bluetooth speaker, Marshall has gone smaller and portable with the Kilburn. It takes the unmistakable look and sound of Marshall and cuts the cord to offer up to 20 hours of wireless playback. It is also incredibly lightweight – weighing in at a taught 3kg. But most impressively of all it sets the bar as one of the loudest portable speakers in its class.
The Marshall Kilburn's compact size is well-balanced with impeccably sounding audio which boasts a clear, powerful midrange and extended highs for a sound that is both articulate and pronounced. It also comes with Marshall's signature analogue knobs that allow you to fine tune the controls to your personal preferences.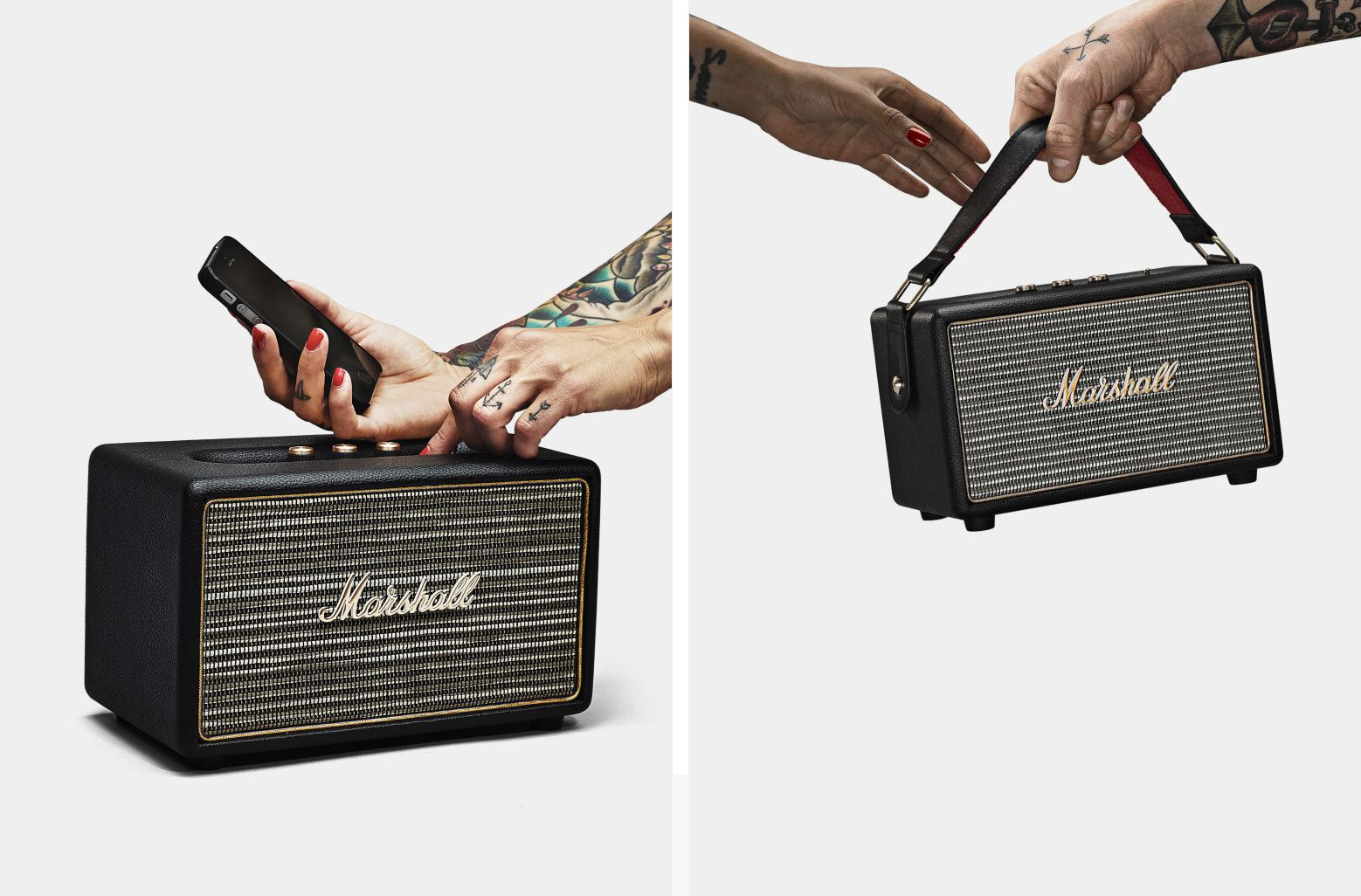 The Best Portable Speaker For The Outdoors - Vifa Reykjavik Speaker
The Vifa Reykjavik Speaker is not just the best portable speaker for the outdoors because it was inspired by nature – its wonderfully simple design is a tribute to the foggy Nordic landscapes – but it's also incredibly efficient. The Bluetooth speaker is in fact the smallest speaker in the Vifa range – which makes it particularly useful when it comes to transporting it from indoors to outdoors – and it comes in at around the size of a standard CD. The lightweight aluminium design is complemented by an easy-carry leather strap and there's also an option to cover your Reykjavik Speaker in wool – just in case you're looking for a bit of added durability when you take the speaker outside.
The diminutive, albeit rugged, design is supported by Bluetooth connectivity. There's a small button on the side that controls Bluetooth connection and it has the ability to answer calls to your smartphone through the speaker too. But the sound of the Vifa Reykjavik is what makes it the best portable speakers for the outdoors. It's impressively well-balanced sound highlights the soft, textured quality of vocals, while it also has the power to give bass beats a commendable amount of space to bounce around.
The Best Portable Speaker Under £100 - Leff Amsterdam Steel Tube Audio Speaker
Because portable Bluetooth speakers are regularly transported to other rooms in the house they needn't be too expensive. These days, there are plenty of exquisite portable speakers that will cost you upwards of £200 but not this one. Not this wonderfully small, almost bashful in its beauty, Leff Amsterdam Steel Tube Audio Speaker.
Inspired by the simplicity and shape of bedside clocks, Leff Amsterdam have designed a small batch of Bluetooth speakers in the same shape as the classic tube clock. The stainless steel casing and construction ensures that the speakers are robust enough to take on your travels, while the high-quality tube audio components give an extraordinarily good sound for such a small speaker. Plus, it comes with a two year guarantee, 12-hour battery time and a variety of colours including Steel, Copper, Silver and Brass.
The Best Wireless Portable Speaker - Audio Pro Addon T3 Portable Speaker
When the Audio Pro Addon T3 arrived in this world it came with the tagline of 'a small speaker that sets a new standard for portable audio'. Its been a big hit, as the Addon T3 has become one of the best wireless portable speakers out there – especially with its rather affordable price tag of £180.
With a simple operation, elegant design and one of the best battery lives on the market, the Addon T3 has sound quality that supersedes its diminutive size. It plays impeccable sounding audio time-after-time and it is lauded for its clear treble and deep bass.
The Addon T3 is the only portable option in the Audio Pro range and it is perhaps a bit too big to throw into your case to go on holiday. It is, however, a great size for moving around the house, taking into the garden or chucking into your car for a trip away. Its battery life is great, too, offering up to 30 hours at moderate volume.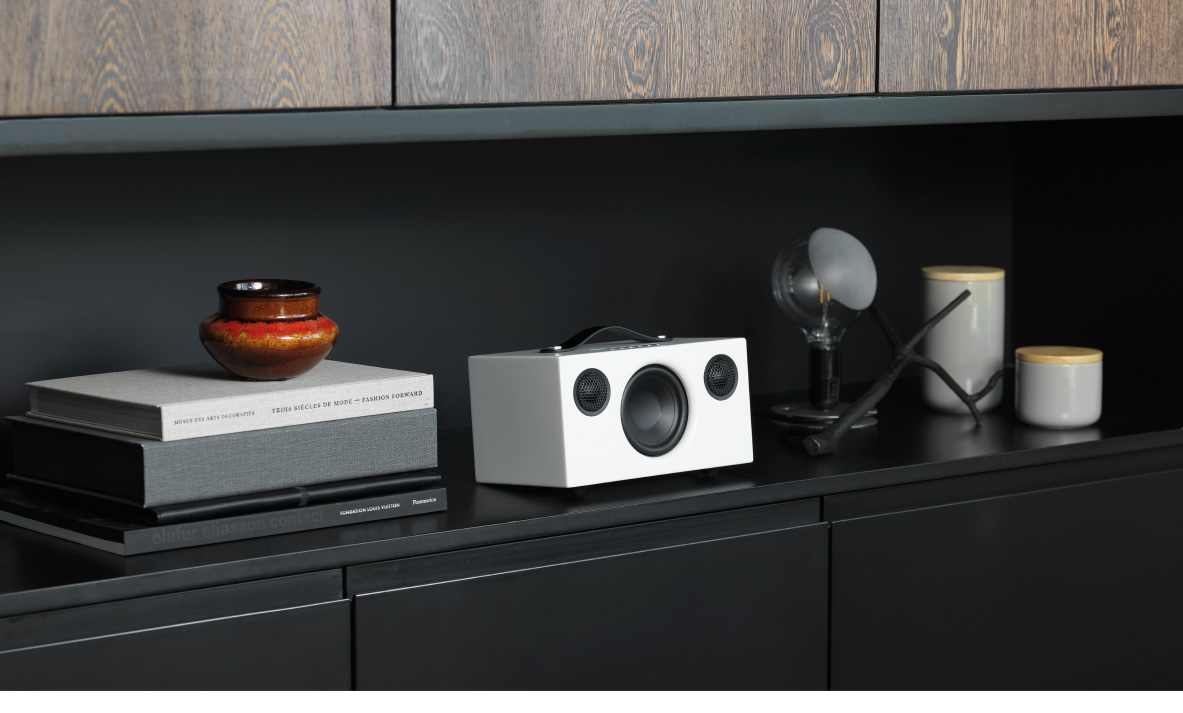 The Top 5 Best Portable Speakers:
Shop all portable speakers alongside the best audio technology at OPUMO.
Shop all audio at OPUMO.