You might have meticulously planned out each room in your house, you might stick to a fairly strict cleaning routine and you are pretty good at putting things back from where they came from, but clutter still manages to creep in. Rather than stacking up boxes or investing in heavy, over-sized furniture there is a lot of easier ways to de-clutter and keep your home cleaner and calmer. Sometimes all it takes is a little rearrangement.
Below, we've picked out six quick and easy, smart and adaptable storage tips for small spaces. Basically, we've used a few of our favourite homeware and furniture brands to give you some of the best space-saving storage solutions out there. Enjoy.
Sometimes the best storage tips come from some of the simplest solutions. Take this Monuments Magazine Holder from Menu, for example. The sleek, sharply designed magazine holder puts your favourite titles into a contemporary piece of furniture that rarely receives the aesthetic attention it deserves. It's an artistic storage tip that is incredibly versatile, which means you can use it and move it as you see fit.
When you think of storage solutions you probably think of angular plastic boxes hidden under beds or large bookshelves that don't do much to disguise your clutter. Not this Hide Side Table from Hem, though. With its sleek and minimal cylindrical design, it's pretty much the epitome of multi-purpose functional design. The formal geometric body conceals useful storage compartments; simply rotate it to display or hide your favourite items. It's that easy. Plus, with its small, considered shape and pop orange colour, it also acts as a statement piece rather than a storage solution not to be proud of.
German designer Theresa Arns was experimenting with ways of combining a table and storage when she stumbled upon the idea of a lid that opens by rotating it around one of the legs. It's a simple, elegant, unpretentious and strangely addictive storage solution – you can't help but show people how it's no ordinary turn table but a full-blown hidden cupboard – which is always a plus. It's not only perfect for small spaces, but a great storage solution for living and bedrooms too.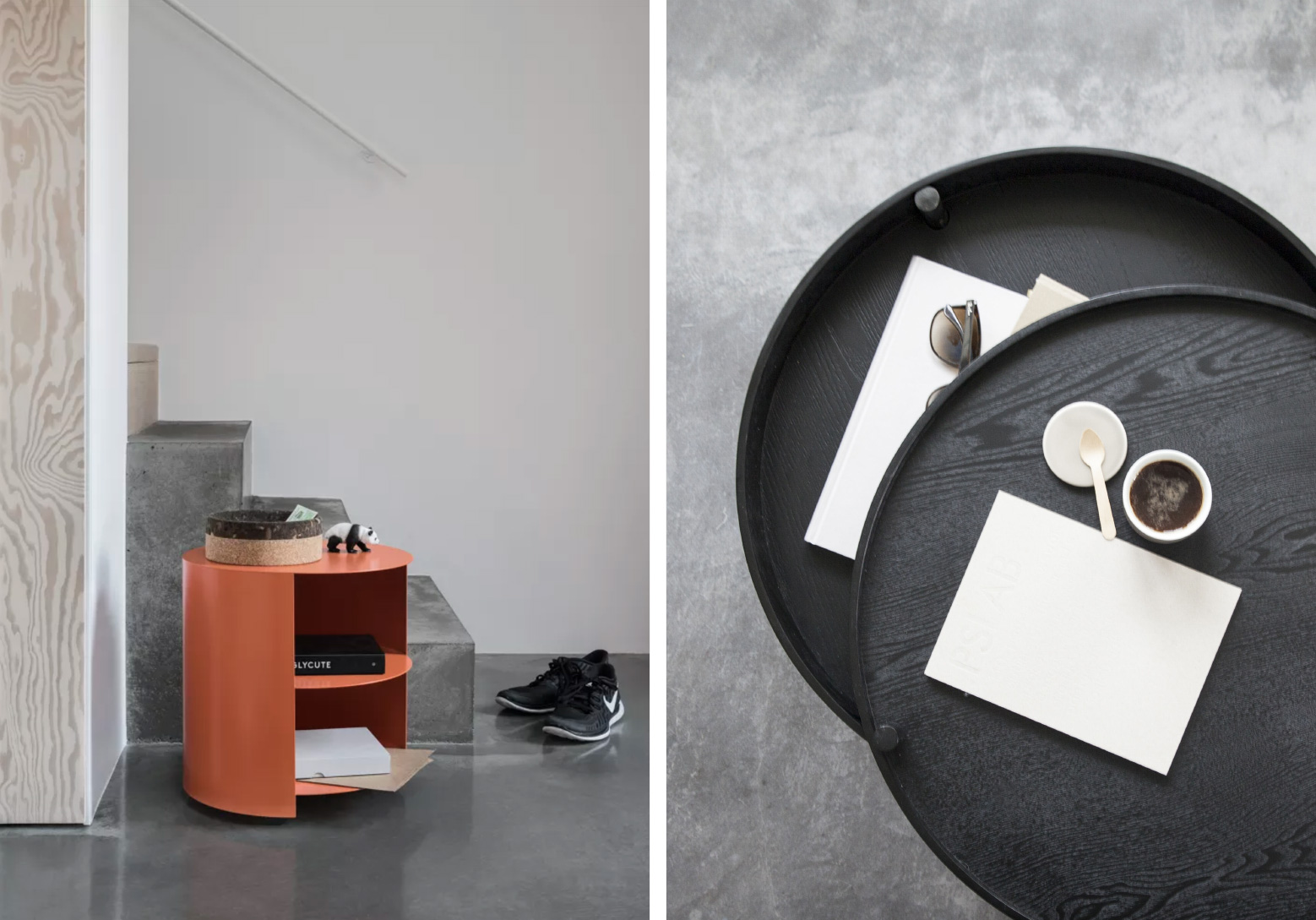 If you live like most people, there never seems to be enough storage for the smaller things –  those small accessories, wires and paperwork just live anywhere they like. Which is why Swedish Ninja have teamed up with Andreason & Leibel to help change that with the Diagonal Wall Basket. The compact storage baskets can be easily attached to your wall and they can be mounted wherever you need some extra storage – the hallway, the bathroom or bedroom. Made of powder coated steel, the baskets – unlike a lot of other storage solutions – look good whether they're empty or full with their semi-transparent fronts. Plus, they're available in small, medium or large and in two colours – Yellow and Grey
One of the easiest storage tips for small spaces is taking things off the floor. You may not need another side table but you do need a place to put all your books so opt for a simple space-saving solution such as the Hem Zig Zag Shelf. Easily assembled without the need for tools, the high-quality clear-cut Zig Zag shelf is great because it basically means you can put your prints, books, vases and accessories on display in a practical way. Leaving work tops and tables clean in the process.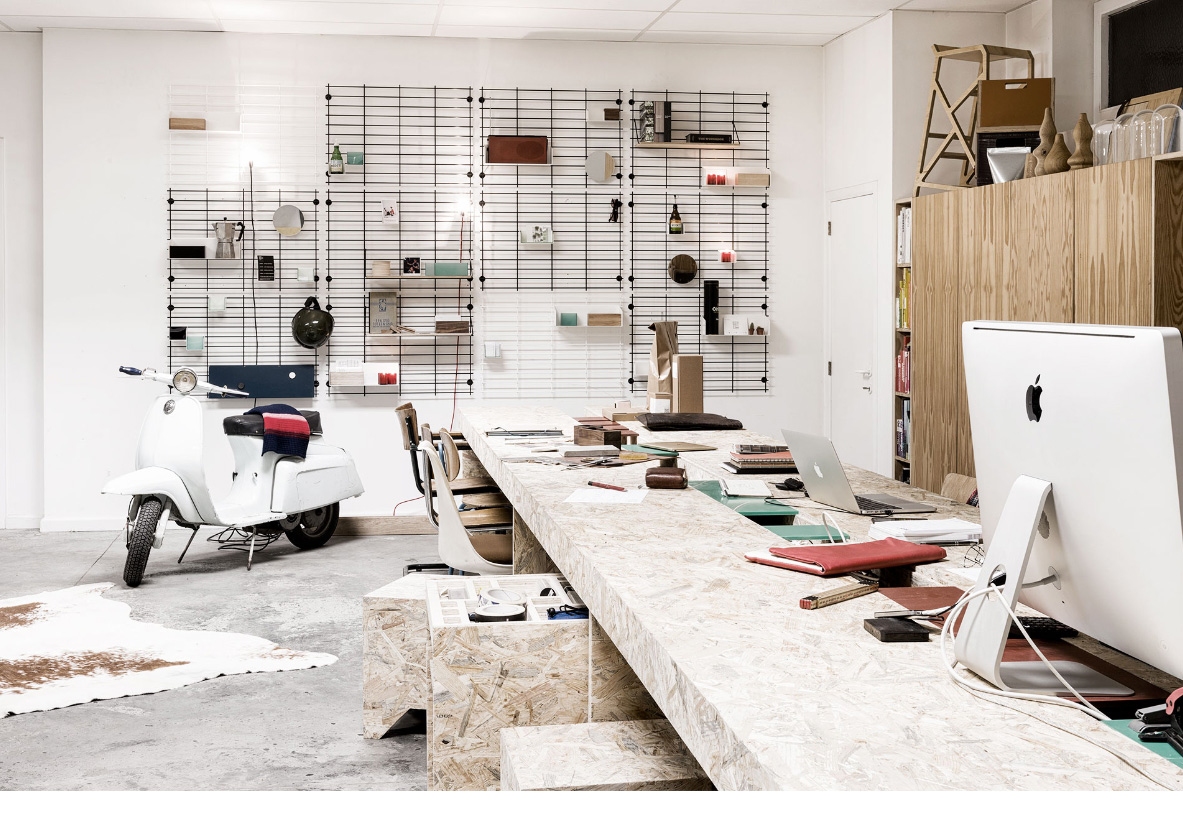 Atelier Belge Loopholes 02 Package
The modular unit 'Loopholes' is the quintessence of Atelier Belge's three beliefs: timeless design, functionality and personalisation. Its minimal design excels in simplicity as the different package setups are unlimited and the wide range of applications allow you to customise the grid however you like. The best thing about the 'Loopholes' is that the unit isn't bound by trends, styles or different functions in the home, which makes it easy to integrate it into every corner of your home. It's a top storage tip for small bedrooms and bathrooms.
Shop all interior design at OPUMO.
Want more? Shop all the latest homeware and furniture arrivals as part of the OPUMO Lifestyle category.