If you have an empty loft space above your head or you take regular inspiration from the number of luxury lofts across London and New York, then nothing seems better than transforming your loft into a sleeper's paradise. But, as ever, it all comes down to one question, where to start? To give you a helping hand, we scoured the internet and called upon a few of our favourite homeware brands to give you the six simple steps to getting the luxury loft look. Notes at the ready.
Don't Overlook The Importance Of A Luxury Loft Bed
When you think about loft conversions or any luxury loft for that matter, we suspect you're thinking about the bedroom. That's because bedrooms at the top of the house are quiet, restful private places. Unsurprisingly, the secret to a luxury loft begins with the bed.
What to look for in a luxury loft bed?
Size - With the higher ceilings and feeling of grandiose associated with a loft, a four poster bed is often the number one choice when it comes to loft beds. But it needn't be. We suggest you look to a simple, perhaps king or queen sized bed if big enough, and position the bed under a skylight, or in the centre of the room, to offset the more functional aspects of the home such as the kitchen, the dining room.
Style - Luxury loft ideas are normally packed with detail and textures, so when it comes to a luxury loft bed look to one with a neutral colour palette as it will complement the clean, simple lines of the loft.
Embellishments - The large statement rug, the prints in bold frames, the industrial lighting – not the mention the carefully curated selection of greenery – these subtle details turn your attention away from the wide-open loft landscape, and make the home, and particularly the bedroom, more lived-in, luxurious and warm.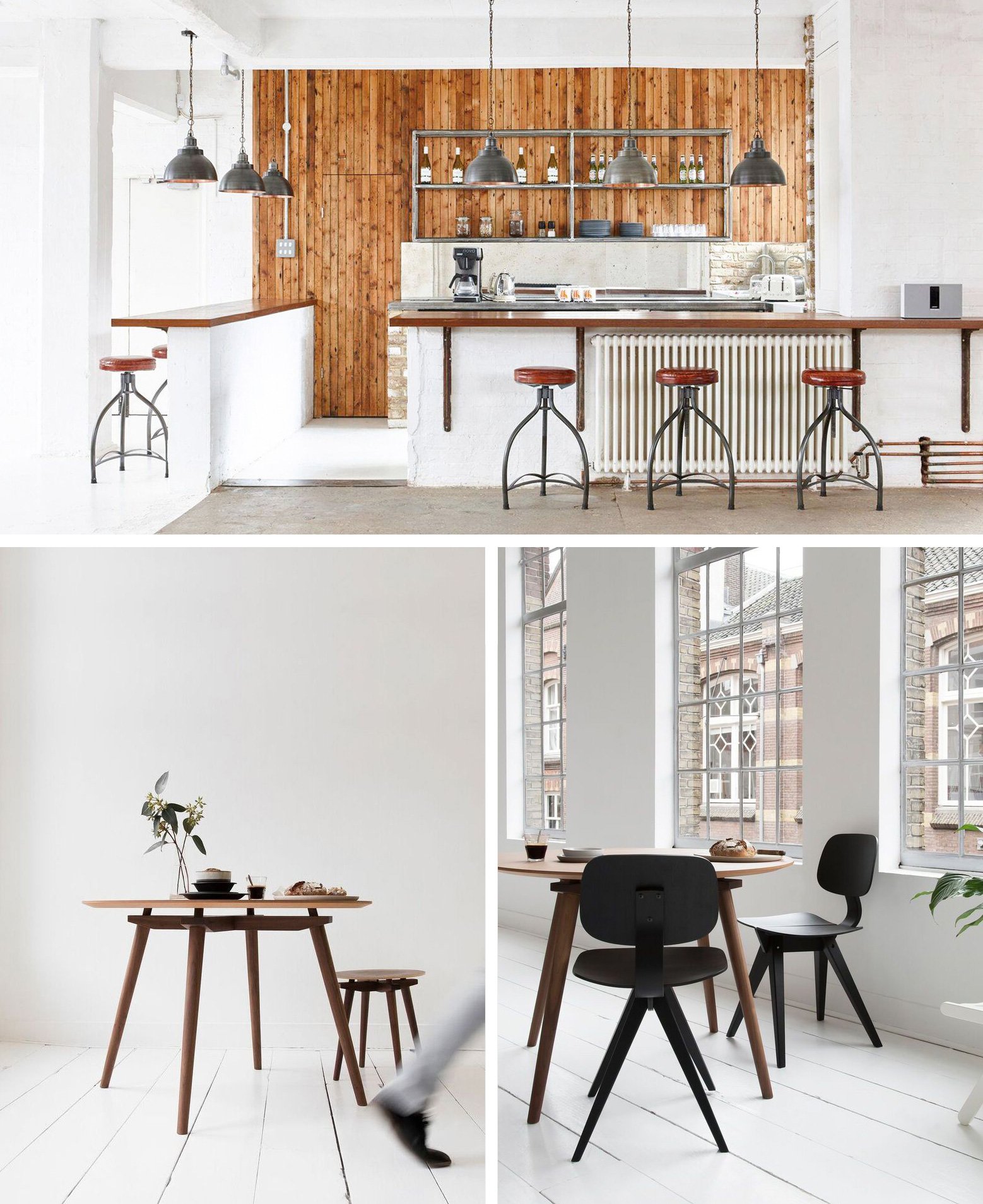 Use Natural Light & Colours
The key point to a successful loft conversion is getting enough natural light into the space. It's not about installing plenty of windows, but it's about maximizing the windows you do have to give you access to the best room your view has to offer. So, it pays to keep things simple. The main pieces of furniture should have clean, simple lines and be neutral in colour.
So, for the living space think modernist sofas, smooth edges and simple, uniform textiles, such as the Hem Paolo or Koti sofa. The same goes for furniture; look to mid-century antique-inspired pieces such as natural wooden tables and classic curved chairs from Rex Kralj. And, if you're craving a little bit of colour, you can introduce a few textiles and accessories from Nordic Knots.
The Finishing Touches: Mix It Up With Audio, Accessories & Textiles
When it comes to adding the finishing touches to a loft you have to find a way to honour the heritage of the building without making it look unconventional, so put some modern pieces alongside some vintage, classic pieces. Also, look to to wool, leather, wood, cotton, velvet, glass, silk, ceramics and paper – all wonderfully simple, natural materials that will add depth to your interior.
Look To Industrial Luxury Loft Lighting
Lighting preferences can be incredibly personal, and the old-aged rules of interior design don't always apply to the specialised needs of a luxury loft apartment. Overhead lighting is incredibly important, and it draws attention to the size and scale of the space. So when it comes to loft lighting, here's what to look out for.
Pay attention to task lighting in places where people are likely to sit and read, gather for conversation, or where you want a more intimate feel. I.e. an Industville Pendant above the dining table.
Install as many light sources as possible. Although it sounds strange, adding as many light sources as possible is vital to transform the feel of the living space for daylight conditions and whatever the occasion. For instance, you may want different lighting options for a quiet evening as you will entertaining; so look to large industrial lighting to define the dining and living areas, and

lamps

,

mini wall lights

and

wall lights

for more intimate areas.
Here's A Few Of Our Favourite Pieces That You Need To Add To Your Luxury Loft
Rugs – An artistic rug perfect way to remake a room; whether it's used for functional purposes or as a piece of art in its own right. Look to Nordic Knots, Slowdown Studio for inspiration.
Art - Statement prints will not only command attention in any living space but their subtle touches of colour and texture will be a great complement to a neutral interior. Thankfully, we have a wide range of art, prints and posters from the likes of Atelier CPH, Peytil, By Garmi, Bycdesign, and more for you to decorate your walls with.
Audio - If you're looking for a good-looking – an actual good-looking Bluetooth speaker in the respect that it doesn't even look like a speaker – then the Vifa Oslo is well worth considering. Despite its small, solid size, the Oslo offers a clear, sharp and powerful sound that will fill any loft space.
Start With Luxury Loft Storage
Even with the additional space given to you by a loft conversion, or in a loft apartment, it is likely you will find storage an issue. Fortunately, there is no end of luxury loft storage ideas out there that will keep your stuff neatly organised and looking good in the process. Atelier Belge, known for its 'quirky and timeless' interior objects that are simple but incredibly functional, provide alluringly beautiful and simple solutions for everyday situations – and particularly lofts. That's because the brand specialises in simple shelving systems that are easy to fit and incredibly easy to use.
What to look for in loft storage?
A great place to start is with the Atelier Belge Loopholes package as the modular unit is the quintessence of Atelier Belge's three beliefs: timeless design, functionality and personalisation. Its minimal design excels in simplicity as the different package setups are unlimited and the wide range of applications allow you to customise the grid however you like. The best thing about the 'Loopholes' is that the unit isn't bound by trends, styles or different functions in the home, which makes it easy to integrate it into every corner of your loft.
The Atelier Belge Shelving System brings you a minimalistic shelving system that's endlessly expandable – which means it can be used anywhere. Simple cut-outs in each shelf offer you a vast choice of compositions with maximum efficiency and minimum waste.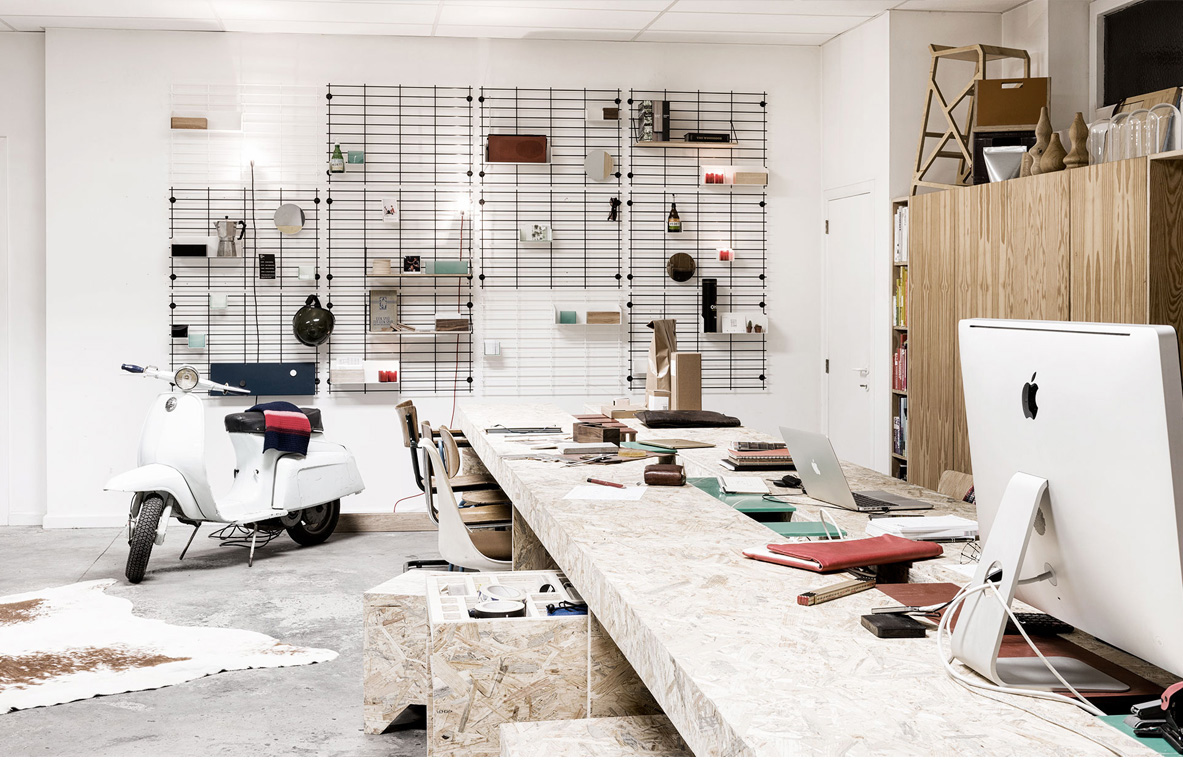 How Much Is A Loft Conversion?
Depending on the roof structure and planning constraints of your home, a loft conversion is one of the most straightforward ways of getting extra space. Almost all houses can benefit from this extension with a bit of planning, but here's a few things you must know before you begin:
Take a measurement from the bottom of the ridge timber to the top of the ceiling joist; the usable part of the roof should be greater than 2.2m.
Building regulations impose no minimum ceiling height for habitable rooms. The headroom standard for stairs of 2m applies, but this can be relaxed to 1.9m or 1.8m if necessary.
How much does it cost? A basic 'room in the roof' loft conversion if the cheapest renovation and commonly starts at around £15,000. This usually involves:
Reinforcement of the floor
Installation of skylights
Added insulation
A staircase to the loft
Installation of electrics, lighting and heating
Building regulations safety measures such as fire doors smoke alarms.
Now you've been equipped with the 'Six Ways To Get The Luxury Loft Look' you can now begin to furnish your home with the latest OPUMO Lifestyle arrivals.