You can forget thinking that throw blankets are only for winter. Granted, throws and blankets do perform at their best when you can drape them over a sofa and call upon their warmth and comfort when needed, but they offer more than that.
Our exclusive range of throw blankets has an array of minimalist, geometric patterns that bring the tradition of textiles into the modern day, and consequently, into the heart of the home. They add texture, warmth and colour to a room – and can transform furniture from unremarkable pieces to the stars of the space.
To illustrate our point, we've picked out seven of the best throw blankets from the best brands and independent designers at OPUMO. Enjoy.
Swedish design studio Hem is often at the forefront of the most important movements in homeware, so when they release a brand new collection of throw blankets it's well worth a look. Dreamt up by Milan-based fashion designer Arthur Arbesser in collaboration with Hem, the simple square throw is a vibrant take on a classic jacquard pattern with its pink, white, grey and blue colour hue. Plus, its luxuriously cosy in comparison to standard fleece blanket alternatives courtesy of its superfine 100% merino wool construction.
When it comes to adding soft furnishings to your interior it pays to think ethically. By that we mean buying pieces that not only look and feel great, but they contribute to the greater good too. Take YUYU Amsterdam's Ikat Cotton Throw, for example. Handwoven by some of the best cotton weavers of Cambodia, the contemporary blanket is entirely sustainable and takes inspiration from classic Ikat patterns, making each throw truly one-of-a-kind.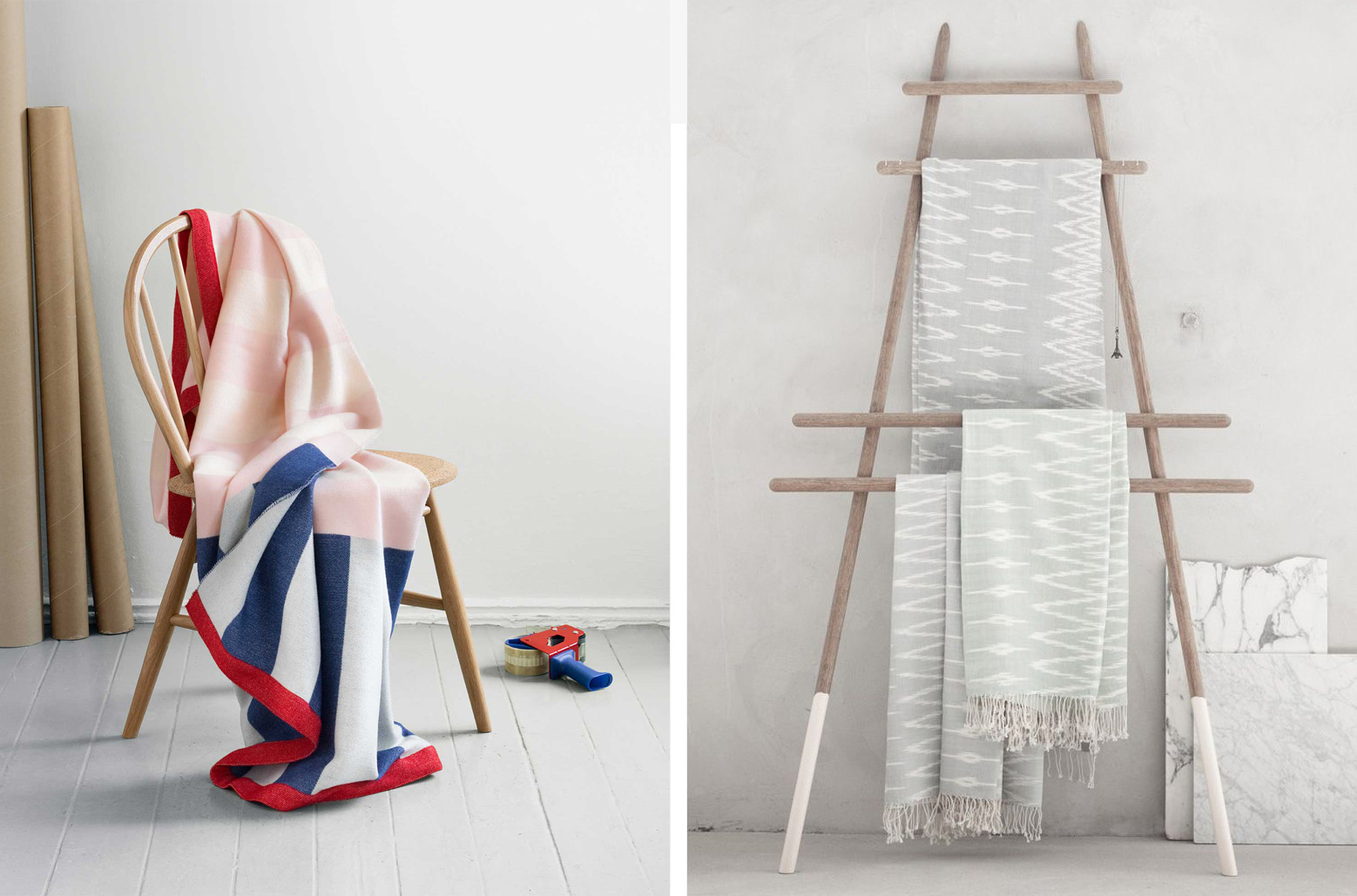 Forestrywool offer up a unique selection of throw blankets made exclusively from New Zealand lambswool. Which is where the real beauty of the brand lies. Its ability to find the beauty in the inherently simple idea of a blanket transforms the brand's neutral palettes, artistic prints and minimalist aesthetics into a 'forever-piece'. And by that we mean Forestrywool is one of the best throw blanket brands for creating soft, generously sized and surprisingly light designs that are destined to last a lifetime.
ZigZag Zurich support the finest artists and designers from around the world to produce high-quality collaborative throw blankets that are all lovingly made in Italy. This black and white blanket, woven with premium New Zealand wool, is another collaborative effort from CoopDPS, and like the Earth Blanket, the Lappland design is perfect sofa throw courtesy of its versatile two-tone design.
Woven that little bit longer to keep your toes warm, this ZigZag Zurich blanket is the best sofa throw thanks to its unique woven jacquard New Zealand wool construction. Plus, it's also a unique collaborative piece designed by CoopDPS – a joint venture between Nathalie Du Pasquier and George Sowden. The two internationally recognised designers, who came to the attention of the of the public as founding members of Memphis, the Italian group that changed the idea of design forever with the first Memphis exhibition in Milan, 1981.
Designed in London, made in the USA, this unique Found tapestry from artist Charlotte Edey offers a stark alternative to the designs on offer from other homeware brands. That's because each woven cotton blanket is limited to a run of 20 pieces and each tapestry comes with a signed certificate of authentication. Which means it might not be the best kind of sofa throw, but it will look great hanging on the wall.
Collectible art and design can come in all forms these days. But no form of modern art can be considered quite as enjoyable – or comfortable, for that matter – than Slowdown Studio's work. The Los-Angeles-based label make a solid case for the works of the textile variety of collectible art with its limited-edition, woven cotton blankets that feature creative talents of artists from around the world. Including our current favourite, the 'April' Throw, from Spanish artist Natalia Vico who captures her own memories of people and places using abstract forms and colour. Plus, what makes it particularly useful is that it's the perfect size to be used on the sofa, as a picnic blanket, or to hang on the wall as art.