When it comes to a penthouse renovation there's no end of ways that architects and interior designers can switch up a space. But when Joan Arnau Farràs and Carme Muñoz Ramírez of Spanish studio 05 AM arquitectura were tasked with renovating this Parisian two-storey penthouse in the 16th arrondissement, they flipped it on its head. Quite literally.
The design pair ended up not just reconsidering the existing layout by turning it upside down. Originally, the apartment was primarily accommodated on the lower floor with access to the upper storey terrace through a double-height living room. To combat all of this, 05 AM arquitectura devised a completely new layout by introducing a new floor plate that transferred the main living upstairs form the lower to the upper floor. The result, as you can see, is a light-filled living space with an open layout and minimalist decor.
What the penthouse lost in height by sacrificing the double height living room it has more than gained in character and space with the refurbishment of the new roof structure. Featuring large skylights, the roof also provides ample natural lighting to the open-plan space as do the windows that grace the facades on both sides of the building.
As a result, the entire upper floor feels larger, more open and cleaner than ever before thanks to the warm wooden details that contrast the white surfaces. The staircase, enclosed with wooden slats, anchors the room and becomes a central, sculptural focus point. Along with the functioning staircase, the opposite end of the feature slants down to level out and form a seat in front of the suspended fireplace.
The staircase also leads downstairs to the private areas of the penthouse. The stairs are reflected in floor-to-ceiling mirrors on the lower level making the space feel larger and brighter.
Through en eclectic mix of modern and mid-century furniture and a subdued colour and material palette, the penthouse is now a spacious and understated home – and one of the finest projects that we've seen completed this year.
Photography by David Foessel.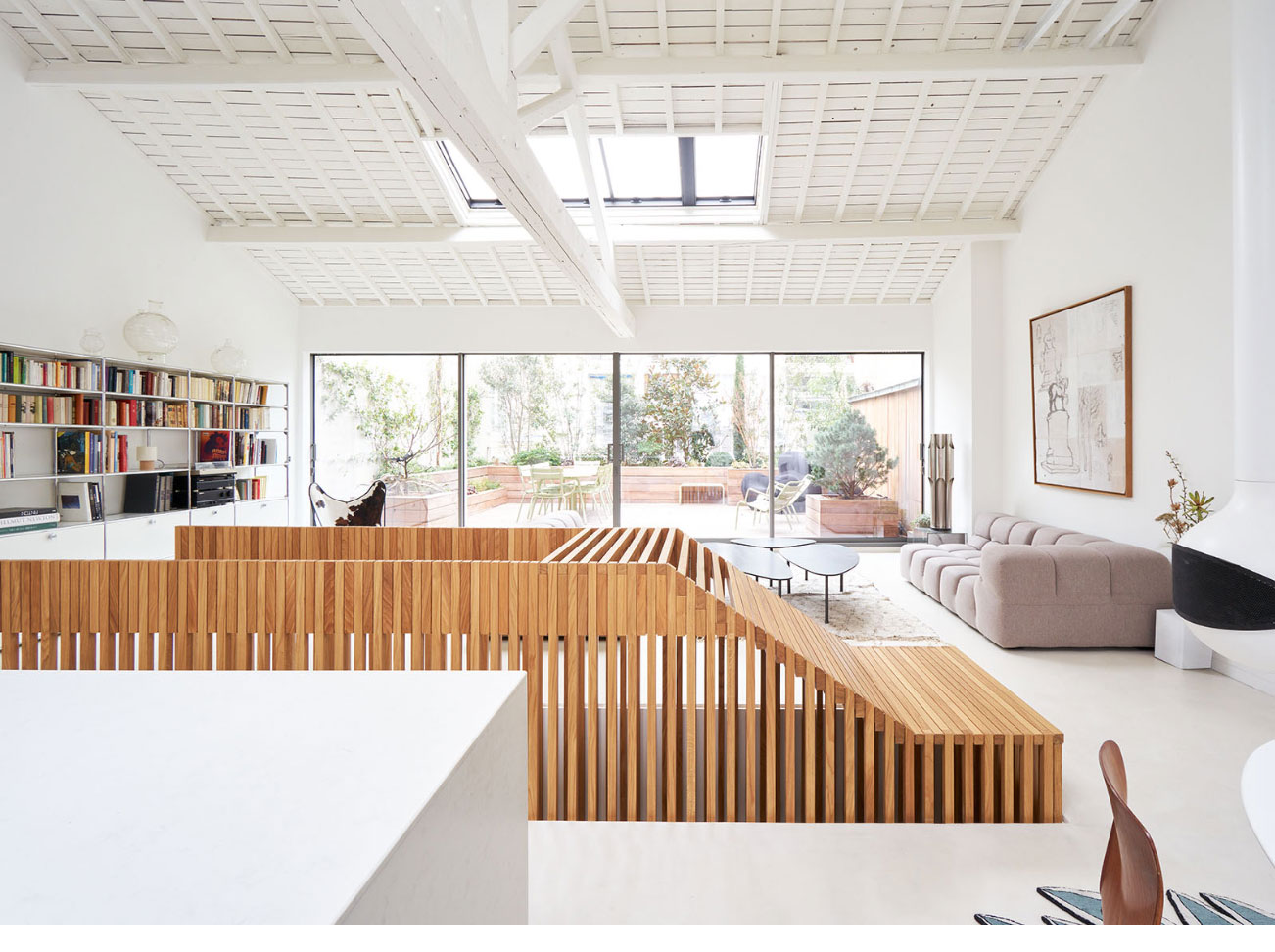 If you're in the mood for more of the world's finest architecture, then check out Villa Waalre; a pared-back concrete home in the heart of a Dutch forest.