The exterior is a classic of Barcelona's Eixample, an early 20th century building that's part of a visionary piece of urban planning. Inside, though, the Alma Barcelona is all smooth: relaxed yet effortlessly contemporary without ever losing sight of its roots.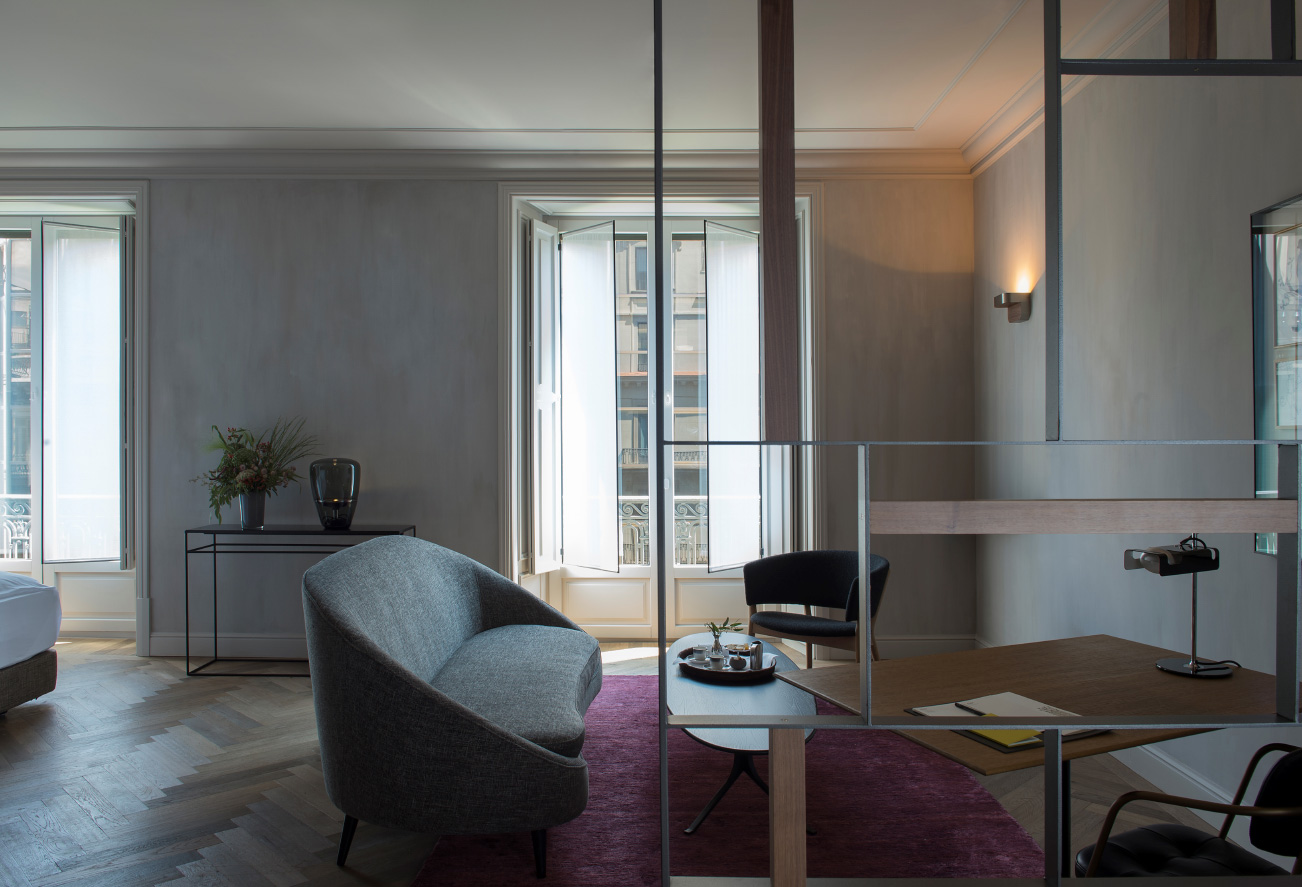 The hotel's decor features rich hardwood and leather finishes, underlining a distinctly Spanish feel. Rooms aim to create a restrained, cosseting feel. Simplicity is the key, with the occasional pop of colour in an orange chair or feature cushions. Floors are wood throughout while furnishings mix classic contemporary with older pieces. Bathrooms create their own world of sparkling white marble.
What really defines the hotel is that it has a large, leafy garden, overlooked by many of the rooms. Calling it a garden is perhaps doing it an injustice, as it's not your ordinary hotel garden. The Alma gardens are expansive, eclectic and inclusive to all guests. Much more than that, it also acts as an unlikely oasis in and amongst the backdrop of the bustling cityscape.
It's also just another example of how this impressive Hotel reclaims the urban concept with which Ildefons Cerda – 1815-1876 – designed the Eixample district on. Utilising interior spaces of each block as a place for socialising and bringing natural light, ventilation and a heavy dose of relaxation. That's not it, though. The Alma Hotel also has a roof terrace of over 800 square metres that offers incredible 360-degree views of the whole city. What's more, the terrace also has its own special menu for guests to enjoy while taking in the views.
The setting is far enough from main tourist areas for residents to feel they're a proper part of the community. Yet it's close enough for some rooms to have views of the Sagrada Familia, Gaudi's still unfinished masterpiece. The superb shopping of the Passeig de Gràcia is around the corner.
An easy winner for our next visit to one of our favourite cities.