Words by Lucy Thomas
In harmony with nature, the Blue Lagoon Retreat Hotel shows how architecture and modern design can bring the best out of Iceland's natural landscape.
The Blue Lagoon is usually top of the list of tourist attractions to visit when in Iceland. The geothermal seawater best known for its healing qualities, is rich in silica, algae and sulphur and is located right in the heart of the volcanic landscape. Basalt Architects have optimised this Wonder of the World and have reintroduced the site as the global epicentre of health and wellbeing.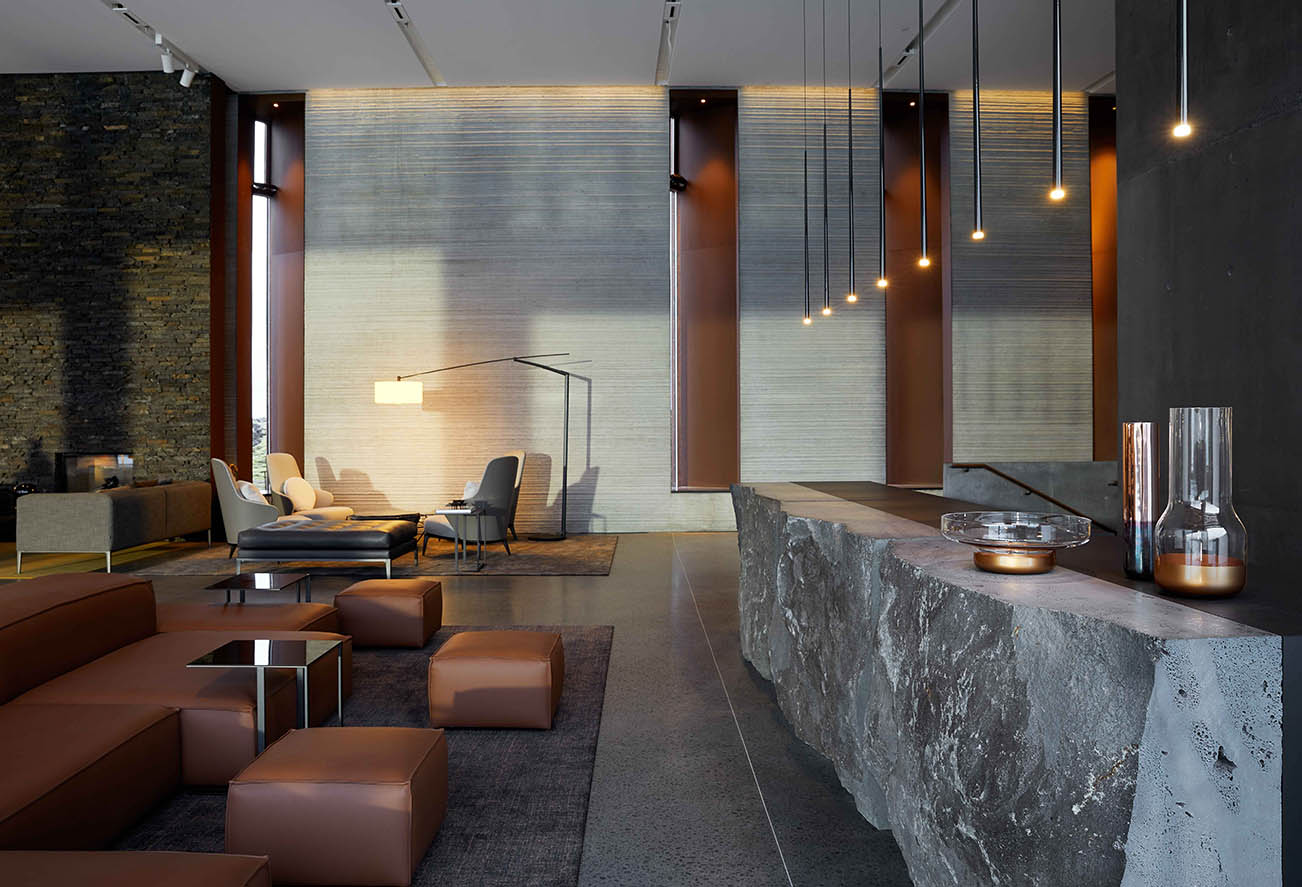 The Blue Lagoon Retreat Hotel means that a trip to the Blue Lagoon does not have to be cut short and allows visitors to truly experience the radiant powers of the turquoise waters. Nestled into the lava formations, the concrete structure blends in to the vast surroundings to minimise the building's visual impact on the natural beauty of the surroundings and simultaneously evokes the white silica and grey lava.
The architects explain that they "wanted the lava, the moss, the water to be omnipresent, resulting in architecture that is woven in with the natural elements." That is exactly what has been achieved; the building merges seamlessly with the environment and incorporates some of the natural features. For example, the restaurant's wine cellar is enclosed by walls of exposed rock that are dramatically illuminated from below, with additional pendant lights contributing to the subdued ambience. Even the service desks in the reception area are made from lava rock that was quarried onsite, and this roots the building in its context.
The 62 suites feature a minimalist aesthetic, with floor-to-ceiling windows that focus attention on views of the lagoon or the moss-covered rocks. Some suites even have a private lagoon for you to enjoy the healing powers of the pools whenever you like.
For an utterly breath-taking relaxing escape, look no further, The Blue Lagoon Retreat Hotel has it all. Book your stay via Mr & Mrs Smith.
Check out more from Iceland with the Ion City Hotel in Reykjavik or if you fancy more of a warmer climate try the Slow Hotel in Bali.