Artknit Studios is the fledgling Italian brand that feels as though it's been around for years. Founded in 2019, the label is designing a more transparent and affordable way to buy luxury, high-quality knitwear for men. The collection combines the elegance of classic Italian design with some of the world's finest wools; the result is a timeless range of men's merino sweaters, knitted polos and cashmere cardigans that are good to see you through the rest of the year and, most probably, your life. 
Collections of mouth-watering Italian knitwear for men are nothing new, though, so what distinguishes Artknit Studios from the history of Italian menswear? This label is doing things slightly differently. While founder Alessandro Lovisetto understands that the crucial basis to a successful men's knitwear label is the materials, he also has one eye on the future. Artknit Studios functions using a direct-to-consumer model, which means that the artisans that produce the collection only create on an on-demand basis. Once you make an order, the process begins, offering superior quality at attainable prices with no waste and no middle-man mark-ups. 
So how does each piece of luxury men's knitwear get from the farm to your wardrobe?
Sourcing
As mentioned earlier, no knitwear label worth it's weight in wool works with sub-par materials. When it comes to knitwear, the reason that we're willing to pay more for a cashmere crewneck over a cotton crewneck is purely down to material, so skimping on materials defeats much of the point. Artknit Studios understands this, that's why you can only expect the best Italian wools to be used. 
Artknit studios uses four main materials:
Extra-fine merino wool 
Linen
Cashmere
Eco-cashmere
Italian makers
Once these luxury fibres have been sourced, they're sent to some of the world's best-known Italian factories for production. 
Take Il Filo d'Autore for example. This family-run atelier is based in Imola, Italy and thrives off a strong passion for craftsmanship using only the highest quality of fibres. Sisters and owners Eugenia and Cristina combine a stringent attention to detail with wearability and modern style to always stay ahead of the curve.
Il Filo d'Autore has had its doors open since the late 90s and has always worked manually. That means that no engine machine is used in the creation of each garment. Everything that passes through Il Filo d'Autore is given value by loving and experienced hands. This is just one of the many small ateliers used by Artknit Studios, each of them has been hand picked for the same reasons as Il Filo d'Autore.
Our top pick for spring
With spring just around the corner, you might be thinking that we're reaching the deadline for luxury Italian knitwear. Well, you clearly haven't browsed the Artknit Studios men's collection then.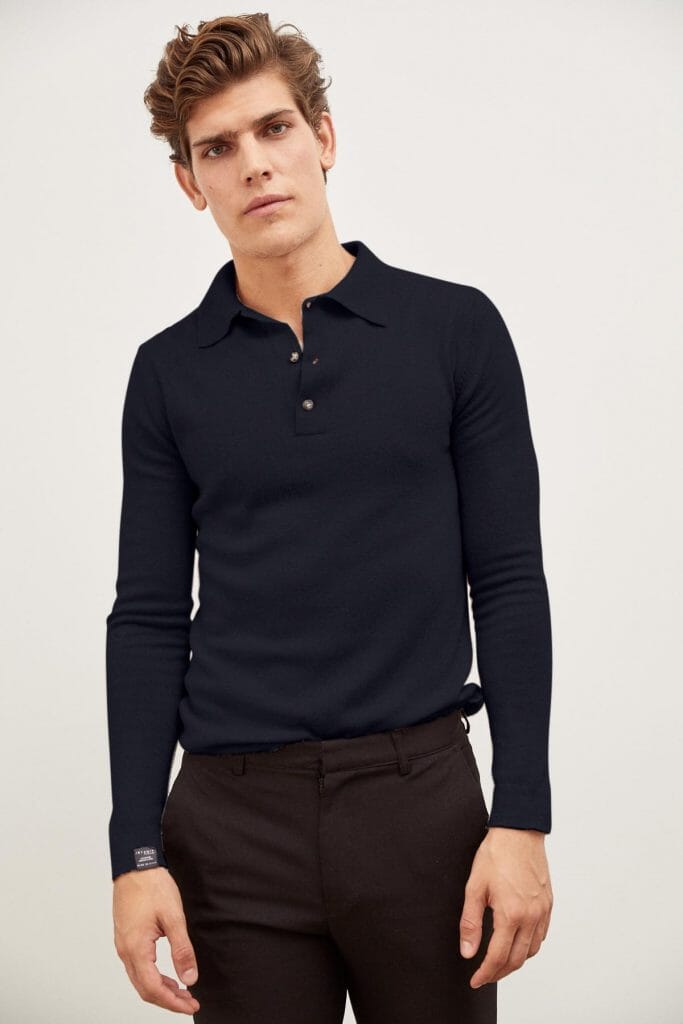 Artknit Studios The Knit Polo
Crafted from pure extra-fine merino wool, this men's knitted polo shirt has a clean, linear cut. What we love most about this men's woollen polo is its lack of seasonality. From the depths of winter to a sunny summer's day, the knitted polo's brushed merino wool construction is breathable and insulating, regulating your body temperature as needed. Over the past century, the merino wool polo shirt has been a go-to option for the world's discerning gents.
---
---
Shop all Artknit Studios.
Be sure to read up on our rundown of the best men's knitwear for spring.