Project name: Avenue Road House | Location: Dublin, Ireland | Completed: 2018 | Architect: Clancy Moore Architects
Clancy Moore Architects approached Avenue Road House with a simple but testing brief: to convert a light industrial warehouse unit into a family home. The warehouse is located on a tight site in central Dublin and is built around a double-height atrium space which functions as the primary communal family room.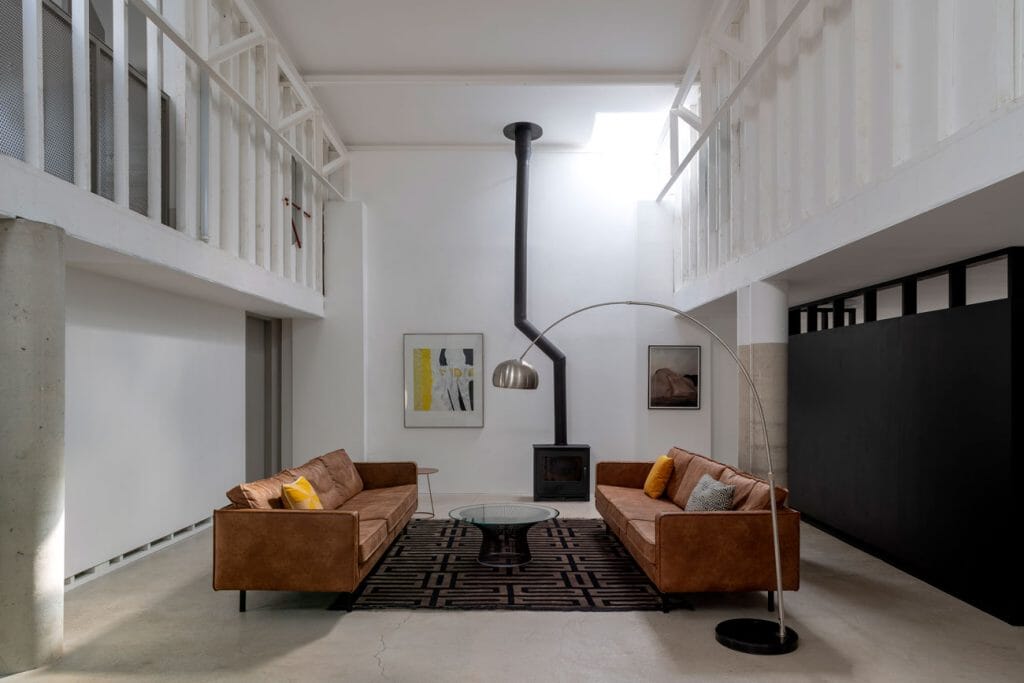 The double-height space conserves the warehouse style of the property while also being an ad-hoc studio for the residents' photography business. Above this space, four large skylights bring light into the home, spreading the natural light throughout Avenue Road House. 
---
---
On the ground floor of the property, a sequence of smaller, more intimate rooms are built off the central atrium. A kitchen and dining area, a den, office and large utility space make up the general family rooms, their low ceilings standing in cosy contrast to the bright expanse of the central living room. 
The first floor of Avenue Road House is divided by the large central space into two distinct apartments: one for the parents and the other for the children. The architects envision that over time these apartments can expand with the family to include parts of the ground floor. 
A minimal colour palette emphasises the stunning concrete skeleton of Avenue Road House. However, in places, deep green meets flashes of red to bring lively surprises to the interiors. Combined with art hanging on the walls, vintage furniture and soft furnishings, these glints of colour ensure that the space evades the cold emptiness that often characterises warehouses. 
Photography by Fionn McCann.
With such skilled designers, it seems that any space can become a home. Take the tour of Old Shed New House.
---
---