With the opening of Jean-Michel Basquiat's first UK-based exhibition just a few days away, several new pieces from fellow artist Banksy has appeared at the venue to honour the legendary creator. The murals, which take direct inspiration from the upcoming Jean-Michel Basquiat exhibition, have been confirmed as genuine on Banksy's very own Instagram account.
Announcing the new artworks in a series of posts on Instagram, Banksy announced: "Major new Basquiat show opens at the Barbican – a place that is normally very keen to clean any graffiti from its walls."
The first image, which is probably mocking the exhibition itself, as Basquiat was originally a graffiti artist, is a Ferris wheel with people queuing up at a ticket booth underneath. Crown motifs, common in some of Basquiat's most famous pieces of art, replace the wheels of the passengers' cars.
The second post is captioned: "Portrait of Basquiat being welcomed by the Metropolitan police – an (unofficial) collaboration with the new Basquiat show."
The second mural, which takes inspiration from one of Basquiat's most famous pieces – Boy and Dog in a Johnnypump – and Banksy has reimagined the motif with police officers searching and questioning the boy figure as the dog looks on.
Jean-Michael Basquiat's work has never been shown in a large-scale exhibition in the UK before, and the much-awaited show at the Barbican centre opens on Thursday 21st September 2017. It will feature more than 100 works alongside a range of rare photography, film and archive material from Basquiat's career.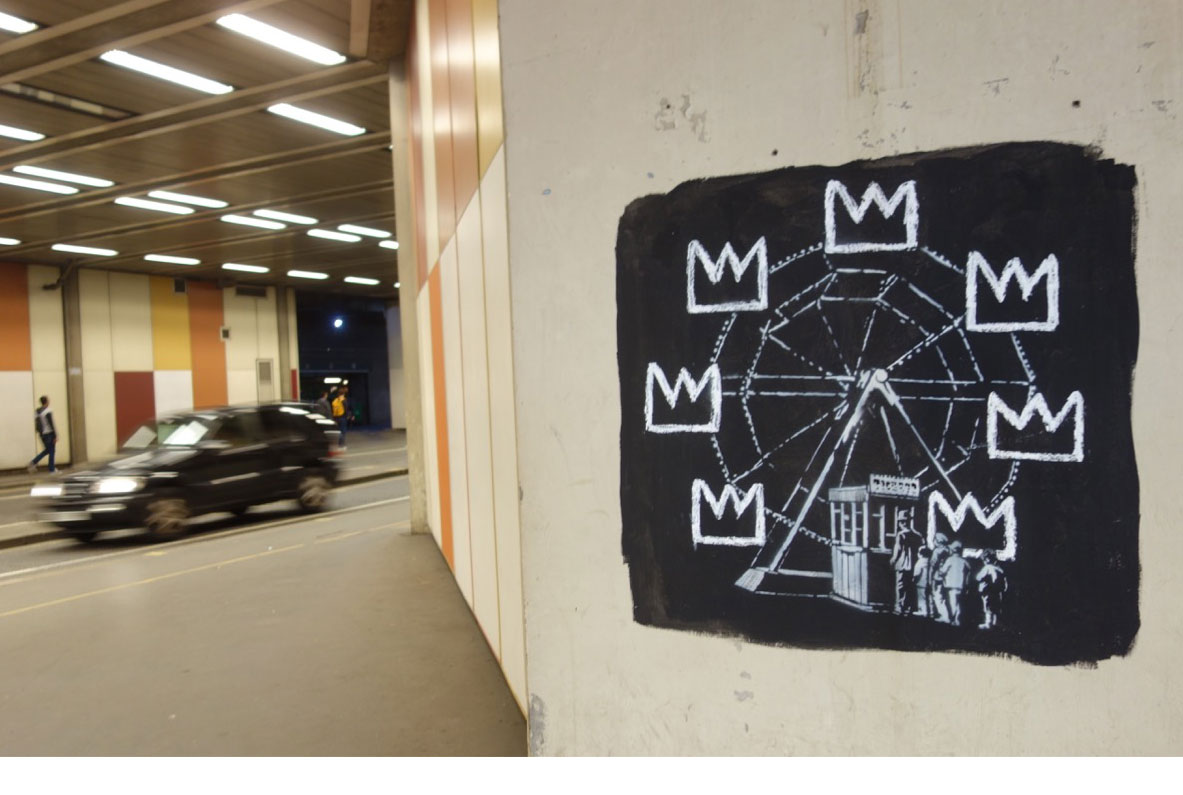 Basquiat's vivid and informed work is genuinely timeless. His painted imagery is often combined with emotive text statements that showcase his talent and the staggering breadth of his interests, despite having had no formal training as a young black artist. Having gained initial recognition by the mainstream media in 1978 under the name SAMO – Same Old, Same Old Shit – Basquiat went on to make drawings in his own blood, collage baseballs cards and collaborative work with Andy Warhol to create a range of murals for some of New York's most popular nightclubs.
Both Basquiat and Andy Warhol's work has also recently been reinterpreted in the form of artistic skate decks courtesy of The Skateroom. Available now at OPUMO, the exclusive The Skateroom Jean Michel Basquiat skateboards carry some of the artist's iconic paintings from the early eighties, and his poetic and poignant symbols featured in the pieces combine a range of past and present street culture references. The new collection includes 11 unique Basquiat skateboards including the three-piece 'Demon' collective and the iconic 'Gastruck' print alongside the ever-popular 'Robot' and 'Gold Griot' designs.
Shop The Skateroom collection at OPUMO.