Everyone loves a white sneaker, and rightly so, but there's room for a black sneaker too. Far too often we underestimate the latter.
First things first, black sneakers are just easier. White sneakers are magnets for dirt and it takes a lot of upkeep to have them looking anything near box fresh new. Black sneakers are a breath of fresh air. Wipe them clean every now and again and you're good to go. Most of the time you won't even clock that they're dirty.
Another advantage is the versatility. Black sneakers do genuinely work across the board for dressing up and down outfits, especially if they're in black leather. They're more versatile across seasons too, whilst a bright white pair of sneakers in winter might look, well, a bit odd. A black sneaker will work multiple style jobs for you so it's well worth investing in a quality pair. Speaking of, we've collated 14 of the best men's black sneakers below. Scroll on to find that perfect pair.
Best men's black sneakers in 2022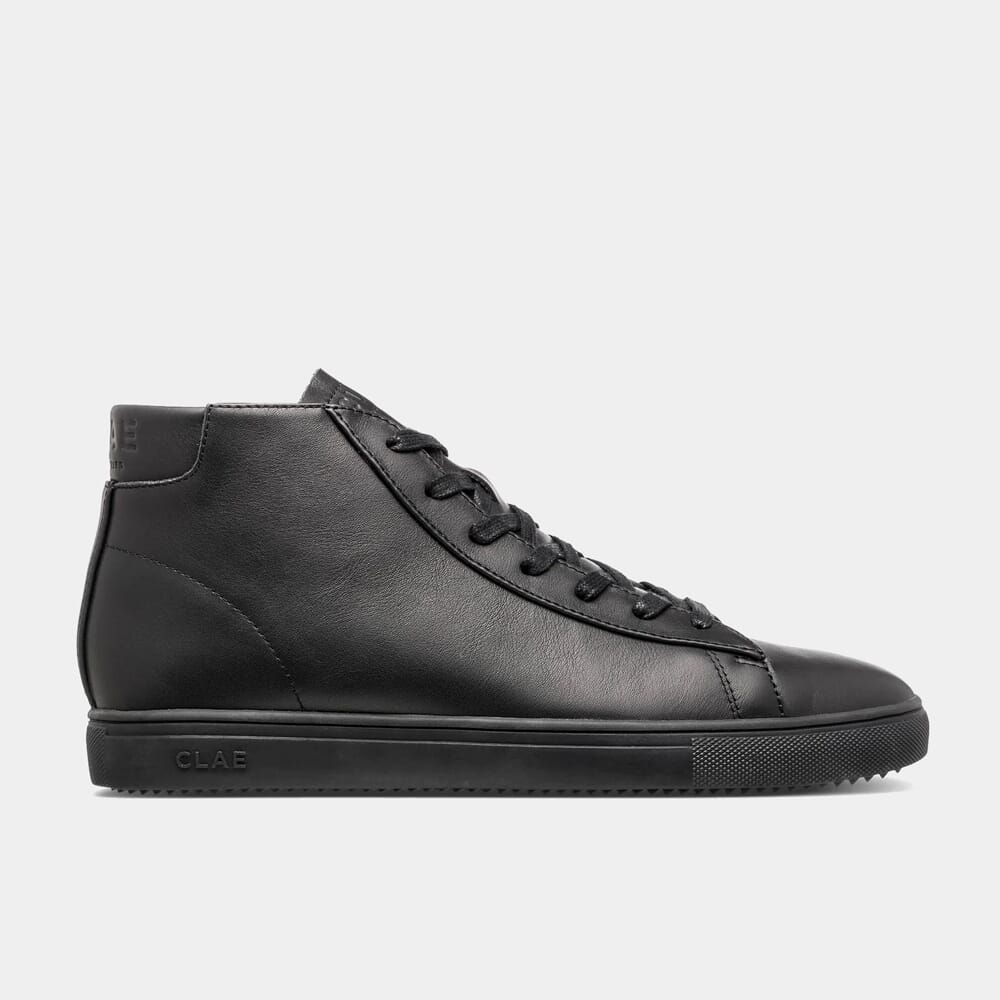 CLAE Bradley Mid
Despite various colour iterations, CLAE's Bradley mid triple leather is a smart mid-top sneaker that looks best in black. Perhaps it's the leather that does it. Although they're a casual sneaker, there's something that makes them look refined to the point of formality. Made from milled leather, with a leather heel accent and moulded EVA footbed, you can bet they're comfy too.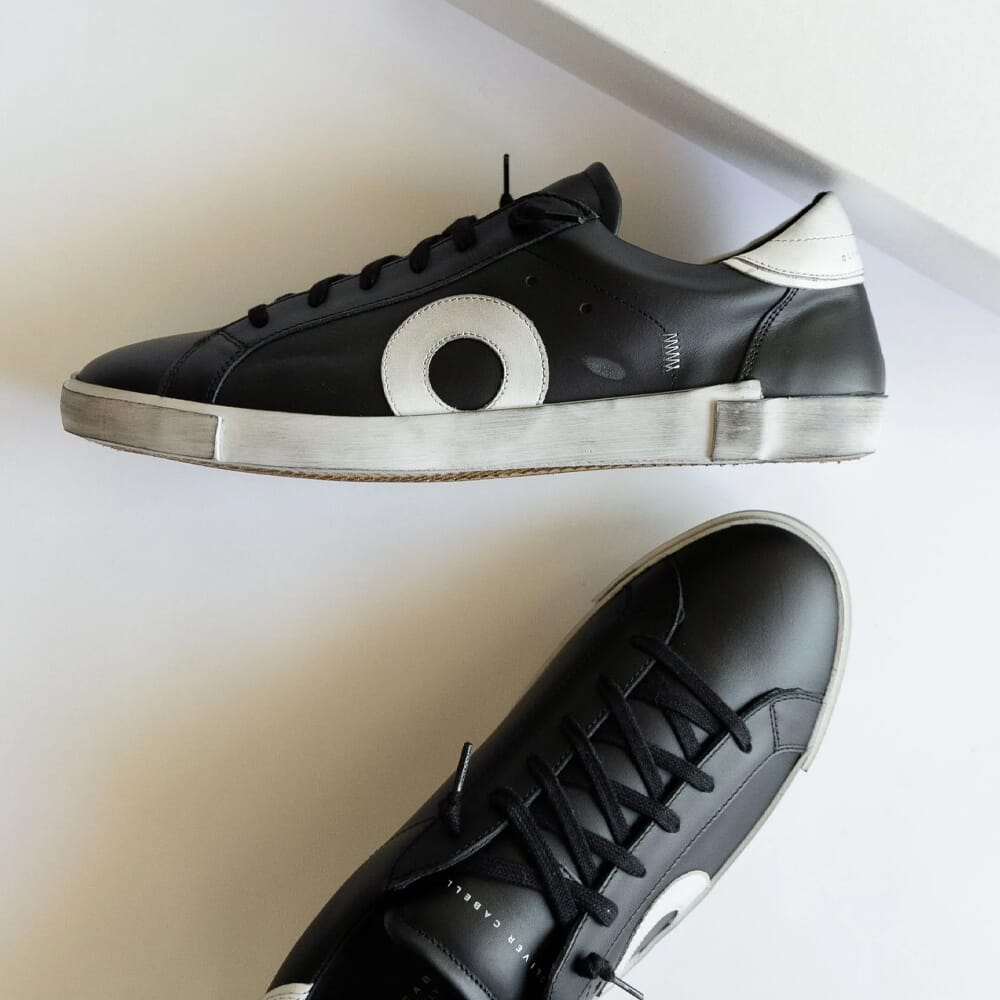 Oliver Cabell Demi Daybreak
Oliver Cabell's Demi Daybreak sneaker is a low-top silhouette handcrafted in the Marche region of Italy, a region famous for its footwear factories dating back decades. The sneaker packs super soft Italian calfskin leather and handcrafted foxing tape soles. It's a black sneaker with attitude, with unique handcrafted details meaning no two pairs are the same. Ideal with your go-to pair of jeans for a casual look.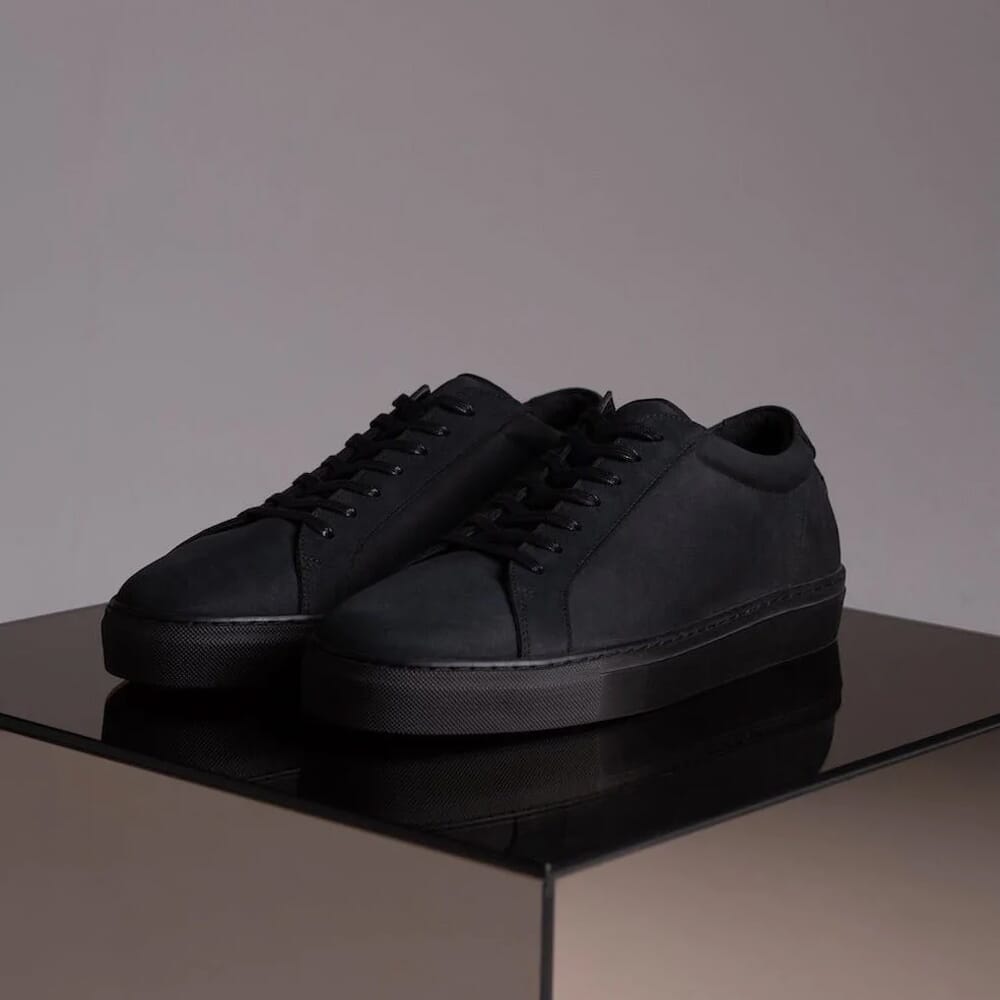 Uniform Standard Series 1 Triple Shadow
We love ourselves a Nubuck sneaker and Uniform Standard's Series 1 Triple Shadow are a prime example of a quality pair. Nubuck, a sort of shaved suede, takes a bit of care in brown when used for a formal shoe, but a black pair of sneakers with some suede protector and a regular suede brushing are far easier to maintain. The Triple Shadow come with premium materials, minimal clean lines and hand-finished detailing. Smarten up with a pair of chinos and a Cuban collar shirt for an end-of-summer look.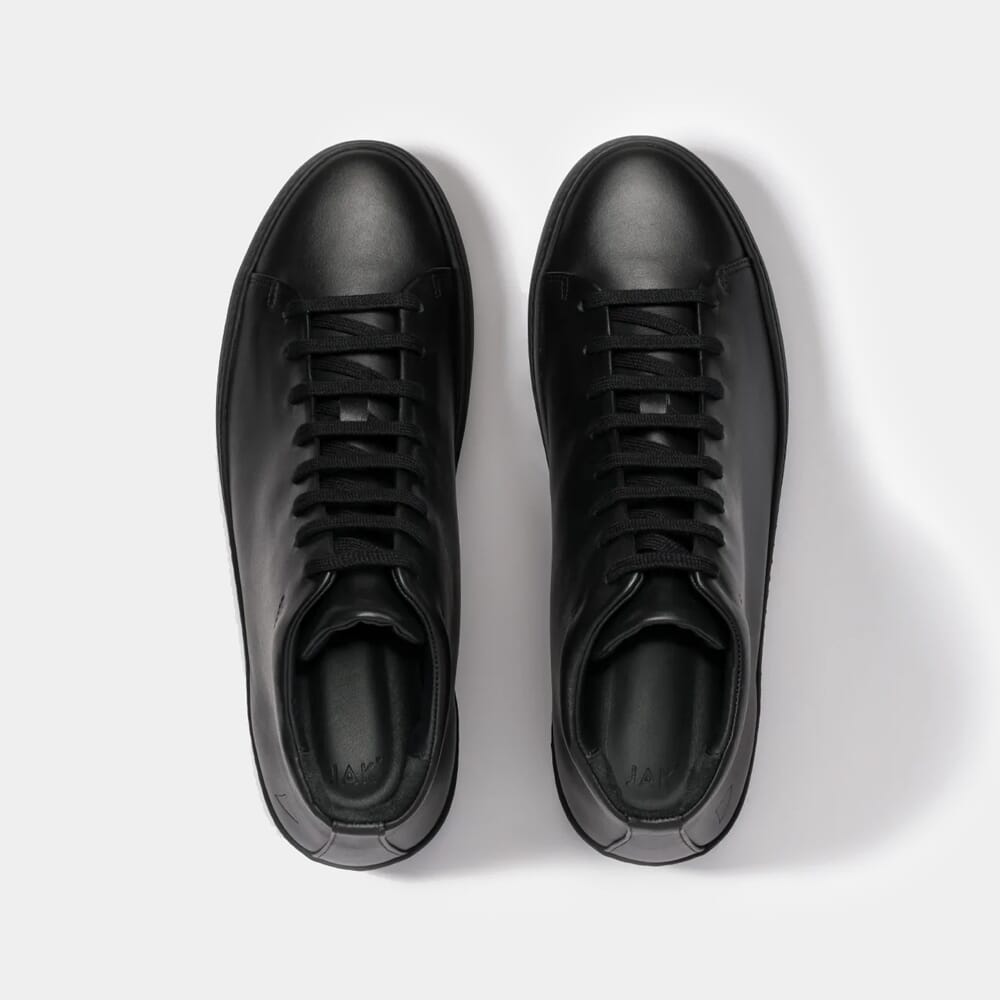 JAK Royal Hi NZ
Lisbon sneaker brand JAK is all about rethinking simplicity. Premium products at a fair price making the most of an array of local, ethically-functioning factories. The Royal Hi is an evolution of the brand's bestselling Royal sneaker with a minimalist high top version. With minimal stitching on the full grain calf leather upper, these men's black sneakers smack of a modern minimalism that lends itself to equally minimal casual tailoring and a premium tee. Removable shock-proof innersoles and a cotton transport bag are a nice touch too.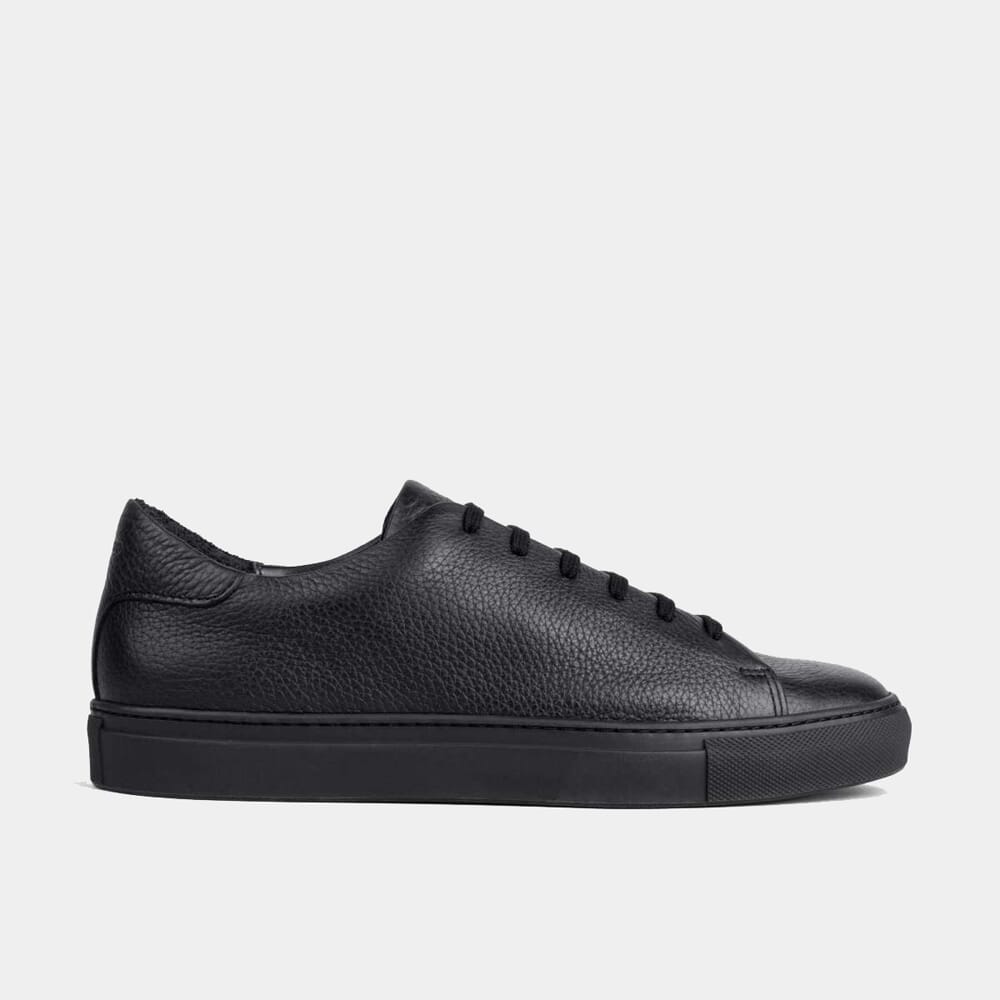 Dalgado Laurent
Dalgado's low-top pebble leather Laurent sneakers in black have a wonderful texture to them. It's what immediately catches the eye when you see them worn out in the wild. Everyone's doing a similar shoe and it's a satisfying point of difference. Handmade in Portugal, the sneakers' aforementioned pebble leather is gold-rated bio-based from Italy, whilst ultra-soft full-grain calf leather hails from the same place. Don't wear a pant that's too busy with these, let the pebble grain pop.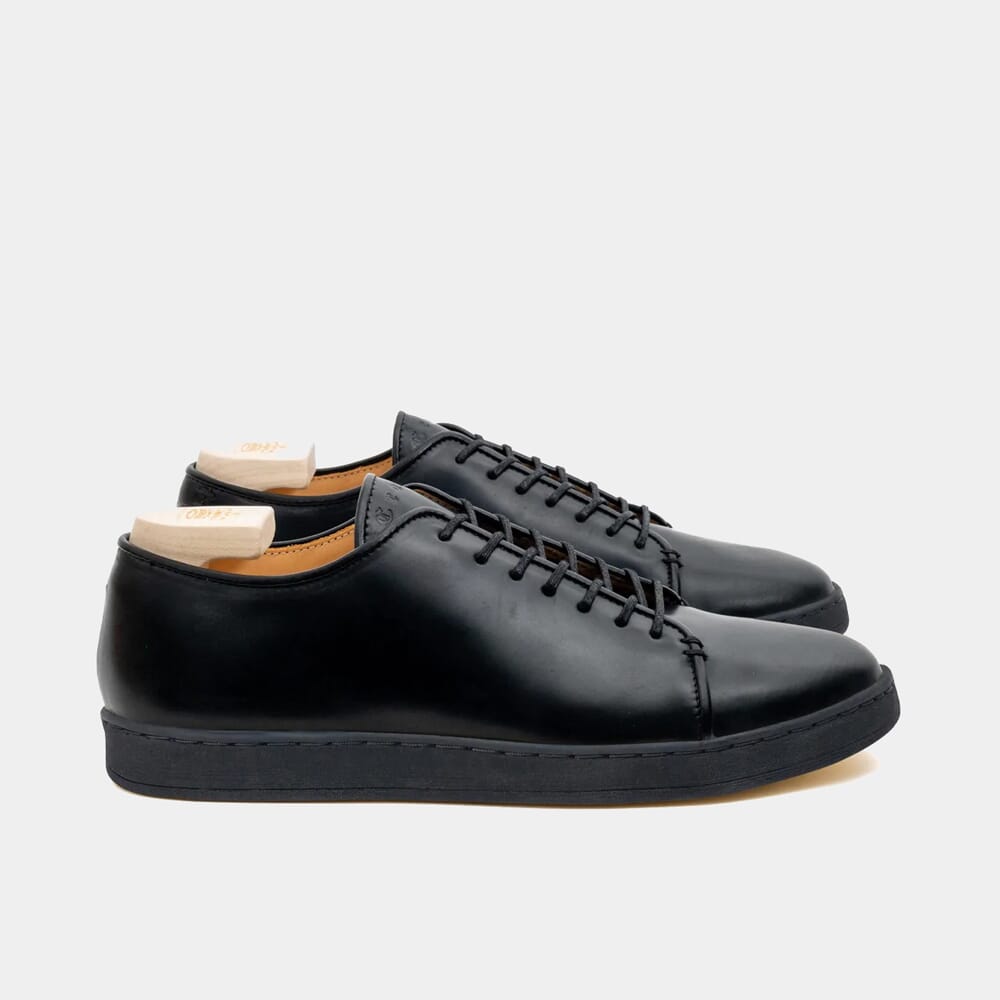 Crown Northampton Harlestone Hand Stitch Derby
Crown Northampton have taken all that iconic British shoemaking heritage and channelled it seriously into a sneaker and the results are a sight for sore eyes. Serious sneakers from a serious shoemaker. Horween shell Cordovan upper (only the best) with a construction resembling a Derby shoe. The footbed has been cork-filled by hand, sat atop a sustainable Lactae Hevea sole. Handmade in Northampton and excellent for pairing with tailoring, please invest in shoe trees for them. Quality materials need looking after.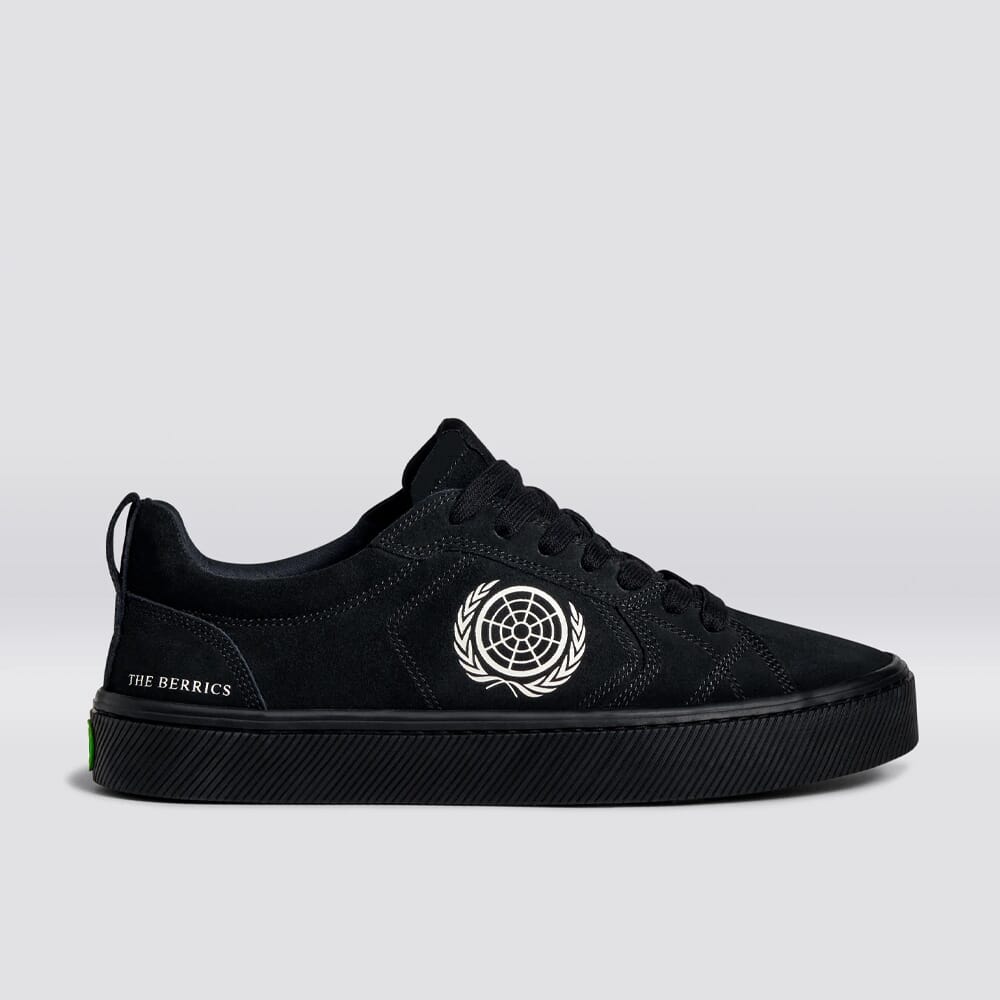 Cariuma Berrics CATIBA PRO Skate Jet Black Suede Sneaker
It's nice to see The Berrics teaming up with Cariuma. It shows the potential of what a sustainable shoe brand can do. There's some serious skaters backing the shoe too. But you're not here for that, you just want a suede sneaker that nods to skate culture for a slouchy Jonah Hill or Tyler The Creator skate prep vibe. It's cool, the Catiba Pro has got you. Durability and comfort come as standard, as does a memory foam insole. Two trees are planted for every pair purchased. Lovely stuff.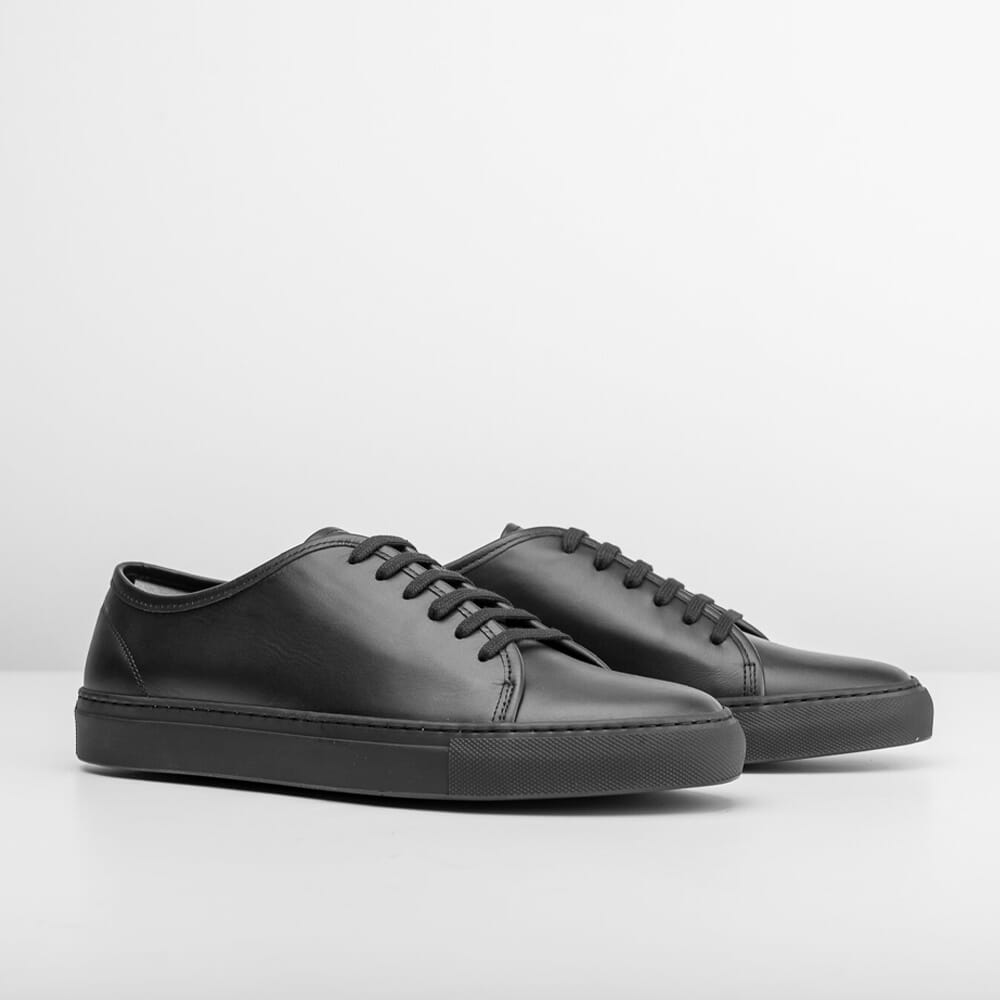 Artisan Lab Minimal Black Sneakers
There's a '70s gymnasium plimsoll vibe going on here and we're all for it. Artisan Lab's minimal men's sneakers in black channel a vintage sports sneaker with an emphasis on minimalist lines and clean design, made with superior materials. Handstitched in Italy, the sneakers make the most of buttery soft yet durable Italian calf skin. Meanwhile antibacterial removable insoles will keep them fresh. A suit up top will have them looking even slicker.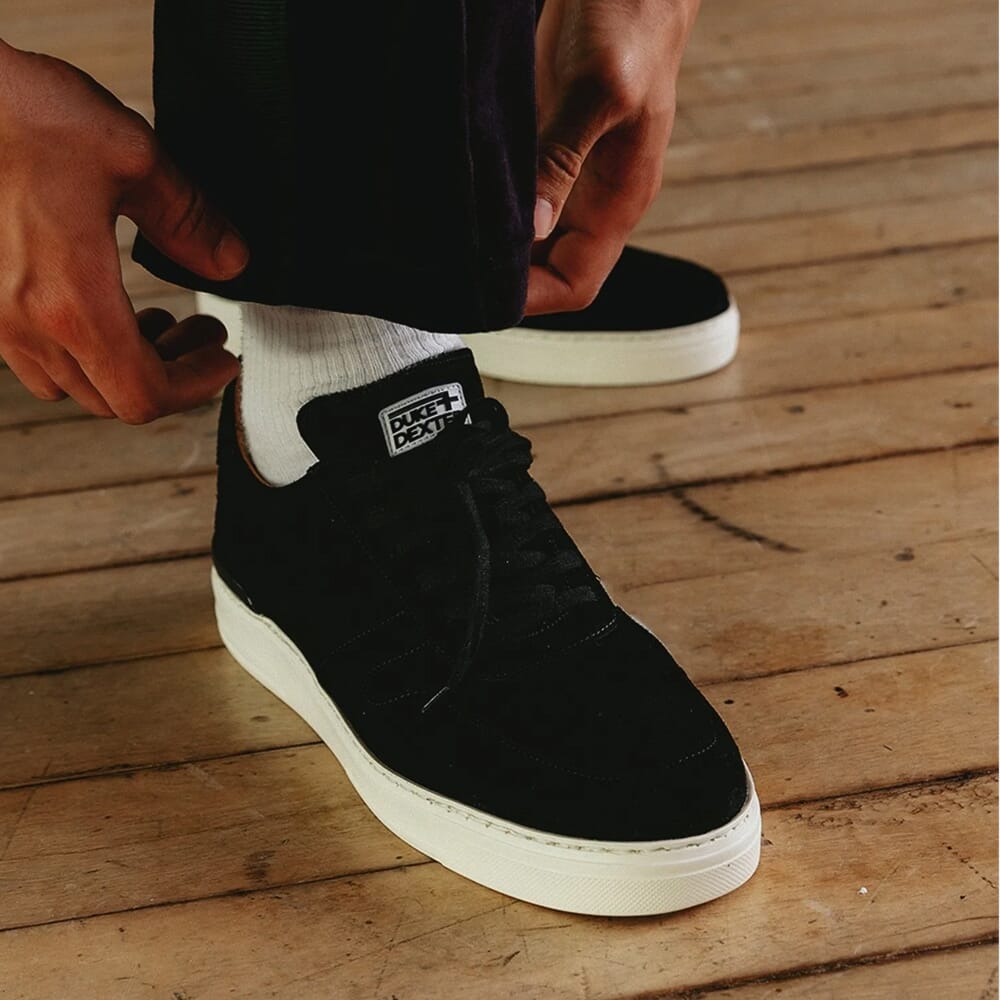 Duke + Dexter RITCHIE Black Sneaker
Handmade in England, Duke & Dexter use premium sustainably-sourced materials to make luxury sneakers that look the part. The Ritchie black sneaker is no different. 'Go rain' suede gives the suede a natural water resistance whilst a natural Italian calf leather lining means the sneakers mould to your foot upon each wear, making for an exceptionally comfortable shoe. This comfort doesn't sacrifice on looks either. Chunky, but with a classic white sole. Wear with baggy jeans for a relaxed '90s vibe.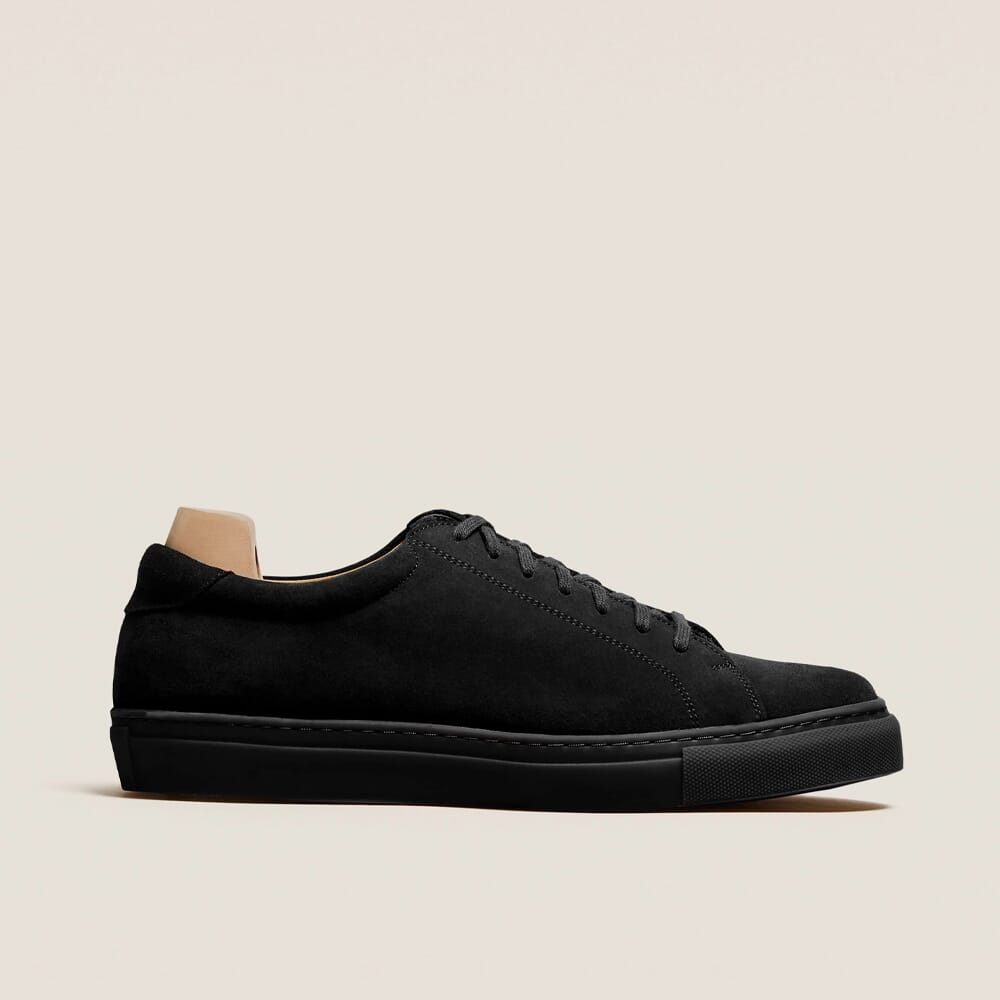 Myrqvist Oaxen Black Suede Sneakers
If you're on the hunt for a dressed-up black sneaker, the Myrqvist Oaxen black suede monochrome is well worth considering. Handcrafted in Portugal and stitched to a 3cm black rubber sole, the upper is made from water repellent suede from Charles F. Stead with leatherboard heel stiffeners for longevity and lasting comfort. Wear them as part of a fully monochrome look.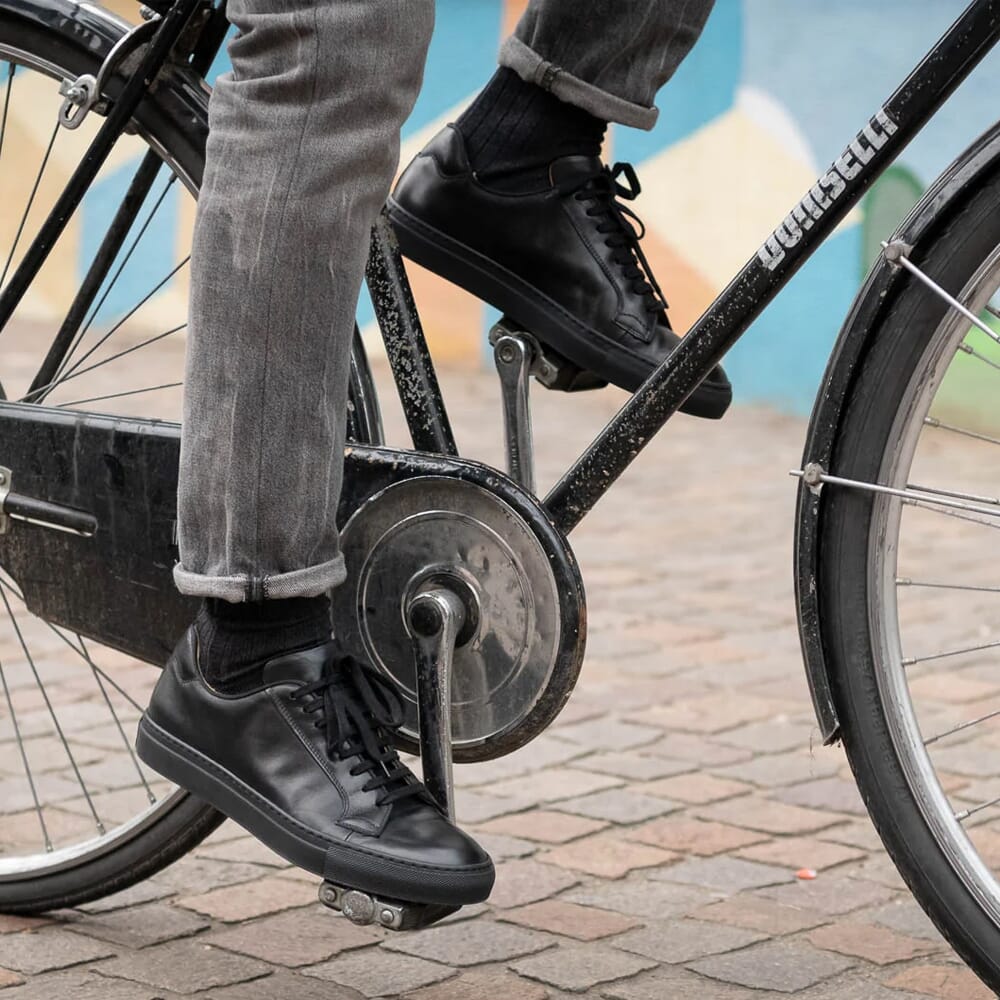 Velasca Belèratt
Velasca's Belèratt sneaker is an Italian sneaker with the skills and shoemaking heritage behind it that you'd expect from a fine crafted Italian shoe. Made from smooth calf leather with clean minimal lines, they lend themselves to contemporary jeans and shirts looks as part of refined casual dressing. A solid rubber sole means they'll last a few marches around town too.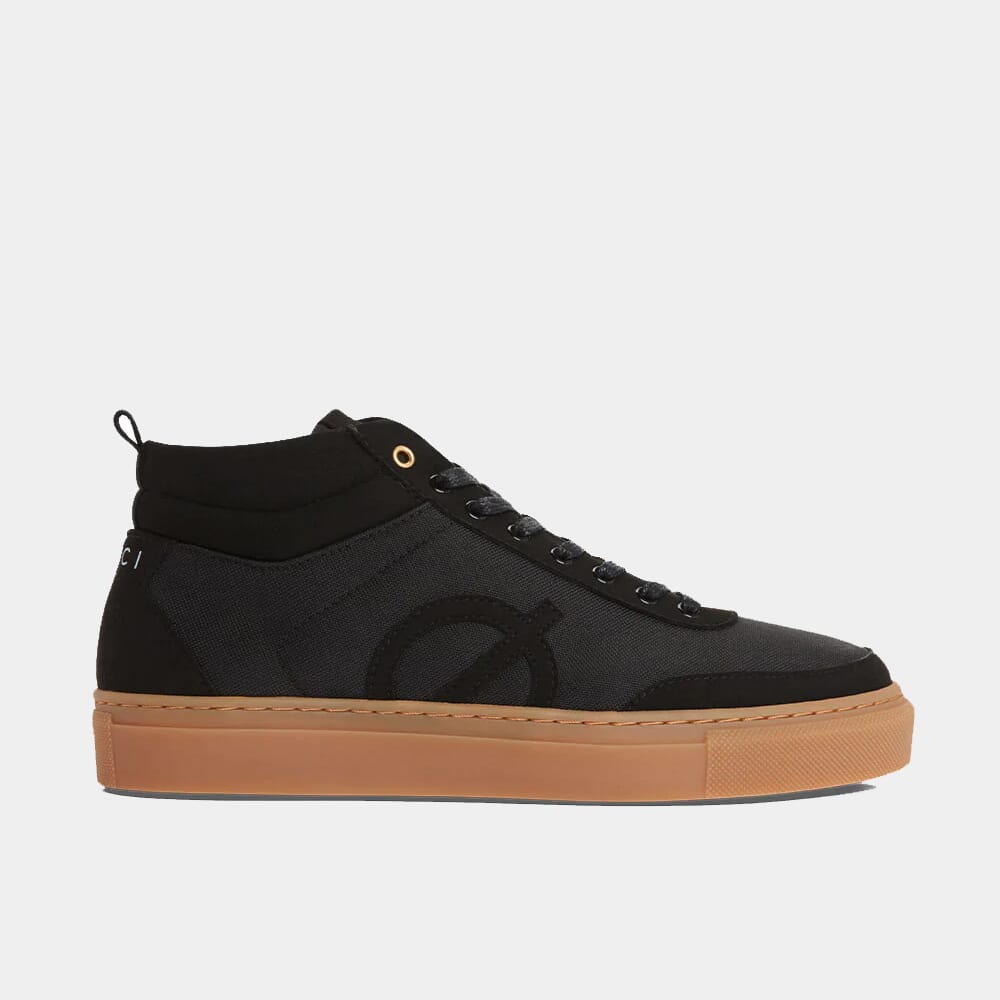 LØCI Ten
Even if you're not a vegan, it's nice to know there's premium vegan sneaker options out there for those that need them. Premium footwear has come a long way. LØCI'S X Reed Ten sneakers are a chunkier, skate aesthetic high top with contrast brown gum sole. Crafted for comfort, they're as comfortable as they look, made from breathable sustainable materials including a 100% recycled waterproof upper and cork footbed for a soft bouncy stride.
Discover our pick of the best canvas sneakers for men.
---
---