There's no easier way to update your interior style for the new season than investing in a contemporary throw blanket. Your favourite sofa takes on a new life with the right throw - which just coincidentally is the perfect companion for an evening with the next binge-worthy Netflix series. It's not just your sofa or most comfortable chair: add a throw to your master or guest bedroom for an instant deluxe update. And that's just the start of exploring the versatility of the throw blanket - as we explain below. In the meantime, we've searched far and wide to come up with our 10 favourite modern throw blankets...
How to enhance your home's cosy factor with a throw
There's everything to love about a throw blanket. This could just be the most versatile interior design piece that you invest in. Key is deciding where you're going to use yours, what size and - crucially - what level of cosiness you're looking for.
If it's warmth at all costs that you're after, consider pure wool or even cashmere and make sure that your throw blanket is sufficiently super-sized to wrap yourselves in on those cool, need-to-be-cosy evenings. Remember, too, that the latest pure cotton throws can offer real warmth too, particularly when woven into a soft-to-the-touch velvet, with a cotton filling to add insulation.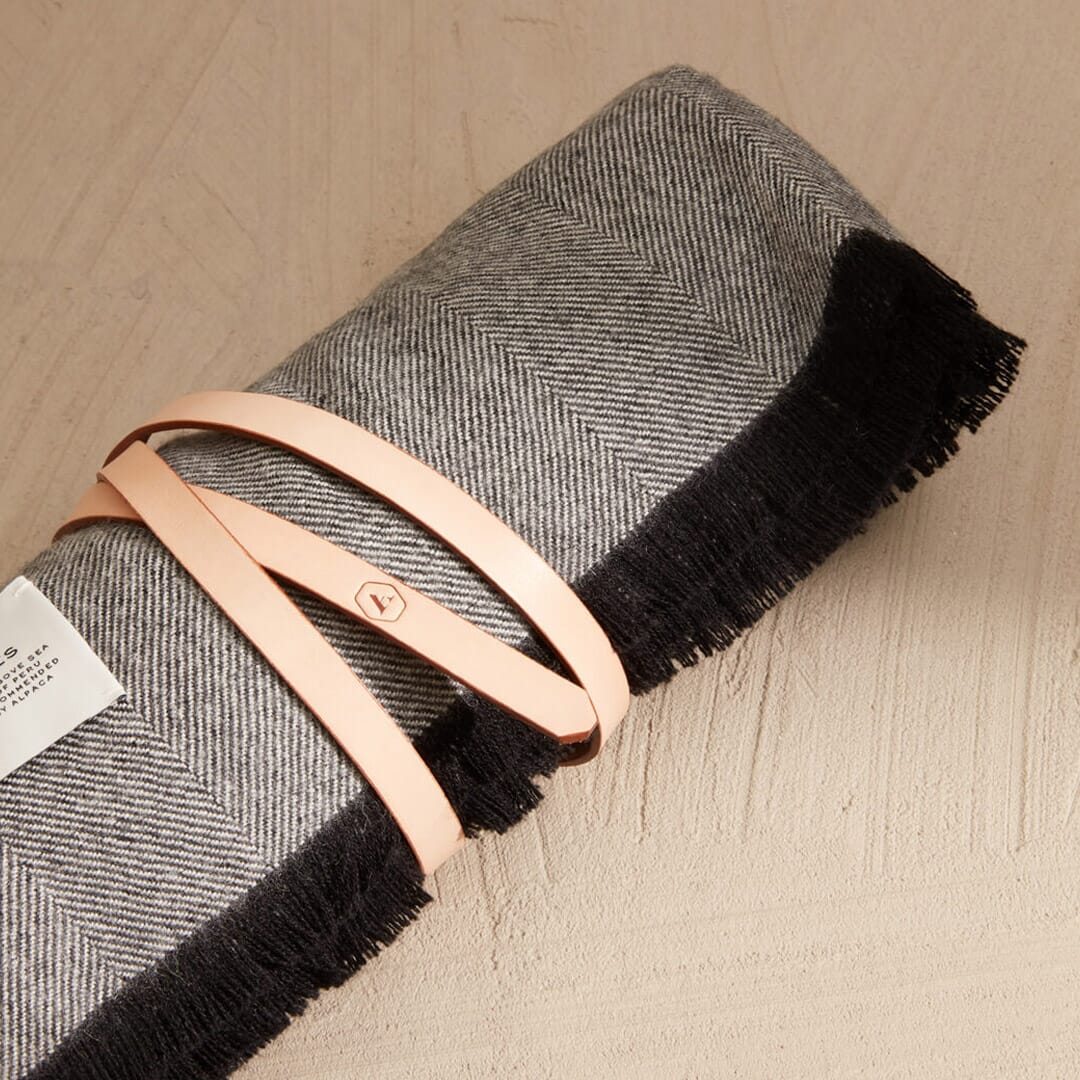 When it comes to styling, the options are as wide as your imagination. Think of your throw as a sort of interior design wardrobe piece to be deployed wherever needed: folded on a sofa seat for a sharp-edged look to invite opening up. After a relaxed, even organic feel? Simple. Literally throw your blanket over the arm or back of a favourite chair. Don't be too fussy about this: the right throw - whether it's pure wool or stylish 100% cotton - will do the work for you.
Roughly the same rules apply in your bedroom: if you're using your throw as an extra blanket against the night's cooler temperatures, fold it across the bottom of the bed, adding an accent of welcoming warmth and colour. Relaxed about the look? Drape across a corner of the bed to add texture and invite touch.
When it comes to colourways, our best advice is to choose bold yet neutral. You need your throw to add rather than argue with your existing decor. Bold geometric patterns add contemporary sharpness, neutral solid colours add new perspectives to your private spaces. It's an upgrade without having to re-decorate. All that and the guaranteed cosiness, too. Now, which to choose?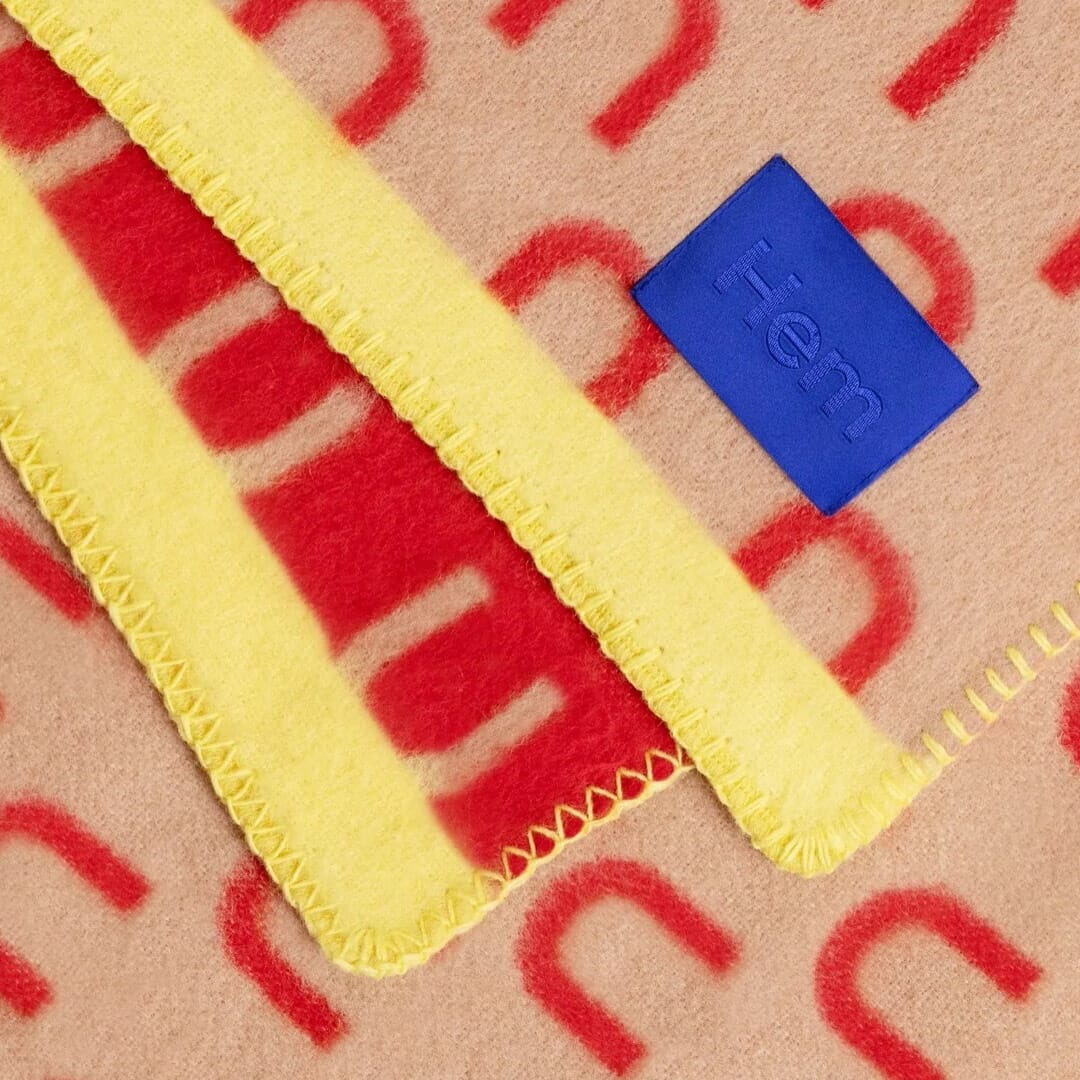 Best modern throw blankets to buy in 2023
Hem Arch Throw by Arthur Arbesser
Highly modern throw blanket designed for Hem by up-and-coming fashion designer Arthur Arbesser, who uses influences from his native Vienna to inform his work. Bright reversible patterning easily warms the chilliest of days, yellow border reminds of spring flowers. If all that's not enough, consider also the Arch Throw's construction: traditionally woven from 100% New Zealand lambswool. Thick and warm, ideal in every way for cooler weather.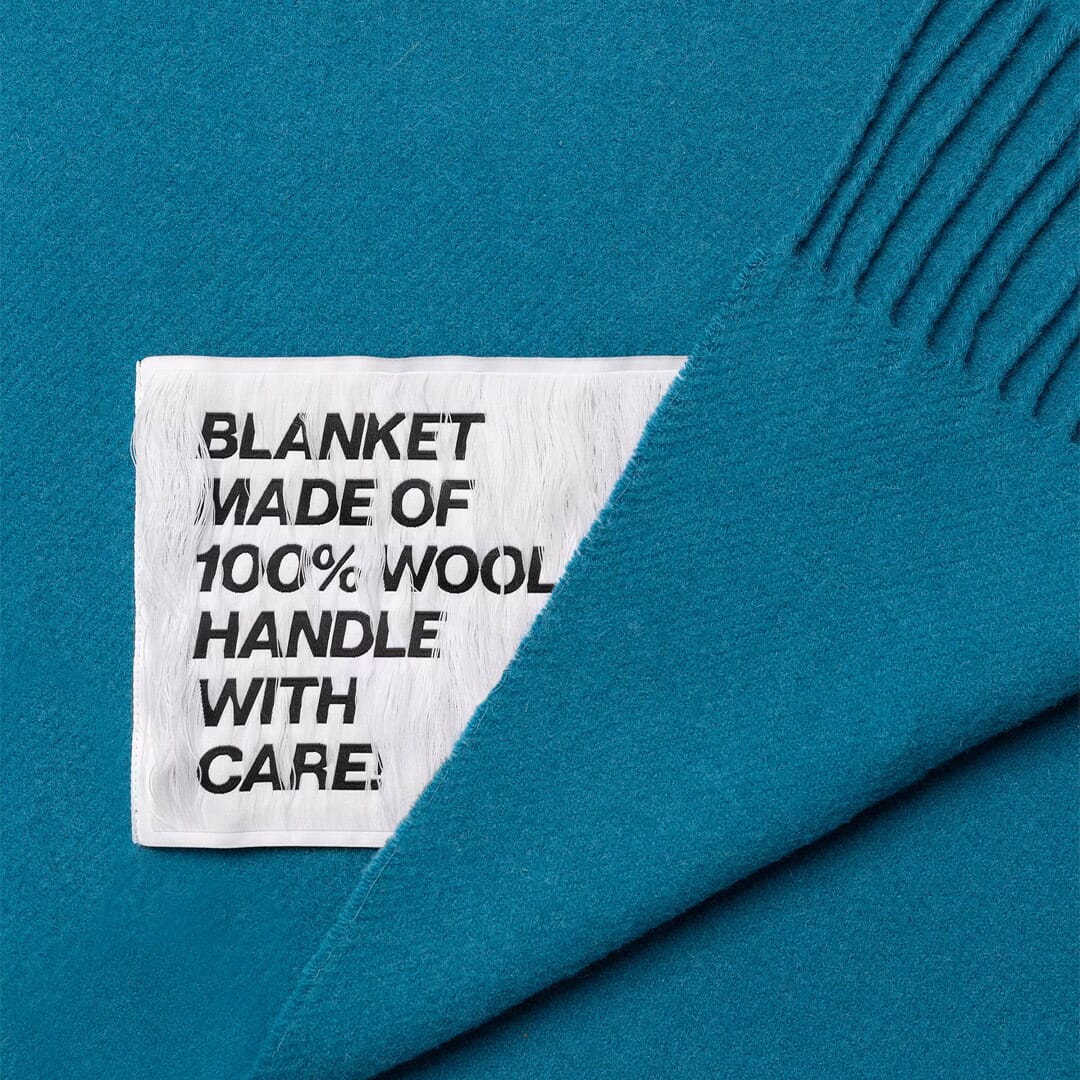 Axel Arigato Cozy Blanket
Swedish minimalists Axel Arigato have an alluringly bold take on the throw blanket, presented in full blanket size, the better to wrap itself around you. Meditative blue colourway recalls clear skies on dark days. Cozy Blanket's over-size wording to one side spells out those over-sized dimensions, with the address of Axel Arigato's London store, as a tongue-in-cheek commentary on designer labelling. Expert construction is of super-warm 100% wool.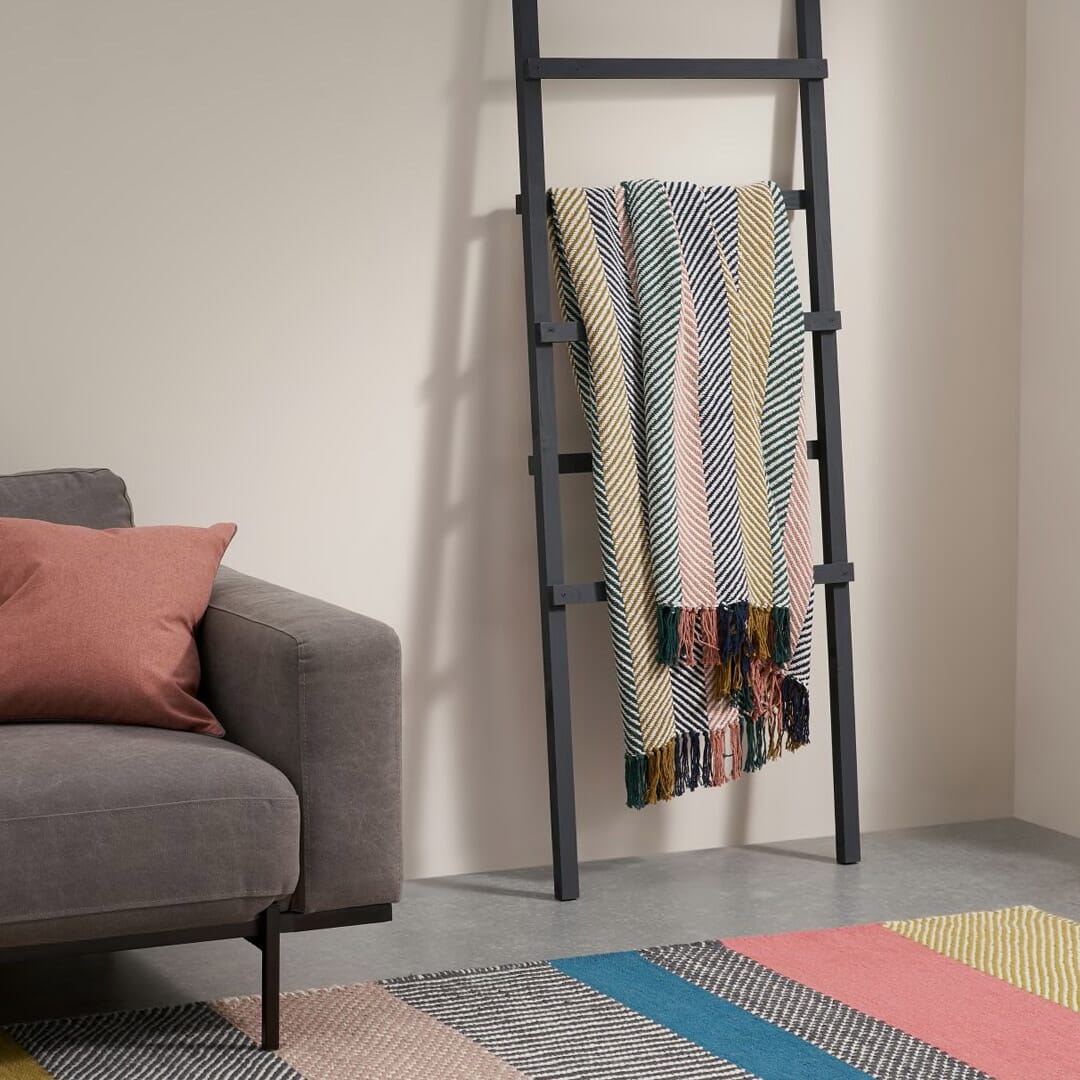 Made Makele Cotton Woven Throw
Fresh, African-inspired striped patterning features tonal contrasting colourways to lift your home into the new season. Traditional throw sizing offers versatility in styling and as a throwover on cooler nights. Construction for Made is from 100% cotton, adding the right touch of warmth and of breathability as the nights draw in. Tasseling, playfully colour-keyed to the panel above, brings added flair to a perfectly-judged piece.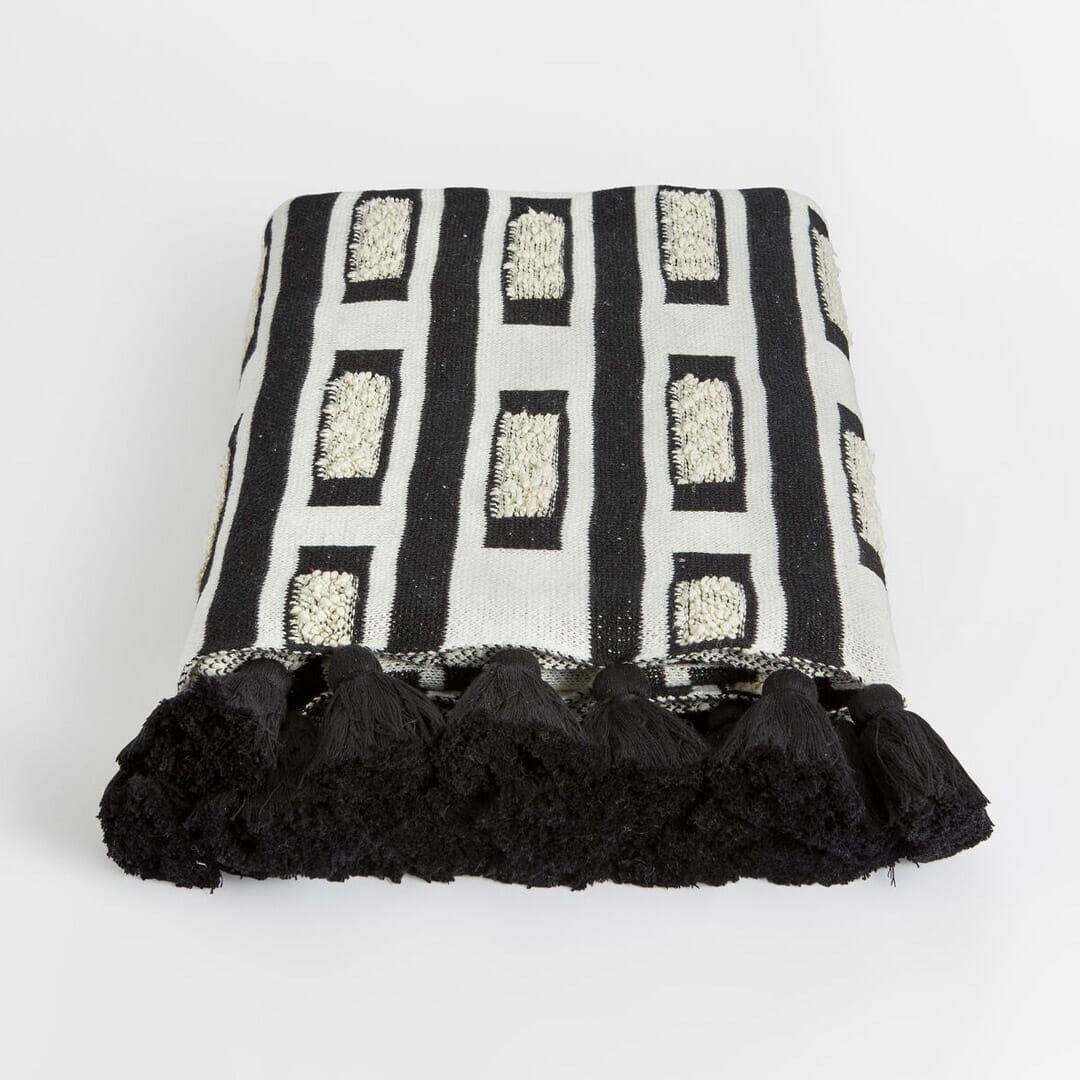 Soho Home Osprey Throw
Bring the eclectic style of Soho House into your home with Soho Home's deluxe Osprey Throw. Tactile and opulent, the Osprey Throw reflects the decor at Soho House's acclaimed Amsterdam outpost, knitted from 100% cotton featuring contrasting boucle yarn panels and delightfully extravagant black pom-pom tassels. Look easily adds to all and any of your home's chosen colourways, ideal for sofas, perfect as a master bedroom throw, too.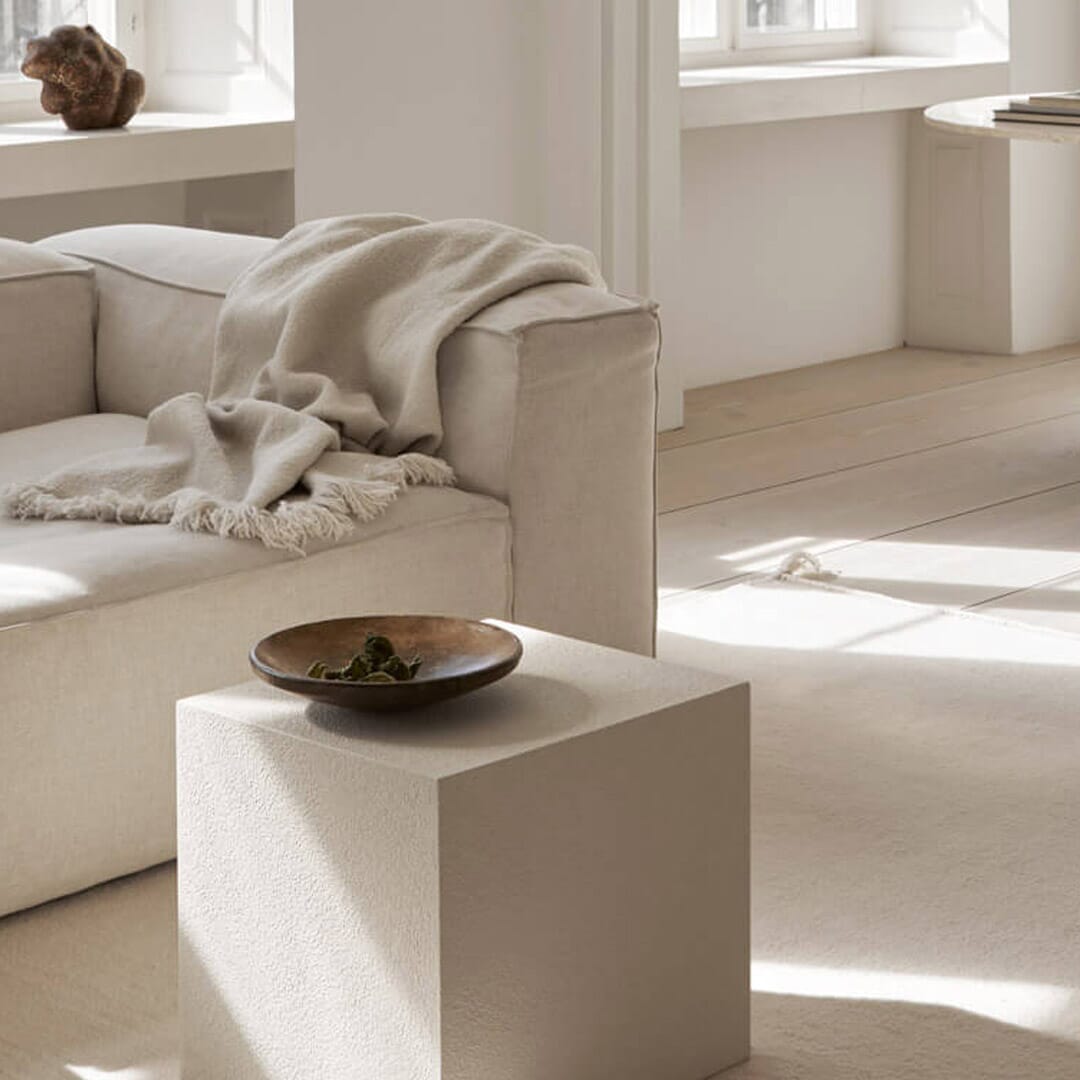 Nordic Knots Merino Throw
Nordic Knots is perhaps best known for its minimalist rug range, but now the Stockholm-based label is utilising its expertise in soft furnishings to create some seriously stylish modern throw blankets. Handmade in small batches by artisan weavers using an all-natural undyed merino wool, this dusty white throw will bring a sense of warmth and tranquility to any space. It's the perfect complement to a nature-inspired decor scheme, but will just as easily balance out bold, colourful interiors.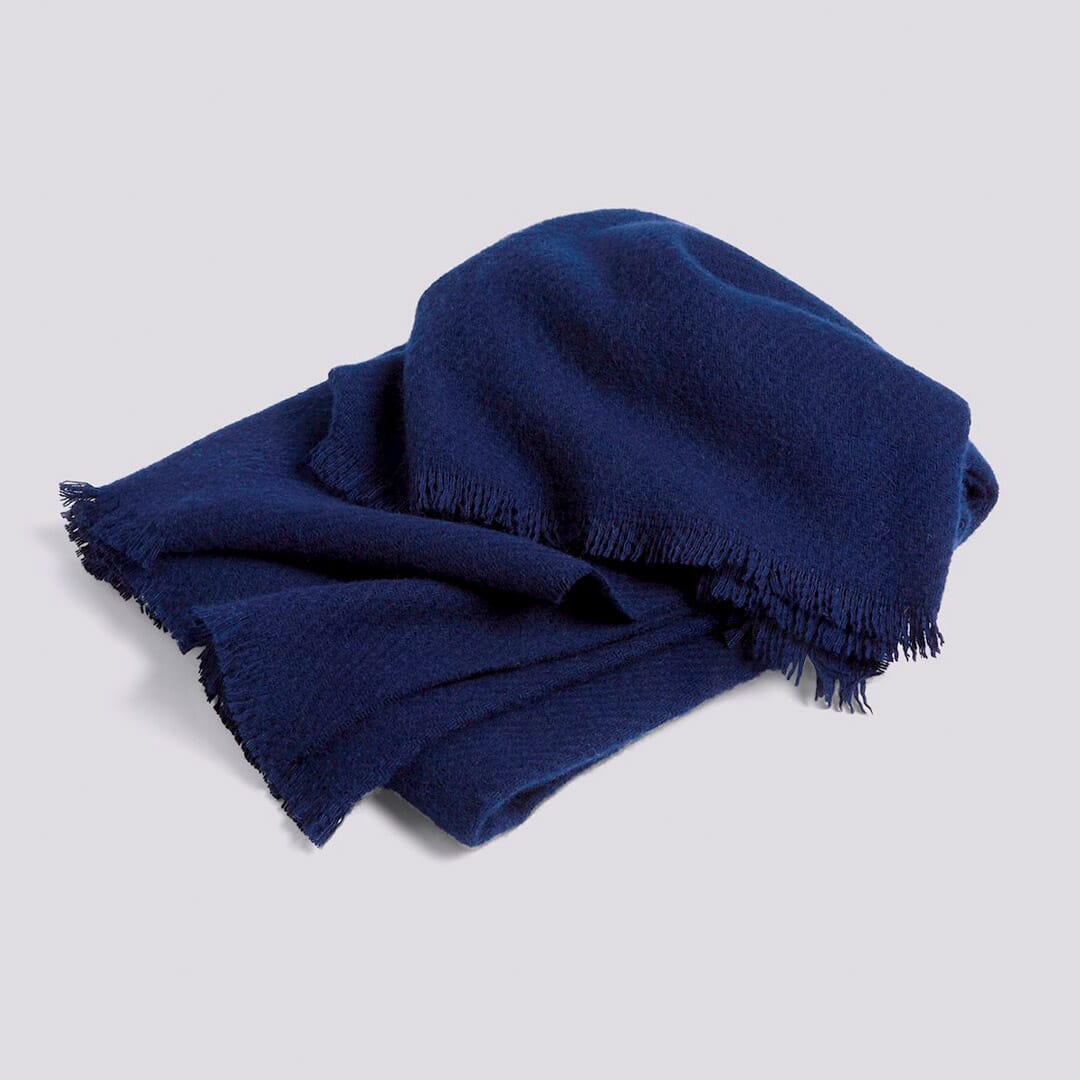 Hay Mono Blanket Midnight Blue
Danish contemporary design enthusiasts Mette and Rolf Hay work with leading designers to offer, as they put it, "a fresh take on the quotidian objects that are part of our everyday". Essential comes no more essential than Hay's Mono Blanket, here in a sublime midnight blue colourway ready to augment your sofa, guest or main bedroom. Twill structure in pure wool weave adds distinctive, yet subtle, added design interest.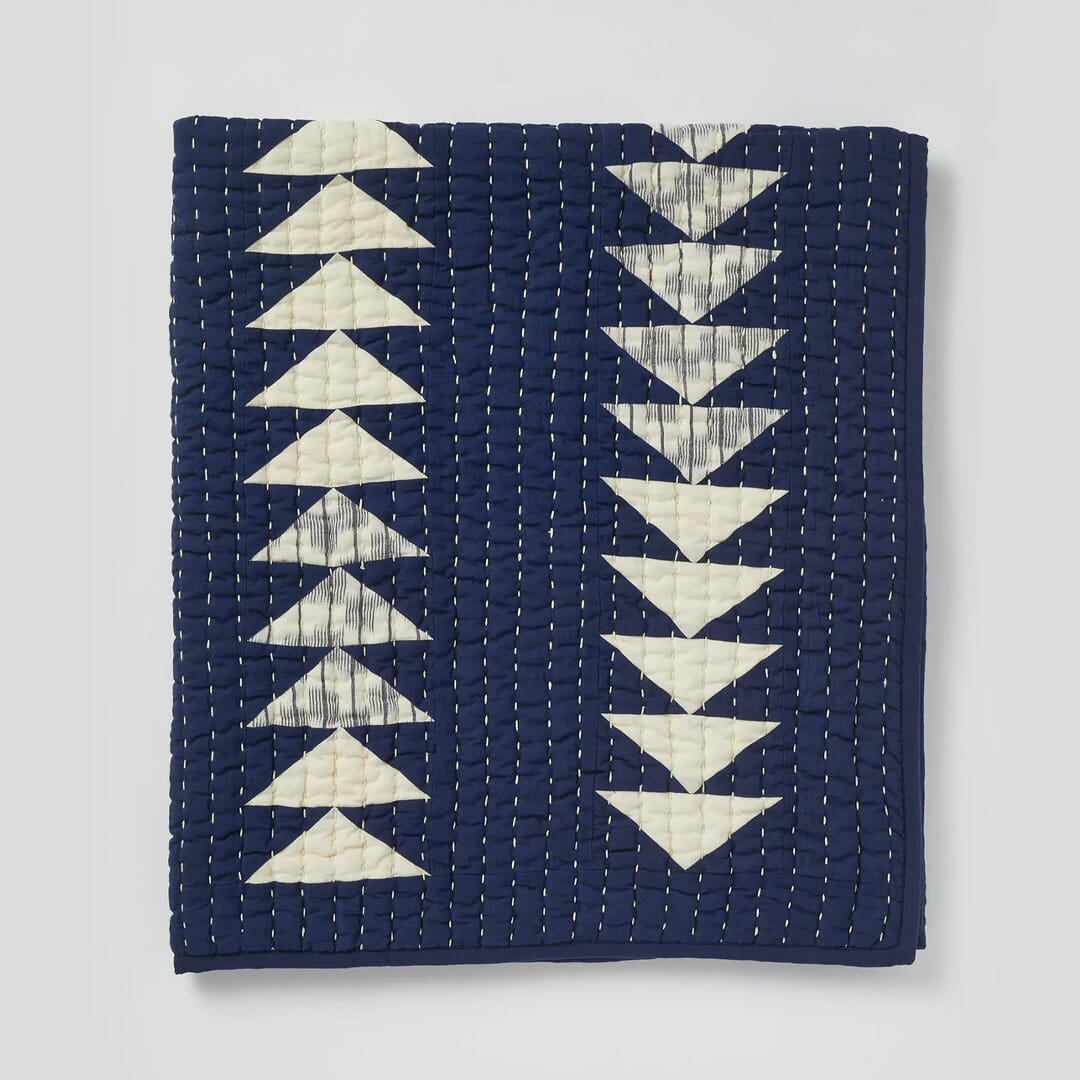 Toast Triangle Patchwork Cotton Quilt
Complex, intricate patterning marks out Toast's bold reimagining of the quilt for contemporary times, created by expert crafters using age-old Indian techniques. Designers' preference for ikat dyeing methods results in each piece being unique, while kantha embroidery adds a hand-crafted finish to each Triangle Patchwork Cotton Quilt. Result is a quilt that's as much an original work of art as a throw blanket. Exceptional.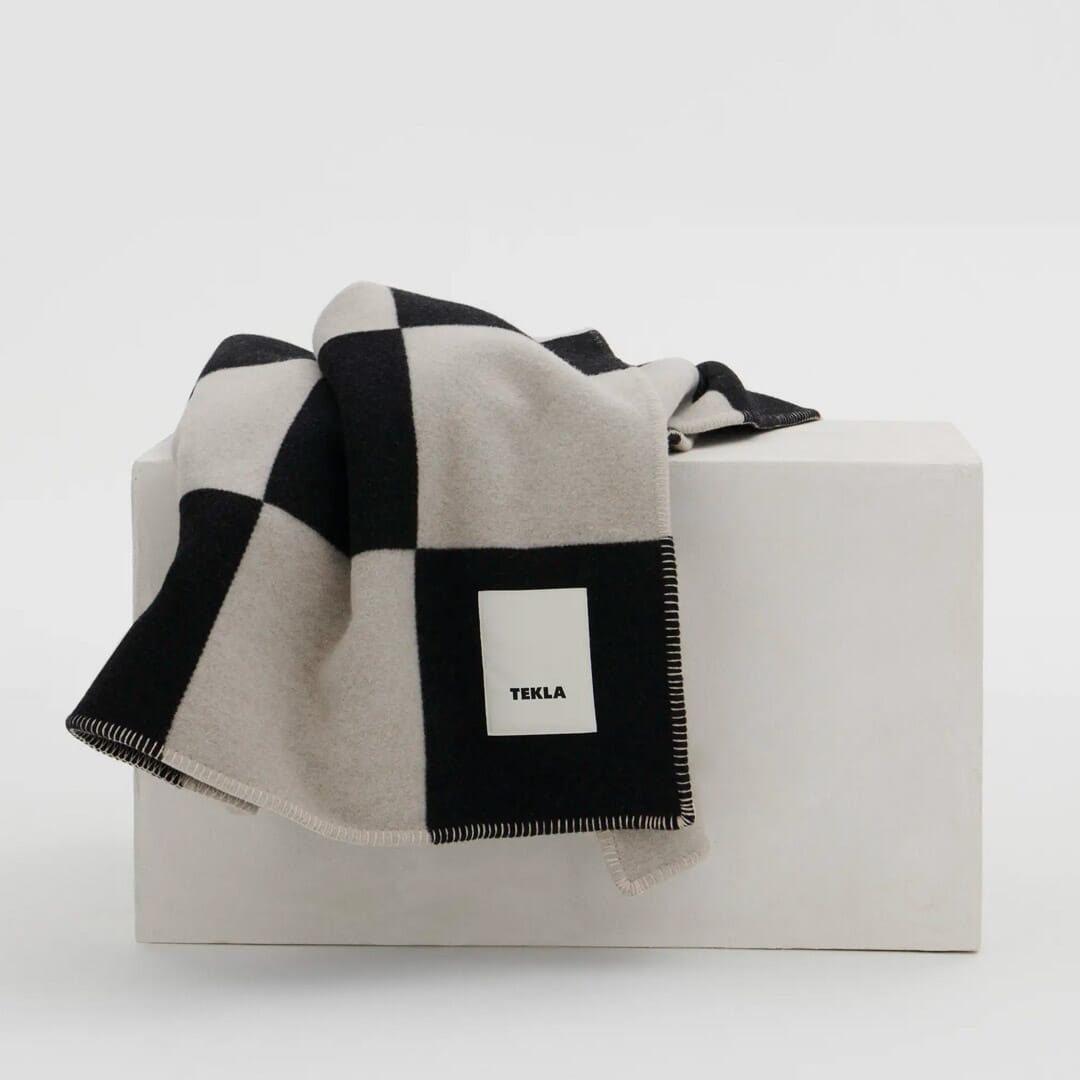 Tekla Cashmere Blanket
There is luxury and then there is cashmere. Copenhagen home comfort specialist Tekla's take on the throw blanket uses a supersoft wool/cashmere blend designed to warm the coolest of evenings. Cashmere naturally has its own deluxe look, here enhanced with a bold black check design, executed with defined jacquard-woven patterning. It's a confident colourway that breathes seasonal light on your personal style, whether over that favourite sofa or as a deluxe welcome in a guest bedroom.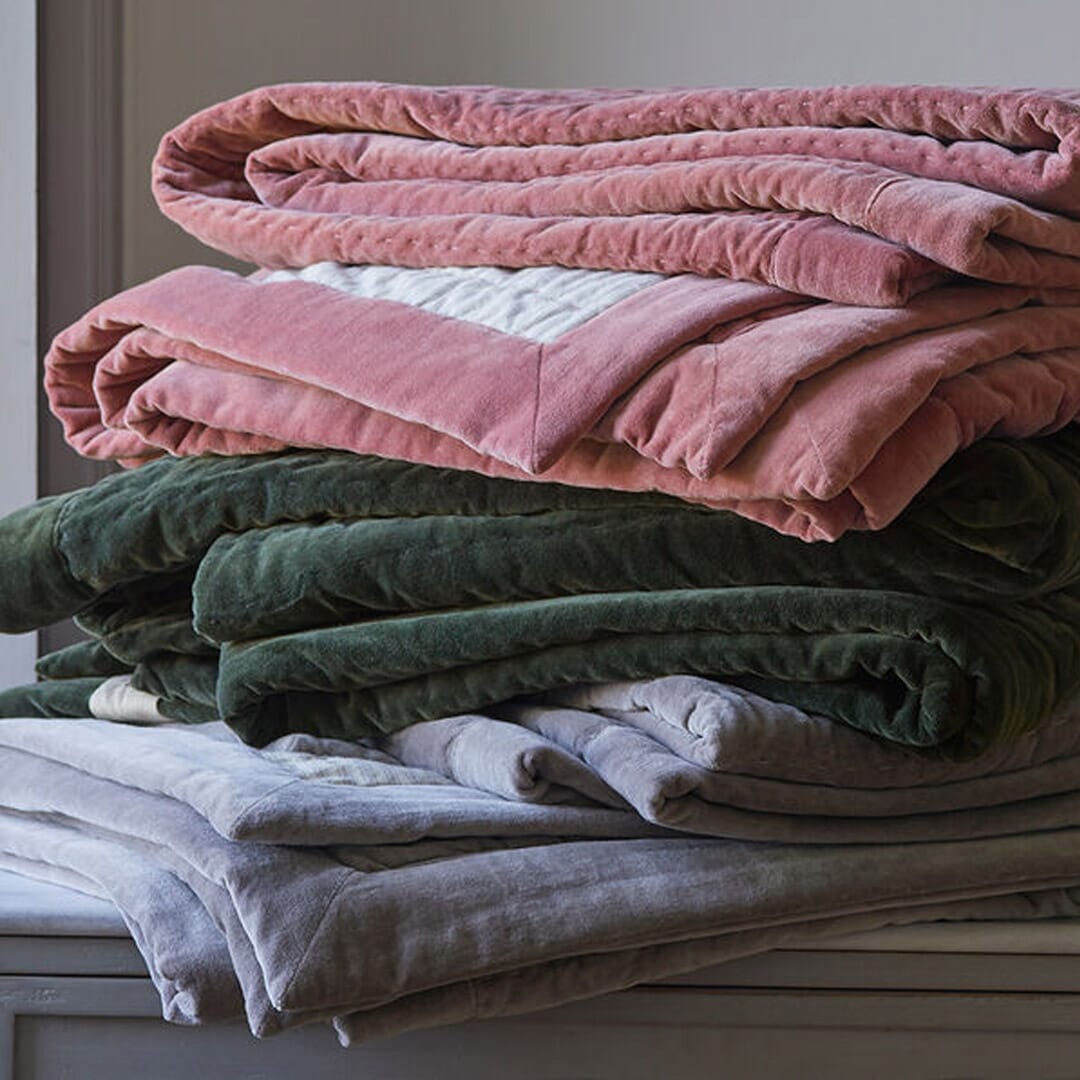 Loaf Easy Squish Quilt in Forest Green Velvet
Loaf want you to lounge, that much is clear from the lie-back-and-laze name of their Easy Squish Quilt. Traditional kantha stitching by expert crafters in the Indian city of Noida have created a quilt that's 100% cotton velvet on one side, 100% neutral cotton ticking on the obverse, with a super-warm 100% cotton fibre filling. Result is a throw with a lived-in feel, as if you've always owned this piece. Instantly relaxing.
Get your cosiness fix with our round-up of the best men's knitwear.
---
---