Add easy luxury to your everyday. The right hoodies are central pieces for your casual wardrobe. Cashmere adds a special edge - turning a casual piece into something quite surprisingly versatile. This high-end deluxe fabric - sustainably hand-combed from select breeds of goat - adds true luxury to the average hoodie, transforming it from streetwear to as formal a piece as you desire. Dressed up or dressed down, you'll find that cashmere hoodies really are indispensable. We've come up with some of the best cashmere hoodies for men, but first a few thoughts and tips:
Why cashmere?
Cashmere equals luxury: that simple equation you'll already know. Soft against the skin, there's an instant deluxe feel as soon as you pull on any cashmere garment. But there's more to it than that.
You'll notice instantly that any cashmere knit - in this case a hoodie - is thinner than a wool or cotton equivalent. The reason is simple. Cashmere, the experts say, has up to eight times more insulation capacity than pure wool. That means it can not only keep you warm in winter, but cool on warm summer evenings too, easily maintaining and regulating your body temperature.
Cashmere takes colour well, too so your hoodie's chosen colourway will be unusually vibrant. Not just that, but treated properly, it'll maintain shape when washed, so much so that cashmere garments are often passed down from one generation to another. Cashmere really is that good, meaning that these cashmere hoodies are with you for life.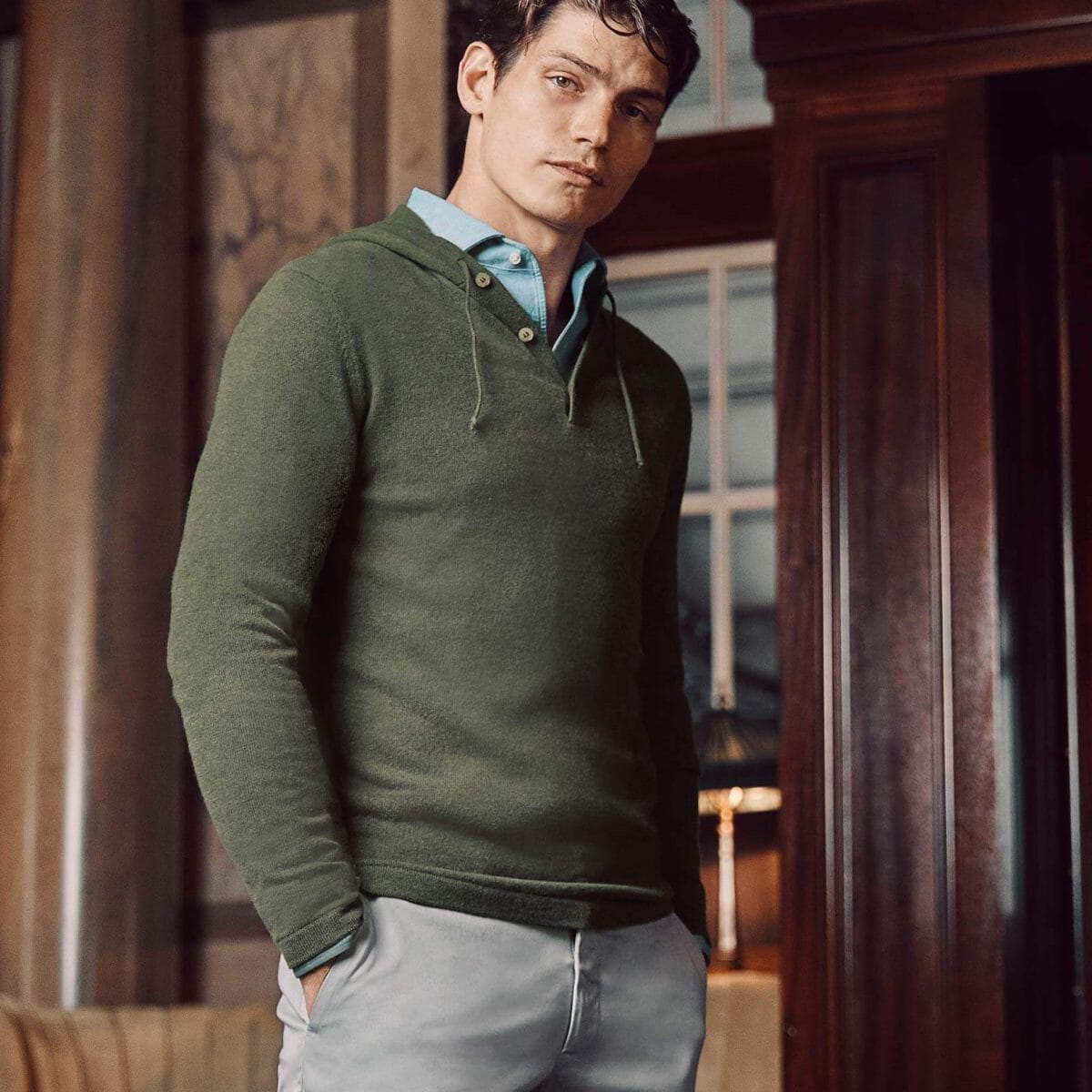 How to style a cashmere hoodie
Great thing about your cashmere hoodie is just how versatile you'll find it. Cashmere construction means effortless luxury melded with the relaxed style of the hoodie. Try yours under a suit jacket at work or add a blazer for cooler afternoons outdoors at an autumn party or in the gastropub garden.
Equally, a cashmere hoodie is the perfect loungewear because it's so soft and cosseting against the skin with all the laidback feel that a hoodie provides. It's worthwhile considering whether you'd like a hoodie that's loose and relaxed or if you'd like yours more fitted. It's a purely personal choice and may come down to whether you're mainly going to use it in formal or informal settings.
For travel or even over your gym kit after a workout, a cashmere hoodie is the ideal throw-over piece, an immediately warm and deluxe piece, and one that doesn't have to try too hard.
Wherever and however you're going to wear your next cashmere hoodie, you'll find it's an indispensable piece all the way from autumn to spring - and we'd add on those cooler evenings on the way back from the beach. Only choice now: which one to choose?
Best cashmere hoodies for men in 2023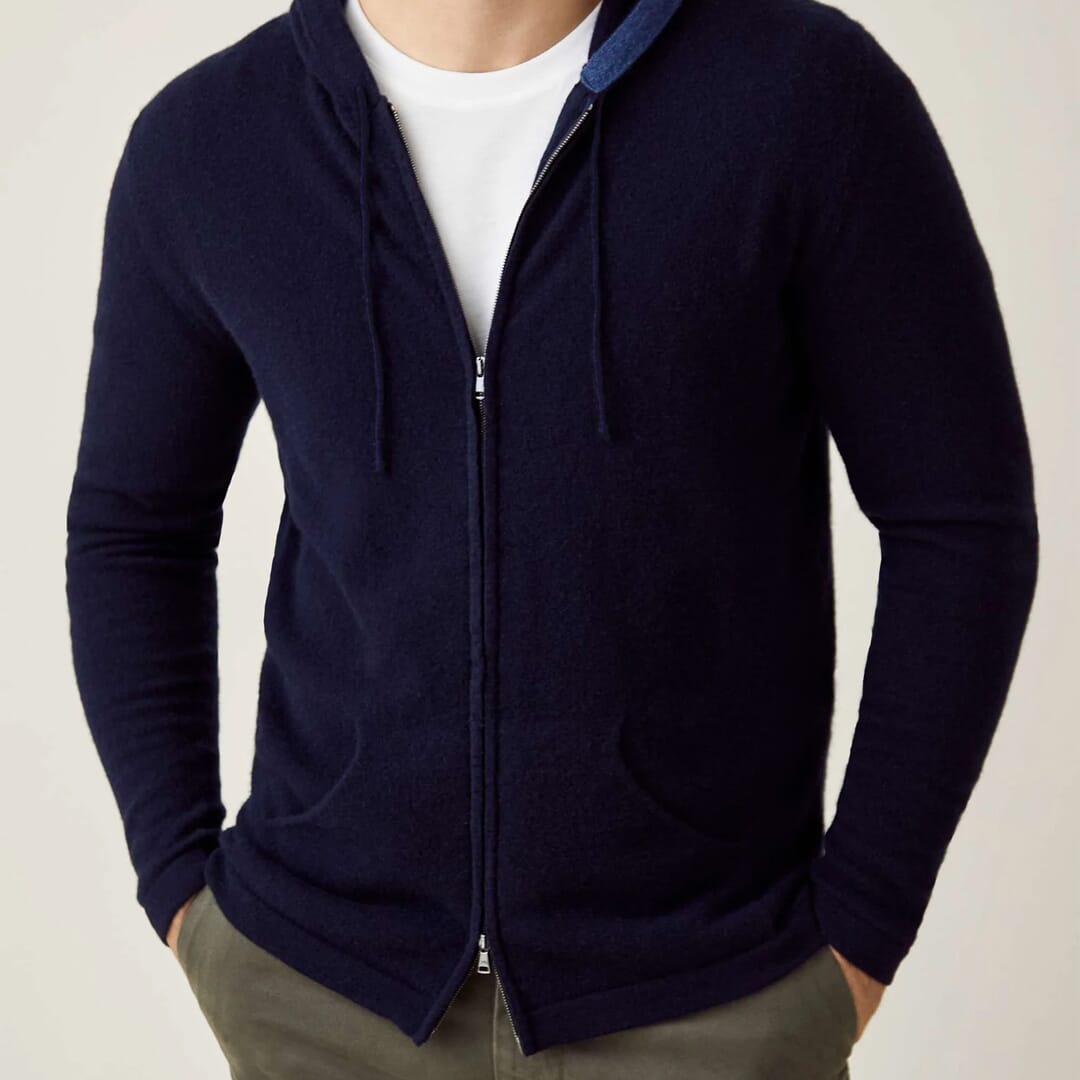 Luca Faloni Cashmere Zip Hoodie
A cashmere hoodie with a real pedigree. Italian luxury goods experts Luca Faloni source their pure cashmere from one of Italy's oldest suppliers, Cariaggi, who bring more than six decades of experience to all that they produce. Their Cashmere Zip Hoodies are in two-ply cashmere, with two front pockets for added comfort. Cut is for polo-style long sleeves, designed to adjust to your arms for a bespoke fit. Premium double zip by Raccagni completes an Italian thoroughbred.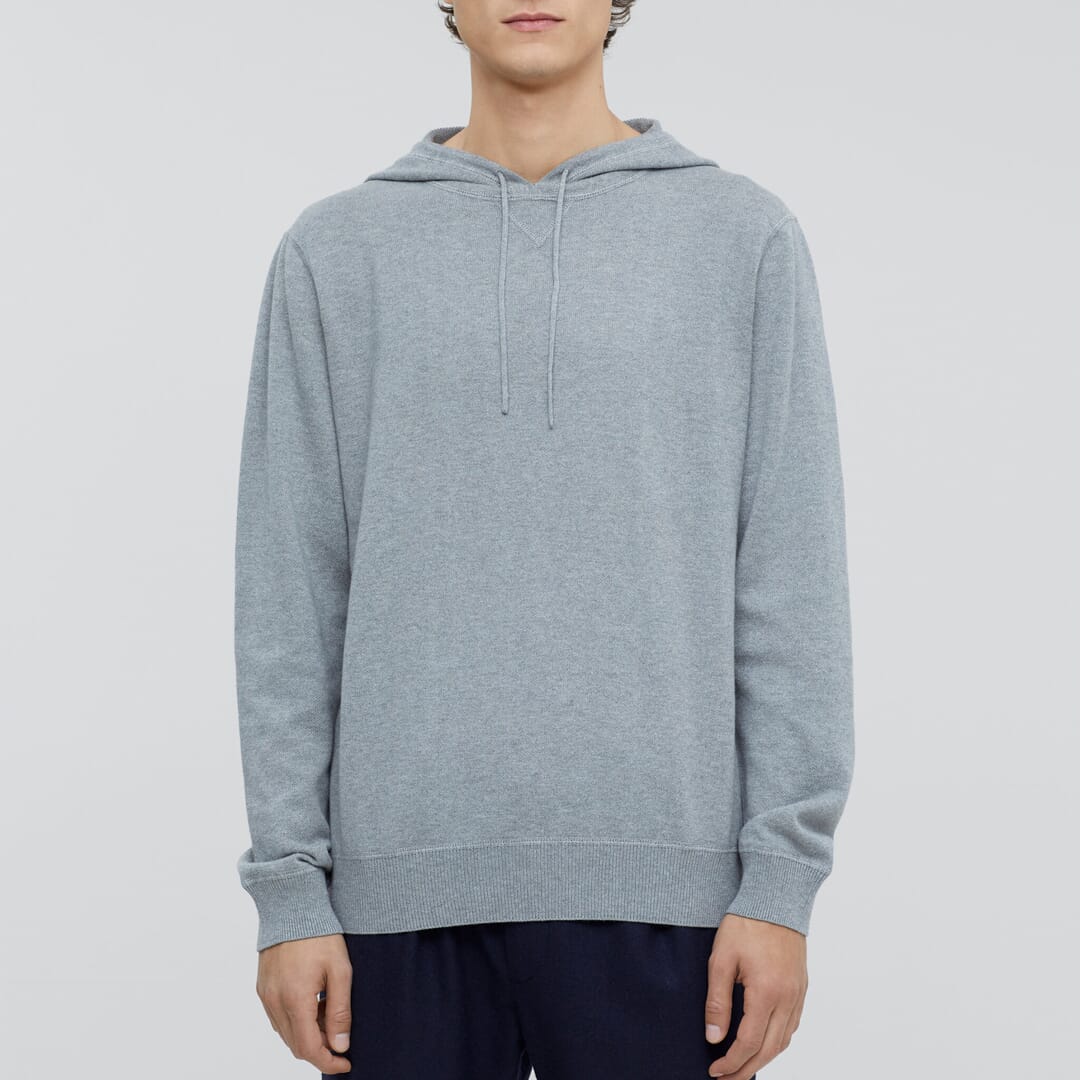 Closed Knit Hoodie with Cashmere
Closed's offering is French imagination combined with Italian craftsmanship and German tradition. It's an alluring approach that's abundantly evident in their impeccable pullover hoodie. Fabric here is 94% Cotton with 3% wool - with 3% cashmere to add the essential softness and opulence. Knit is fine and detailing is sweatshirt-influenced for a more casual feel. There's subtle rib detailing to the sides, with ribbing to cuffs and hem too.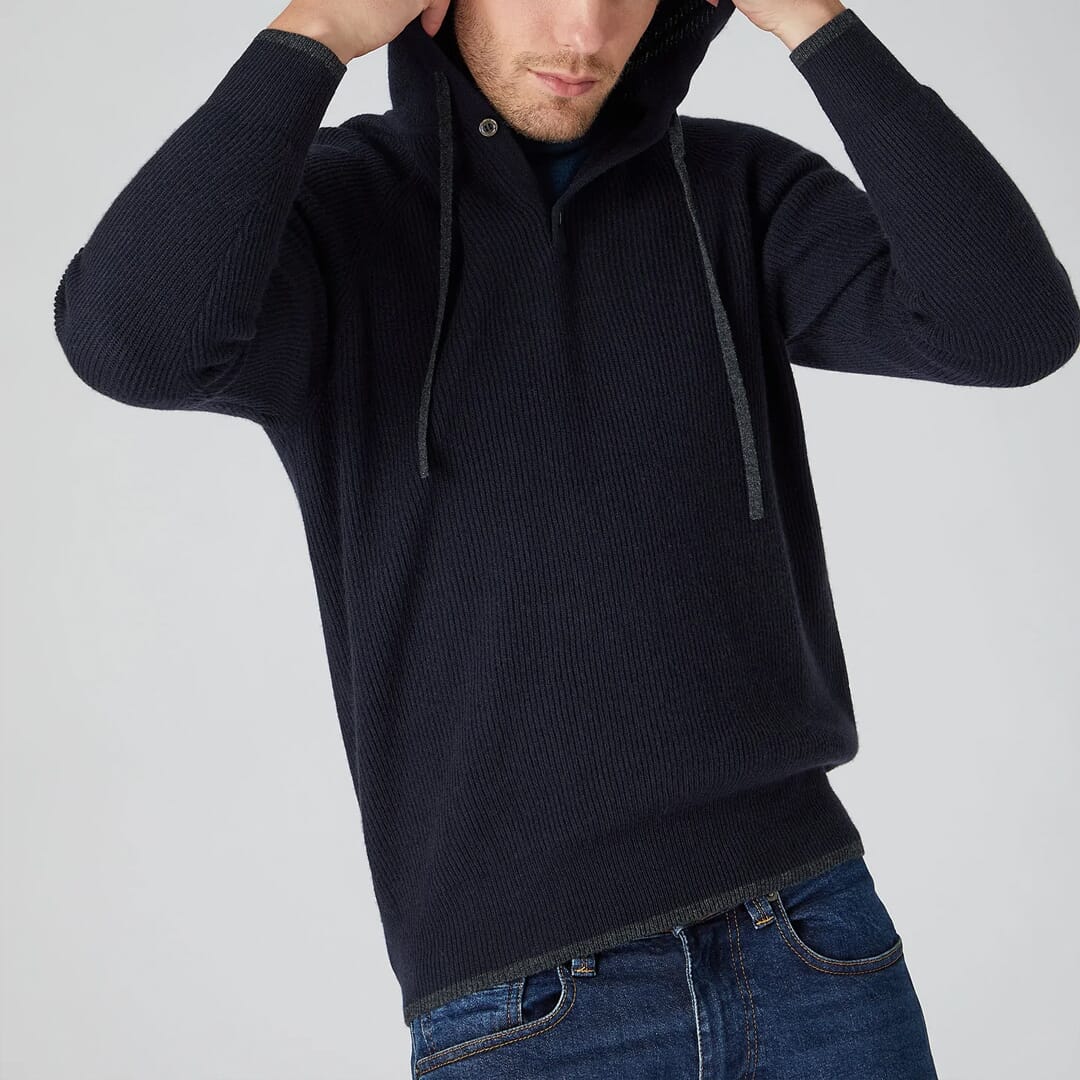 N.Peal Men's Half Button Hooded Cashmere Jumper
Cashmere and only cashmere has always been the relentless focus of N.Peal, whose flagship store has been a must-visit in London's prestigious Burlington Arcade since 1936. N.Peal's cashmere is sourced from Inner Mongolia, where the goats are regarded as providing the finest in the world. Construction of their Half Button Hooded Cashmere Jumper is 100% organic cashmere with a distinctive rib knit stitch, two button closure to the neck and contrast drawstring to the hood.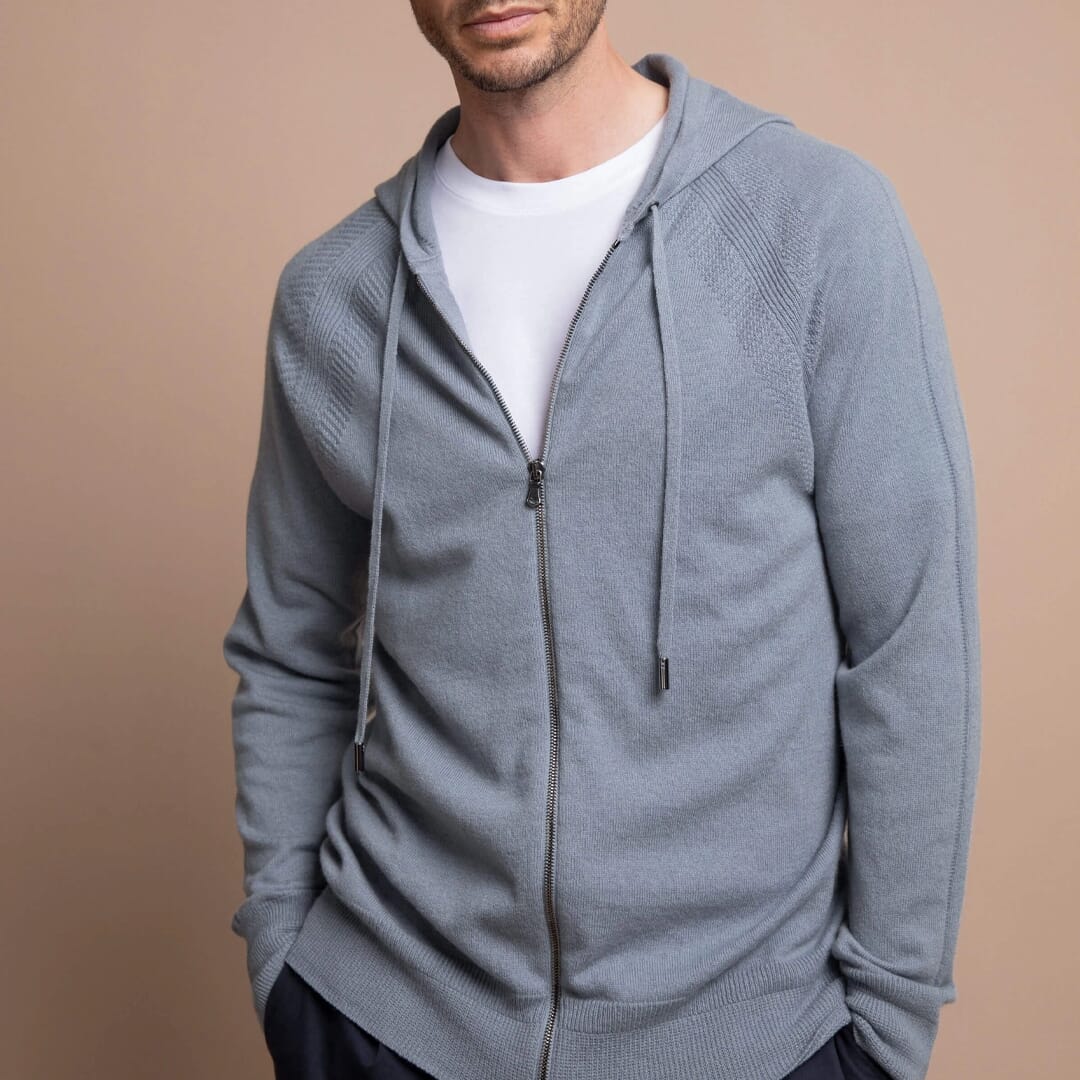 Johnstons of Elgin Textural Cashmere Zip Hoodie
Johnstons of Elgin are rightly proud of their 225 year tradition of dyeing, spinning, weaving and finishing all of their pieces, including their Textural Cashmere Zip Hoodie, at one of their two family-owned mills in Scotland. Painstaking crafting, mostly by hand, is what makes each of these hoodies special. That and distinctive, yet subtle, ribbed detailing to shoulders, hem and cuffs. Cut is relaxed and chunky to make the best of the winter months.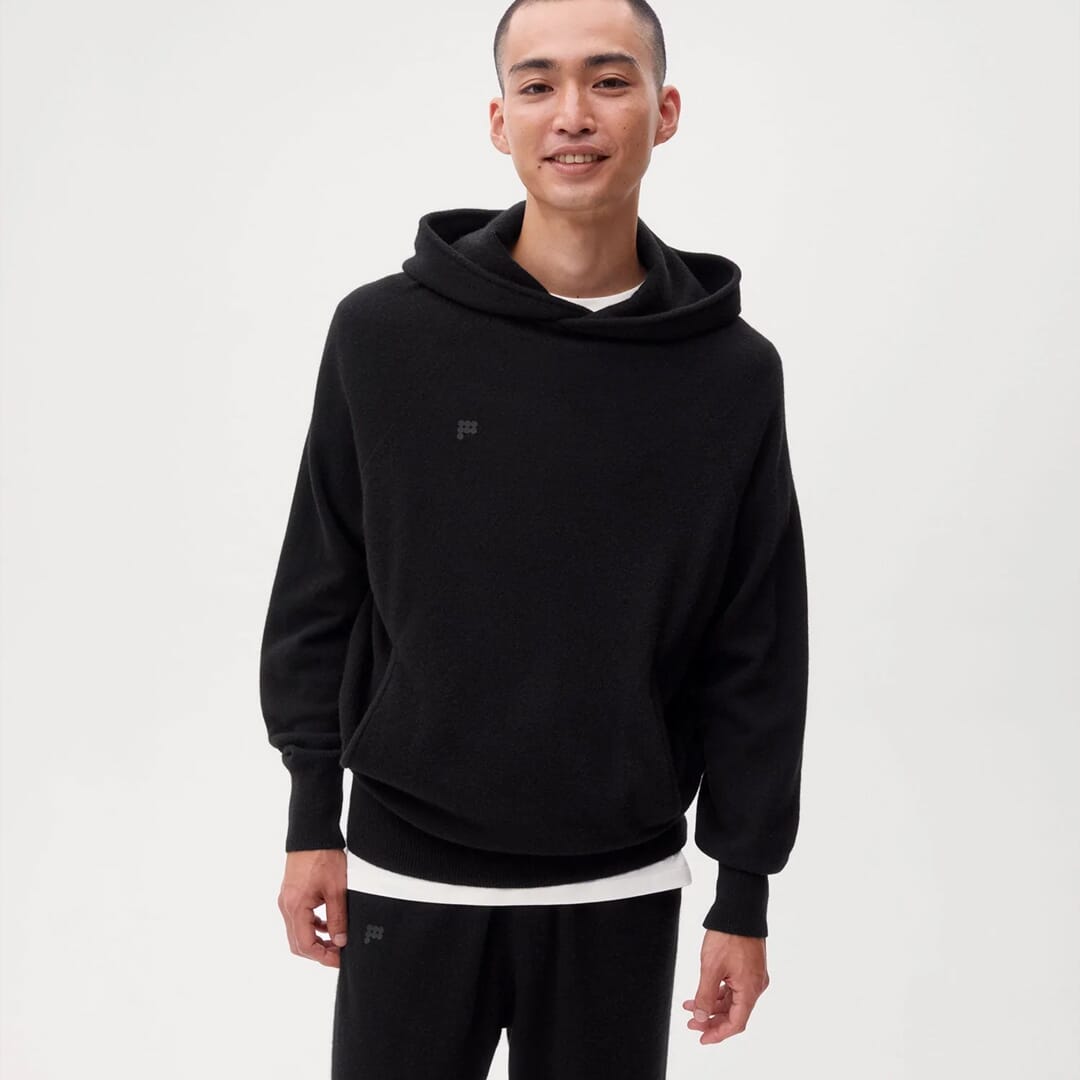 Pangaia Recycled Cashmere Hoodie
Pangaia are the clothing company with a mission, as they put it, to save our environment. Their impeccable Recycled Cashmere Hoodie is very much a part of that: construction is from a cashmere blend sourced from used garments, saving them from landfill and giving the supersoft cashmere another life. What's retained is all of the soft, warm qualities of cashmere, here in a loose fit hoodie, featuring raglan sleeves and a kangaroo pocket. Cashmere's compromise-free environmental alternative.
Discover our pick of the best heavyweight hoodies for men.
---
---