Forget any preconceived notions you have about polo shirts. The menswear staple has officially shaken off its associations with golf dads and Britpop-loving teens to deservedly reclaim its status as a reliable smart-casual go-to for just about any occasion. Scroll on for everything you need to know about this unassuming wardrobe hero – from its origins to the best men's polo shirts to buy in 2023.
The history of men's polo shirts
As its name suggests, the polo shirt – or a version of it – was originally invented for polo players in the late 1800s. John Brooks, an American haberdasher and grandson of Brooks Brothers founder Henry Sands Brooks, noticed on a trip to England that polo players were sewing buttons on their shirt collars to prevent the collars from flapping around during games. He took the idea home to the US and began producing shirts with button-down collars en masse.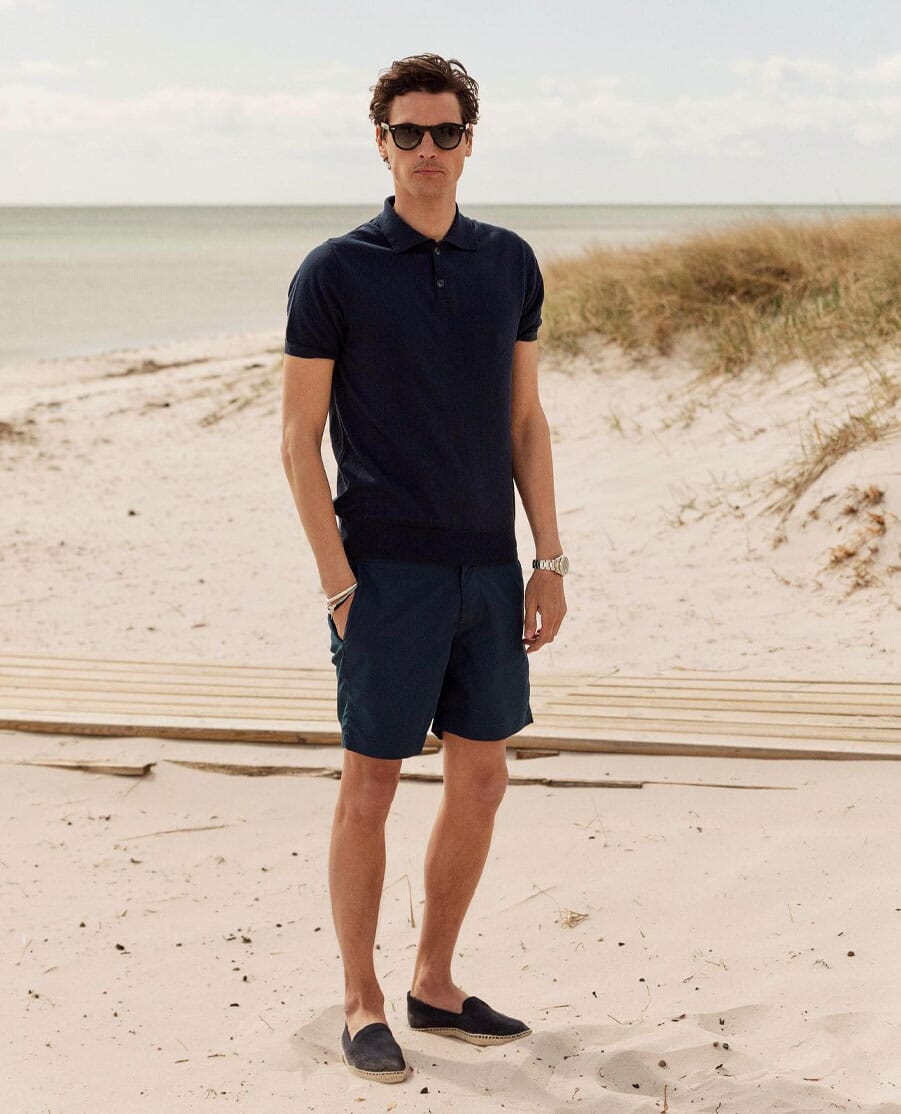 It wasn't until the 1920s, however, that the polo shirt as we know it today was born, all thanks to the French tennis icon René Lacoste. Frustrated with the rigid codes of tennis wear, which required players to wear a heavy and uncomfortable long-sleeved button-up shirt, Lacoste began wearing a short sleeved shirt in a lightweight cotton pique – a soft, breathable and casual shirt style that improved his freedom of movement and performance. Soon enough, he was approached by American manufacturer André Gillier to collaborate on the creation of the modern tennis shirt. In 1933, La Chemise Lacoste was founded, adopting the crocodile as its logo in a nod to Lacoste's nickname.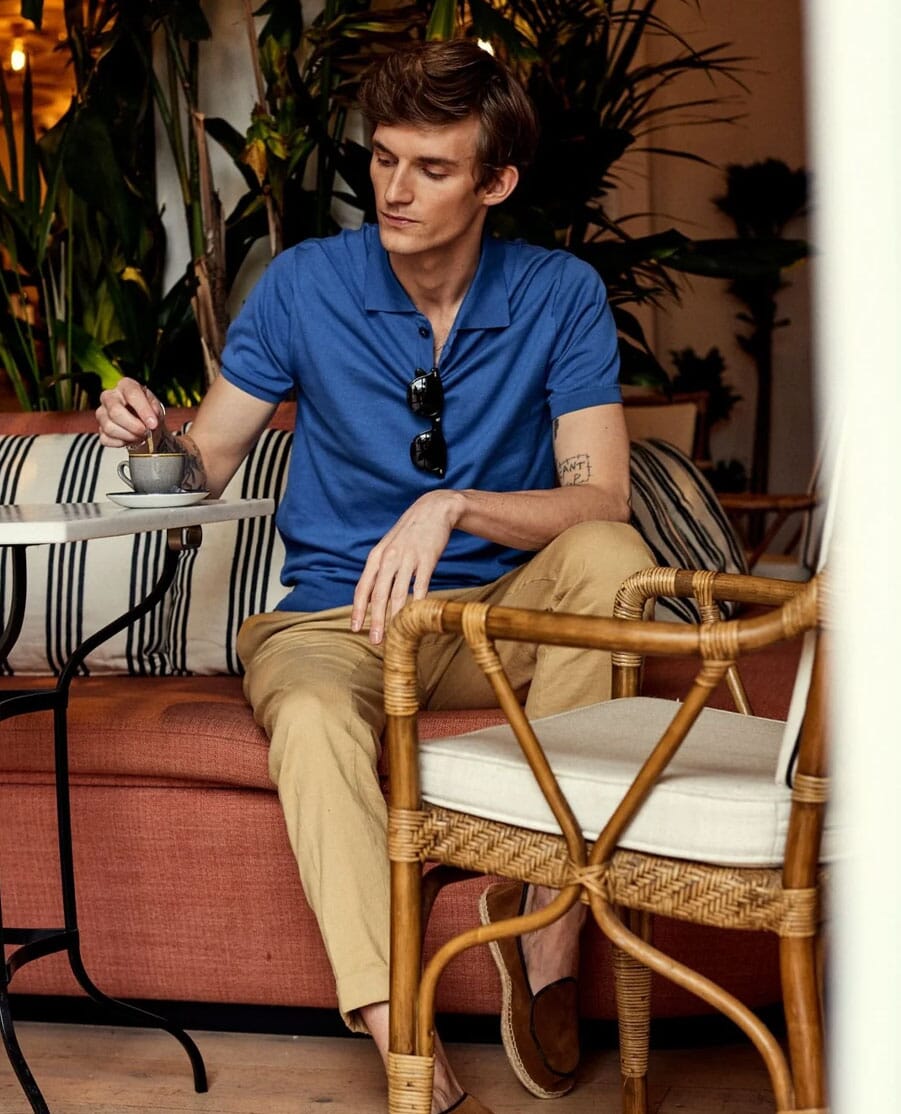 Over the decades, polo shirts became popularised off the court amongst sporty middle-class types – from British mods to American East Coast preppies and even presidents – President Dwight D. Eisenhower and President John F Kennedy were both big fans. In the late '60s, a young designer by the name of Ralph Lauren launched a brand called Polo. Emblazoned with a trademark polo player, the polo shirt became the uniform of America's leisure-loving elite.
Fast forward to today and practically every menswear brand has created its own version of the men's polo shirt, harnessing all manner of cuts, fabrics and patterns and elevating the garment beyond its sporty origins.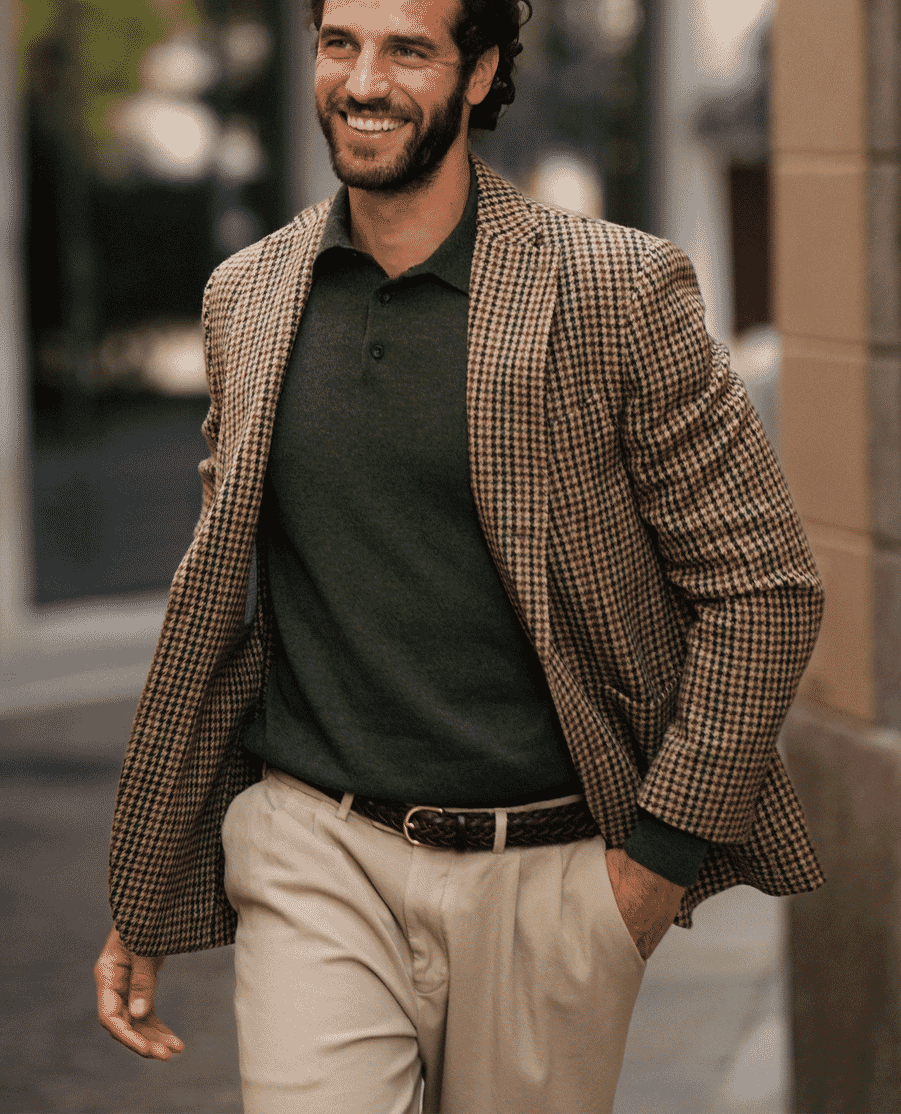 How to wear a polo shirt
Occupying that sweet spot between a collared shirt and a T-shirt, the polo shirt lends itself easily to being dressed up or down. Channel weekend ease and team it with shorts, denim jeans or chinos, or smarten it up by layering it under a blazer and tucking it into high-waisted tailored trousers. Its lightweight construction and smart-casual appeal make it the ultimate holiday shirt, perfect for taking you from the pool to cocktail hour. Throw on a pair of espadrilles and slip into off-duty mode.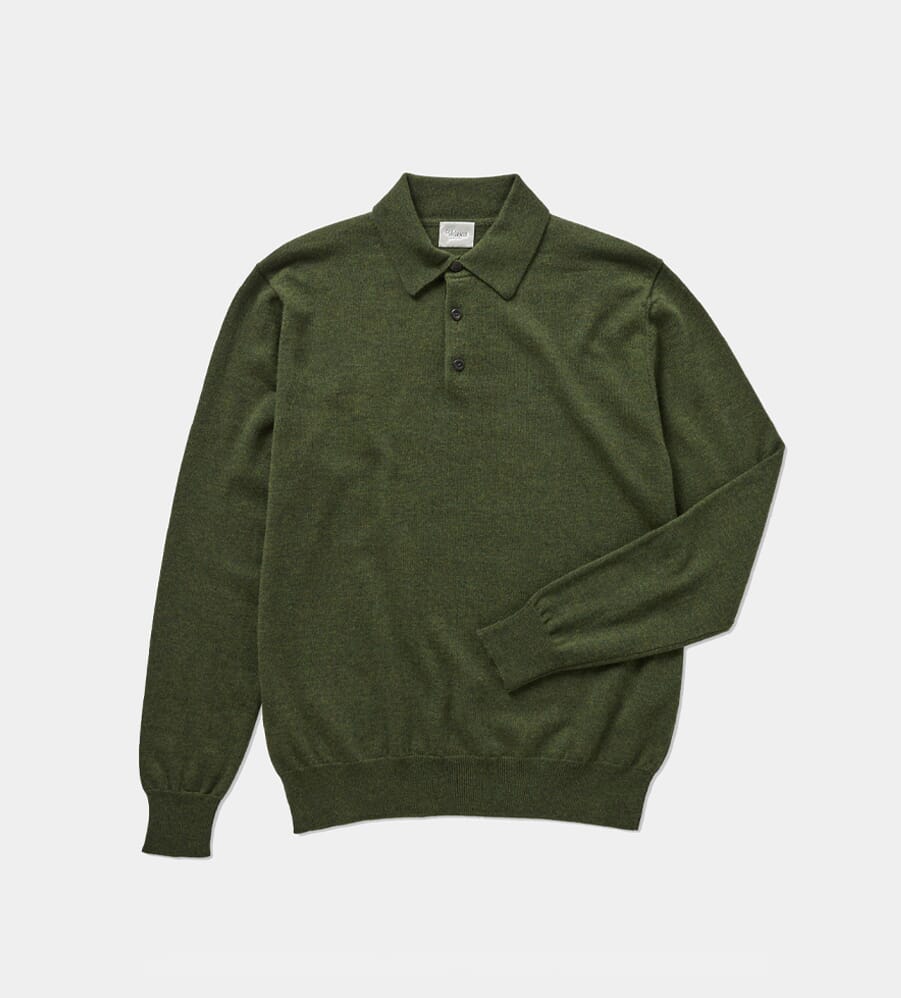 Best men's polo shirts to buy in 2023
Velasca Bard Polo Sweater
Velasca's take on the polo shirt is just as refined as we'd expect from the esteemed made-in-Italy label. This long sleeve version is knitted from 100% merino wool for ultimate softness and breathability. Team it with belted tailored trousers and loafers for a a look that will take you effortlessly from day to night.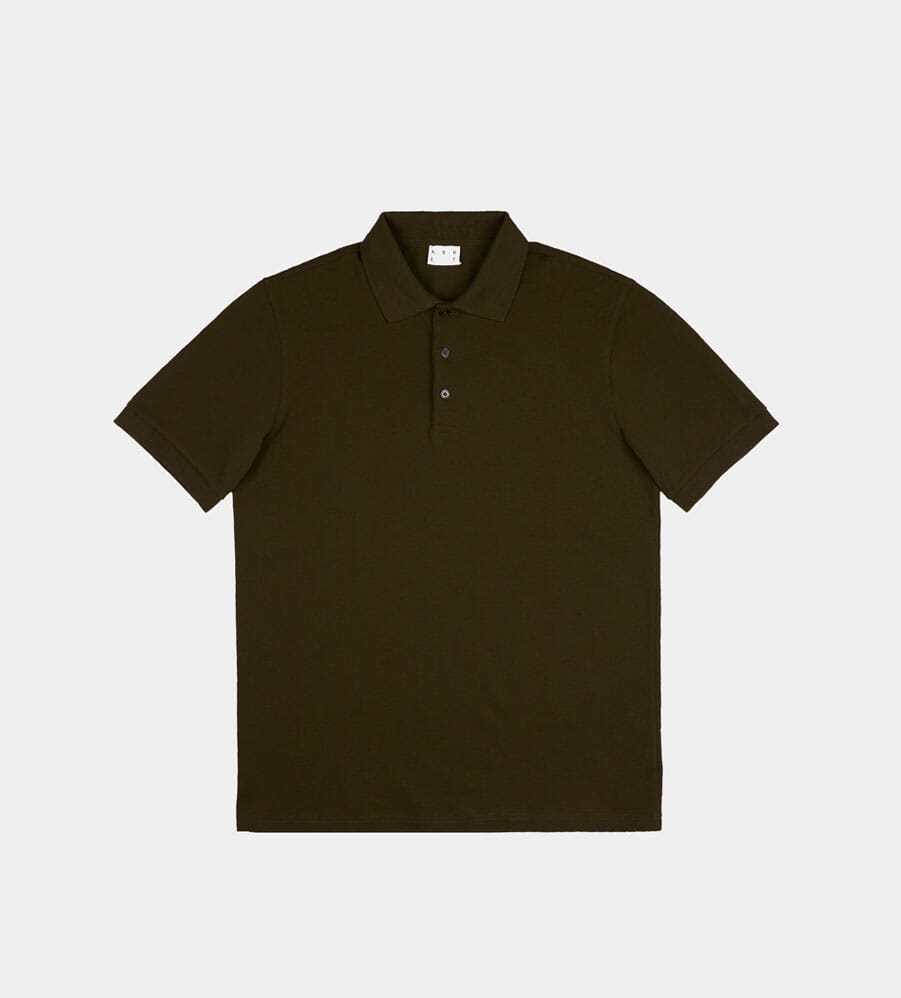 ASKET The Pique Polo
Stockholm label ASKET keeps things classic with its tennis-inspired polo shirt, crafted from a mid-weight organic cotton pique knit. It's soft yet substantial, made to transcend seasons and stand the test of time. A flattering straight cut silhouette is enhanced with a seamless French placket and tonal mother of pearl buttons.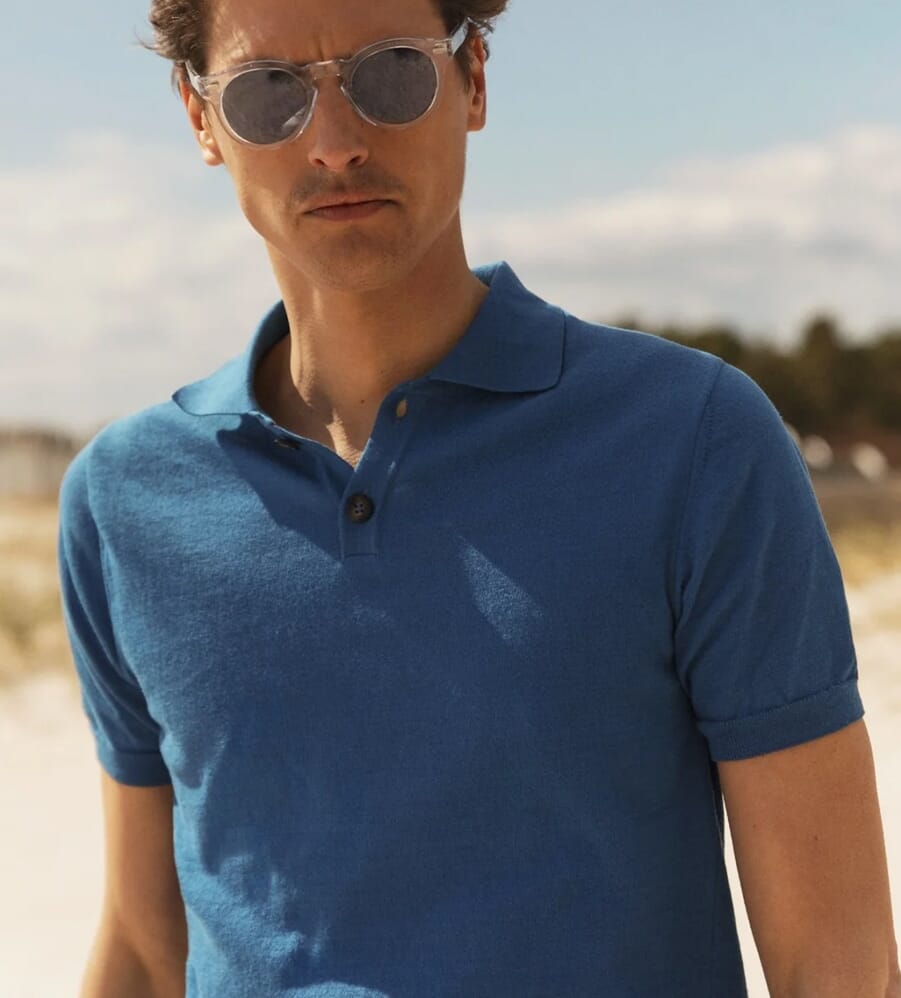 The Resort Co Knitted Polo Shirt
With its clean cut and fuss-free design, this knitted polo shirt from London-based resortwear brand The Resort Co is guaranteed to be a fail-safe summer staple that you'll reach for time and again. Crafted from 100% organic Italian pima cotton, choose navy, khaki, ivory or azure – easy-to-wear hues that you simply can't go wrong with.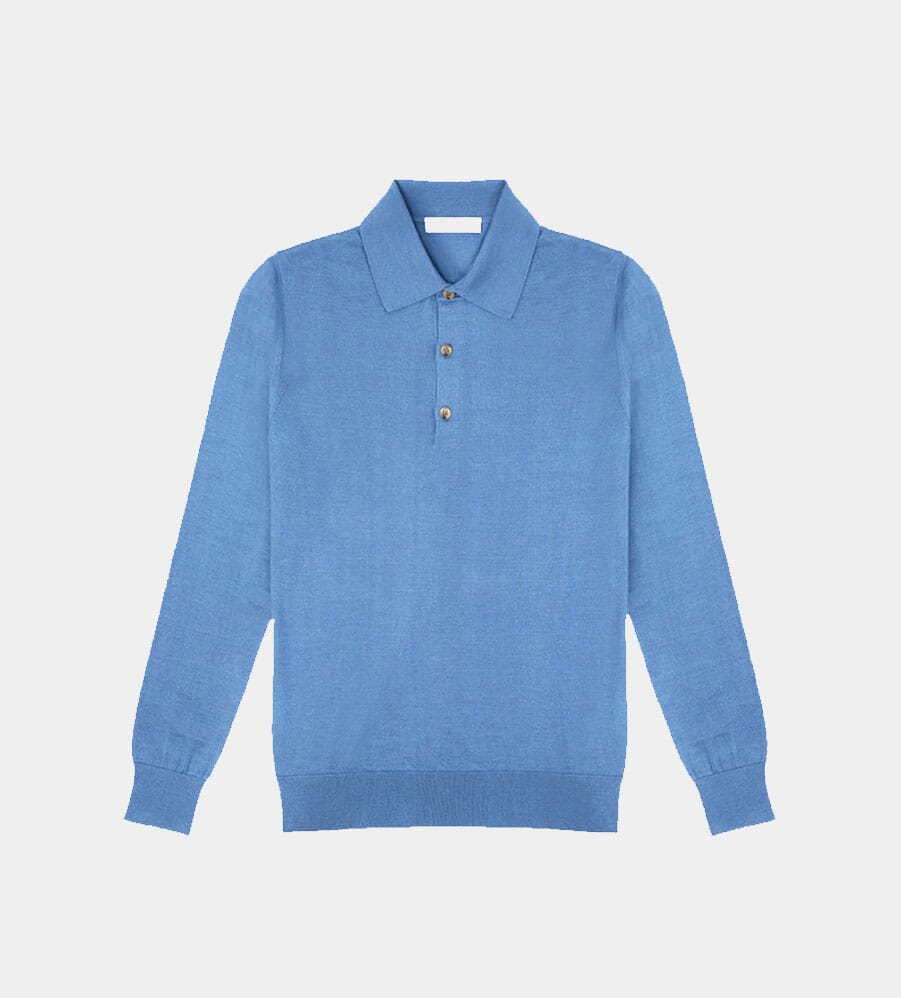 Luca Faloni Fine Silk-Cashmere Polo
Made in Italy from a luxurious blend of cashmere and silk, this long-sleeve polo shirt from menswear maestro Luca Faloni is super-soft and ultra-lightweight, designed to drape beautifully over your body. Team it with chinos and loafers for an easy evening look.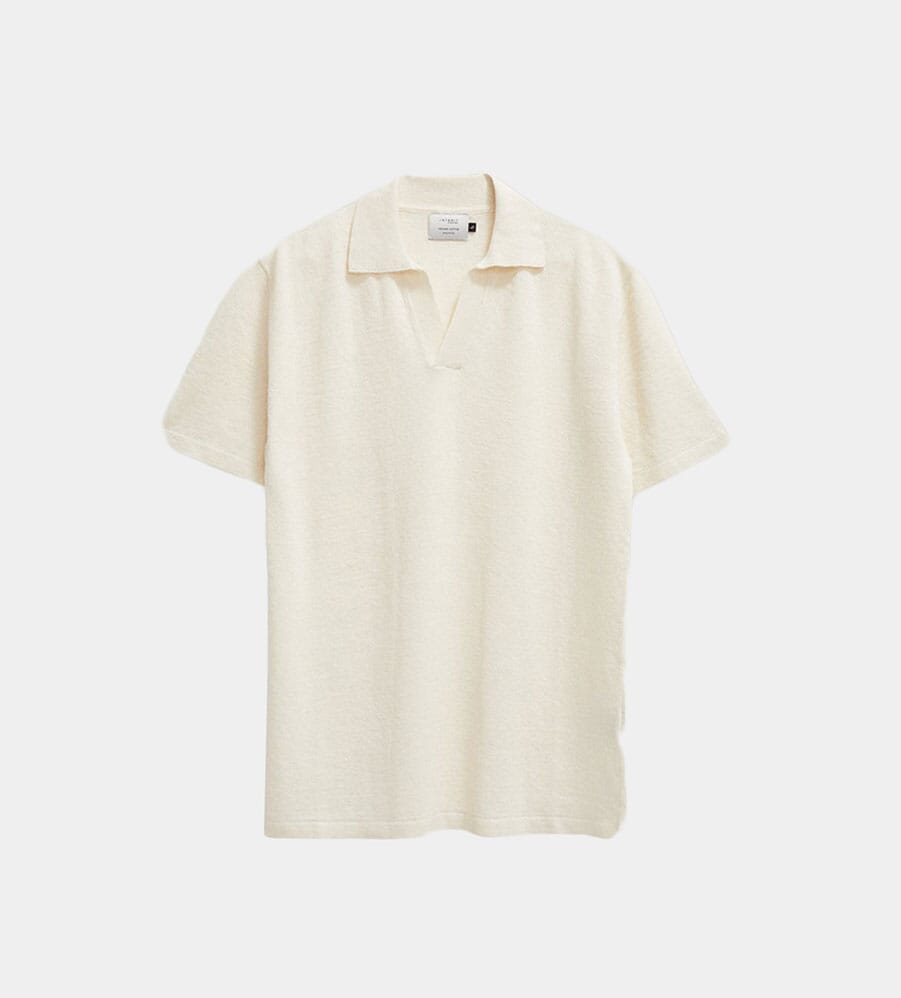 Artknit Studios Linen Cotton Vintage Polo
Trust Artknit Studios to create a polo shirt as luxurious as this one. The Milanese knitwear brand has opted for an Italian-spun blend of European linen and organic cotton. Wear it with tailored trousers and a smart blazer for an effortless dinner look.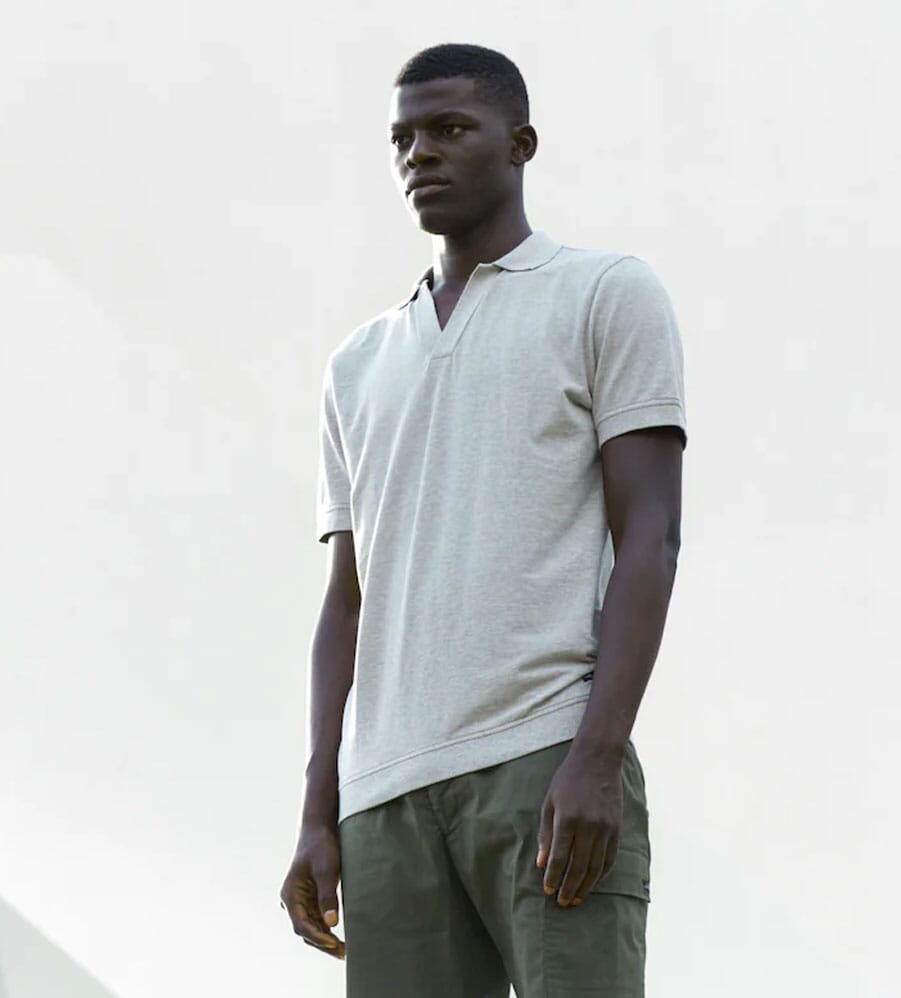 WAHTS Rice Polo
This buttonless polo from Dutch luxury sportswear label WAHTS is a retro-inspired casual classic. Crafted from breathable cotton piqué, it's a laidback poolside staple that's best teamed with chino shorts, loafers and an afternoon spritz.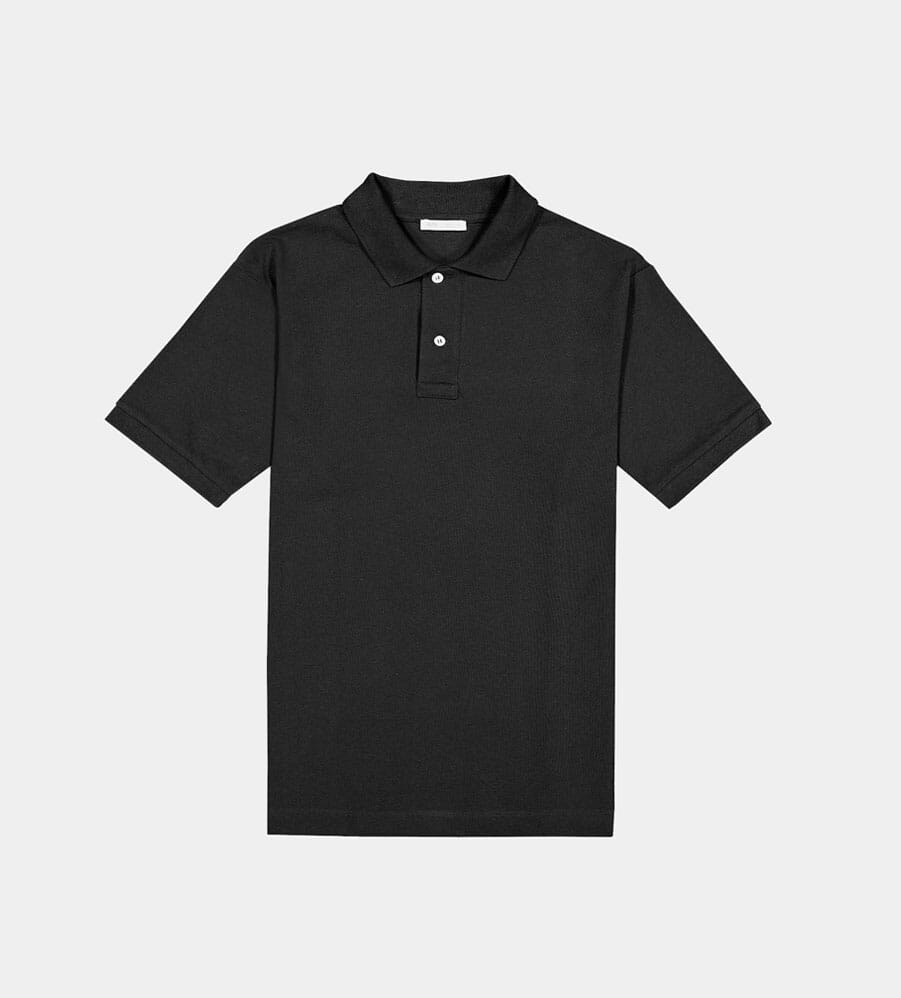 ISTO. Piqué Polo
Portuguese label ISTO.'s take on the polo shirt is understated yet elegant, boasting a flattering straight silhouette, mother of pearl buttons and 100% organic cotton construction. What's more, it's fully traceable, with the origins, cost and impact of the shirt's production revealed in full, so you can feel good about your purchase.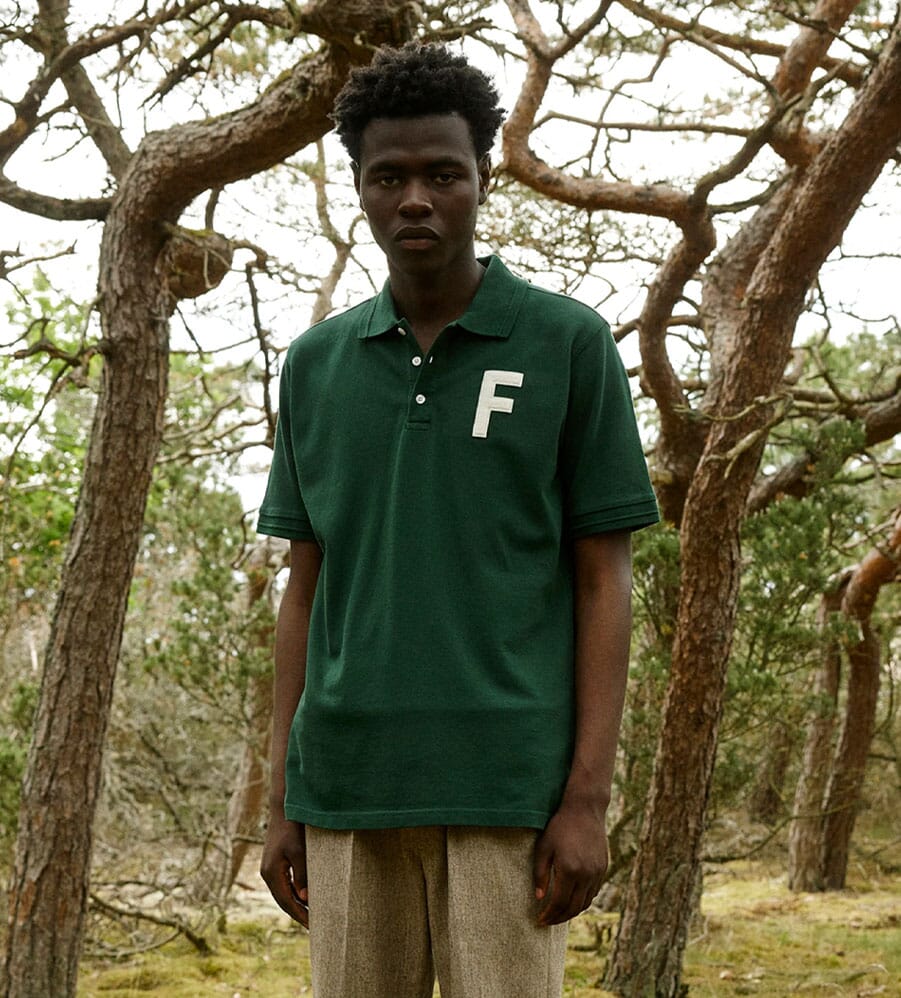 Forét Roll Polo T-Shirt
This polo shirt from Danish label Forét is an elevated take on a sportswear classic. Made from 100% organic cotton, it boasts a relaxed fit and is emblazoned with branded embroidery on the front. A versatile and multifunctional garment that will take you effortlessly from the golf course to the pub.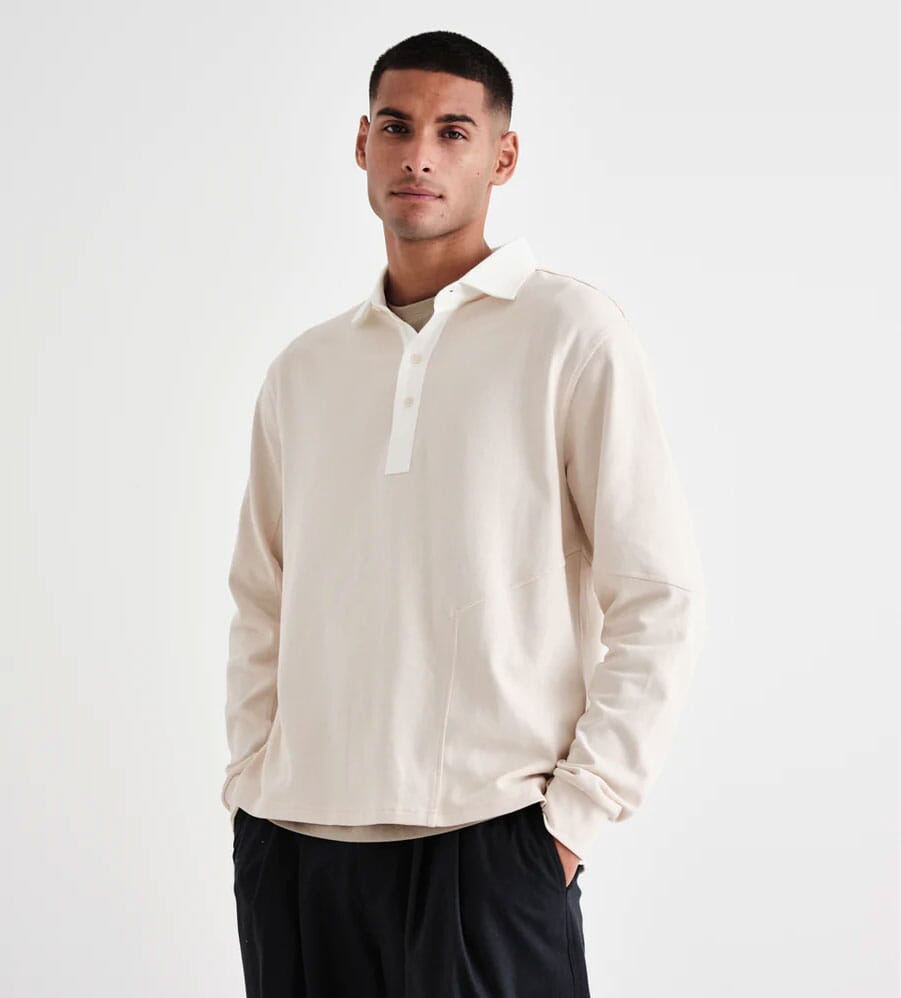 Wax London Beck Rugby Shirt
This understated rugby-inspired polo shirt from Wax London is cut from heavyweight jersey in a relaxed, boxy fit. With sustainable corozo nut buttons and a woven contrast collar, it's all about showcasing the subtle details.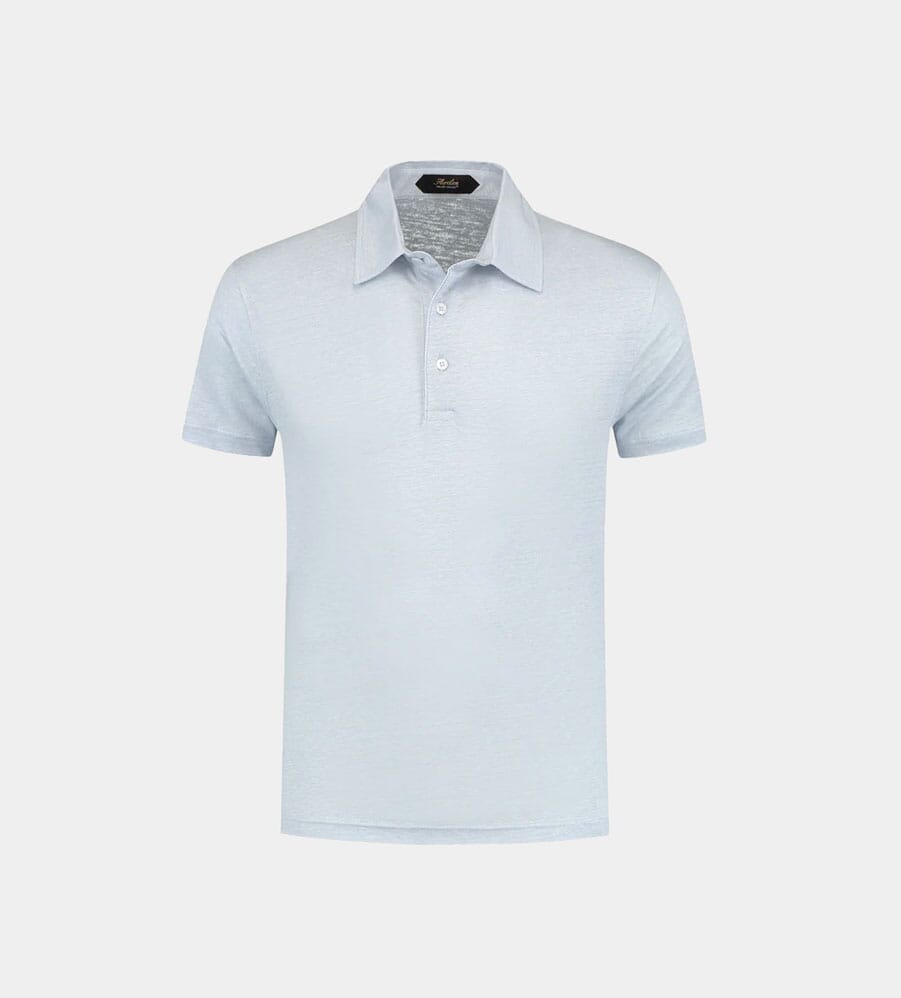 Aurélien Light Blue Linen Polo Shirt
Crafted from breathable and oh-so-soft linen, this men's polo shirt from Aurélien epitomises the brand's philosophy of 'smart luxury'. Team it with lightweight chinos and boat shoes for an effortless summer look.
Shop all men's polo shirts at OPUMO.
Read our ultimate guide to men's shirts to find your perfect style.
---
---