Every discerning gent's repertoire should include a healthy shirting contingent. Shirts have been the bread and butter of the male wardrobe for centuries and that's not going to change any time soon. Why have shirts remained so popular for so long? We believe it's because there exists the right shirt for every possible occasion – see the best shirts for autumn – it's just a matter of knowing which shirt to wear when. As great lovers of the shirt in all of its many permutations, we're here to help it along its way by giving our readers the ultimate guide to shirts for men. Once you've read this guide, you'll never be caught out again, your shirts will be worn stylishly and relevantly every single time.
+
Black Notch Tencel Shirt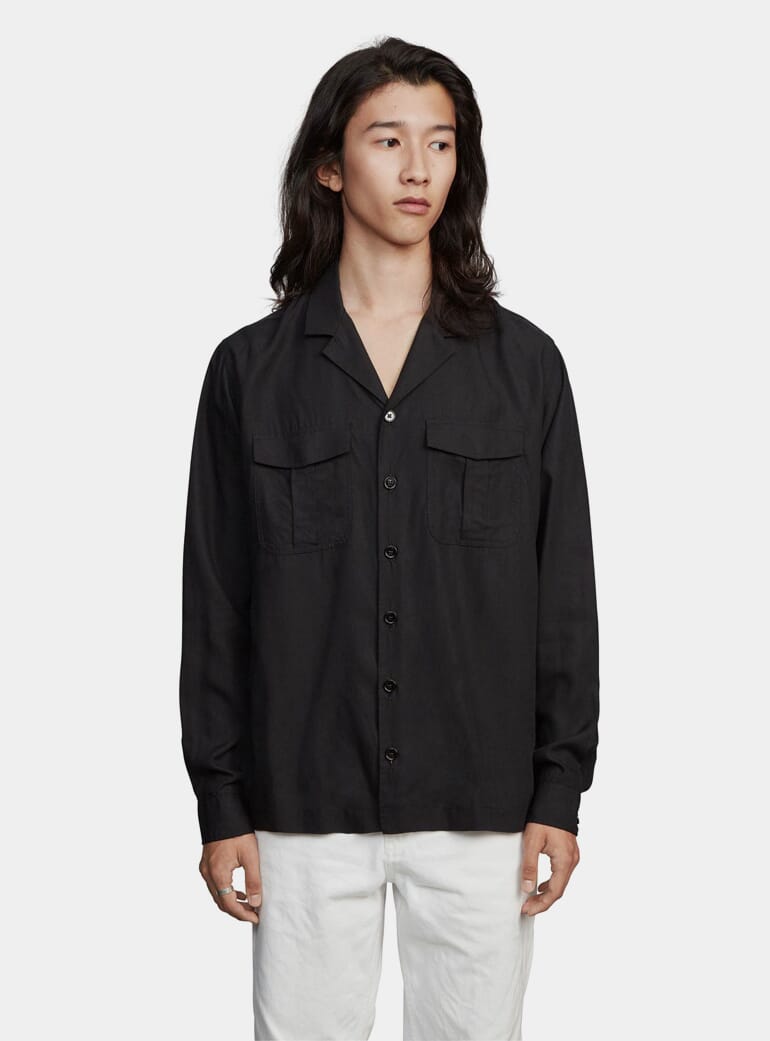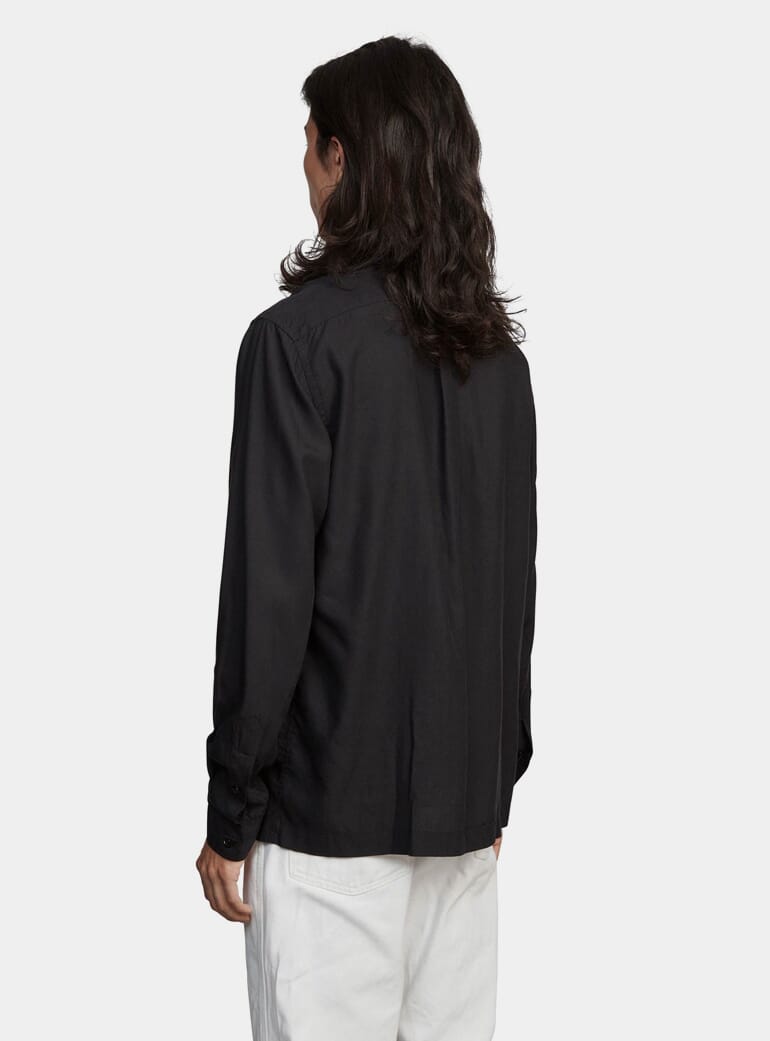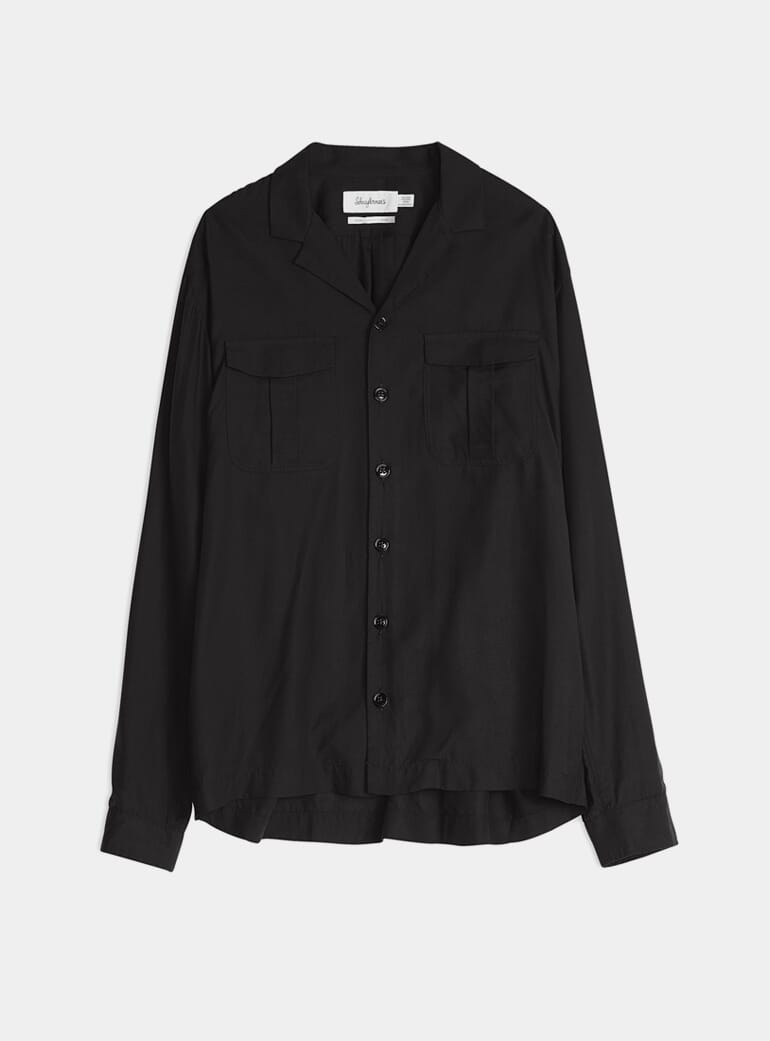 Black Notch Tencel Shirt
Camp collar shirts
The camp collar shirt, also known as the cuban collar shirt, is a shirt made for summer. Men's camp collar shirts feature a relaxed cut, straight hem and are usually crafted of lightweight materials such as rayon. Linen camp collar shirts are a steadfast fixture of the modern summer wardrobe thanks to their breathability and nonchalance. As the name suggests, the characteristic feature of this style is the collar. The cuban collar, so named because of its affinity with warmer climates, is a deep collar that is allowed to fall freely on the shoulders.
As the cuban collar shirt is a through-and-through summer shirt, it goes without saying that the patterned camp collar shirt is a winning option. This style is all about embracing the brighter colours and bolder patterns that summer allows, so look no further than Nikben, whose patterned cuban collar shirts are bursting with confidence. For something that makes less of a statement, a white camp collar shirt is perfect for styling with smarter ensembles: try a pair of loafers for men and linen trousers or linen shorts for a refined take on summer style.
Men's check shirts
Originating in Scottish tartan, the plaid shirt is an iconic wardrobe essential. Worn by everyone from lumberjacks to A-list celebs, the men's check shirt is unaffected by trends, age, social group, anything really. Your best friend probably owns one and so does your father. Made originally for workers, the red plaid shirt was crafted from heavyweight flannel and wool. The check flannel shirt was new and eye-catching, so the style was quickly adopted by popular culture. From Kurt Cobain to Marilyn Monroe, the checked shirt appealed to everyone.
When it comes to checked shirts for men, there's a lot of variation. The classic workwear style has been moulded by time to fit modern style needs without losing any of its functional appeal. For Schnayderman's, the label determined to create the perfect shirt, the checked shirt is a staple in every collection. From black and blue plaid shirts to bright, multicoloured versions, there's room for experimentation within the confines of the checkered shirt. For a more traditional take on the style, head to Forét whose mission statement is to create clothing that encourages the wearer to go outside and enjoy nature. Forét's plaid flannel shirts are heavier and more hard-wearing than most, this makes them great for layering. The true beauty of men's checked shirts is that they can be worn anywhere: formal check shirts carry fewer colours, while informal check shirts are loud and proud.
Denim shirts
Denim is one of the most durable materials at our disposal, even in 2020. What's more, it looks great at the same time. This must have been what the stylish Italian sailors of the 19th century thought when they decided to wear early versions of the material. When the material reached France, in particular the city of Nîmes, local manufacturers tried to recreate the style and strength of the material they had seen foreign sailors wearing. What came out was not what they had seen, but what we now know as denim – de Nîmes. The vast popularity of denim can be credited most surely to a man that we all know of, a man who went by the name Levi Strauss. Importing this wonder material to America began a style revolution that birthed the jeans, denim shirts and denim jackets that went on to shape popular culture forever.
Nowadays, the focus of men's denim shirts is less to do with durability as it is to do with style. While the material remains innately durable and functional, the style has evolved to encompass slim-fit denim shirts and denim shirts of different colours. At OPUMO, you'll find a range of denim shirts for men. We recommend an inspection of Schnayderman's shirts and jackets, all of which are designed to perfection. For classic workwear-inspired styles, opt for Forét – the Danish label uses heavyweight washed denim as the base of their shirts. Read our interview with Forét owners Jeppe and Jesper.
Plain shirts
As such a wide-ranging category of men's shirting, it's difficult to know how to find the best plain shirts for men. What distinguishes one from another? What to look for? What to steer clear of? The most universally wearable item that exists for men, you'll be pushed to find a situation in which the plain shirt is not a suitable sartorial decision. The shirt has been around, in various forms and styles, since 3000BC. Since then it has seen many alterations, some of which have left lasting details on the shirt, others deemed useless and forgotten. The millennia of evolution have left the plain white shirt a supremely versatile item of clothing – an unmovable mountain in the centre of the style landscape, whether that's a button-down collar oxford shirt, men's dress shirt, grandad collar shirt or any other iteration of the plain shirt.
The eclectic roster of brands at OPUMO ensures that almost every imaginable shirt is available each season, from informal colourful plain shirts to more reserved formal plain shirts; denim shirts sit beside wool shirts and even new-age sustainable materials like tencel. Schnayderman's willingness to experiment with different materials results in a shirting collection that's surprising and highly wearable – read about Schnayderman's new collection. while a quick look at the Legends collection will reveal an understated selection of high-quality plain shirts for men.
Short-sleeved shirts
The short-sleeved shirt can be a difficult garment to pull off. Although the style has seen a strong resurgence in recent seasons, there are some faux pas when it comes to styling men's short-sleeve shirts. One, for example, is tucking in short-sleeve shirts: no matter how stylish the shirt may be, without serious consideration the tuck can be damning for an outfit. Short-sleeve shirts the perfect shirt for summer because they afford the sophistication of a formal shirt while providing the breathability of a T-shirt. Because of this, men's short-sleeve shirts are often cut from lightweight materials: linen short-sleeve shirts are an instant win when the sun comes out.
Short sleeves often come hand-in-hand with bold prints, though it's not always done tastefully. For tastefully patterned short-sleeve shirts, look no further than Frescobol Carioca. Hoping for something quieter? Private White V.C. provides timeless, casual short-sleeve men's shirts.
Zip-up shirts
Men's zip-up shirts bridge the gap between shirt and jacket because we associate zip closures with men's coats and jackets while shirts are generally fastened by a button closure. This modern style sees brands take the ease and effectiveness of a zip closure and combine it with the lighter materials and tailored body of a casual shirt to give us slim-fit zip-front shirts. At OPUMO you'll find zip-up short-sleeve shirts, zip-up collared shirts and long-sleeve zip-up shirts from some of the best shirt makers around.  
Men's overshirts
Arguably the most multitalented piece in the modern gent's wardrobe, the overshirt or shacket is a formidable styling force. Whether you're on the search for eye-catching fabrics like a wool overshirt, denim overshirt or corduroy overshirt, or something more inconspicuous like a cotton twill overshirt, you'll be sure to find the whole range at OPUMO. Look to keep it simple as a starting point, need any help? Read our guide on how to wear an overshirt.
What will you be using your overshirt for? If you're just looking for something to make an impact, YMC's patterned overshirts are a surefire win. The high-quality materials and modern tailoring of YMC's new collection have proven again why the label is one of the leading names in British men's fashion.
Patterned men's shirts
Throughout history, the patterned shirt – and patterned clothing in general – was a way of displaying wealth and style. A man wearing fine materials that boasted intricate patterns was a man worth mixing with, he'd most likely be sharp, witty and self-assured. We think that this idea still stands today. Men's patterned dress shirts and casual patterned shirts are great ways to give an outfit character but it's important to pick the right patterns and ensure that you don't get carried away.
Styling patterned shirts is very simple if you stick to one simple rule: only use one patterned item of clothing in an outfit. Once you're comfortable with this, you may choose to explore more patterns, but be warned, clashing patterns are enough to ruin fine pieces of clothing. Make it even easier by choosing patterned shirts that use a single-colour background. Using this colour as a starting point means that the rest of your outfit will work in tandem to set a simple backdrop to your standout patterned button-up shirt.
Shop all shirts at OPUMO.
Heavy-duty materials like corduroy make the perfect base to your cold-weather wardrobe. See why corduroy is such a useful material.