Denim shirts are having a real fashion moment. If, inexplicably, you don't have a worn friend of a denim shirt or two in your wardrobe - or even if you do - now is the time to invest. Truth is, men's denim shirts have never been out of fashion, because they're beyond mere trend. And that's been so for more than 100 years. Originally worn for hard manual work in the US, denim shirts have become cultural staples, worn on and off-screen and stage by Bob Dylan, Marlon Brando, John Travolta and so many more. Like your favourite denim jeans, your denim shirt is going to spend more time out of your wardrobe than within. It really is that essential. Not sure where to start? Discover our ultimate guide to men's denim shirts, including the best denim shirts for men on the market in 2023.
How to wear a denim shirt
Short answer: exactly how you like. And that goes, too, for the supposed spectre of double denim. Take a look at the cover of Marvin Gaye's seminal 'Let's Get It On' from 1973: beanie, bold buckle to denim jeans, denim shirt thrown over tucked t-shirt. 
True, no-one is as cool as Marvin Gaye. But the lesson is don't be too serious with your denim shirts. Even fashioned-up, every denim shirt's roots are in utility, so casually teaming your denim shirt with denim jeans is no crime. To the contrary, it's how it was always worn.
This is going to be the most versatile casual shirt you'll own. Dress yours up with chinos over a crisp white t-shirt for a pub lunch after a country walk. Tuck in and button up for a smart casual restaurant dinner. Dress it down with shorts on a warm afternoon. Be adventurous. Denim shirt with summer suit? It's brave but confidence will carry it off, trust us.
Best denim shirts for men in 2022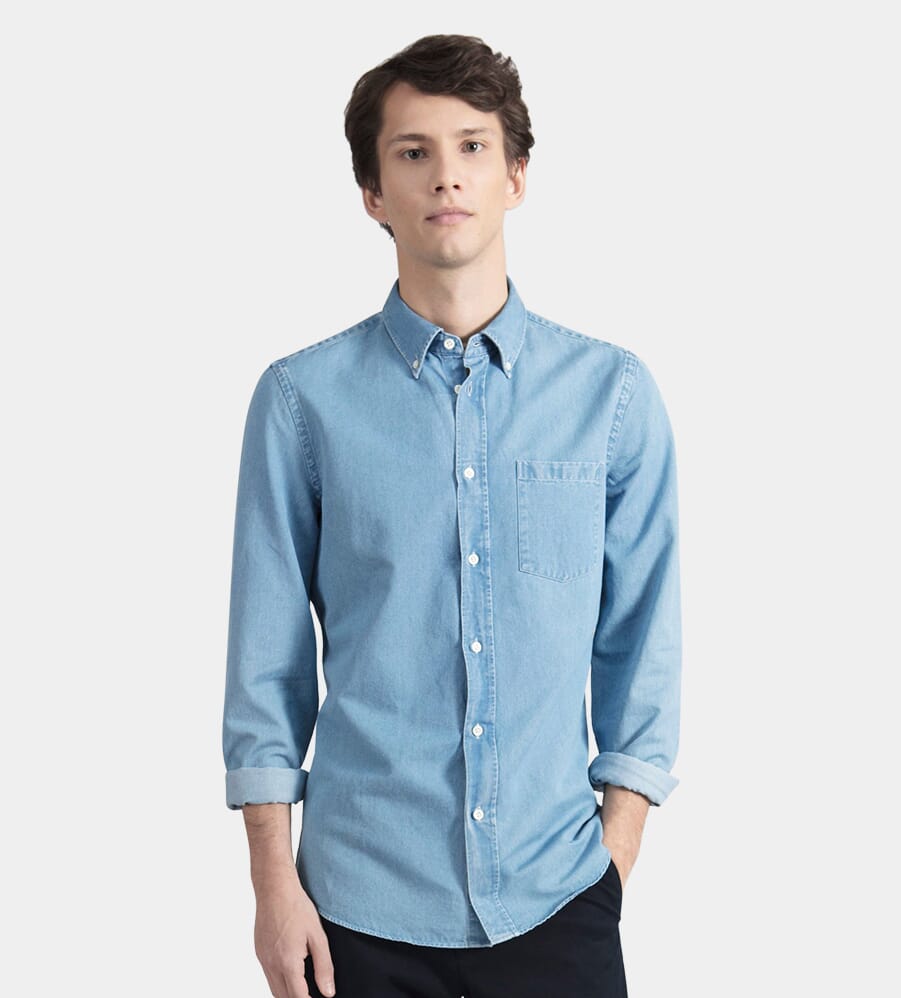 ASKET The Denim Shirt Stone Bleach
Trust the Swedish minimalists at ASKET to strip the classic men's denim shirt down to its essentials, celebrating its roots, making sure this classic is future-proofed. ASKET's stone bleach wash process gives each shirt a unique patina that you'll add to each time you wear it and every time you wash The Denim Shirt. Super-soft indigo-dyed denim, pre-shrunk, straight cut.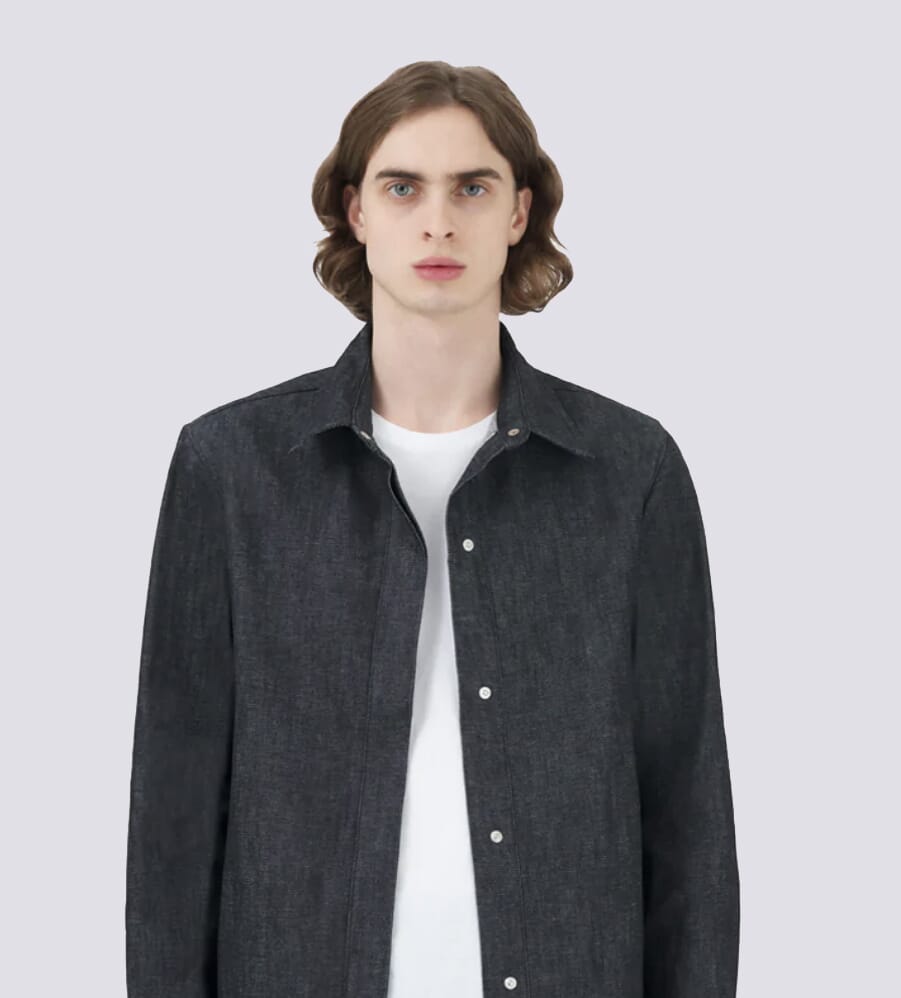 non Raw Indigo Track Shirt
If you're after authentic raw denim, here's a great bet. Sustainable genderless denim label non's mission for rigorous simplicity means details are key, execution meticulous. Their Raw Indigo Track Shirt is cut from raw indigo 12oz selvedge denim, made from a 50/50 blend of recycled cotton and organic cotton. It's finished with snap button closures, a spread collar and a sportswear-inspired selvedge stripe down the side.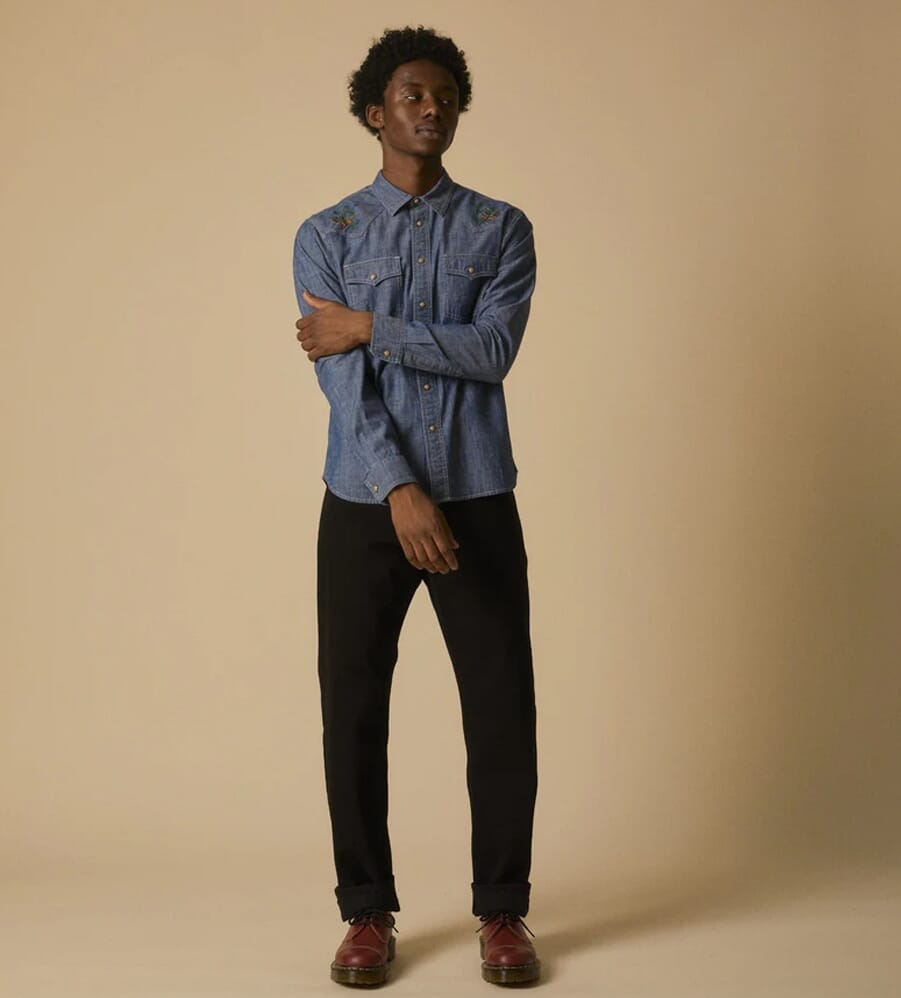 Corridor Embroidered Floral Western Shirt
The Wild West is calling: answer in style with this Americana-inspired embroidered shirt from NYC-based label Corridor. It's ethically crafted in India from 100% cotton and features two single-point chest pockets, a signature of classic Western shirts. Channel your inner cowboy by teaming it with denim jeans and cowboy boots, or opt for a more contemporary take with dark straight-leg trousers and Derby shoes.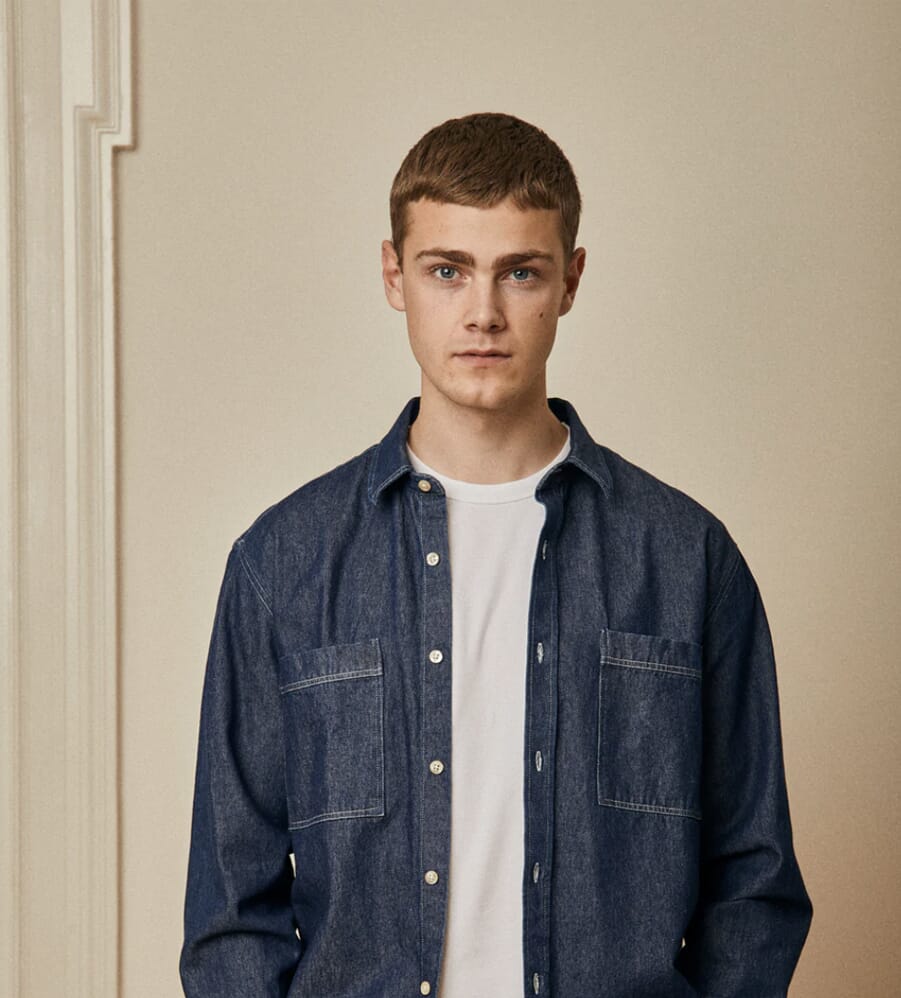 Forét Stone Wash Cliff Shirt
From Forét, the Danish label that aims to blur the distinction between outdoor and indoor wear, comes a denim shirt that does precisely that, and then some. Construction here is stone-washed organic cotton blue denim, super-soft and instantly comfortable whether worn as shirt or overshirt, at the office or around a campfire. Double patch pockets and a contrast stitch lend it a subtle workwear vibe.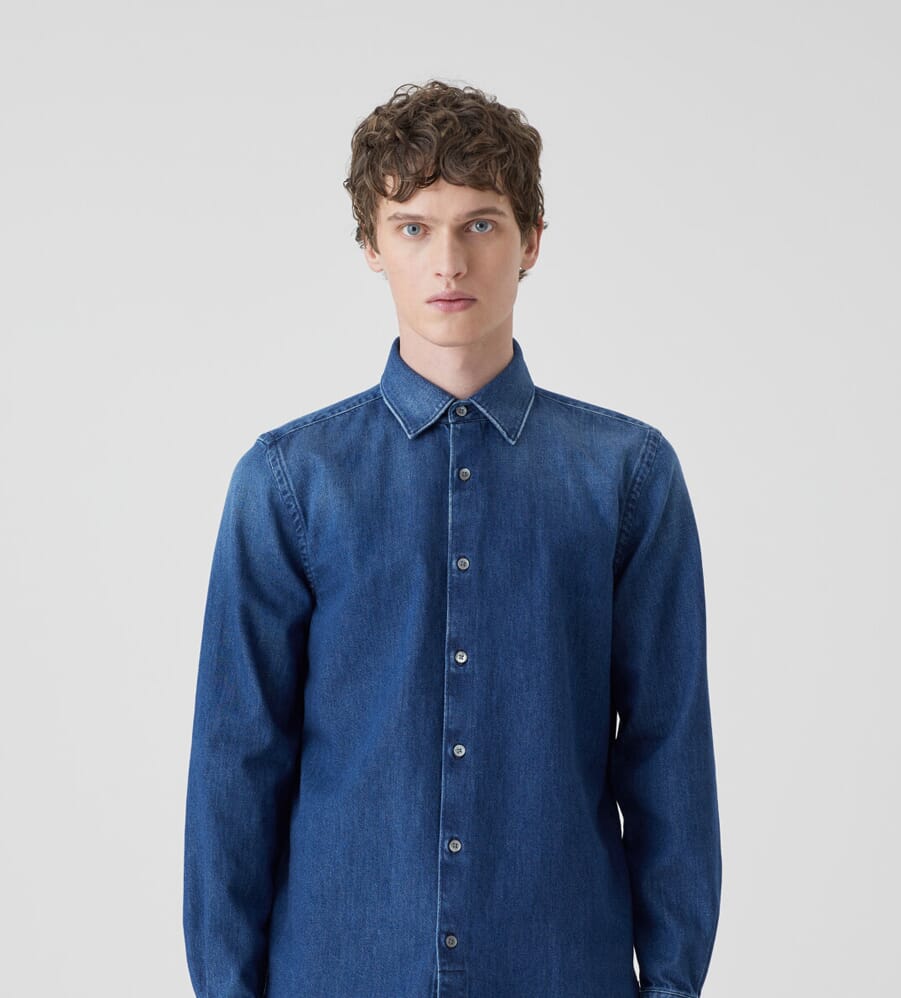 Closed Denim Shirt
Closed keeps things classic with a dark-wash denim shirt that exudes relaxed elegance. Crafted in a family-run factory in Portugal, it's finished with a curved hem and pearl buttons. Wear it unbuttoned over a plain white tee and team with black denim jeans for a fail-safe everyday look.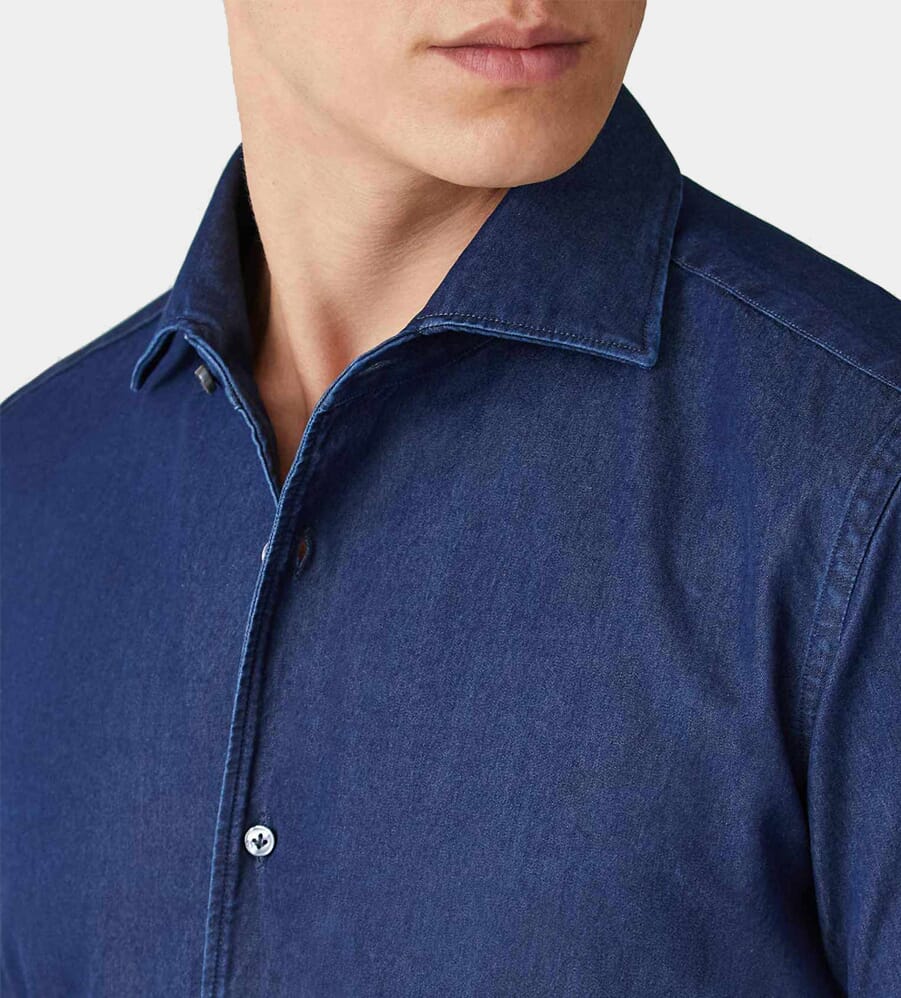 Luca Faloni Midnight Blue Denim Shirt
Stylish, tailored, sophisticated. Luca Faloni's Denim Shirt is distinctly grown up and ready for its table at that Michelin starred restaurant you've been promising yourself. Streamlined tailored silhouette. Premium soft denim from the renowned Albini Mill, pre-washed for a vintage edge, pocket-free - and for added elegance, Luca Faloni's own "Paramontura" collar. Crafted in northern Italy.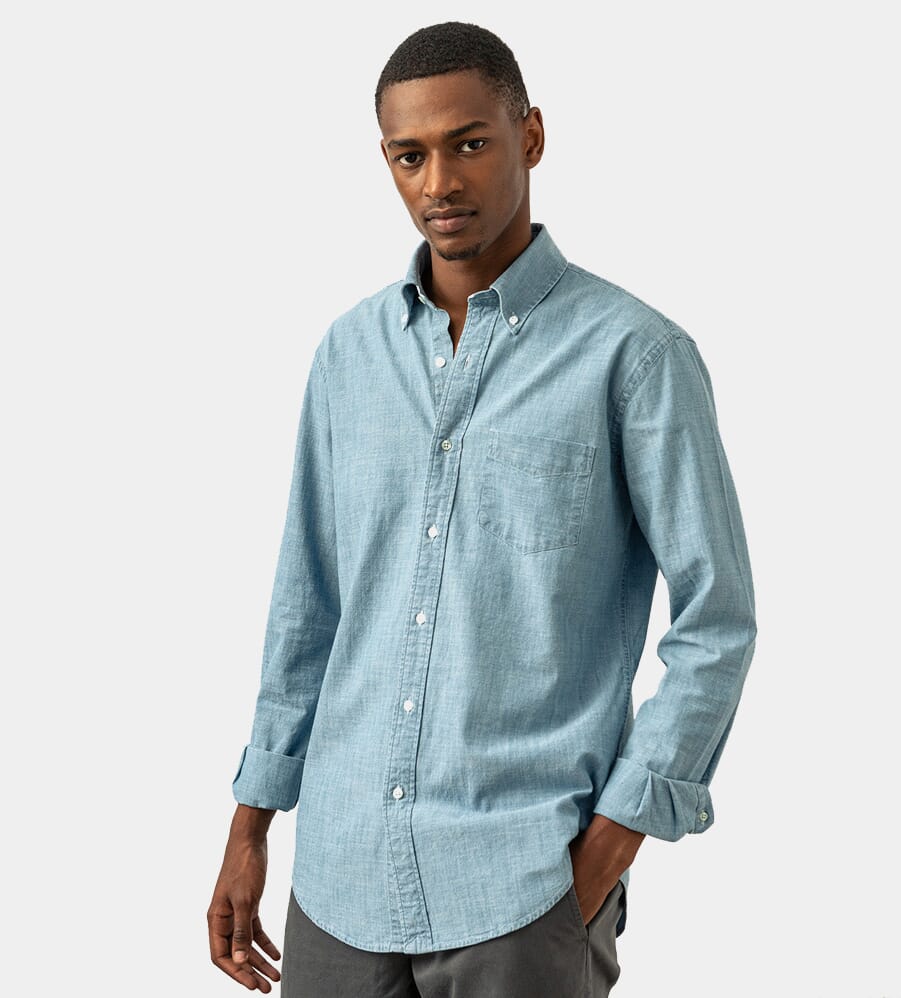 ISTO. Chambray Shirt
ISTO.'s celebration of trend-free heritage is on show in their immaculately imagined Chambray Shirt. Organic cotton makes up ISTO.'s sustainably produced Chambray cloth, softer than regular denim with a real feel of indulgent luxury injected into what was once a utility item. Front left pocket, buttons in bio resin, relaxed fit, sustainably made in Portugal.
Now that you've explored our pick of the best denim shirts for men, discover our guide to denim jackets.
---
---