Jeans are a wardrobe essential but they don't always have to be blue. There's probably an unconscious association somewhere that leads people to believe that whilst chinos and trousers are for smart, jeans are for casual. That's not the case. There's always been a wonderful sartorial melding of tailoring and denim and if you pick the right pair, you can blur the lines between the two.
Black jeans certainly have this ability. There's a versatility to a black jean. They're adaptable, you can wear them with a smart black shoe or a dressed down boot. They'll work with a host of sneakers whether you're looking for a more rock and roll look with Vans or Converse, or you want to wear them on top of a dress sneaker.
Get the wash right (black is not always black), find a fit that works for you, nail the cut and you've got a hardworking wardrobe stable. Here's some suggestions on how to choose them, what to wear with them and a few choice picks.
Buying considerations
Material
Jeans can be divisive. Some people find them extremely comfortable and others don't. Both camps are inevitably wearing different jeans and those who aren't partial to denim probably need to find a material that suits them. To simplify, we're basically talking two types here. Stretch and non-stretch. There's jeans on this list that are 100% cotton. These are most likely going to be rigid and sturdier, the sorts of jeans that feel a bit like cardboard at first and require some wearing in.
Stretch meanwhile will have a small percentage of polyester and elastance in the mix which gives them more give. These will be more comfortable off the bat but will lose their shape easier. You'll have a better idea of what works once you've tried it on. Also, whenever you consider materials it's always important to seek out sustainable 100% organic cotton and recycled materials.
Colour
Seems silly, right? Black jeans are black? Yes, they are but they are also not. Jeans on this list will have a black matte finish. Others will come in particular washes that fade the material. Some brands have innovated processes for the ultimate jet black wash that will last longer whilst others have created a jean that will naturally fade with wear.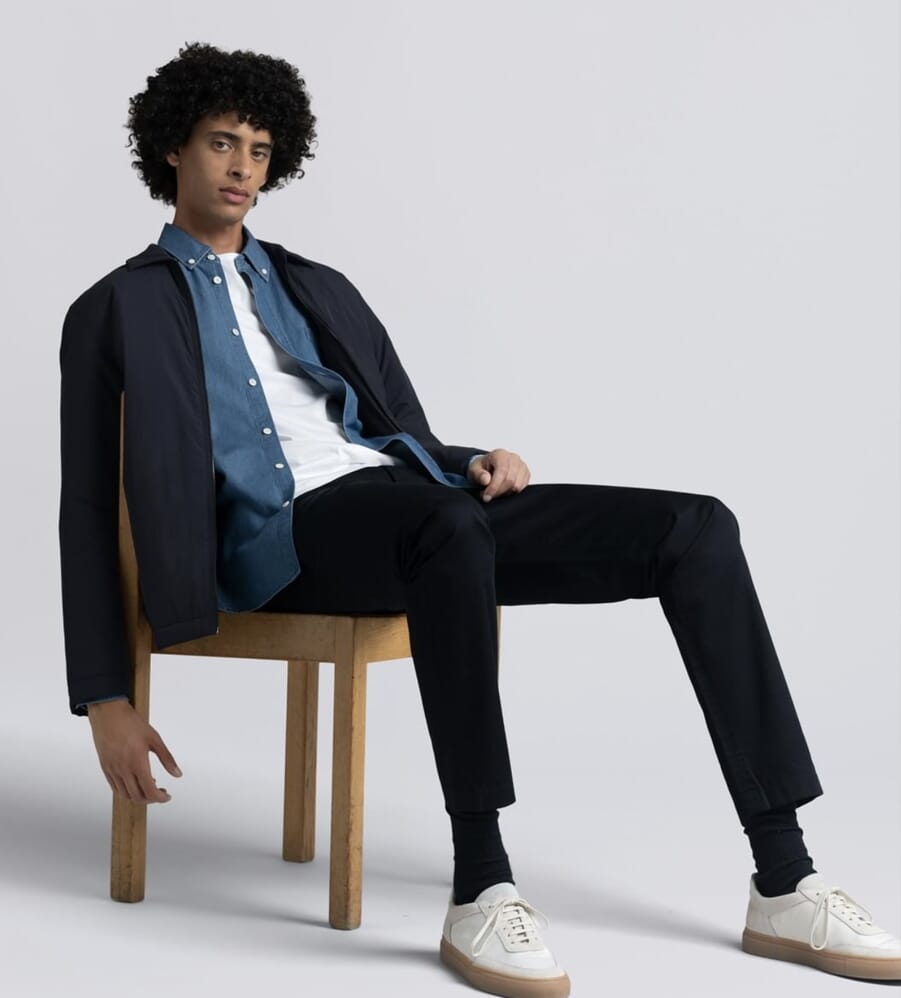 Fit
Fit is always king. As with any trouser, it's going to dictate how good an item looks and how comfortable it feels. Whilst slim used to be the safest bet, styles are edging towards straight and regular fits for boxier legs. A return to bootcut is also on the horizon but until that's more prevalent, maybe give it a miss. Try different styles, avoid skin tight at all costs and keep the jeans proportionate to the rest of your outfit.
How to style black jeans
A little word on styling. Black jeans, as mentioned before are dynamic. They'll go with most items of clothing and like any pair of jeans they can be dressed up or down. Black jeans have always had an affiliation with rock and roll and this has often dictated their styling. Wider, looser slacker jeans lend themselves to Converse and Vans as part of casual streetwear looks and or comfortable leisurewear.
A slimmer leg black jean works well with a chunky commando sole derby shoe or brogue, the same jean is a friend of the Chelsea boot. Black jeans have always looked good with all black outfits but this is also dependant on your complexion. An all-black outfit can wash out pale skin. Black has the power to slim, which works for some people but might not work for others.
Best black jeans for men in 2023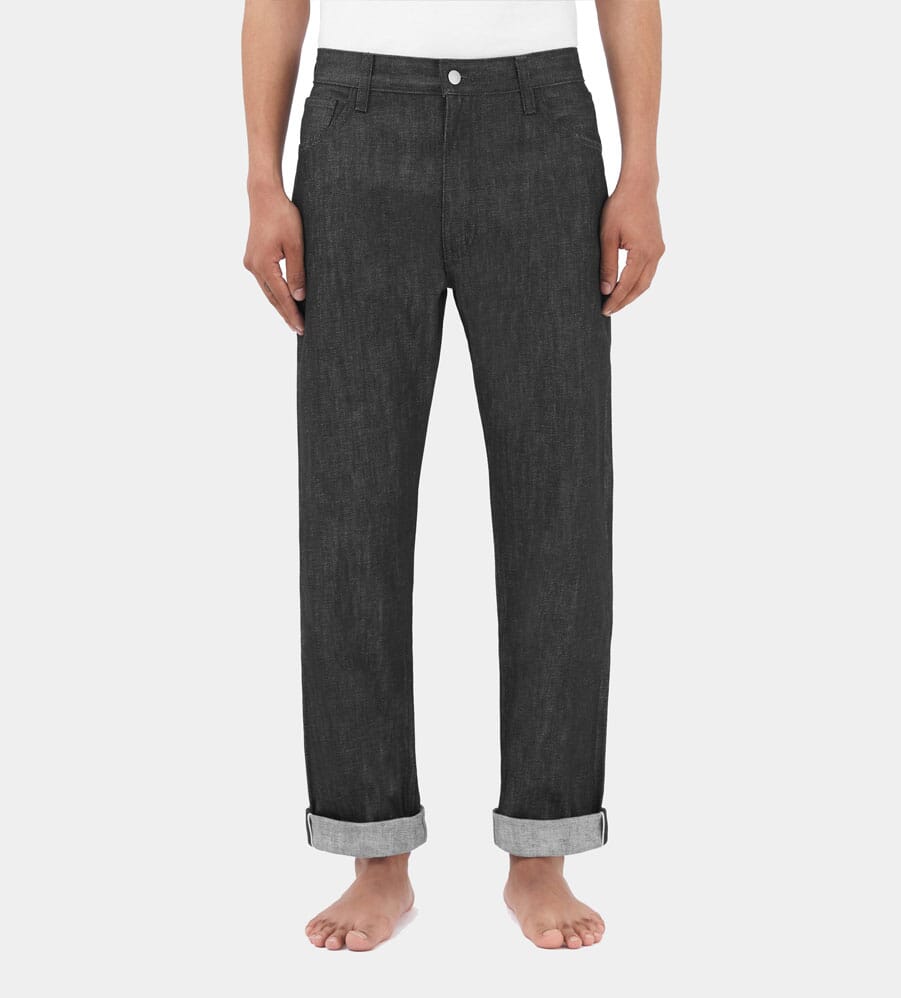 non Relaxed Jean
non is a brand for denim minimalists. A minimalist website, a simple minimalist ethos and stripped back minimalist denim. All materials are considered for their environmental impact and durability, with the denim itself a certified 50/50 mixture of organic cotton and recycled cotton. Zippers and threads meanwhile are made from post-consumer recycled polyester. All goods are vegan friendly and packaging is recyclable. The brand's relaxed jean in raw black 12oz selvedge denim is a mid-rise, relaxed leg with slight tapering from the hip down.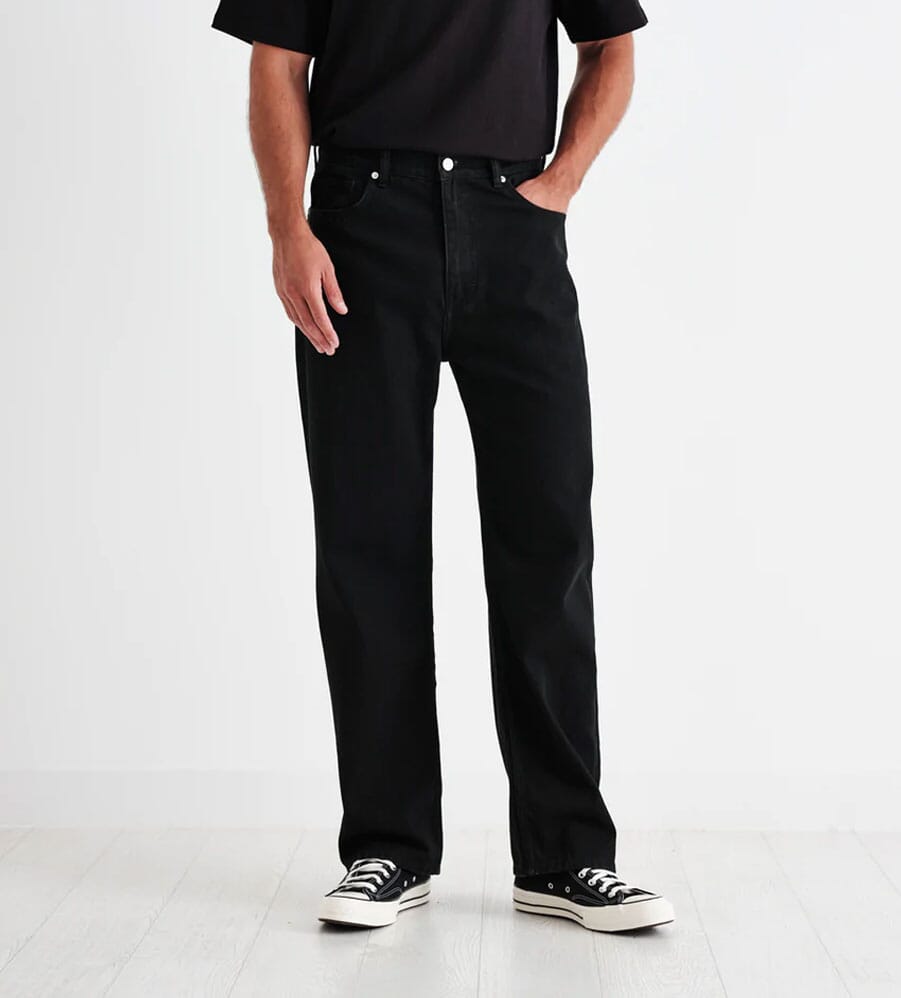 Wax London Loose Fit Jeans Black Denim
A lot of what we associate with black denim are those skinny, scene, emo, punk (delete as applicable) chopstick leg jeans with a pair of black Converse at the end. The '00s very much branded that into the inside of our brains. Wax London are here however to show you that this time round, black denim and a pair of chucks doesn't have to always be skin-tight. Their loose fit jeans in black are a much more grown-up proposition that lend themselves to a black t-shirt tuck. Made from drill cotton, in a 5 pocket style and washed for a slightly worn look, they're an easy every day pair. No need to panic at the disco, or anywhere else for that matter.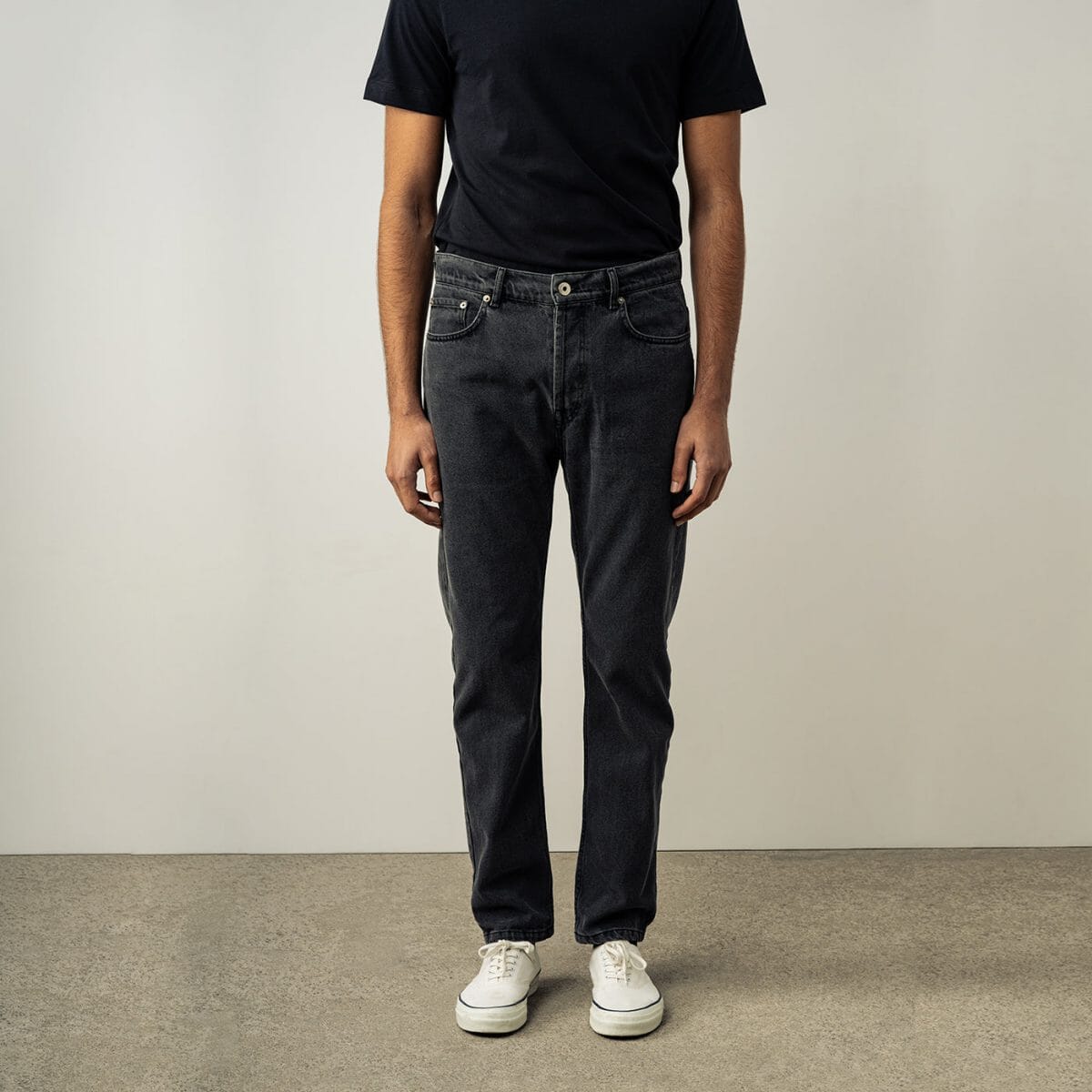 ISTO. Everyday Denim Washed Black
Portuguese brand ISTO. is all about transparency. An independence from industry constraints (they carefully curate production through select factories across Europe) means the brand can focus on producing ethical and sustainable clothing whilst being transparent with the consumer. Their men's everyday denim has been given the 2.0 treatment, upgraded to newer, sturdier denim from leading Italian supplier Candiani. The result is a classic 5 pocket with a tapered fit. An everyday workhorse pair that gets more comfortable as you wear them.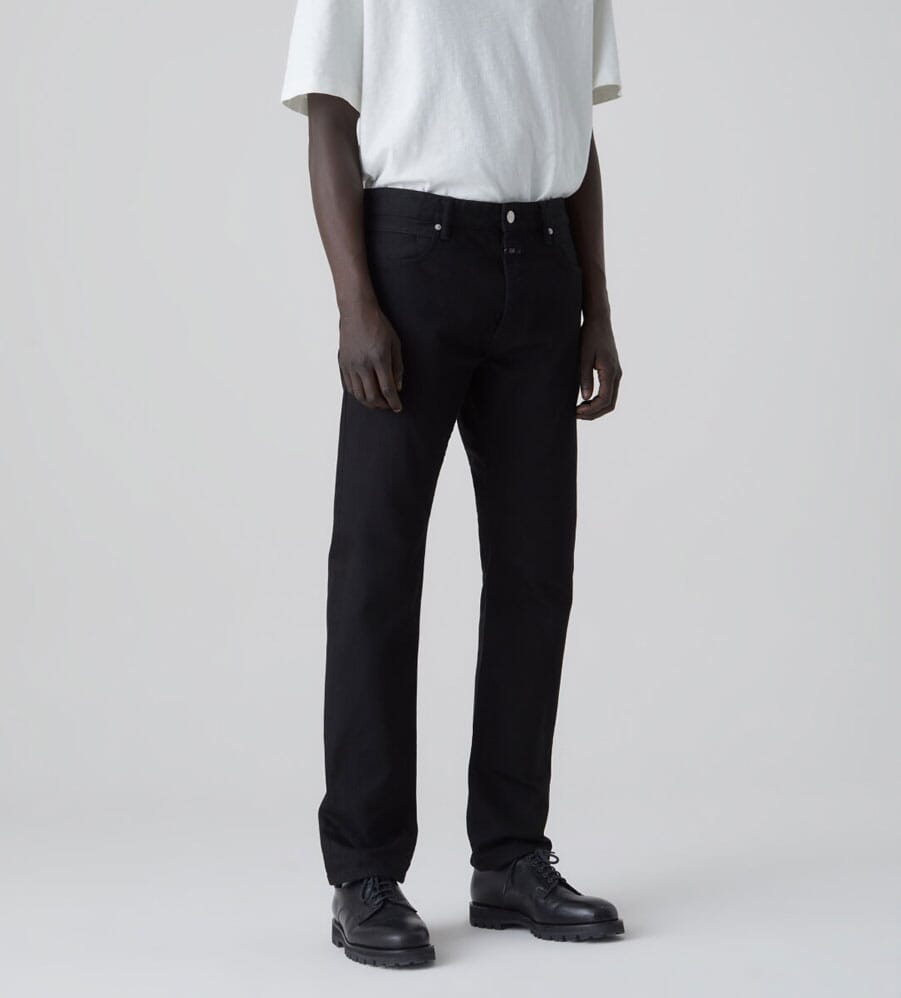 Closed Oakland Straight Leg Black Jeans
Straight leg is back. Long live straight leg. Closed's Oakland straight-leg jeans in black are straight leg by name but with a slimmer fit to keep that excess fabric in check. A roomier, more comfortable silhouette that'll bunch nicely atop a shoe. Made from strong selvedge denim, the denim itself is non-fade which means you'll keep that bold and even colouring through endless wear and washes. Made from 80% cotton and 14% recycled cotton with a little bit of stretch. Wear them with a chunky black shoe.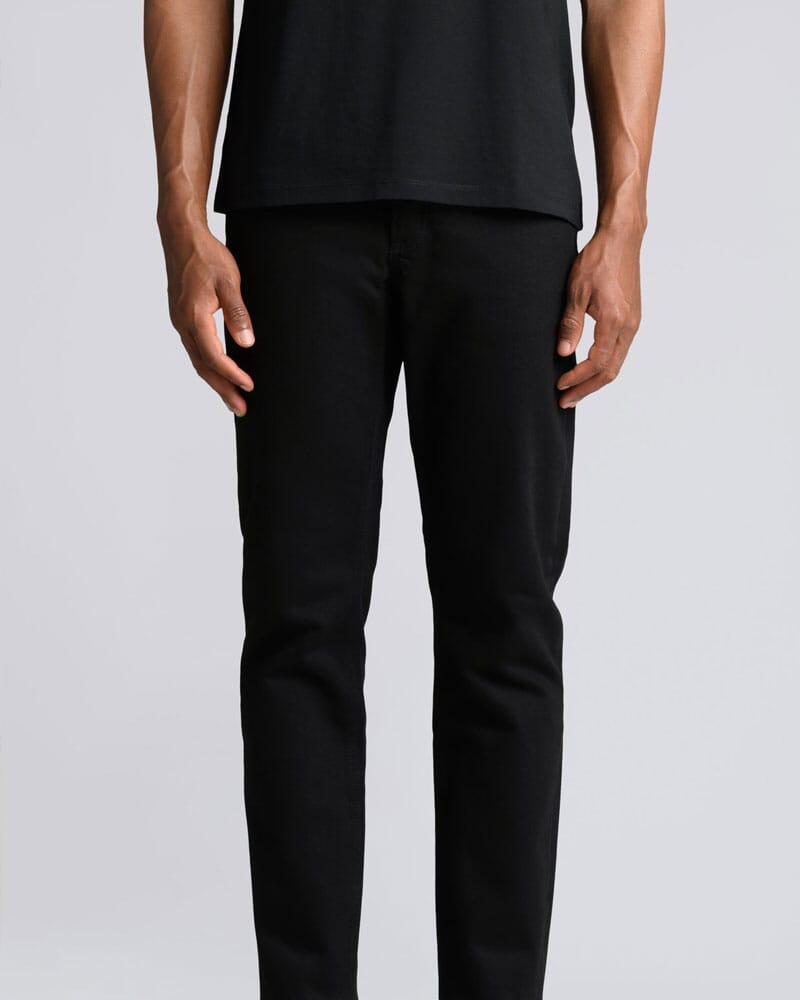 ASKET Black Denim Jeans
ASKET wears its sustainability on its sleeve, so to speak. The Scandi brand is always happy to shout from the rooftops about the origins of its garments. The Black Denim Jeans as they're affectionately known are 100% traceable. ASKET's are cut from a 100% organic cotton hardwearing twill in their custom 'stay black' (developed for optimal colour fastness) which does what it says on the tin. Play to the slimmer leg and style as any rocker would with black Chelsea boots, a grey t-shirt and denim jacket.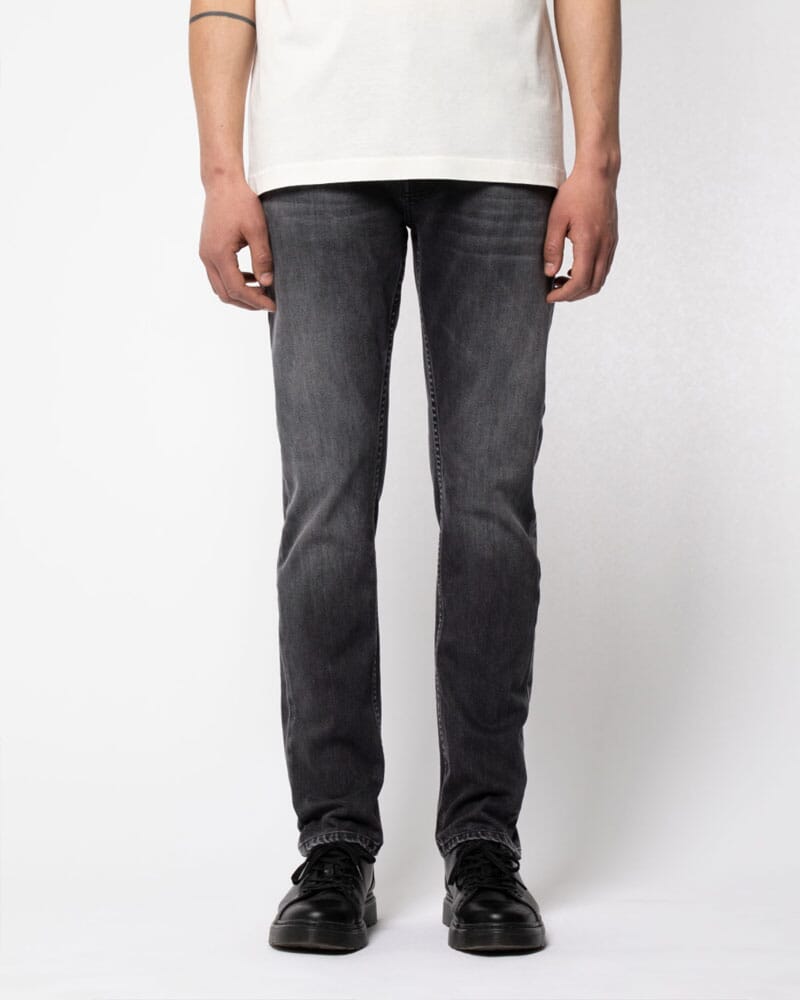 Nudie Jeans Lean Dean Black Eyes
On the hunt for something a little slimmer? A reputable denim source has got you covered. Nudie Jeans' Lean Dean Black Eyes (try saying that after a few) offer a tapered leg slim jean in a slightly faded wash that channels serious washed out and worn-in vibes. Slacker style at its finest. Made from organic cotton in a 11.75 oz comfort stretch denim, they boast antique trims, a zip fly and mid waist. The sort of jeans you'd see celebs unexpectedly papped in. Built for comfort and lazy days.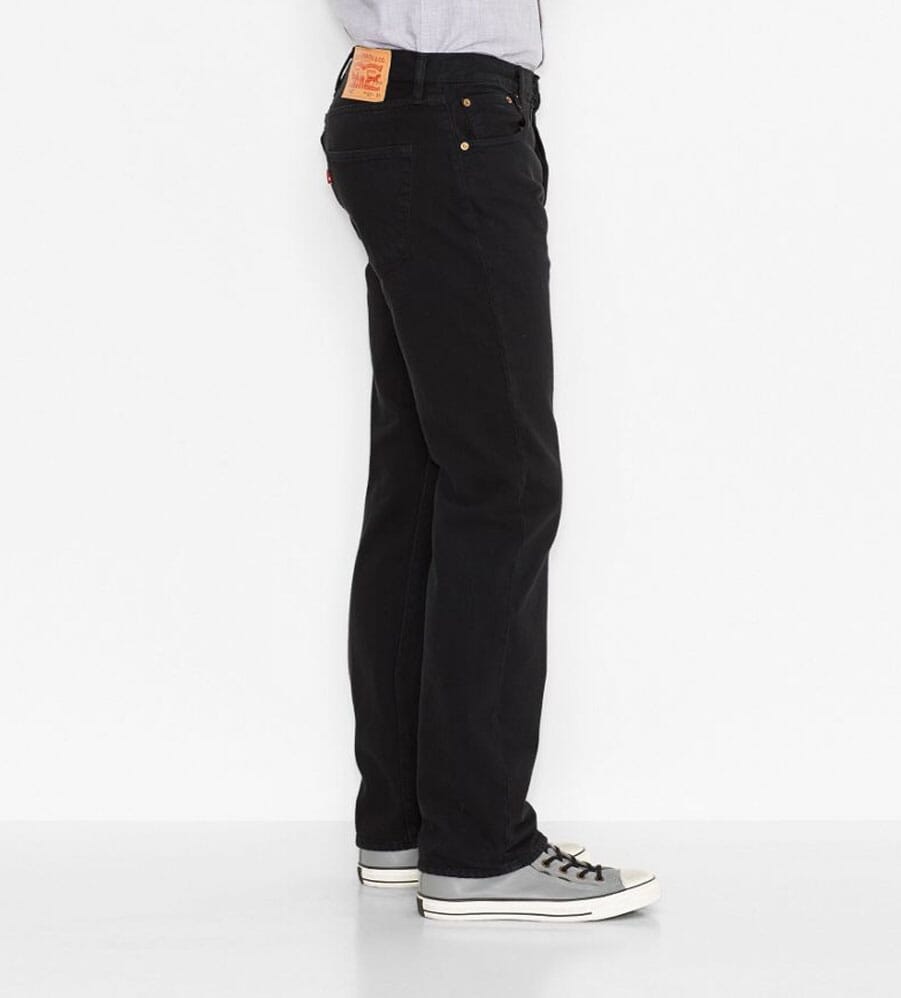 Levi's Original 501
If you're going to get a pair of jeans it's only right to consider the OG Levi's. Original innovators of the humble jean since 1873, the 501 is the original straight leg jean. Whether you're wearing it blue or black, the pair sits comfortably at the waist with a regular fit through the thigh. 100% non-stretch cotton, button fly and 5 pocket styling. Wear them loose over a pair of hefty New Balance or Asics for a serious dadcore moment.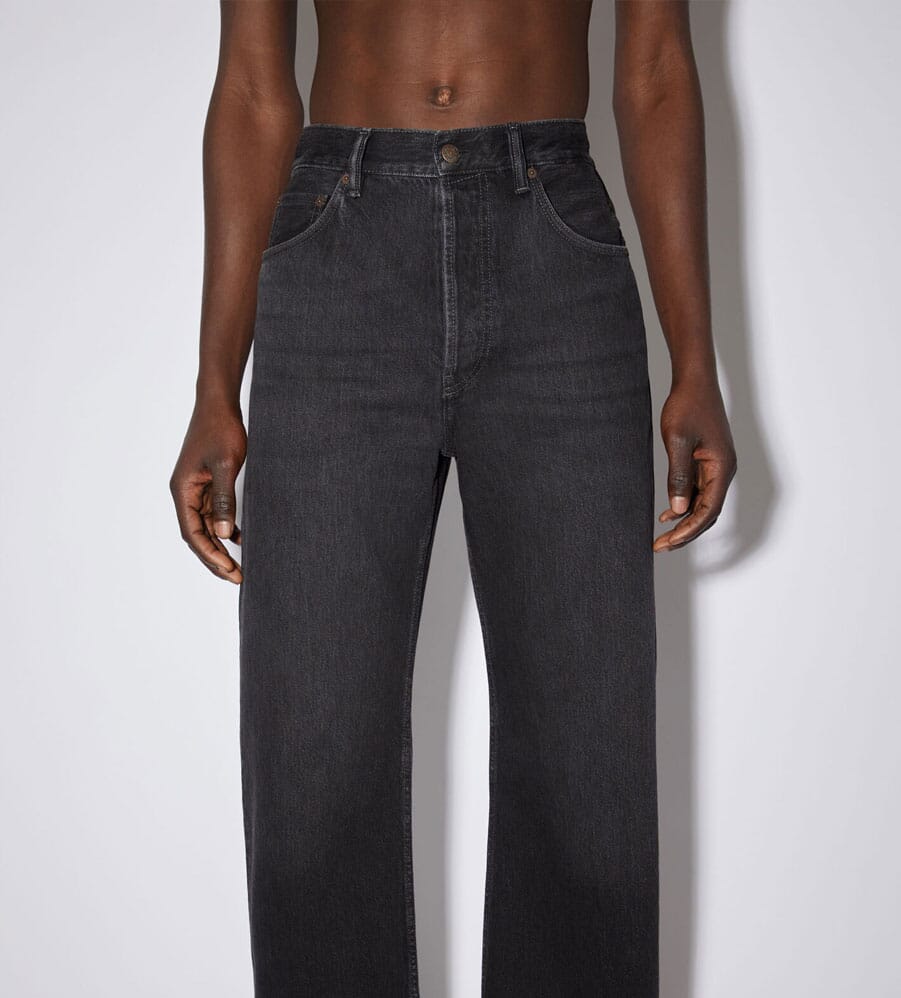 Acne Loose Fit Jeans
Wide leg winter, baby! It's time to grow that moustache and pretend you're in Kings of Leon circa 2003 (but also, the 70s obviously). Acne Studios have got you for when you want to wear those legs loose. Their black loose fits come in non-stretch, mid waist with a long length and that all important wide leg. Wear them over boots or converse and thrive in your countercultural statement bell bottoms.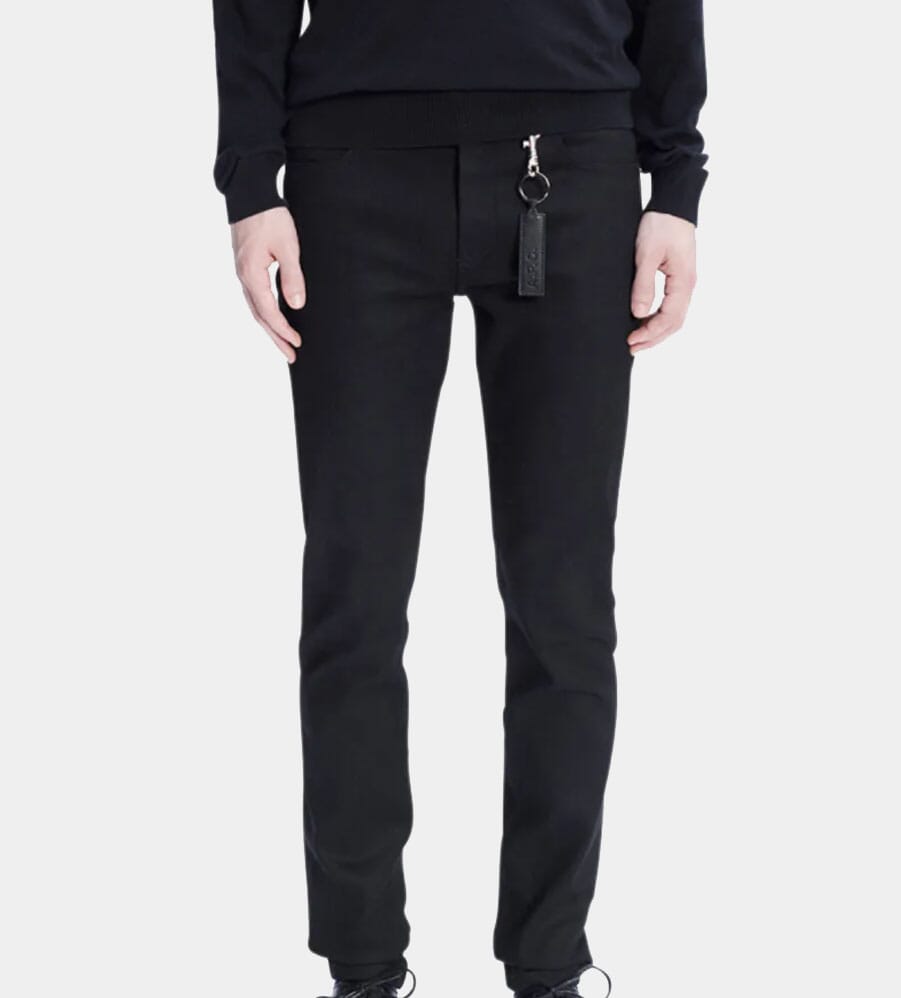 A.P.C. New Standard
It's hard enough as it is refraining from wanting to buy everything A.P.C. makes. Then there's these jeans. Predictably great. Black Japanese stretch denim with a straight leg and straight mid-rise, they're a five pocket style with a button fly. Jet black and nice and slim. The top button on the fly is engraved 'A.P.C. rue Madame près du Luxembourg' which is a nice touch for the heads. As if you needed reminding. A solid jean for black on black outfits, chunky boots at the bottom are encouraged.
Brave enough to give double denim a go?
---
---