There are wardrobe essentials and then there are blue jeans. Dressed up or, more than likely, dressed down, they're the most versatile piece that you'll own. With a heritage dating back to the construction boom on the American west coast in the late 19th century and taking in everything from the dawn of rock 'n' roll to your next big night out, jeans are the very essence of democracy in clothing. Just as happy in that cocktail bar as they are on the dance floor – and more than rugged enough for that long walk across the Downs. How to choose your next pair? Choices are more or less endless and some of our favourite labels have, after careful and long consideration, released their own take on this enduring classic. Our picks of the best men's blue jeans in a moment, but first one or two thoughts:
How to choose the perfect pair of blue jeans
It's all too easy to be dazzled by the many denim choices available today. We have a few simple ideas to help. First off and most importantly: what style are you after? Every men's wardrobe needs a few pairs of jeans, and it's all too easy to duplicate what you already have. You might be thinking of a classic style: five-pocket, straight leg, unwashed denim, well-known brand. A wardrobe staple.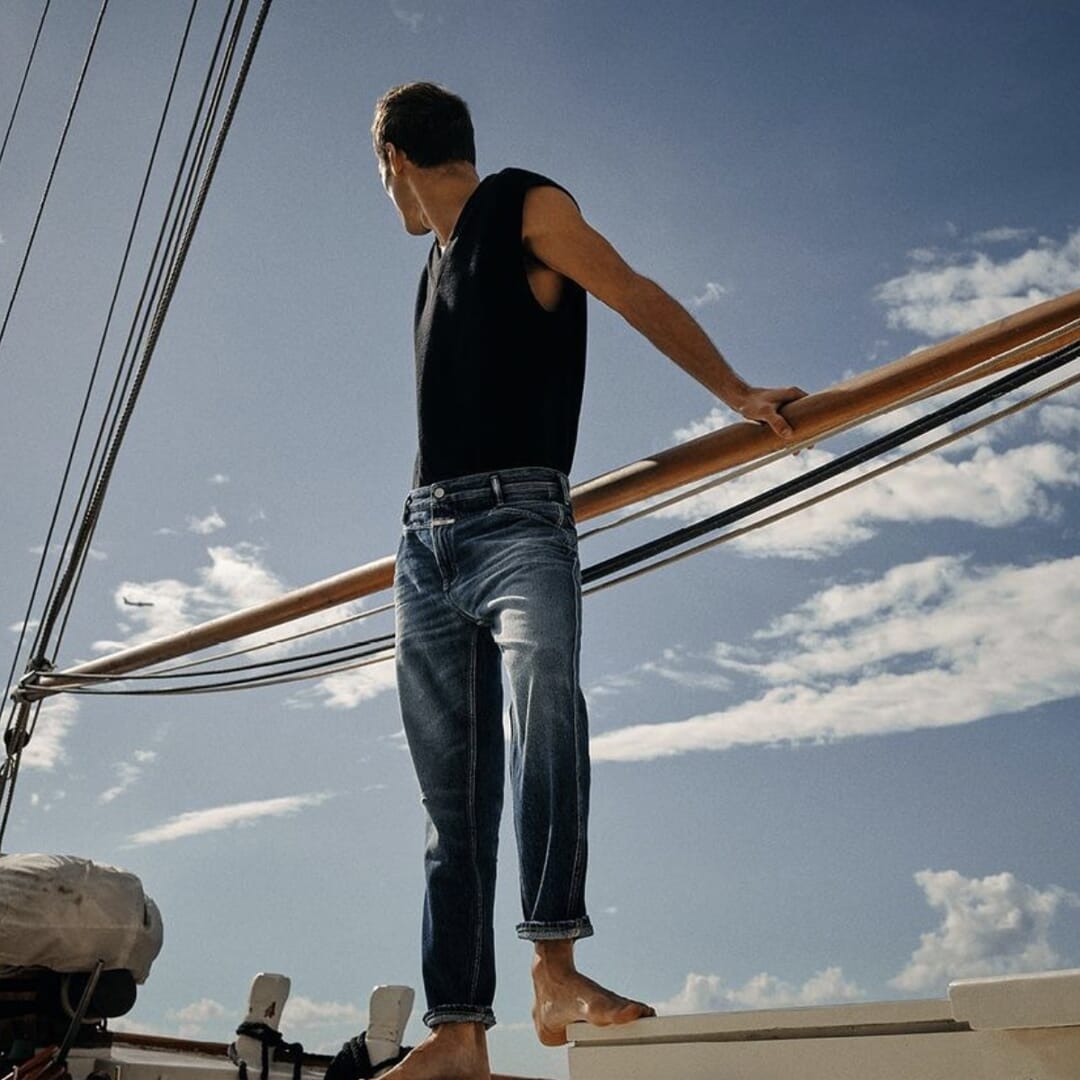 There's more, of course, far more. Take the denim itself. Washed denim is very much a story at the moment. That means the basic dark denim as it comes off the weaving machine has been washed once - or a few times. The idea is that your new jeans will instantly feel like old friends, soft and a little worn, ready to be faithful to you for years to come and already pre-shrunk. There's a variety of bleaches or dyes that can be added to denim too, depending on whether you're after a darker pair of jeans or a laid-back stone-bleached look.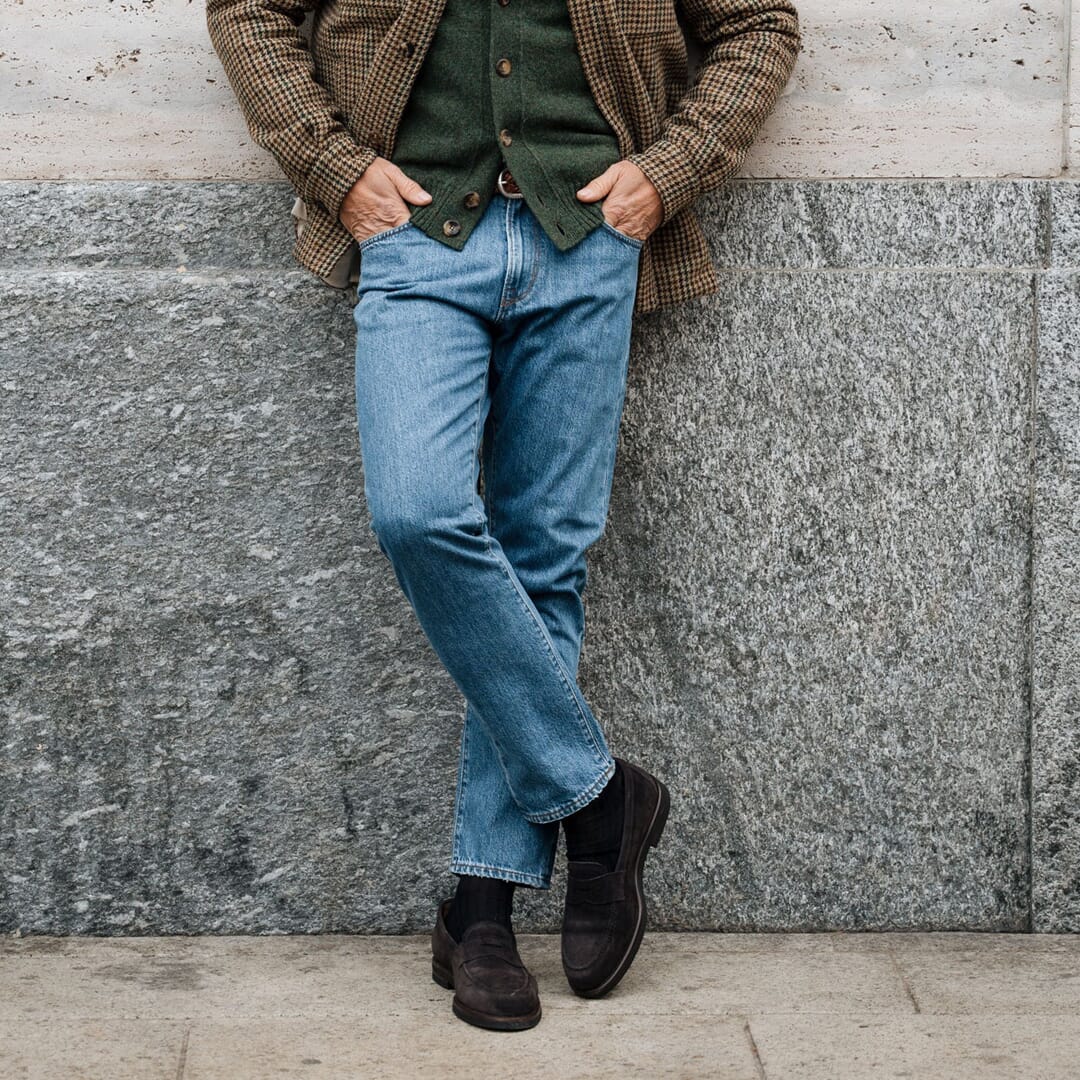 Think more, too, about the cut and tailoring you'd like. We've spoken about the classic, derived from the original denim styles of the late 19th century on the American West Coast, made with a totally straight leg. You might prefer your next jeans with a slim, rather than classic, cut or perhaps a flattering tapered leg for a little more fashion-derived style. It's all a matter of personal taste, as is the waist. Classic is mid-rise, while a high-rise waist tends to reference 1950s and 1960s style.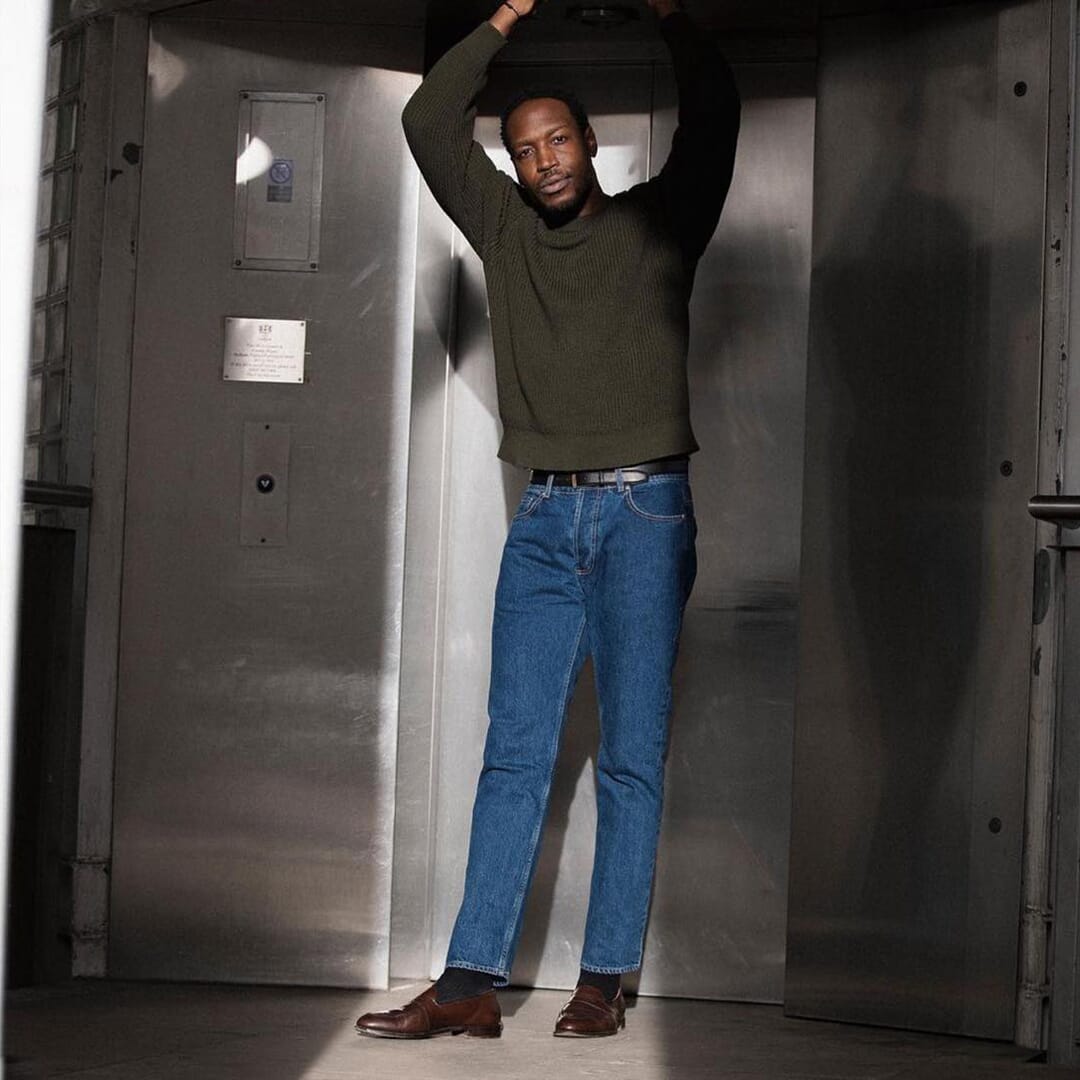 Denim itself might be constructed from organic or recycled cotton, and in an increasingly sustainable fashion industry there's more than a few brands to choose from for the environmentally conscious. You might see weights of denim referred to. Generally, midweight is a good compromise, generally defined as 12 -16oz. Over 16 oz is heavyweight, while lightweight denim is 5 -12 oz.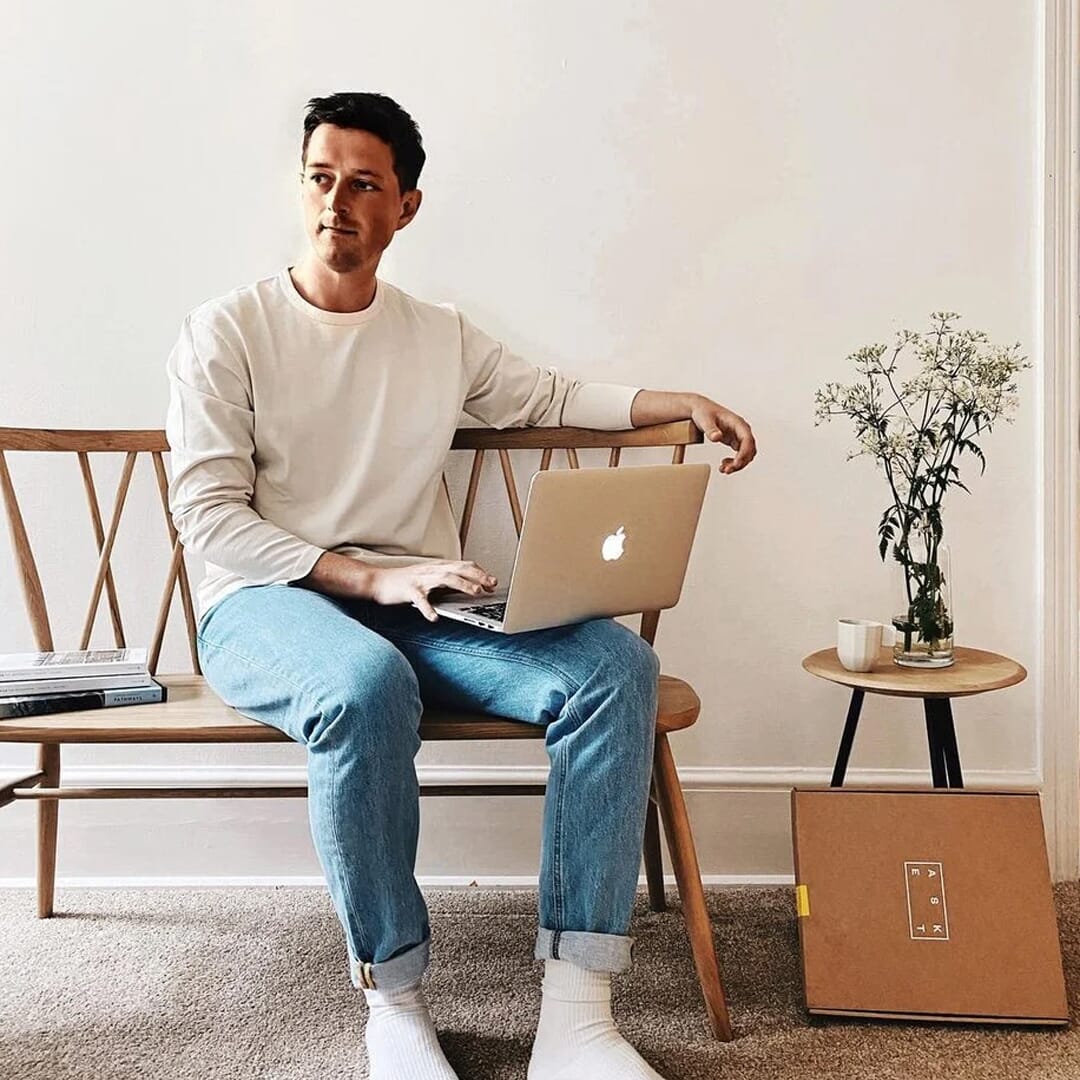 What's known as selvedge denim is at the high end. Selvedge refers to how the edges of denim are trimmed at the seam, and typically this variety is woven on vintage machines. The process produces a tightly woven band on the edge of the denim so it won't unravel and so the look, say aficionados, is cleaner. Also looks cool when turned up at the hem.
All that's left now is to choose your next pair - and we've had a look around to come up with some of the best men's blue jeans on the market today.
Best blue jeans for men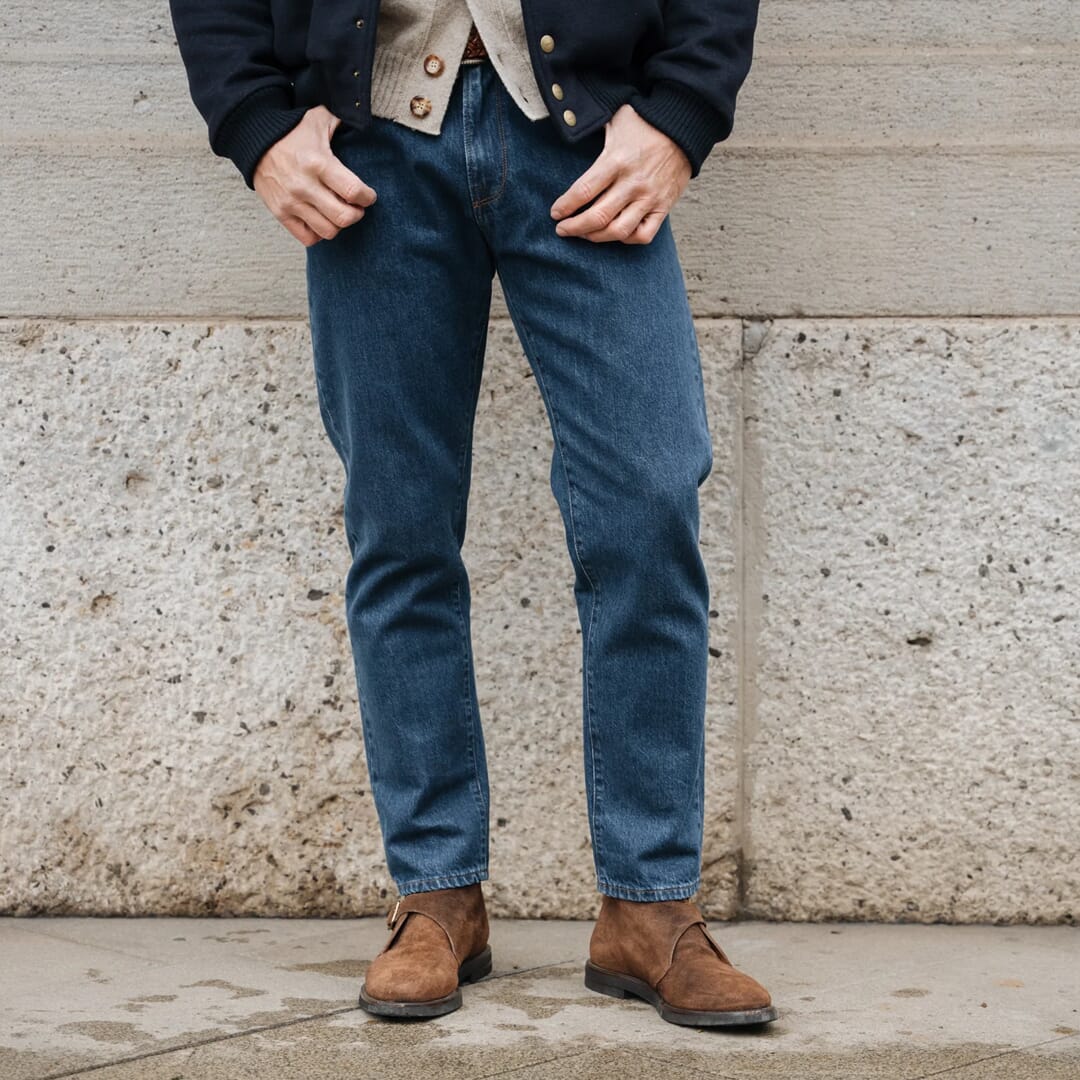 Velasca Millesimo Jeans
Italian label Velasca may be best known for its meticulously made footwear, but the brand has recently made a foray into clothing, and it's safe to say we're impressed. Top of our list is a pair of the dark wash Millesimo jeans, sustainably made using Candiani denim and designed to age beautifully over time. Team them with desert boots and a flannel shirt for off-duty elegance.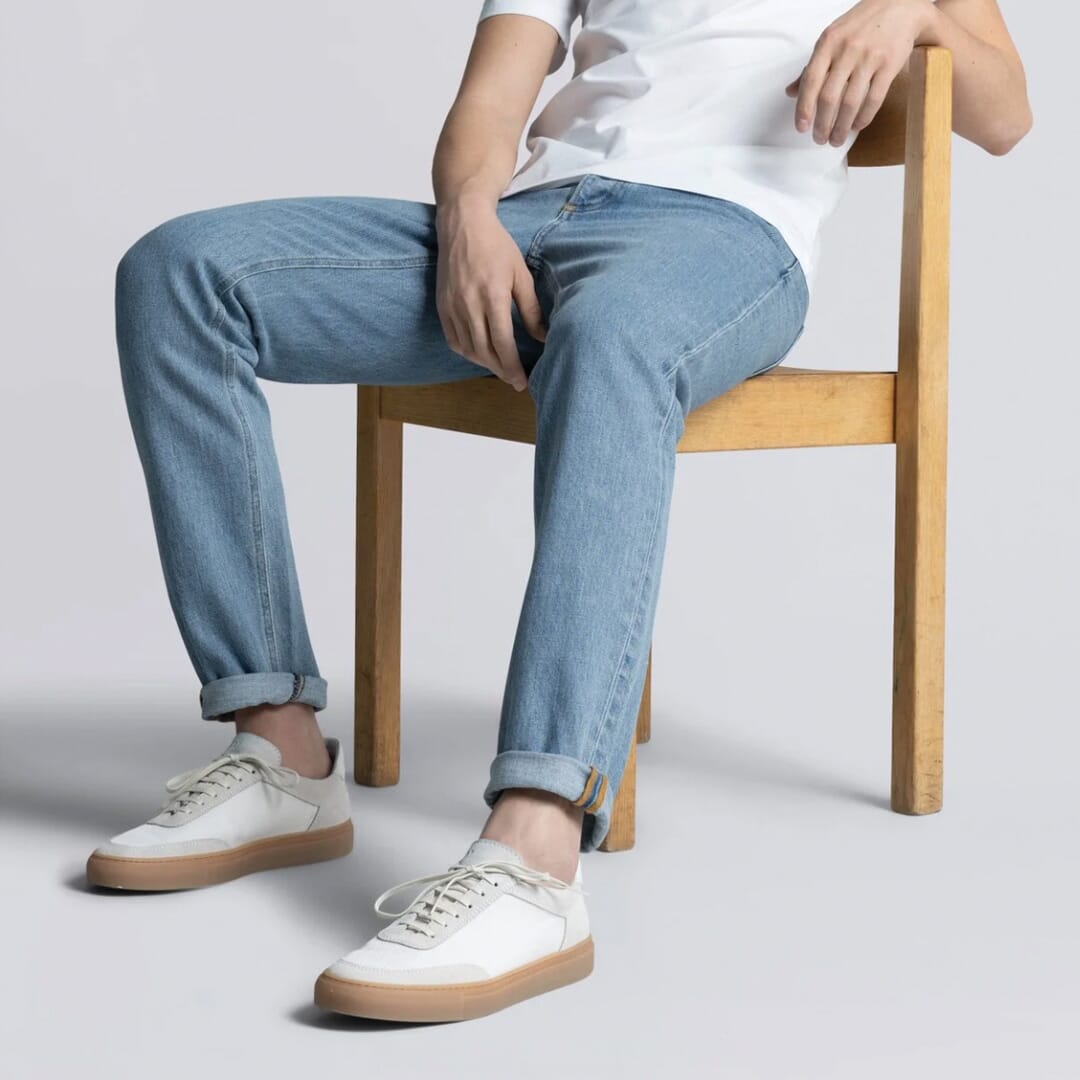 ASKET The Washed Denim Jeans, Stone Bleach
Stockholm's ASKET specialise in out-and-out seasonless classics, so they're the perfect stop for your next pair of blue jeans, sustainably made, with a transparent production process. Structured 13 oz Italian denim is used here, constructed from 100% organic cotton, washed to give the jeans a lived-in look, ready to become your next wardrobe go-to piece. Also ready to acquire the bumps and scratches of your busy life to add further character for years to come.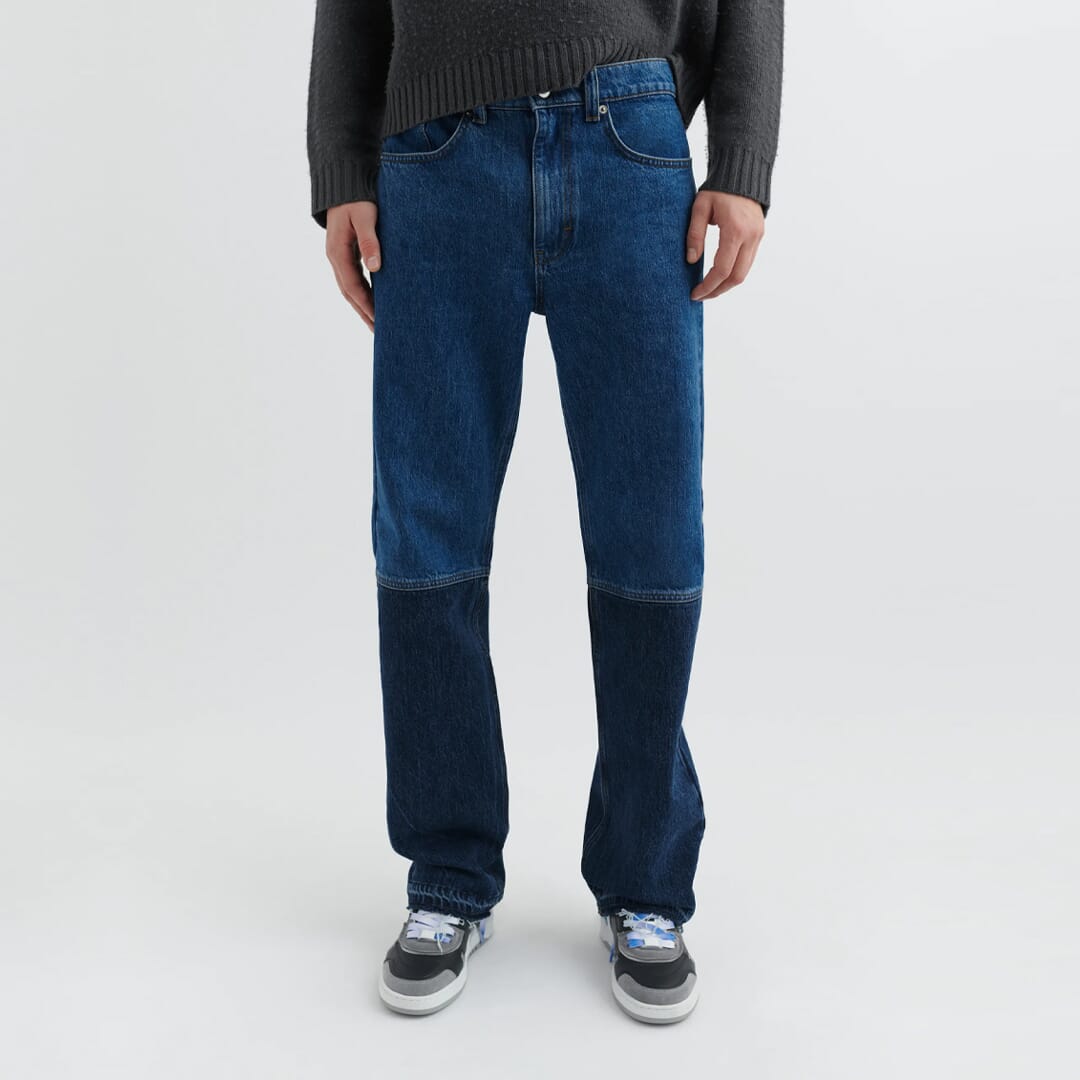 Axel Arigato Archive Jeans, Mid Blue / Dark Blue
On the look out for a signature pair of jeans? Axel Arigato are Swedish fashion innovators who want their pieces to be with you for a lifetime. Here, they've taken part-recycled panels of denim, darker below the knee and ready to fade to become your bespoke look, and tailored them together in a no-frills straight leg cut. Denim is made from 100% recycled cotton, and unfinished hems complete a Saturday morning casual elegant look.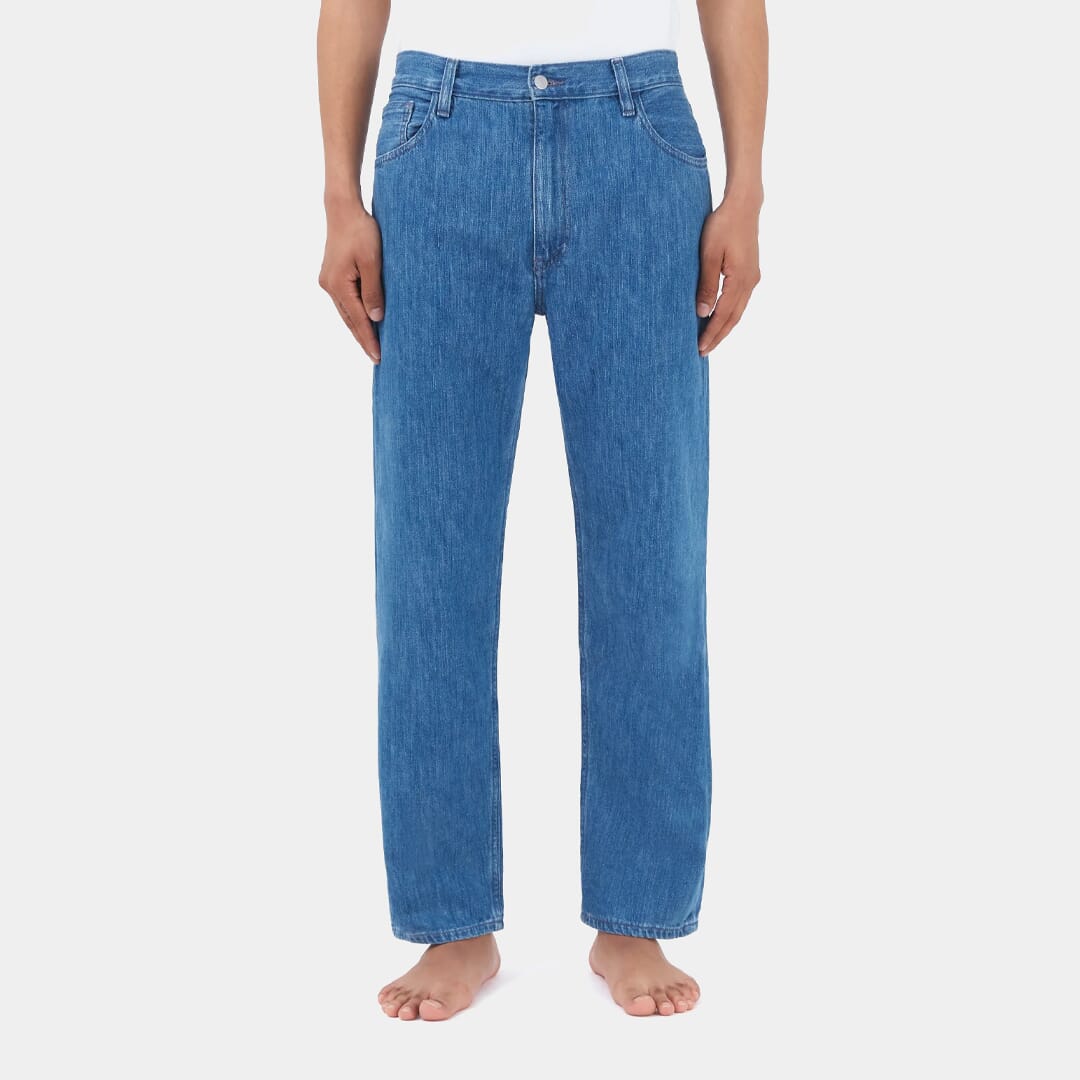 non Relaxed Jean, Eco Stone Washed
London denim obsessives non commission their own high-end selvedge denim from a sustainably-run mill in Turkey, in keeping with their minimalist. transparent ethos. Here construction is from a 50/50 mix of recycled/organic cotton, cut is mid-rise with a slight taper to the leg and a relaxed fit. Selvedge denim ensures a cleaner line, here in a 12 oz weight and eco-washed using Non's own process for a softer look and feel.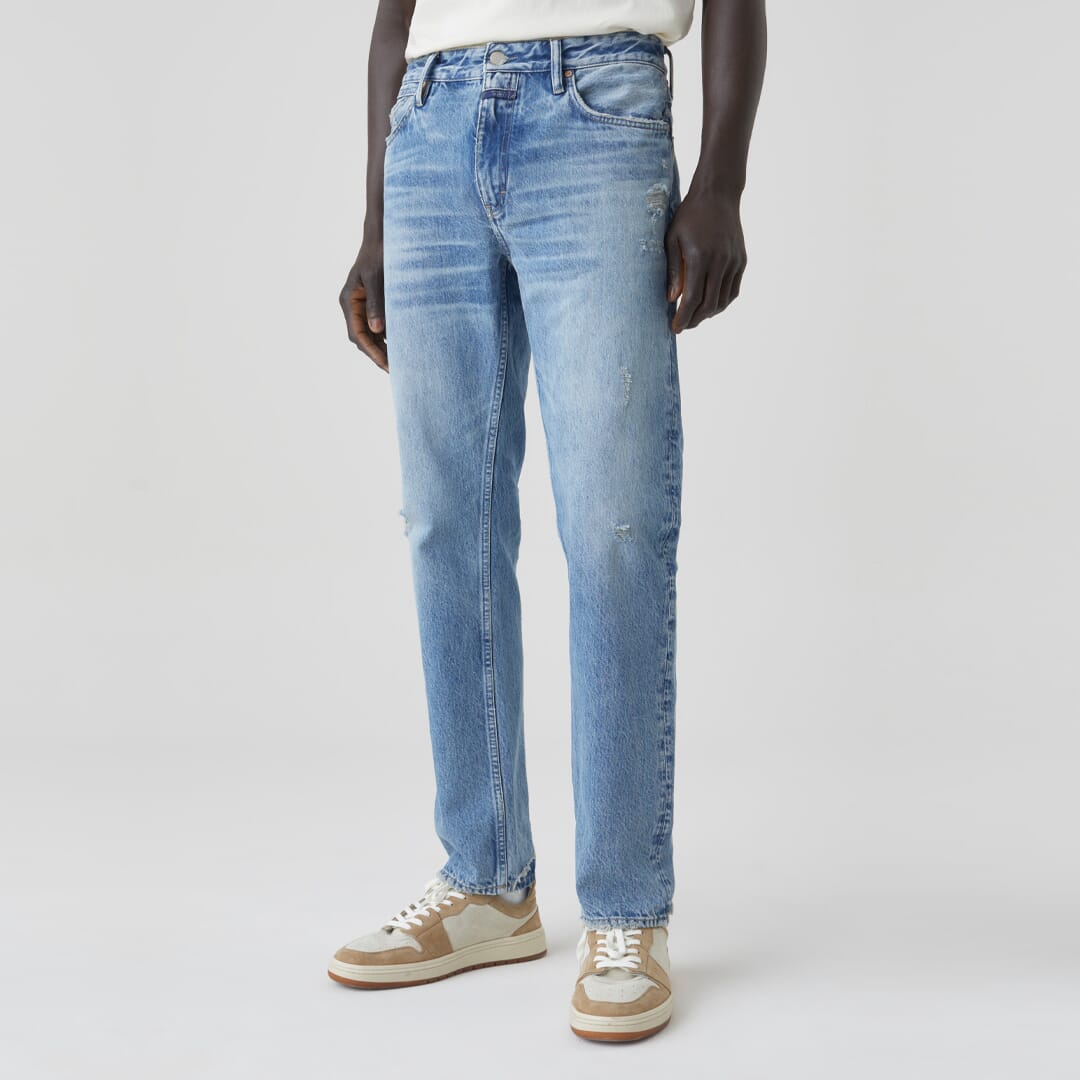 Closed Bogus Straight Jeans, Light Blue
The innovators at Closed have come up with a pair of jeans that look and feel like you've owned them forever, or at least a season or two - and they're designed to be favourites for a long time to come. Super-strong rigid Italian denim is sourced from Candiani who've blended 60% organic cotton with 24% recycled cotton from discarded jeans and just 16% regular cotton. Look is bespoke to each pair, as they're individually distressed.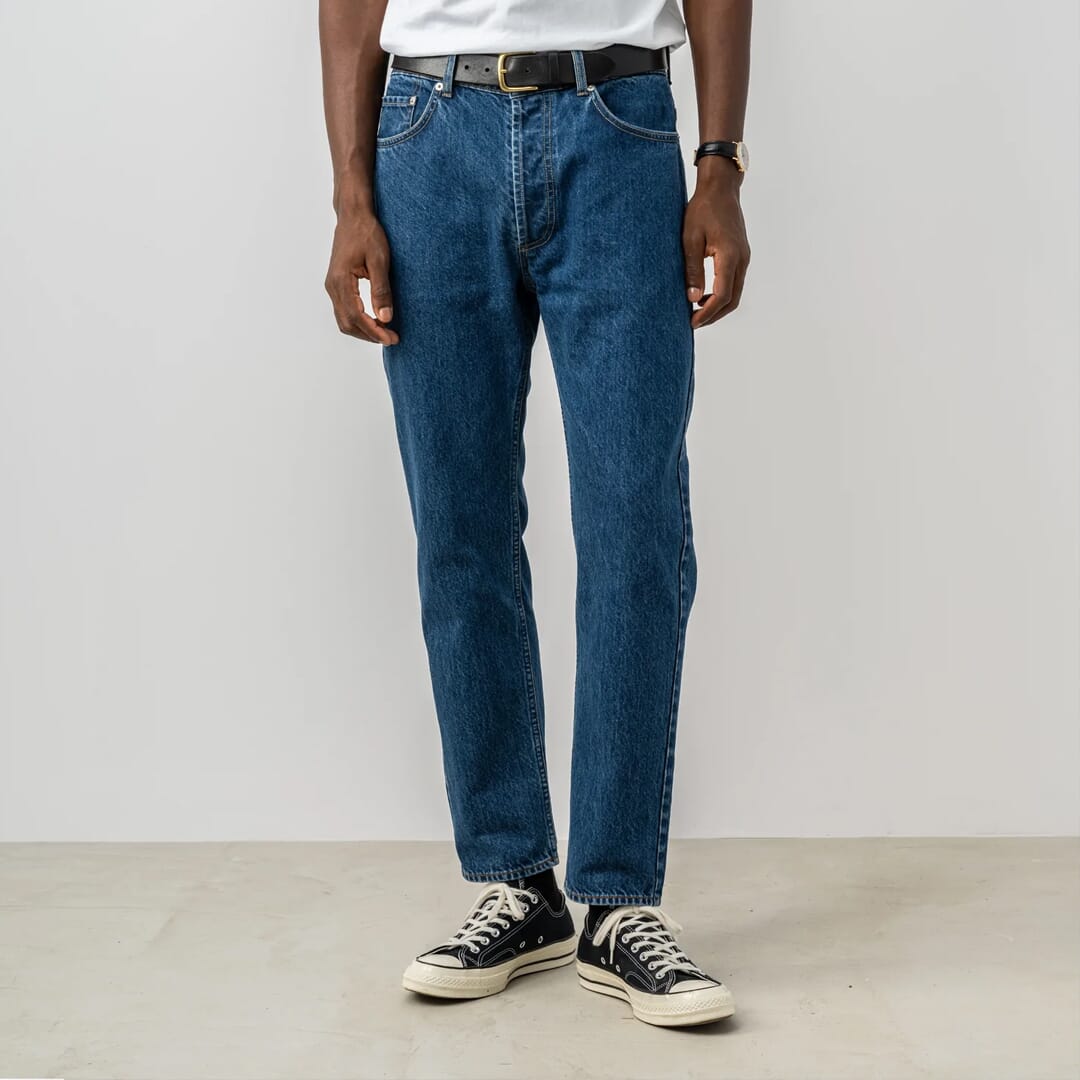 ISTO. Everyday Denim, Blue
Lisbon-born ISTO. only release a new piece to their permanent collection, always sustainably made in a transparent production process, after a great deal of thought and an extensive behind-the-scenes design process. Their first ever pair of jeans features midweight 13.5 oz denim constructed from 100% organic cotton and tailored in Portugal with a classic five-pocket cut. Tapered leg completes the look. Instant classic? We'd say so.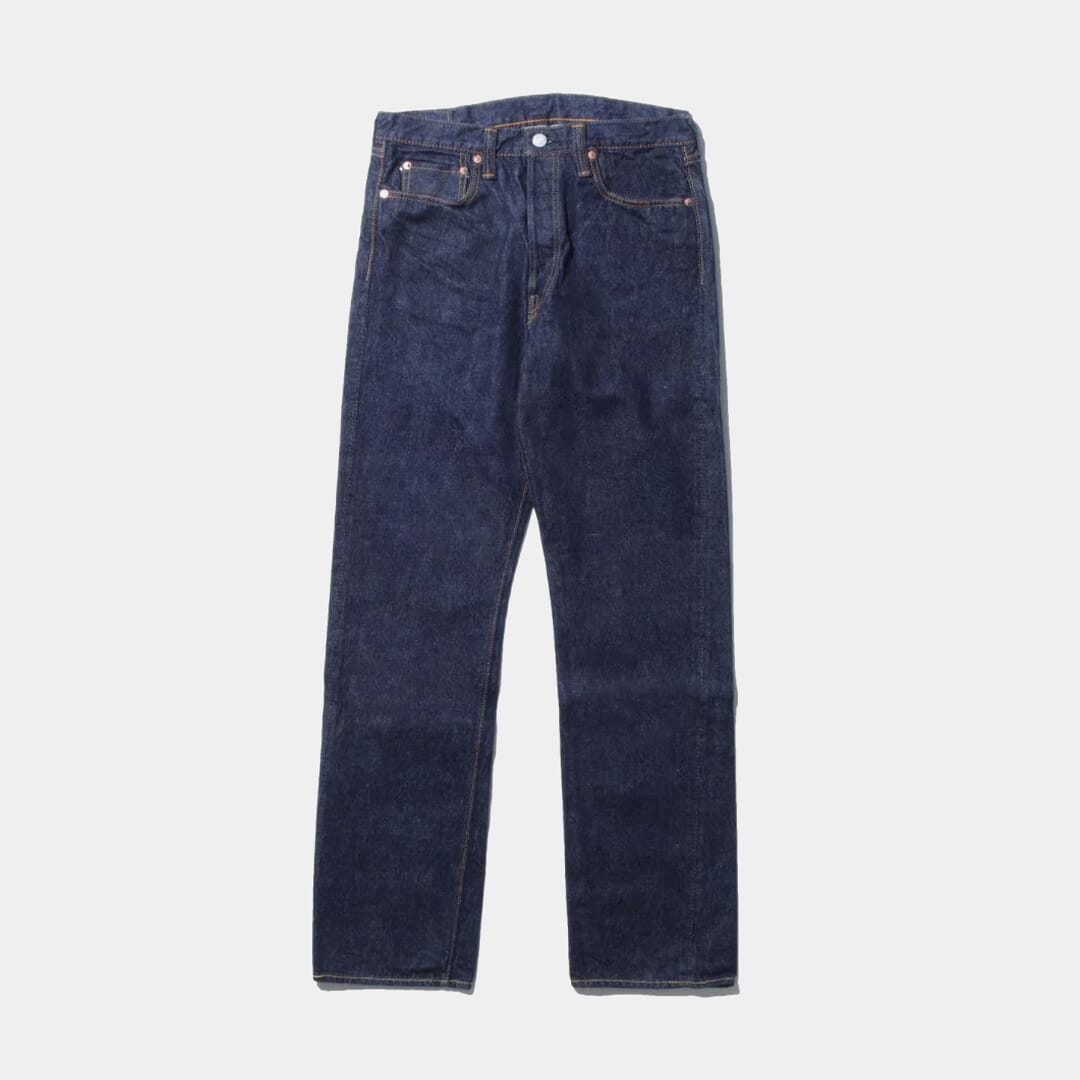 Full Count 1108W New Straight Jean 13.7oz (One Wash)
Japanese denim is always a big story when it comes to jeans and Full Count are among the paid-up obsessives. Full Count use 100% Zimbabwean cotton, regarded as among the world's finest, woven in Japan and here in a midweight 13.75 oz denim, tailored in Osaka and with a natural elasticity. Cut is classic 1960s-influenced straight leg with a mid-high rise, washed once so there will be no further shrinkage.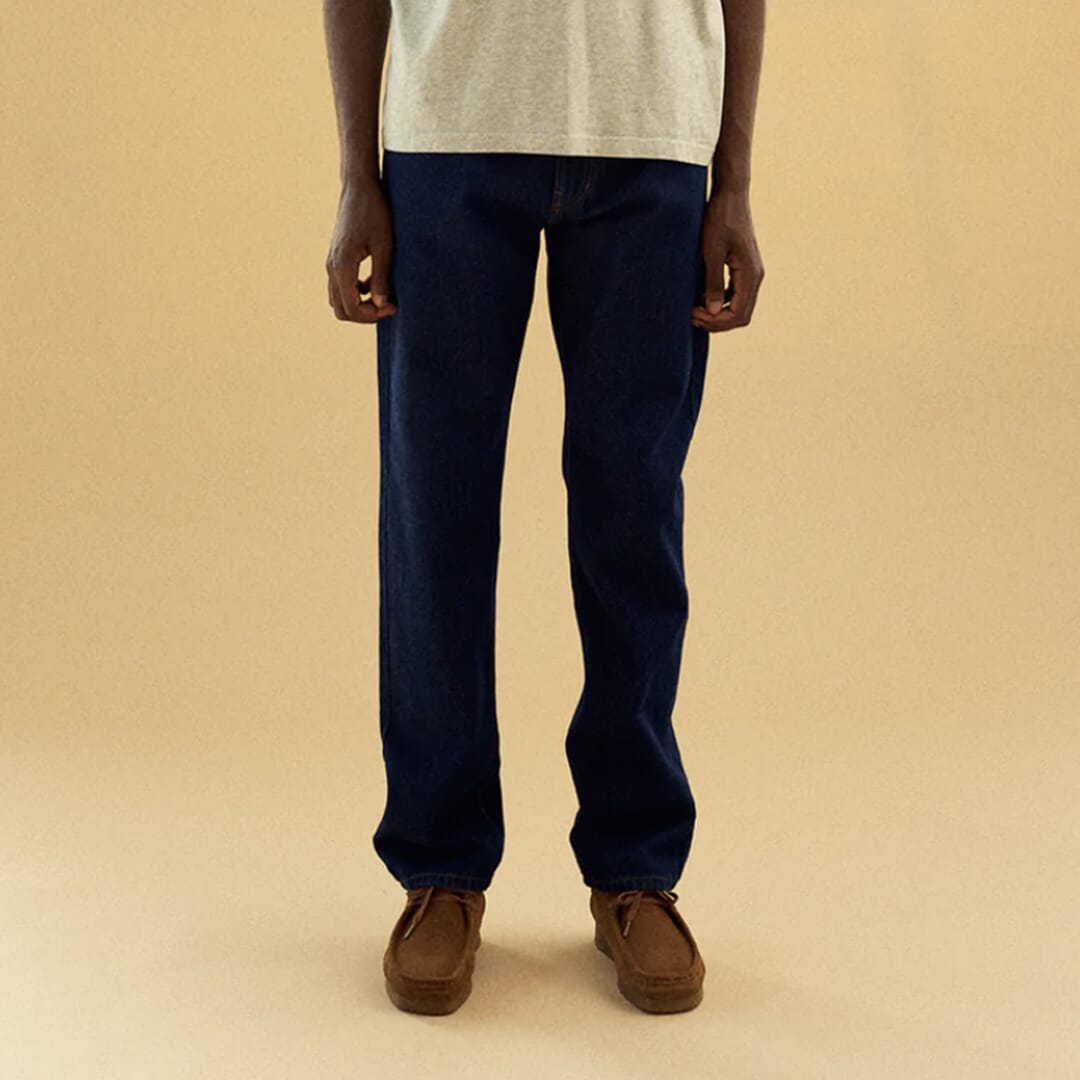 Forét Heath Denim Jeans, Normal Wash
Danish form-follows-function specialists Forét construct pieces designed to cope with the hustle and bustle of your everyday, both in- and, particularly, outdoors. You'd expect a no-nonsense, detailed approach to jeans and that is precisely what these exacting minimalists have delivered. Purely functional, classic five-pocket design and mid-rise fit in 100% organic cotton denim. Brilliantly understated, just like barely-there Forét branding.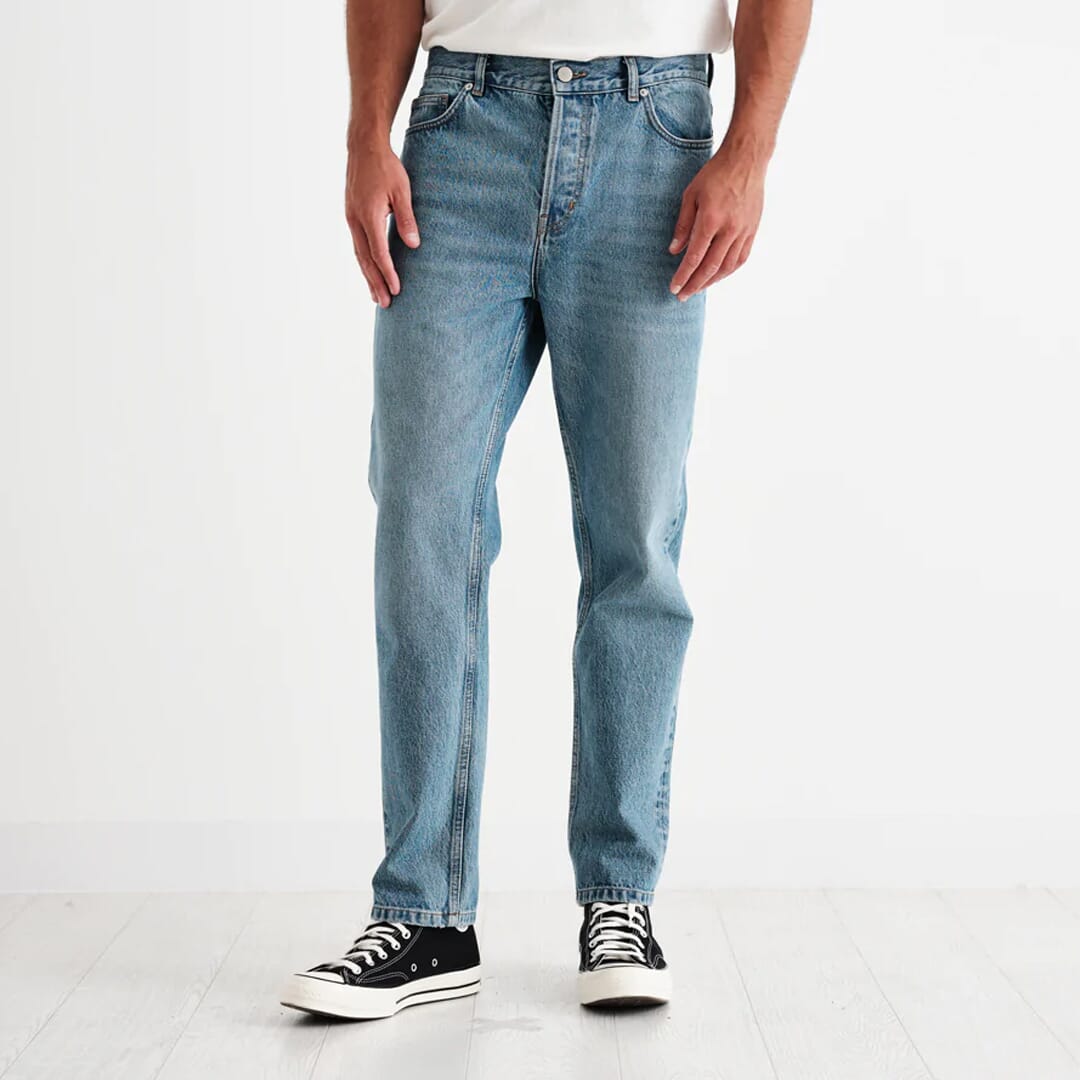 Wax London Slim Fit Jeans, Mid Blue Denim
Wax London, the "everday elevated" aficionados, have taken a while before launching their first denim collection, wanting they say "to take things slow - with an eye for detail, rather than a rush to release", and it shows in their Slim Fit Jeans. They're pre-washed for that relaxed lived-in feel with a five-pocket style and a slim rather than regular cut to make these very much all-occasion jeans, easy to dress up with a jacket or as casual as you like with classic white t-shirt or favourite sweatshirt.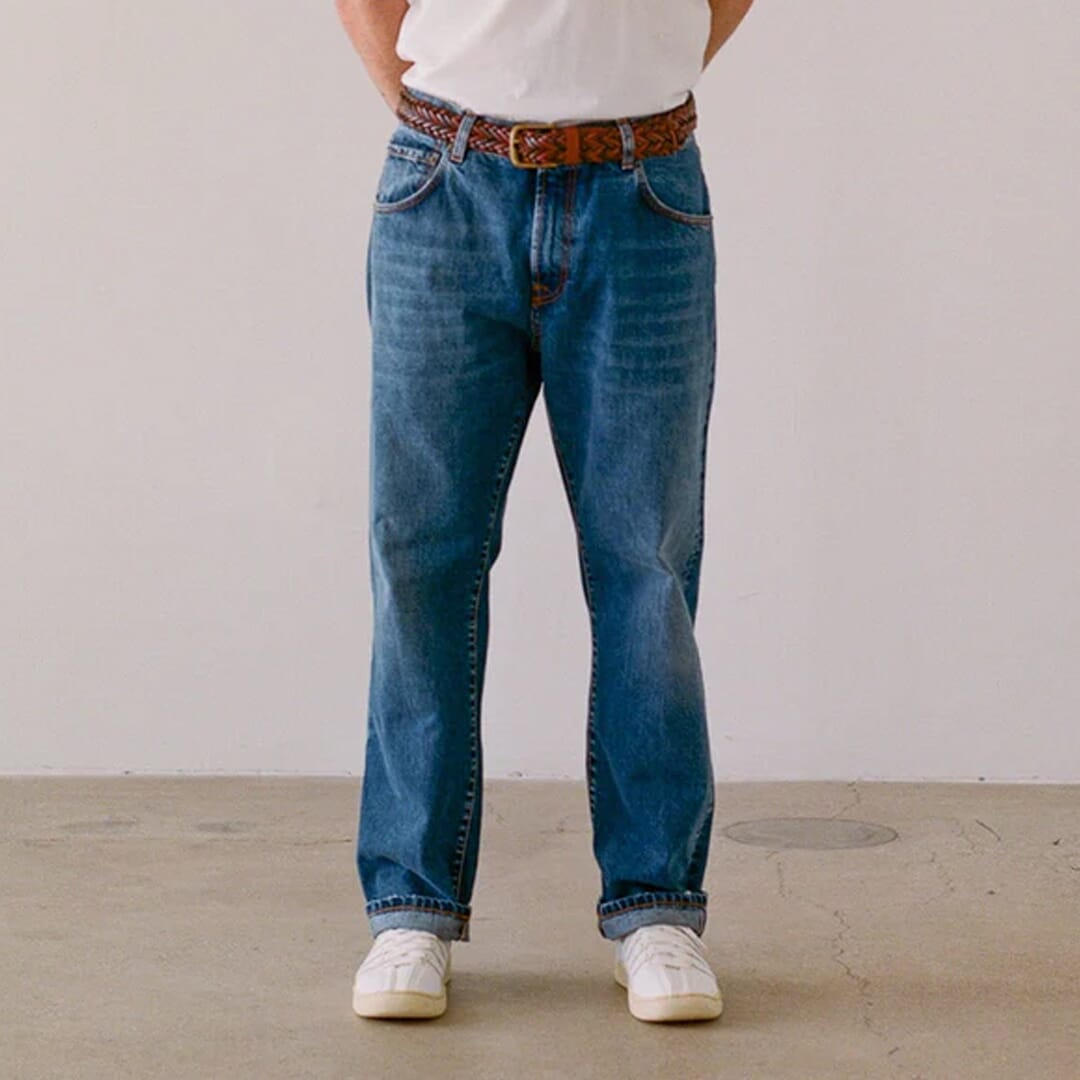 Corridor Organic Italian 5 Pocket Jean, 5 Year Wash
Trust Corridor, the New York City artist collective devoted to "connecting to love", to come up with a classic pair of men's blue jeans with a perfectly judged lived-in look. Midweight 12 oz selvedge denim is organic and woven in Italy by a specialist mill. Detail here is the intensity of the wash, which gives the jeans the vintage feel of five years' wear. Ideal for that hipster Brooklyn bar - or Saturday mornings at your local coffee shop.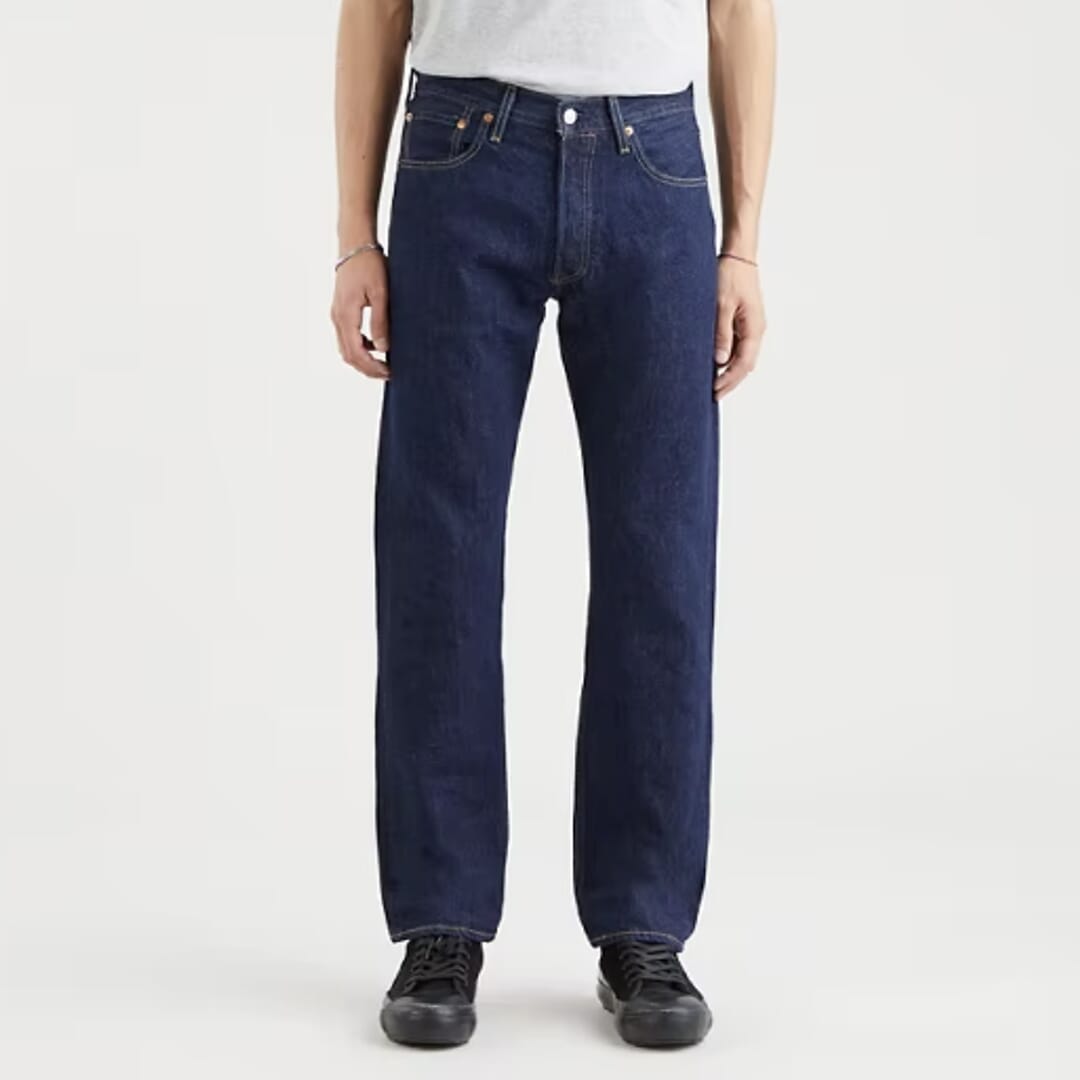 Levi's 501 Original Jeans, One Wash-Blue
The classic classic, since 1873. Levi's 501 style set the template for what we now know and love about denim. For many devotees there really is no other pair of classic blue jeans. Need we introduce them? They're straight cut and as Levi's like to say "All-American" with five pocket tailoring and a straight leg, exactly like the workwear jeans of old when Levi's was founded to serve those building San Francisco. Every wardrobe needs a pair of 501s. There, we've said it.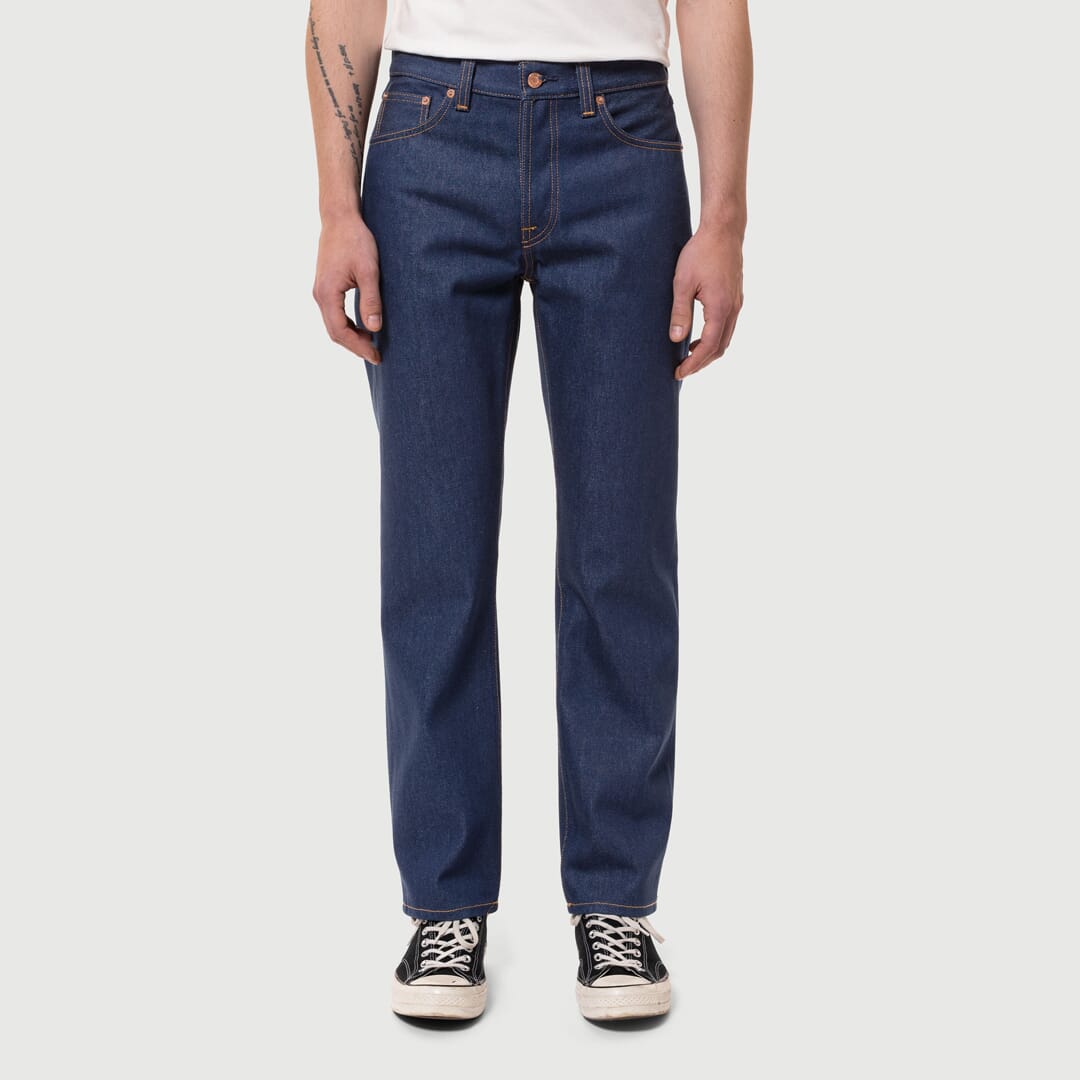 Nudie Jeans Rad Rufus Dry 70s Blue
Sweden's Nudie Jeans were among the pioneers of using organic cotton to construct their highly distinctive jeans. Their aim now is to provide "jeans that become a part of ourselves when worn a long time – a second skin". Here, 100% organic cotton is woven to a medium weight 13.75 oz rigid denim, design aimed at recalling 1960s/1970s style with high waist, regular fit, straight leg and bright blue tone which, Nudie says, will fade to a "technicolour blue". Ready for their close-up.
Not feeling blue? Check out our pick of the best black denim jeans for men.
---
---