Take a look at the weather and tell us you don't need a pair of slippers. The temperature has dropped and the time is now for comfortable, warm transitional clothing for around the house. Inevitably this takes us into so-called luxury territory. Some might just wear socks. Others might commandeer a pair of Crocs that have been worn year round. But not you.
You understand. You know that in this world, money needs to be spent on luxury essentials in the home. Essentials that the outside world might not even see. Luxury shower products, soft linen pyjamas and of course, a sturdy, indulgent pair of slippers. There's two types of people in this world. The haves and the have nots. Slippers define this bisection of society.
Slippers are great. They separate the out there (cold, stressful, unsophisticated) from the in here (warm, bliss, stylish indulgent comfort). They're a sign of self-care. A green flag. Done correctly they can also be a flex of sartorial know how. So without further ado, whether you're treating yourself or gifting during the holiday season, here's a selection of the best slippers for men on the market.
Best slippers for men in 2023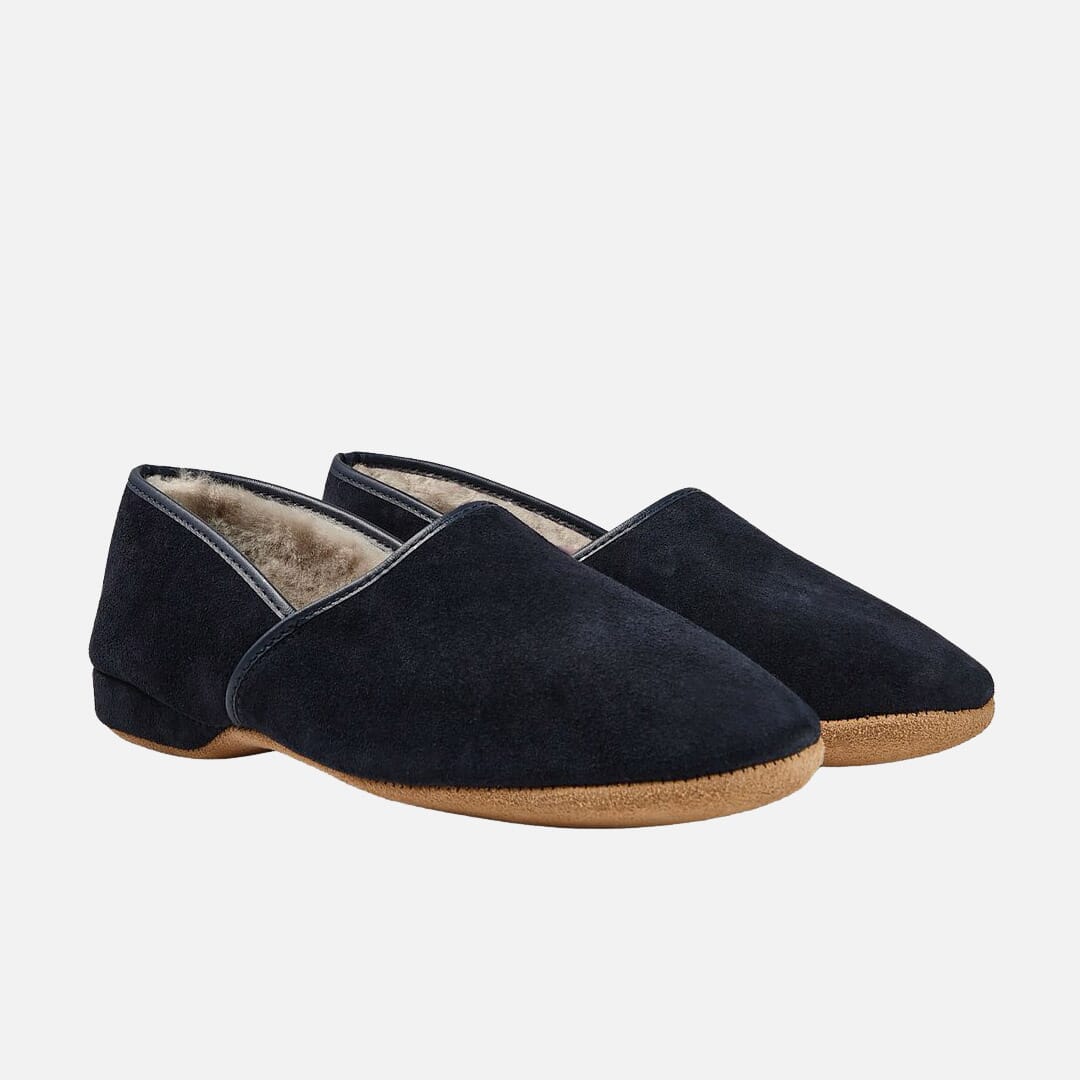 Derek Rose Navy Suede Sheepskin Closed-Back Slippers
Sometimes you need full coverage. A full 360 of a slipper hug giving each heel as much warmth as each toe. Derek Rose will give you that, but with it being Derek Rose it's also going to serve that all important refined and composed sense of indoor style. Slippers for men that appreciate a house coat. Entirely handmade in England using cow suede for the outer and a soft, sheepskin lining. A cushioned footbed gives bounce to each step and they look magnificent.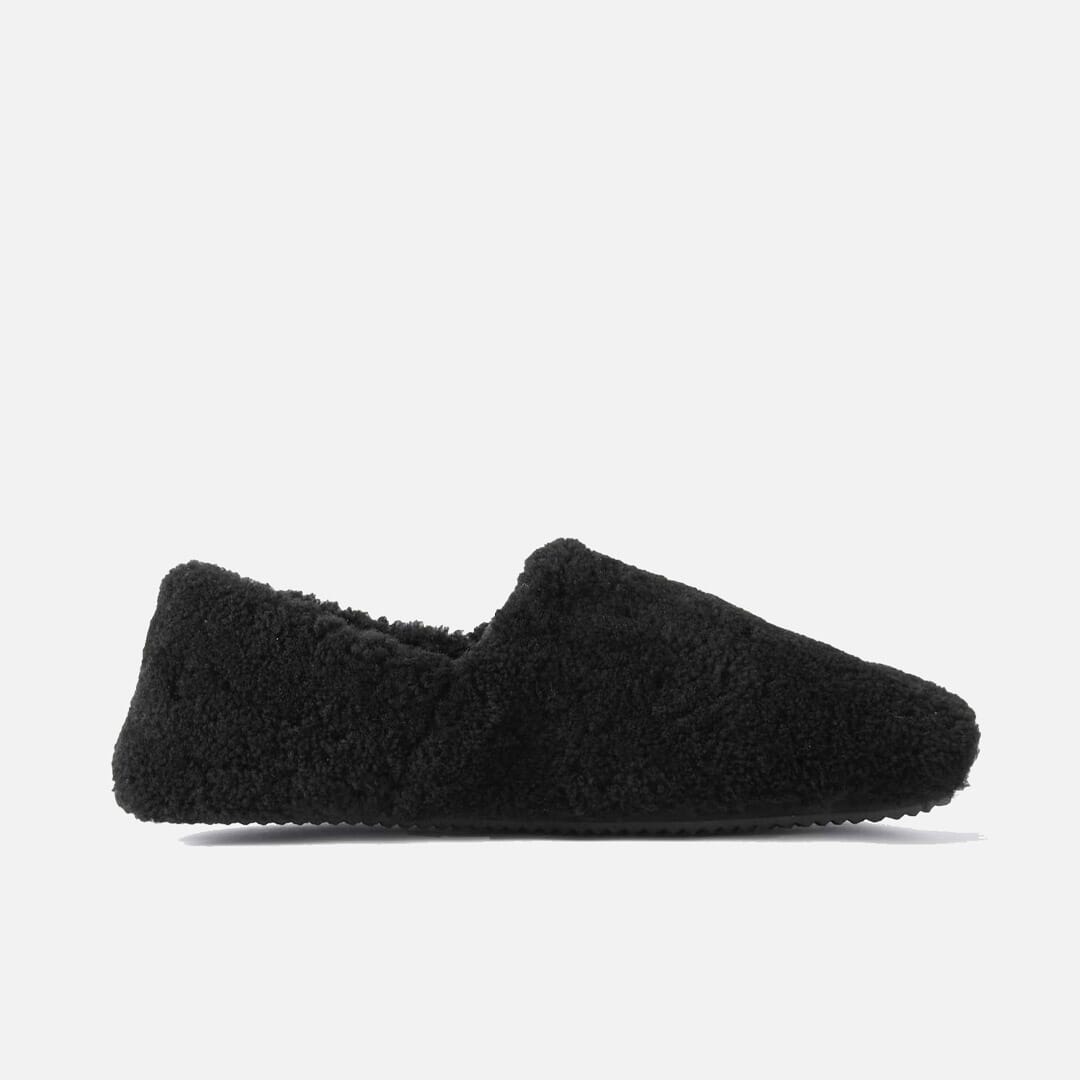 Mr P. Leather-Trimmed Shearling Slippers
Treat yourself. Splash out on a pair from Mr P. that have comfort written all over them and an endearing name to boot. The excellently named 'Babouche' slippers are crafted from suede with a super soft shearling lining. Built for cloud-like comfort, the casual unstructured fit and fold-down back make them even more comfortable. Enjoyably big and arguably fugly, they're well worth a luxurious punt.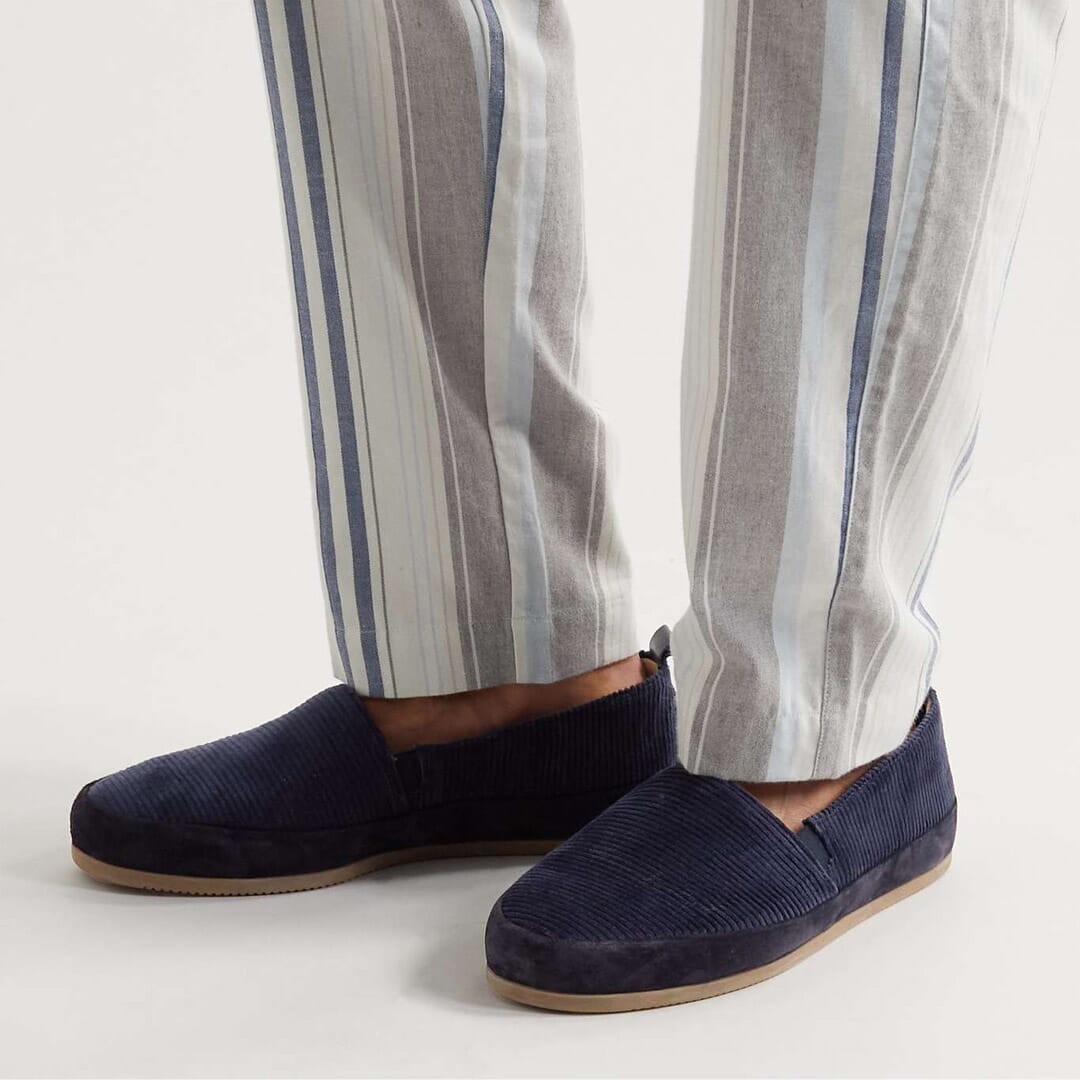 Mulo Cotton-Corduroy Slippers
Not everyone wants the fur-lined, sheepskin fluff interior. That can get too hot. For something more refined and minus the extra heat these cotton corduroy numbers from Mulo certainly fit the bill. Built like an espadrille, fitted elasticated inserts ensure flexibility when putting them on whilst a slightly cushioned sole and recycled moleskin linings ensure they're a super comfy wear around the house. Available in midnight blue, camel and green, these men's slippers are smart enough to go out in. Nobody's batting an eyelid if you wear them down to the shops.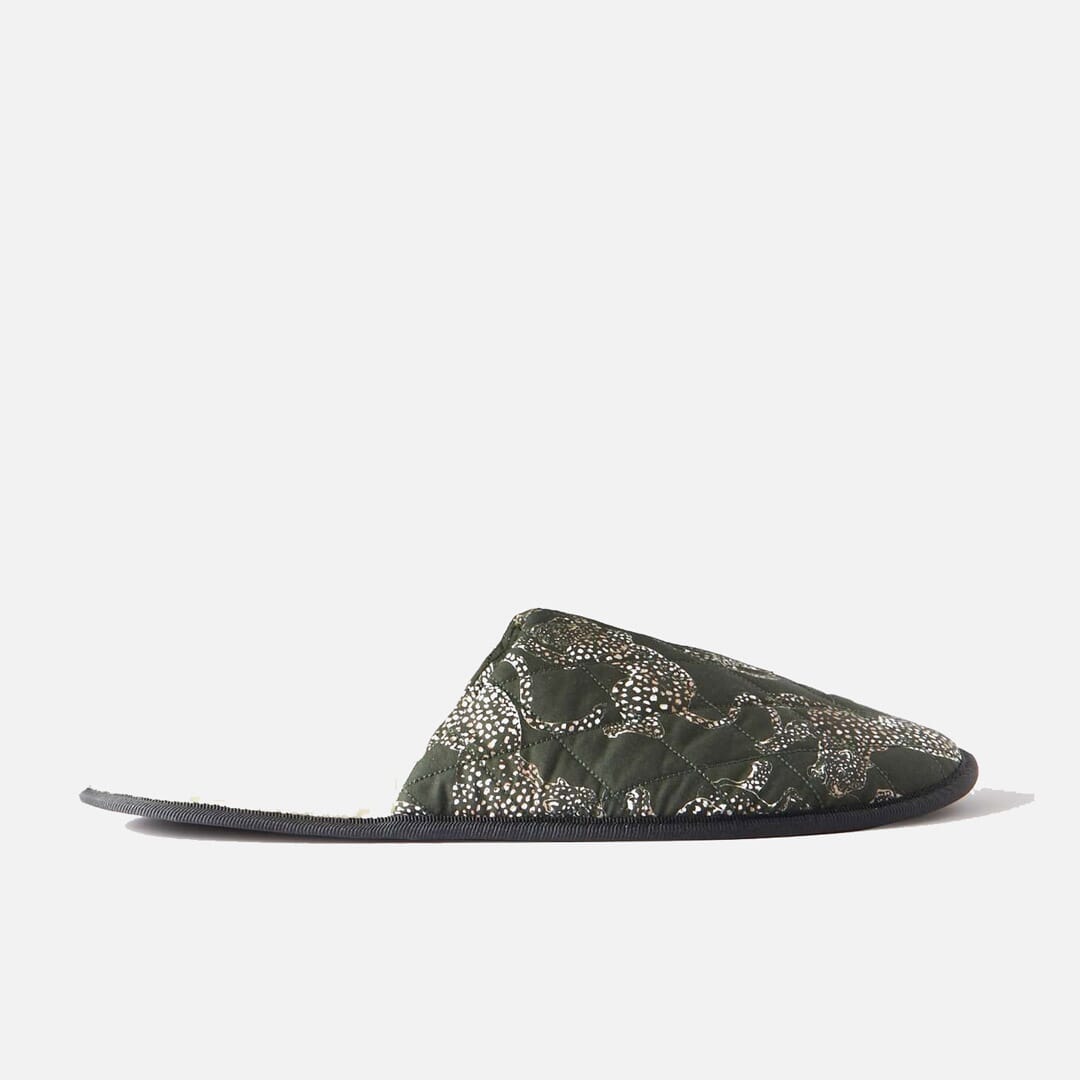 Desmond & Dempsey Wool Fleece Quilted Printed Cotton Slippers
Good old Desmond & Dempsey. You can always count of them to create the sort of slick items that wouldn't look amiss on Monaco playboys. These slippers are very much that. Following that conventional hotel slipper silhouette and then ramping it up some. These bad boys are made from quilted cotton and lined with wool fleece. Most importantly however, they're covered in jaguar prints, making them immediately very cool. It's not easy to pull that print off but indoors, on your feet, is a safe space to start out.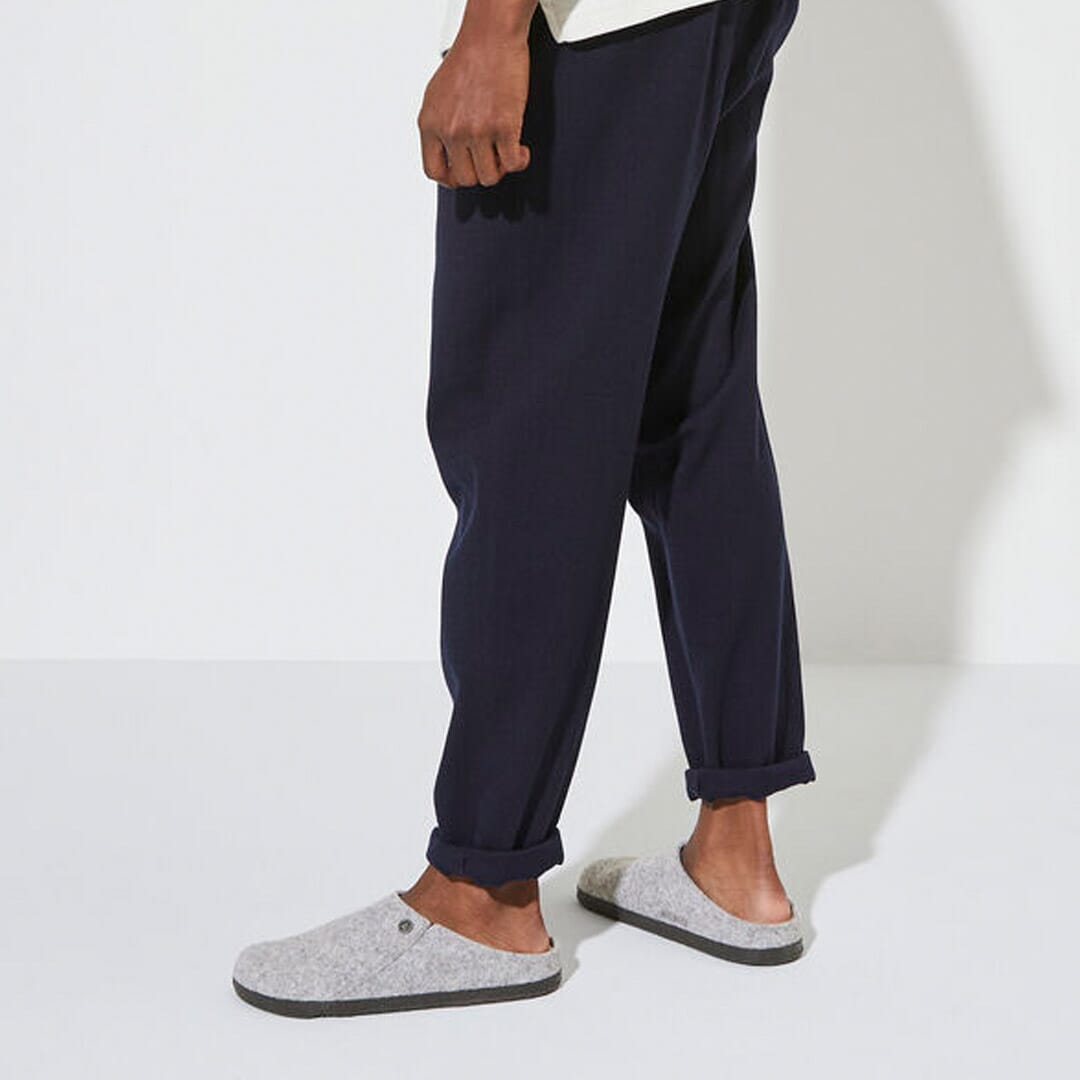 Birkenstock Zermatt Shearling Slippers
Birks had to be on the list. Let's face it, how many of you are actually wearing day to day Birkenstocks as slippers anyway? We know. We see you. You need to separate church and state. Arizonas and their ilk for outside, the fur-lined good stuff for inside, like these grey Zermatt Shearling slippers. A removable footbed means you can choose between different insoles (sold separately) meaning a comfortable and warm slipper all year round. The upper is made from soft wool felt which is always a winner in the colder months.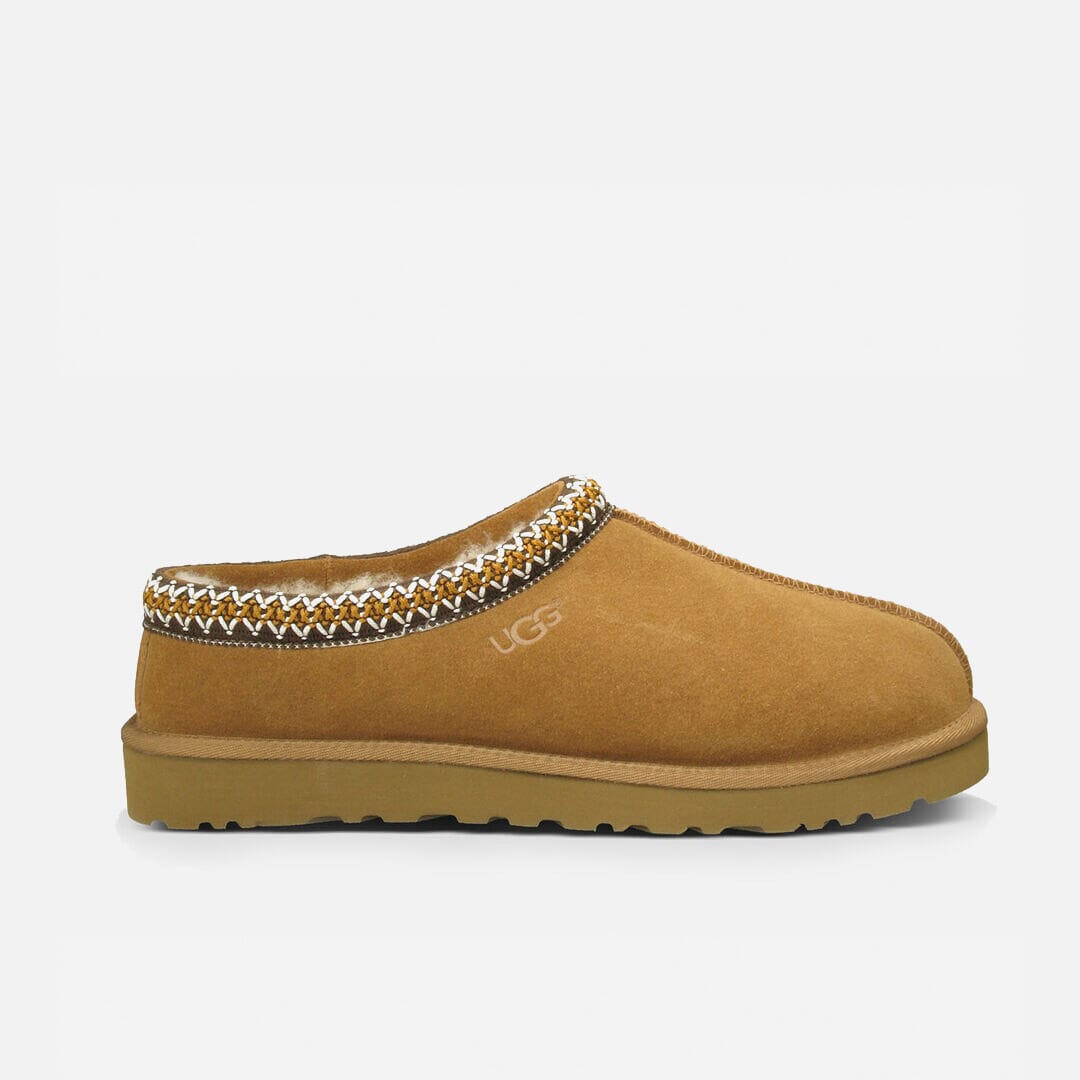 UGG Tasman Slipper
UGG is back, baby. It's all coming up UGG and you can be a part of the brand's second coming with a pair of Tasman slippers for men. Inevitably comfortable and snug (is there a brand that looks snugger?), it's the same light, durable outsole as the classic boot albeit with that drop top easy-to-slip-on silhouette. Sheepskin lining and UGGpure™ wool insoles (to naturally wick away moisture) ensure comfort whilst keeping them fresh.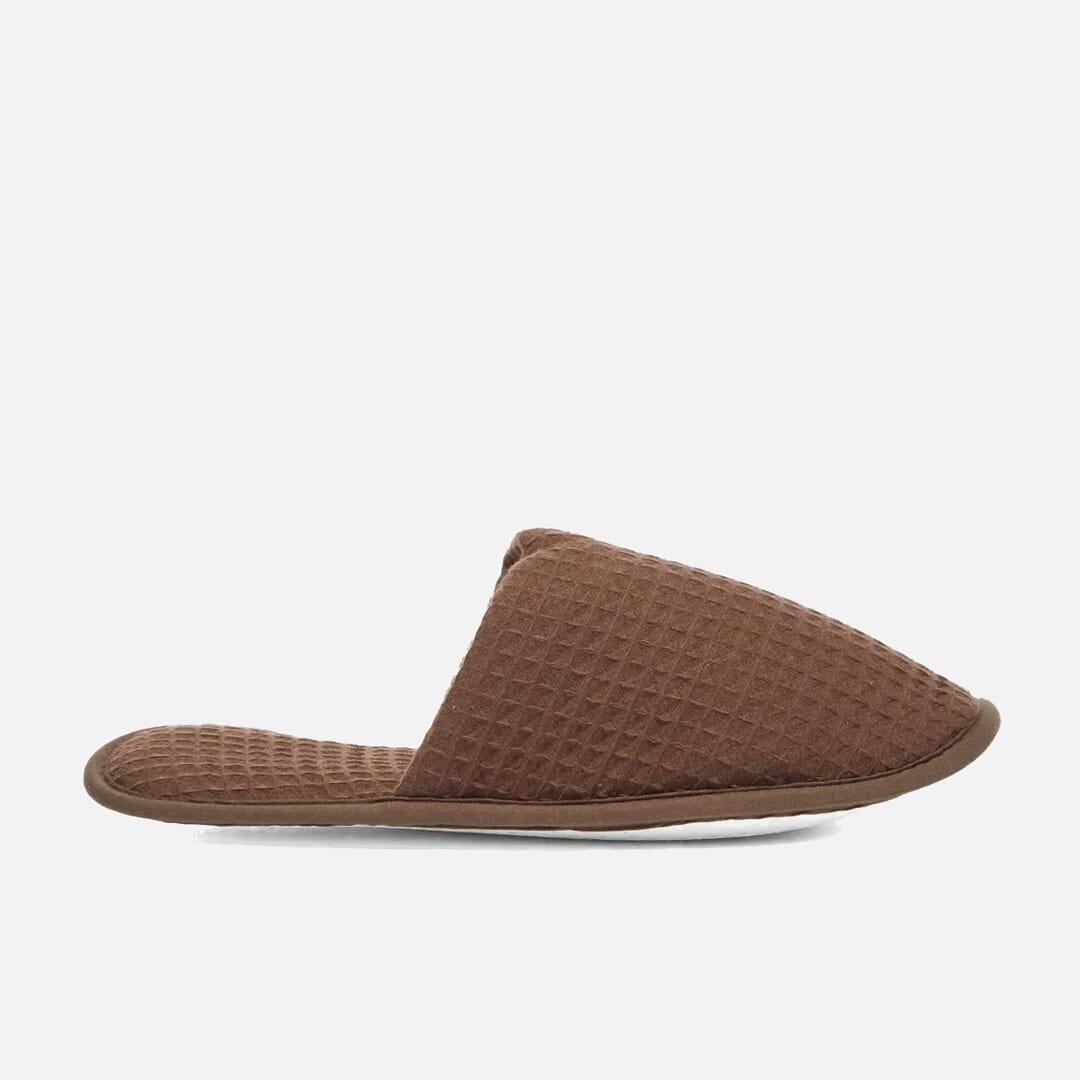 HAY Waffle Slippers
Trust the Danish to do an excellent, minimalist comfortable slipper. HAY is a brand renowned for its stylish home accessories so it makes sense to move into the interiors footwear market. HAY's waffle slippers in coffee are the ideal out of the shower slipper. Super absorbent, with non-slip soles and a polycotton construction they're easy to slip on and will see you through winter and summer.
Cosy up in the best loungewear brands for men.
---
---