Charlotte Taylor is a London-based artist who puts her long-standing obsession with architecture into dreamlike form in her limited-edition prints. Taking inspiration from postmodernism, brutalism and ancient architecture, each piece becomes a quasi-surreal melting pot of styles and shapes. Charlotte Taylor's most recent batch of Giclée prints is characterised by a dusty colour palette that lends the works a hazy softness. Combine the fuzzy texture of the palette with the looming moons – or suns, we're not sure – and sporadic orbs and you've got a collection of prints that transport you to a world of perpetual ghostly summertime. Here are our favourite picks from the new collection.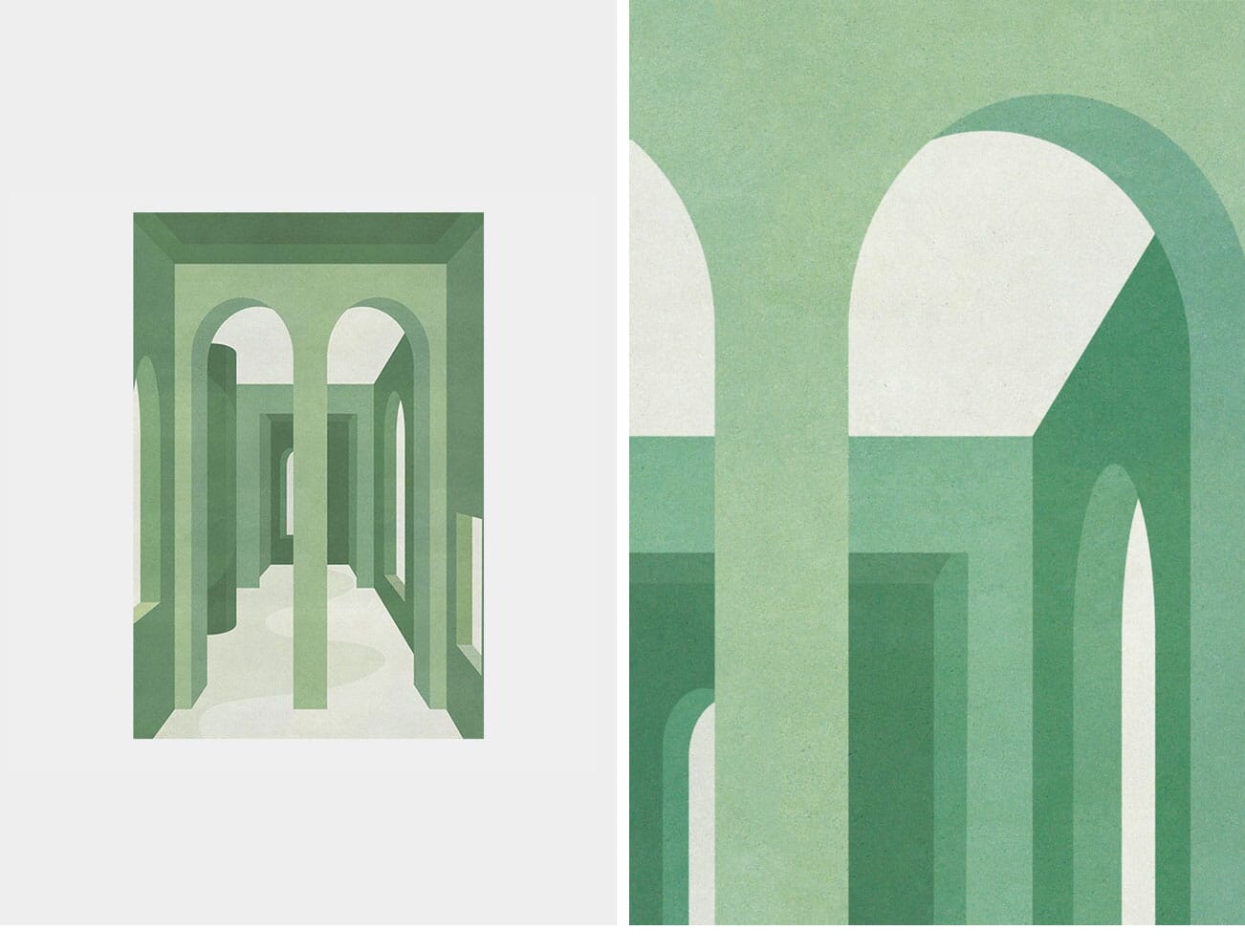 Most of Taylor's prints are inspired by or directly penned from her own travel photography. A recent trip to Milan proved fruitful, leading to two of our top picks. The first depicts a mysterious, arched hallway composed of complementary shades of green. The first-person perspective that's common in Taylor's work means that the ethereal scene feels immediate and verges on menacing.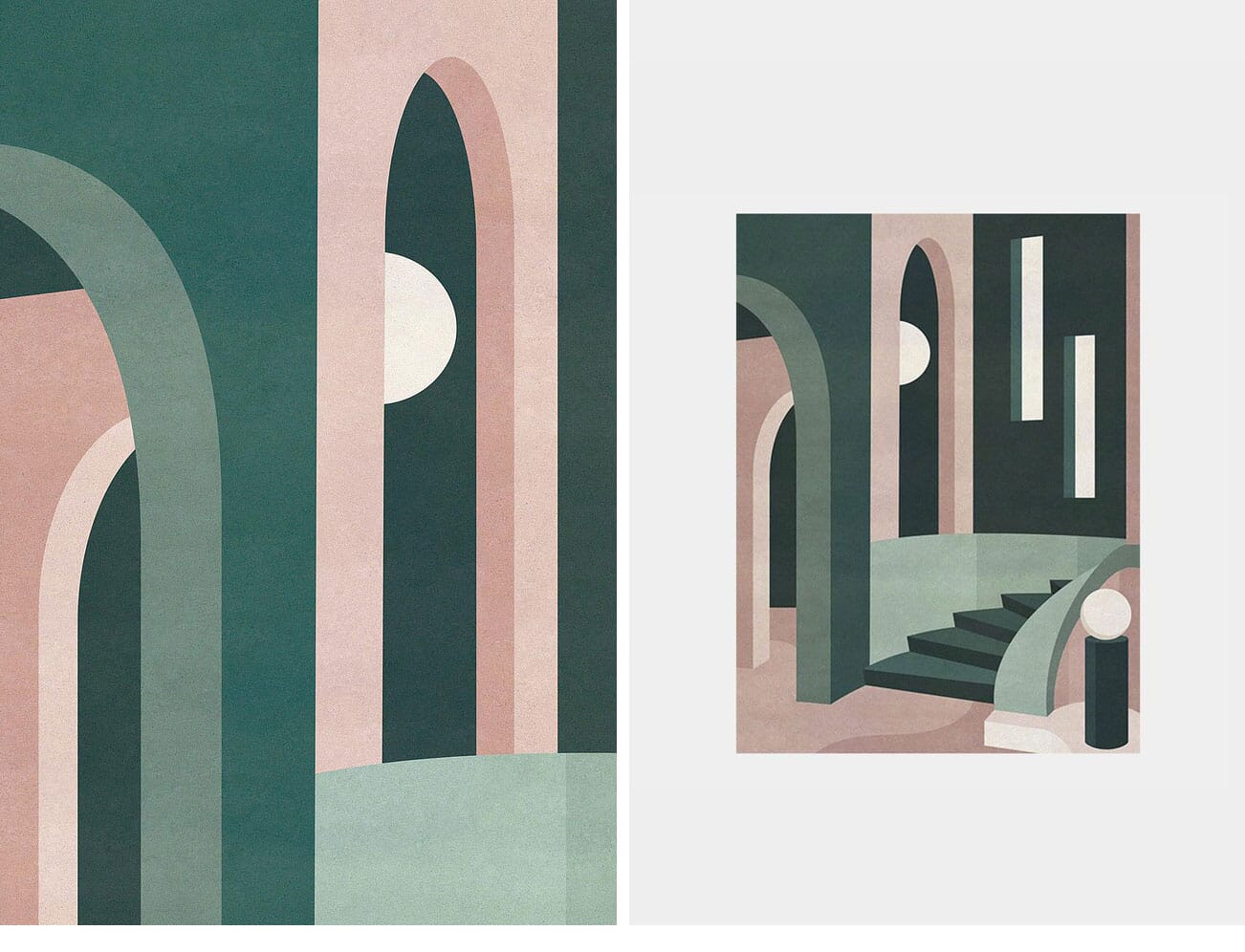 Milan II exhibits the extent of Charlotte Taylor's skill when it comes to replicating architectural forms: the clean lines of converging walls contrast with a gracefully curving staircase. A keen eye for shadowing adds an extra layer of intrigue to this piece.

The sun rises through the arches as you relax by the pool. Morning Pool Print puts you in position to dip a toe in the extremely stylish modernist swimming pool. This A2 print features a lighter colour scheme than our first choices, lending it a more light-hearted feeling. Although undisclosed, we'd love to take a trip to this destination.
While this A3 Giclée print depicts a house, the signature orbs that punctuate the area give the scene the feeling of being an installation, an experiment in space and shadow. The off-centre angle once again afford the overwhelming impression that you, the viewer, are about to walk up the stairs into the house.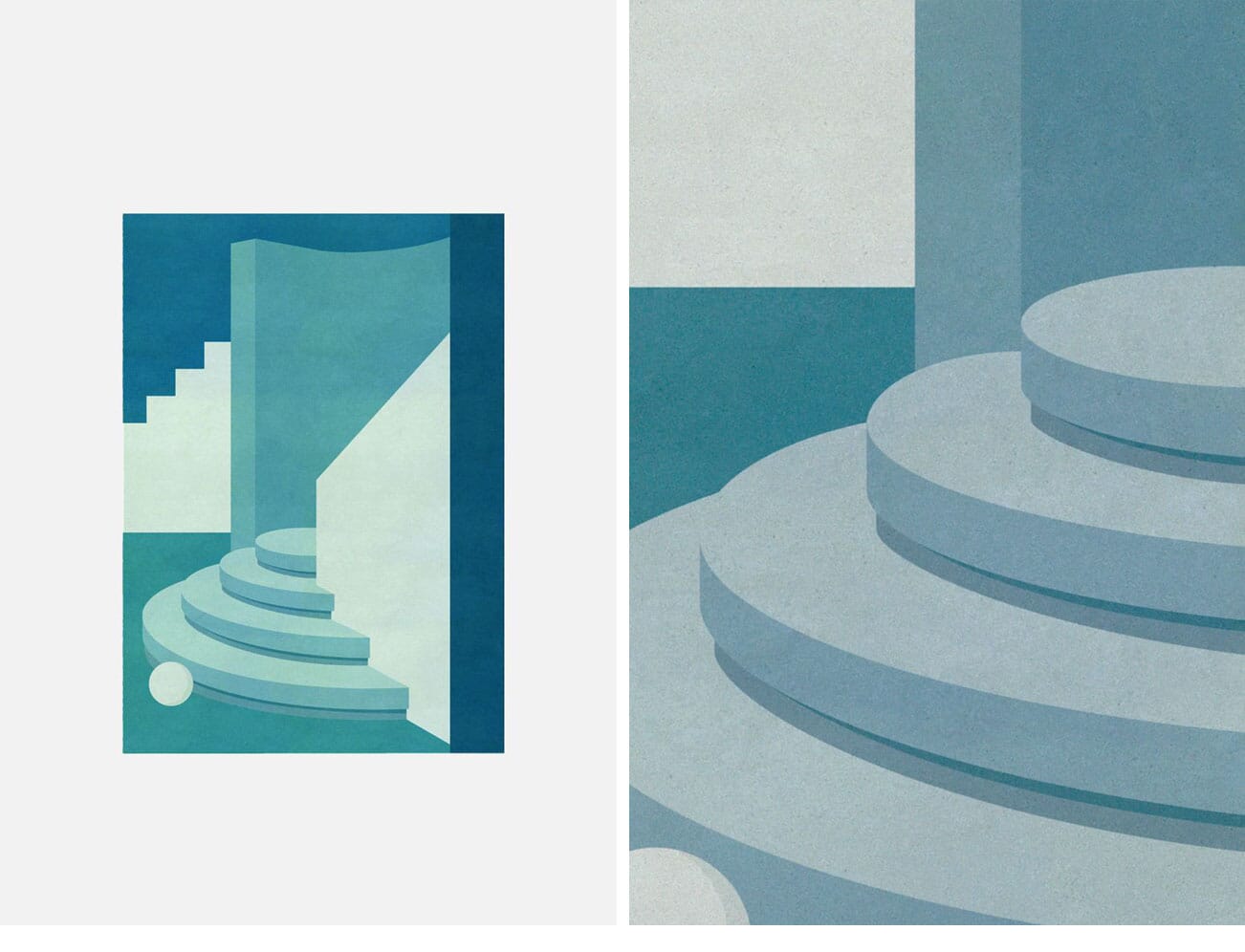 A journey through the shades of blue, Circular Steps Print contrasts sweeping curves with straight edges and sharp angles. The shape of the circular steps is mirrored by a cross-section in the background, unifying the piece that exudes a sense of calm.
Charlotte Taylor's wall prints are ideal for the home because of their strong architectural roots. The shapes within the works are easily matched or used to offset furniture or plants in your rooms. As well as this, the uniform colour schemes make it simple to pick the print that will complement your  interiors.
Shop all Charlotte Taylor prints at OPUMO.
Finish the job properly with our guide to hanging wall art at home.