Brooklyn-based artist, 'fictional archaeologist' and long-time OPUMO favourite Daniel Arsham is returning to Perrotin New York this month – from September 8th to October 21st – to outline his dystopian vision of the future in his brand-new exhibition '3018'.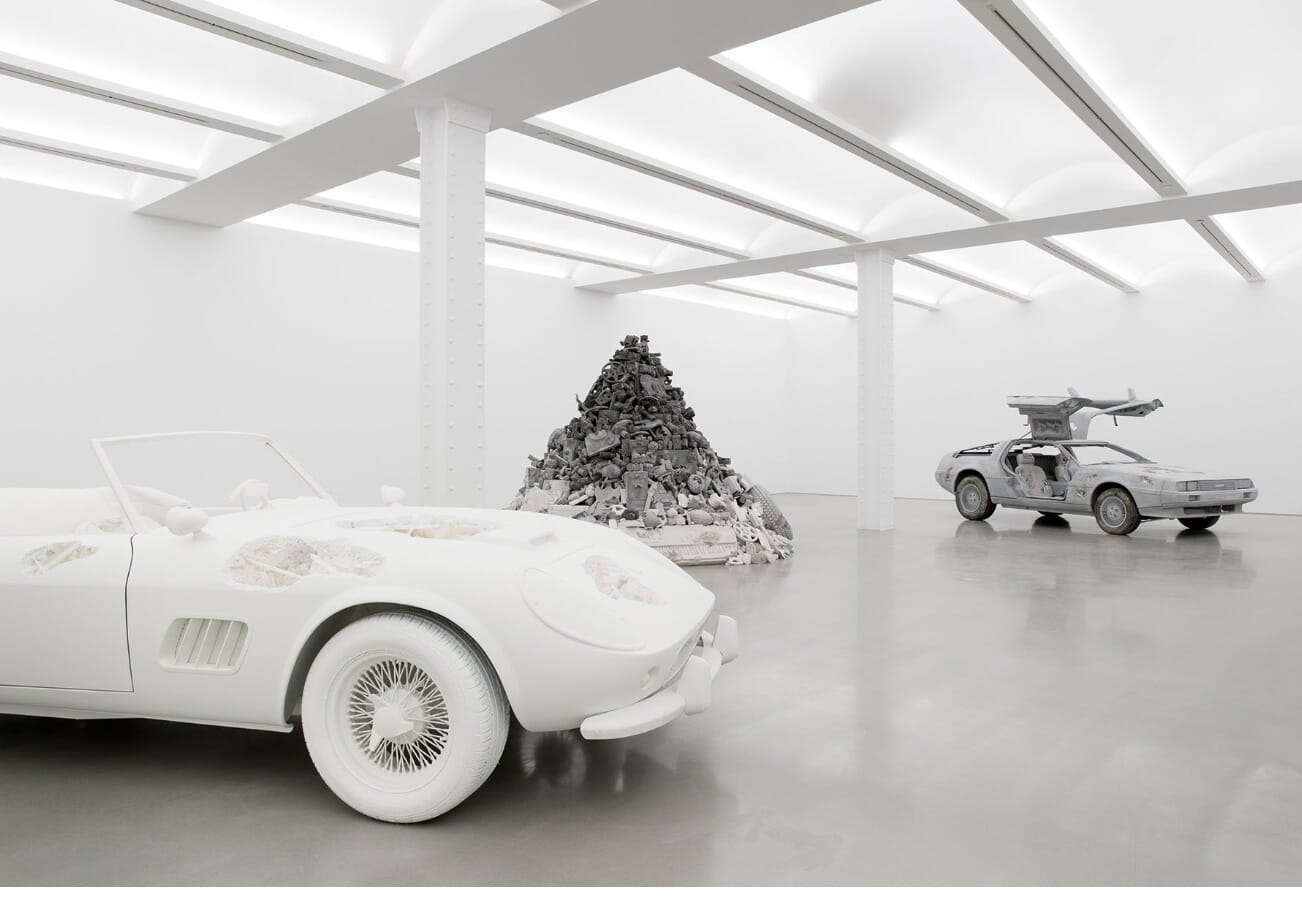 '3018' depicts a future which pits culture as we know it today as eroded, decaying and forgotten. The exhibition – Arsham's 15th with the gallery – is set in the year 3018 and it presents a temporary garage of modern objects that have fallen into obsolescence over time.
The exhibition of New York includes a variety of new work including a decaying 1981 DeLorean, similar to that of the time-travelling vehicle featured in Back To The Future and a 1961 Ferrari 250 GT California from Ferris Bueller's Day Off that is covered in crystal to exude an ashy grey aesthetic.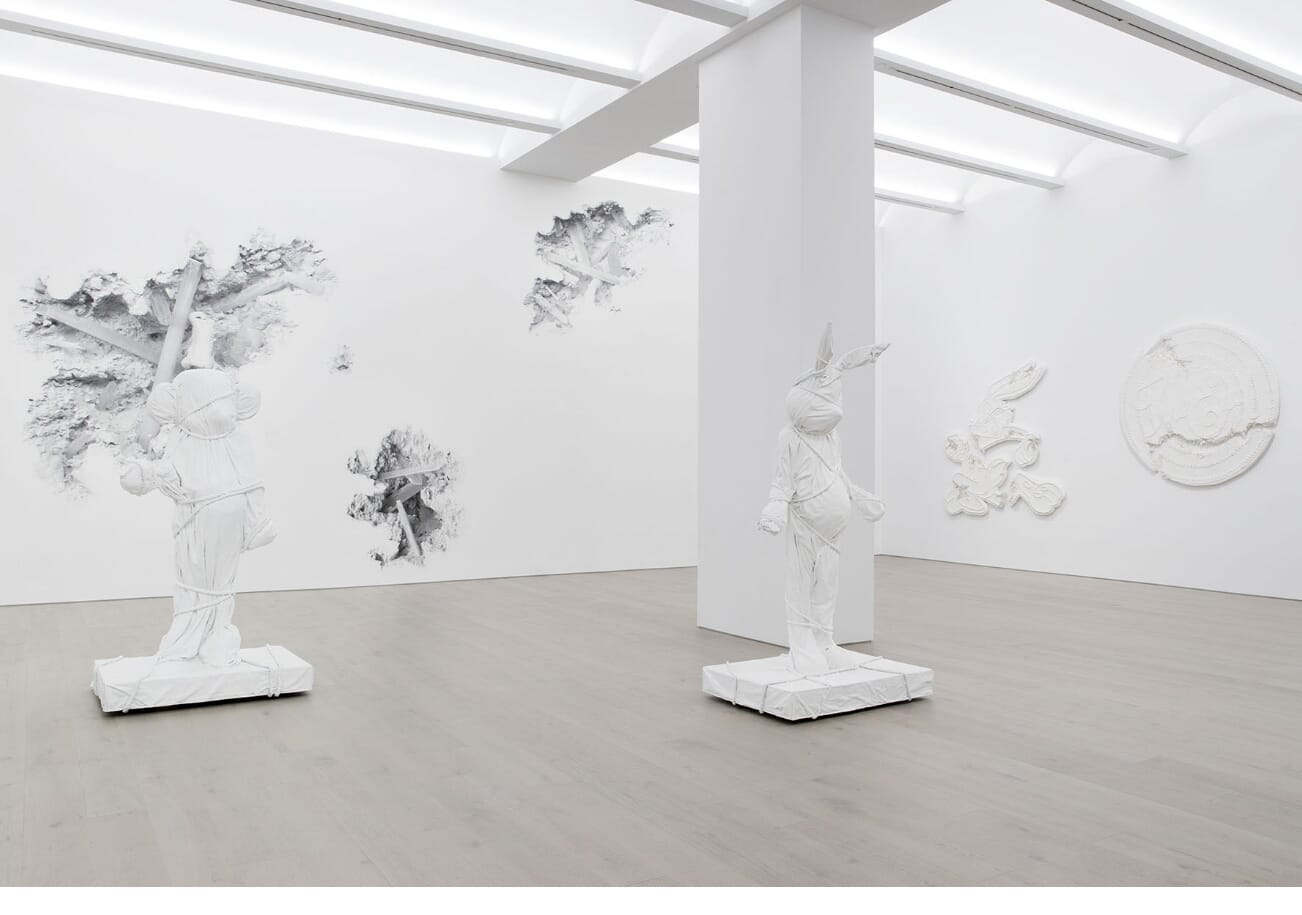 All of these cinematic icons are presented in a state of flux; decaying and eroding away with pieces of chassis corroding, revealing a core of volcanic ash, pyrite crystal, selenite and quartz. In signature style, Arsham casts all of his objects in geological materials that render them as extinct as they are recognisable.
Complementing these two new works is an installation called Welcome to the Future. It comprises a pile of junk-yard objects made volcanic ash, pyrite crystal, selenite, and quartz, which Arsham created for the gallery in 2015.
White sculptures made out of white hydrostone plaster are recognisable as cartoon characters – including a figure that resembles Mickey Mouse, a bunny and a teddy bear – covered in bags and bound by rope. The designs draw on American visual artist Man Ray's The Enigma of Isidore Ducasse, which was created in 1920 and involved a sewing machine covered in a blanket tied in string.
Elsehwhere, an entire wall of the exhibition space is also filled with more of Arsham's eroded aesthetic, as it reveals a broken wooden structure inside. The visual effect was achieved through an art technique created by trompe-l'oeil wallpaper designs that Arsham created with Brooklyn design studio Calico Wallpaper.
Where Can You See The Daniel Arsham 3018 Exhibition?
Daniel Arsham 3018 will be showing at the Galerie Perrotin in NYC, is open until October 21.
Galerie Perrotin
130 Orchard Street
New York, NY 10002
U.S.A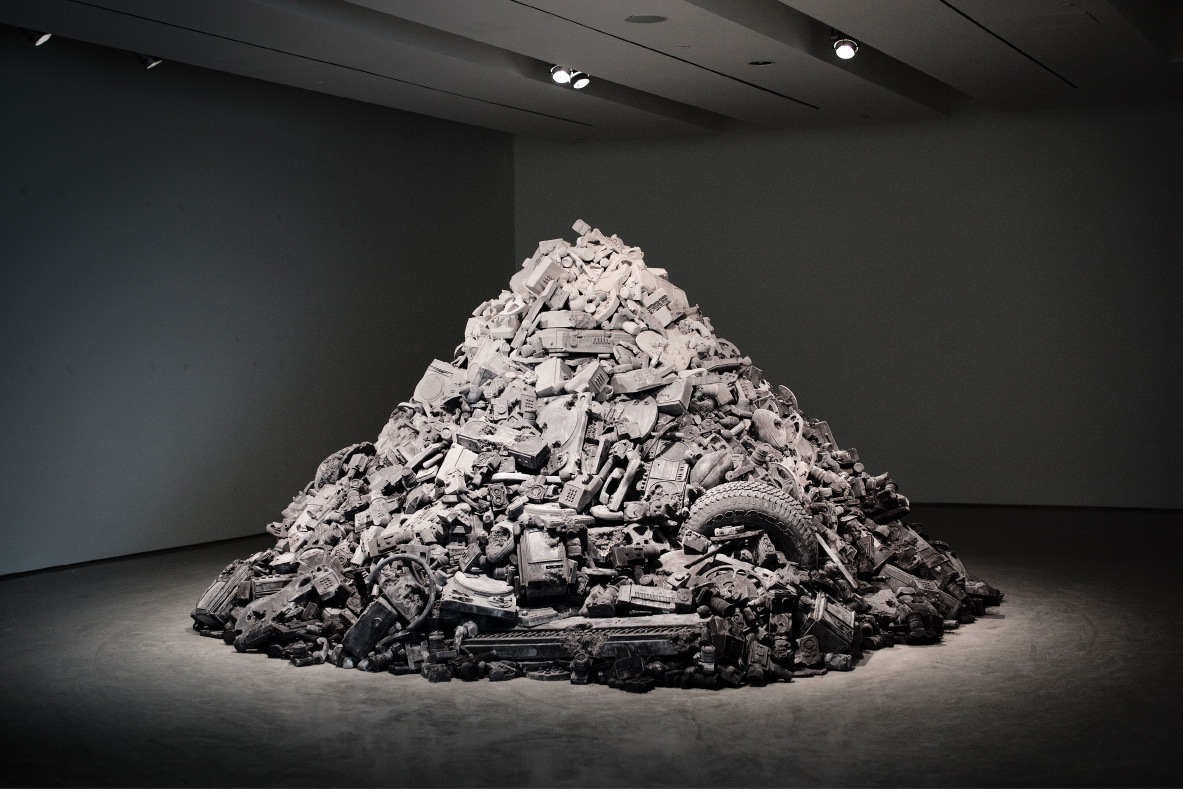 In other art news, check out how Danish artist Asmund Havesteen-Mikkelsen is responsible for drowning one of Le Corbusier's most famous buildings.