Let's address the obvious right away; it's hot. And, yes, London is in the midst of a heatwave. It's a heatwave by our standards anyway – as temperatures have stayed the right side of 25 degrees for over a week or so now, and they have been accompanied by the customary British complaints of just how unbearably hot it is. The problem, beyond the weather, is that it has caught many of us off-guard when it comes to what we should be wearing through the working week.
Wearing all-black in summer is definitely not appropriate and we don't condone it – but we will say that breaking up all-black with neutral colours and textures is the perfect working-week uniform. If you opt for light layers, more relaxed cuts and a variety of different textures then not only will you feel more comfortable – as you may not have veered too far away from your usual colour palette – but cultivated, too. The use of complementing neutral colours and subtle accessories will also make black appear considered rather than lazy, as well. If you don't believe us, scroll down to discover our latest Edit, a landmark number #50 in the series, of the best pieces to land on OPUMO this week, which make wearing black look free and easy.
Normally when mixing colours its best to go for a clear contrast, such as white and navy or green and beige, and the same can apply for black in the summer. And when it comes to wearing black, it pays to put extra emphasis on the way your clothes fit to add some depth and creativity to the outfit. Timothy Everest's Lightweight Cashmere Jumper is both incredibly comfortable and surprisingly lightweight, courtesy of its fine gauge knit construction. But what really elevates it above the ordinary is its considered, sports-inspired details, including the V-neck collar and ribbed cuff. But you might not immediately describe it as 'summer-appropriate'. Which is where Kestin Hare's Stone Munro Trousers come in. Because they're rendered in lightweight cotton, the trousers provide added comfort and they sit a little bit more smoothly on the leg for a slightly wider fit. Most importantly of all, the light stone colour hue helps to dismiss the density of the black sweater, while the permanent turn-up at the hem adds heft and shape to the look.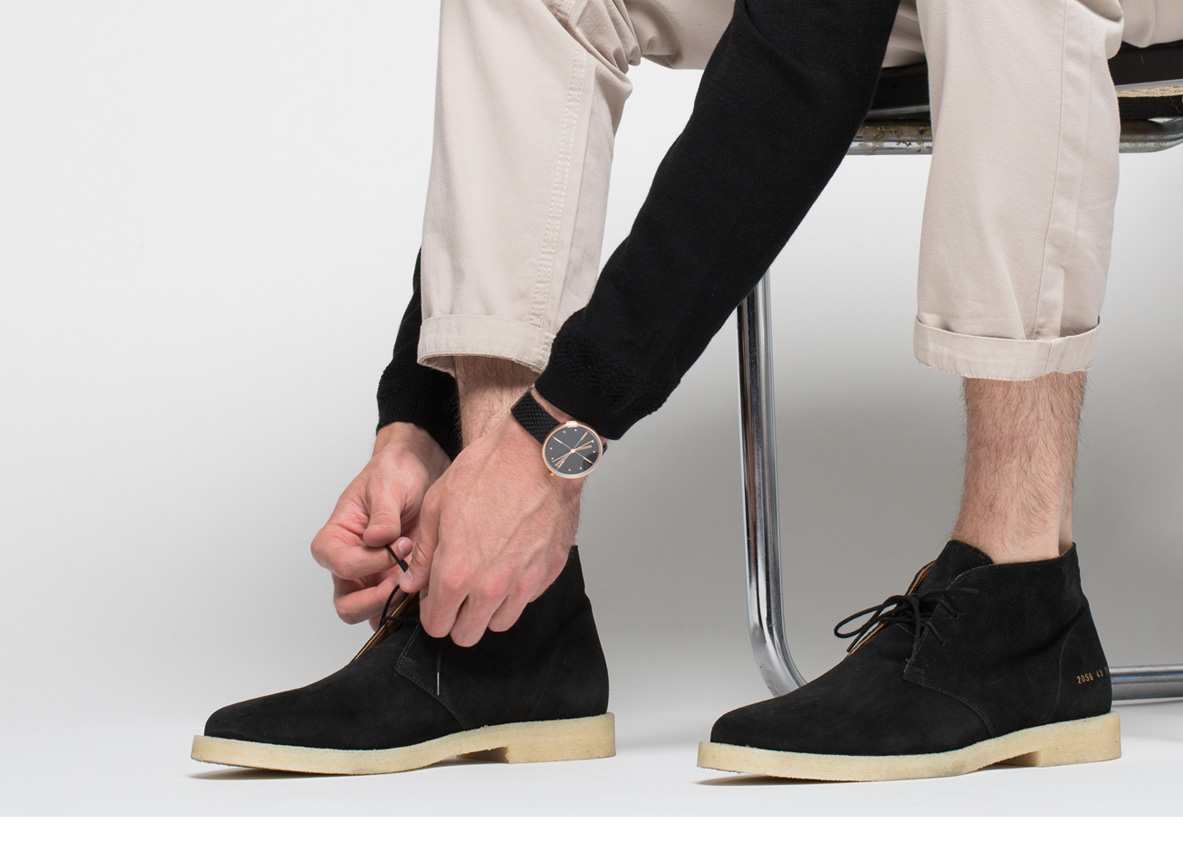 Two of the biggest footwear trends of the season are crepe soles and relaxed suede uppers, and both styles lend themselves particularly well to stand-out against a black colour hue. If you're wanting to look a little bit smarter during the week, then try a pair of black suede Chukka Boots from Common Projects. Designed as a more laid back alternative to the traditional desert boot – these Common Projects Chukka Boots are a great way to take the casual edge off any summer ensemble as the strong, textured suede uppers will pair particularly well with the slightly-oversized trousers and a simple black sweat, to ensure you look sophisticated, not severe in the summer sun.
When wearing black, leave bright complementing colours at home and incorporate slightly lighter shades when it comes to your accessories – try the YMC Yellow Crystal Bubs Sunglasses and the AARK Collective Rose Gold Dome Watch, as deployed here – for a little added character.