We all have our own opinions on school. Some of us would have enjoyed it and felt aggrieved to leave, while others would've been pleased to see the back of the school gates at the age of 16. Whatever side of the 'school is the happiest years of your life' debate that you fall on, it doesn't matter. As we suspect that everyone would go back to school if it meant you could live in Eklund Terbeek's latest interior transformation.
Acclaimed Dutch practice Eklund Terbeek combines an array of contemporary and original features in this loft apartment, which sits inside an old schoolhouse in Rotterdam, The Netherlands. The beautifully ornate building – which dates back to 1912 – was converted into six apartments after receiving funding from a group of private investors. Local architecture practice Eklund Terbeek were then invited to lead the renovation project, and were responsible for transforming the interior from black boards and desks into a cultured and authentic interior.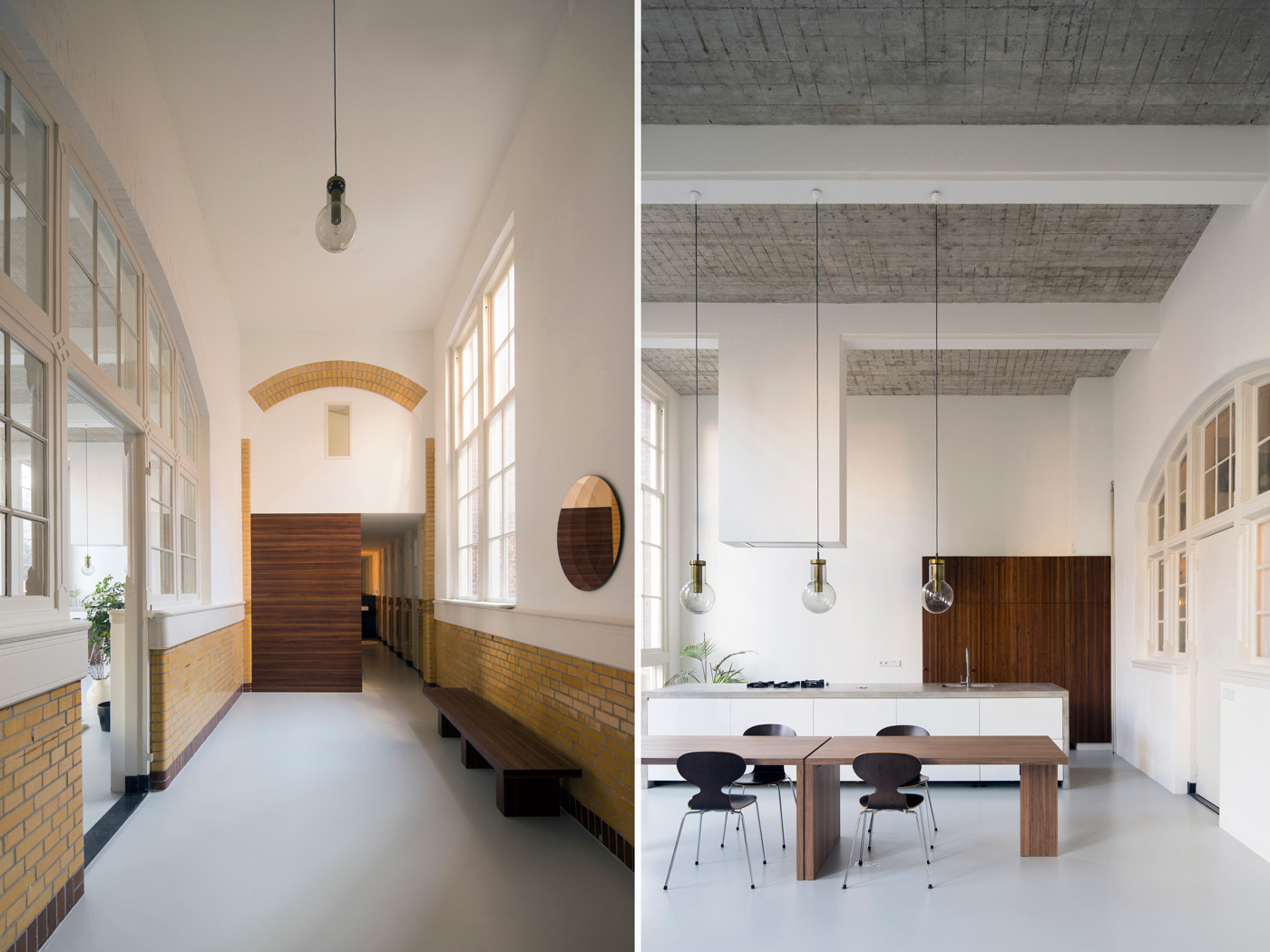 "One of the main challenges was to create apartments that comply with current regulations and contain all contemporary comforts, without compromising the authentic character and detailing," Eklund Terbeek's co-founder, Jenny Eklund, told Dezeen.
The loft apartment consists of two former classrooms and the adjacent hallway zone, which have been knocked through to form one large, loft-like living area. The ceiling height of five metres tall offered possibilities for creating new intermediate floors and intimate areas, while the characteristic mushroom-shaped windows between the classroom and corridor create unique sightlines and increase the sense of spatiality and light.
A row of sash windows and whitewashed walls help the space to feel light and airy, while concrete has been left exposed on the ceiling to create contrast with the stark white walls. In the living space, a white box is suspended from the ceiling, creating a lower and more intimate sitting area underneath. Inside this box, the workspace is situated, which can be reached by a stairway hidden behind the large bookshelf. A small opening provides an overview of the kitchen and dining area underneath. The kitchen, mainly consisting of a large concrete island and an oversized extractor hood, suspended from one of the loadbearing beams, is placed in the high part at the opposite end of the living space.
The entire interior of the apartment merges old and new, contemporary and traditional and rough and balanced into a balanced, multi-functional space. But, most impressively, when possible the original details of the school have been preserved. Walls and loadbearing beams are rendered white and the rough concrete ceiling is exposed to add contrast and texture and increase spatiality.
Take a look around the school conversion in the image gallery above and be sure to check out more spectacular projects by Eklund Terbeek on their website.