Forét was founded in 2014 by childhood friends Jesper and Jeppe who reminisced about their Danish childhood adventures. The label exists to provide slow goods for the journey. That means that Forét wants to inspire its wearer to go offline, slow down and discover the outdoors again. Jeppe and Jesper achieve this goal by creating a collection that uses high-quality fabrics, functional pieces and timeless style.
There's more to this brand than just trying to get you out of the house and exploring, Forét understands that a brand based around nature needs to show its commitment in a tangible sense. That's why Forét uses responsible materials, a transparent supply chain and creates clothes that last to do its bit for the environment.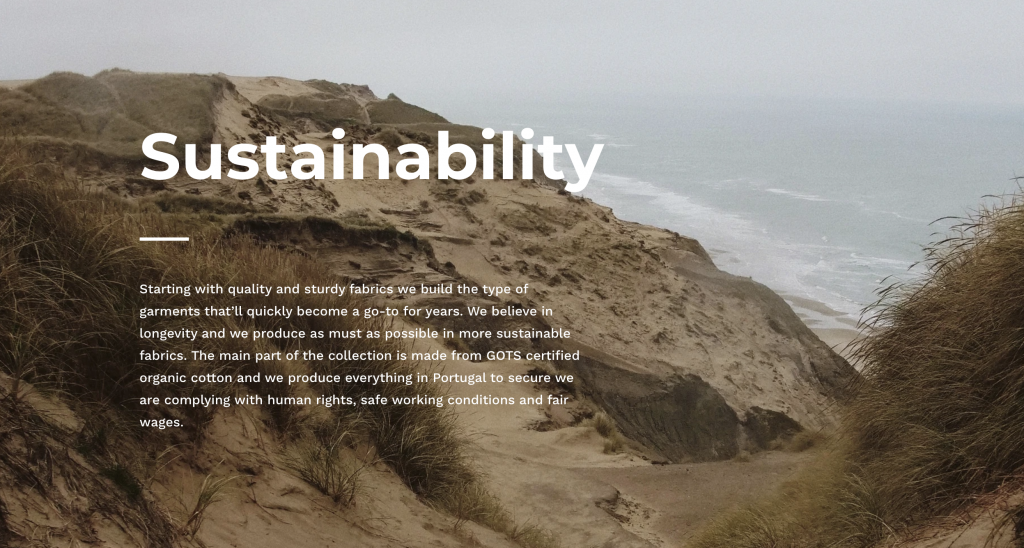 Forét materials
Almost all Forét items are made using GOTS-certified cottons, take the BEAR shirt for example. This best-selling men's Oxford shirt is crafted from extremely durable and plain-woven cotton canvas which is usually used for items like boat sails, tents, marquees and backpacks. What does GOTS-certified really mean though?
Global Organic Textile Standard
The Global Organic Textile Standard requires cotton that contains at least 70% organic fibres. That limits the use of toxic bleaches, dyes and other chemicals during production and processing. So, your Forét BEAR shirt:
Is free from toxic pesticides and chemicals.
Consumes less water than average cotton.
Is the result more biologically diverse farming.
Is socially responsible in terms of production.
GOTS-certified materials are so effective because they tackle the three main pillars of sustainability: environmental, social and economic. 
Better Cotton Initiative
Every GOTS-certified design is part of a larger scheme called the Better Cotton Initiative. This is the largest cotton sustainability programme in the world. It presents a functioning approach to large-scale sustainable cotton production. The BCI not only promotes the GOTS, but also OEKO-TEX.
OEKO-TEX materials
OEKO-TEX ensures that every component in the fabric used by Forét has been tested for harmful substances and therefore is harmless in human ecological terms. The test criteria for OEKO-TEX materials are globally standardised and are updated at least once a year on the basis of new scientific information or statutory requirements. OEKO-TEX is a far more comprehensive standard than the legislation in Denmark and the EU, meaning that every Forét collection goes above and beyond the call of duty when it comes to sustainability. 
---
---
Supply chain
Most of Forét's Spring/Summer 2020 collection is produced in Portugal. Portugal is known for artisanal craftsmanship of some of the world's best materials as well as respecting work-conditions legislation thanks to European Union Labour Law which focuses on fair employment conditions and informing and consulting workers. 
Forét forges long-lasting relationships with its suppliers and manufacturers to ensure that it is partnering with businesses that share a passion to preserve the environment. Jeppe and Jesper are in weekly contact with their suppliers and even visit them twice a year to inspect standards.
Eco-friendly packaging
When you buy a new Forét men's Oxford shirt or a pair of lightweight men's chinos, it'll arrive in sustainable packing made of recycled materials.
Hang tags: All hang tags are made from recycled paper.
Poly bags: All poly bags are made from recycled plastic.
Poly mailers: The poly mailers used by Forét are also made from recycled plastic. 
Durability
One of the key aspects to sustainable clothing is not the materials that go into the pieces or the packaging or the supply chain, but the clothing itself. In 2020, the lifespan of clothing is decreasing rapidly, some of us only keep an item of clothing for a matter of months. On the flip side, we're buying more clothing and using more resources than ever before. This is an unsustainable loop. That's why it's essential to fill your wardrobe with durable pieces. 
Forét develops products that stand the test of time, reinterpreting vintage styles like men's chore jackets and minimal crewneck sweaters to be sure that they don't go out of style any time soon. By focusing on merging practicality with style, Forét looks to provide clothing that will accompany you through any adventure. Most noticeably, heavyweight, enduring fabrics fill out the collection, so no matter what your journey, Forét keeps going year after year.
Key pieces
Shop all Forét clothing.
Building your spring wardrobe means reintegrating colour, see how to reintroduce colour for spring.
---
---