In the modern day, new design studios appear every day. Wider access to tools – whether digital or physical – and better teaching methods mean that the days of generational family studios are nearing their end. We're not complaining, we love to see the ways in which design moves over time, constantly evolving. That said, we also love to see a company with a long, storied history survive in the modern day. Fritz Hansen is the perfect example of such a company.
Its history beginning in 1872, Fritz Hansen was founded when a cabinet-maker (we'll let you guess his name) from Nakskov, gained a trade license in Copenhagen. Alongside his son, Christian Hansen, Fritz established a popular design studio which has since furnished many of Copenhagen's most illustrious interiors: Christiansborg Palace, The University Library, Copenhagen City Hall, and The Supreme Court amongst others. Few companies last more than a century, and even fewer thrive for more than a century – Fritz Hansen has used the experience gained over its long life to remain at the forefront of modern design throughout the constant movement and evolution. Many think of the icon that is Fritz Hansen Egg Chair as the embodiment of the studio, we agree to an extent, but we think there's something to be said for the lighting, too.
+
White Concert Pendant Lamp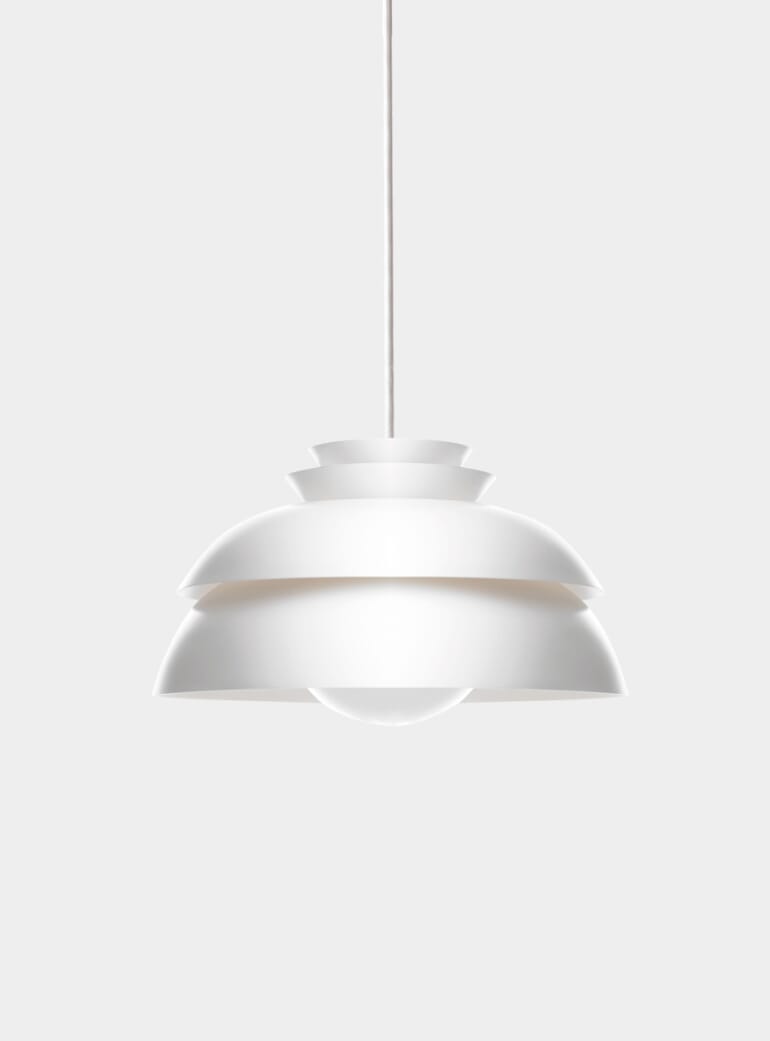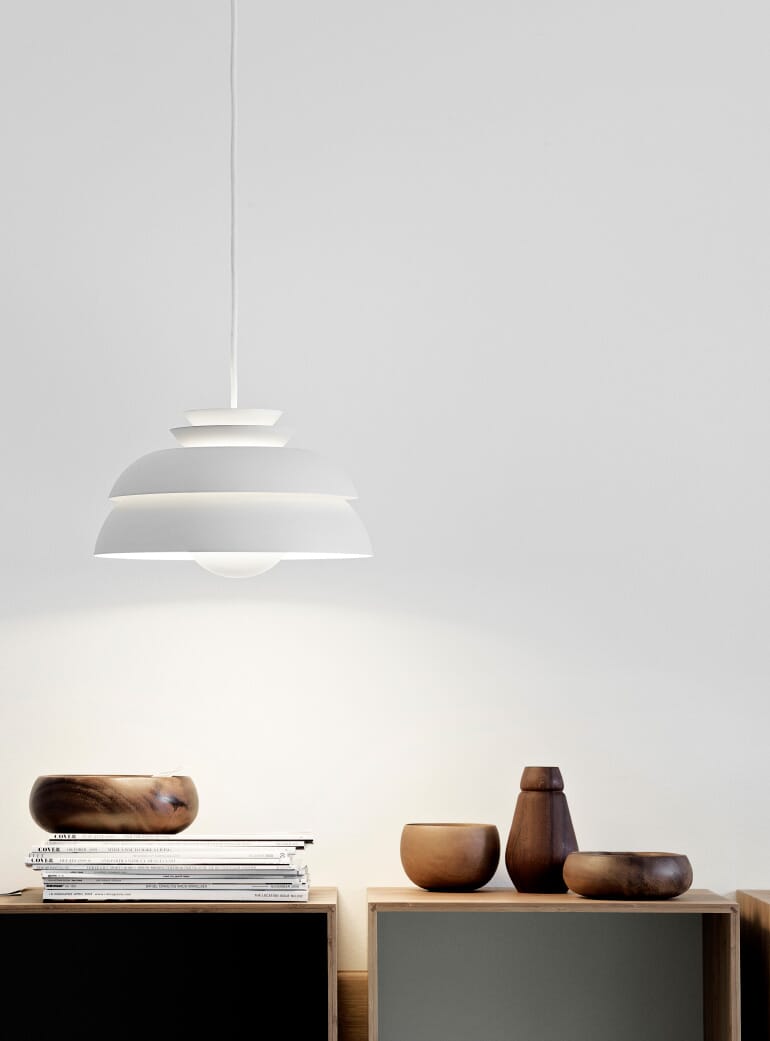 White Concert Pendant Lamp
+
Dark Green Kaiser Idell Desk Lamp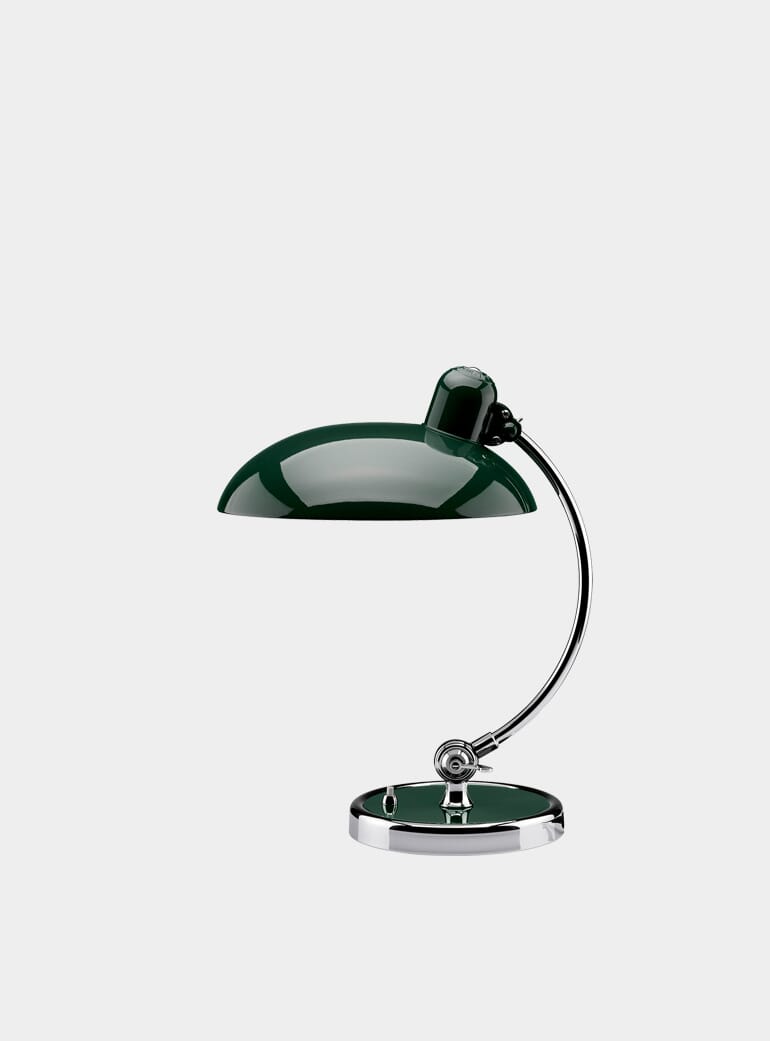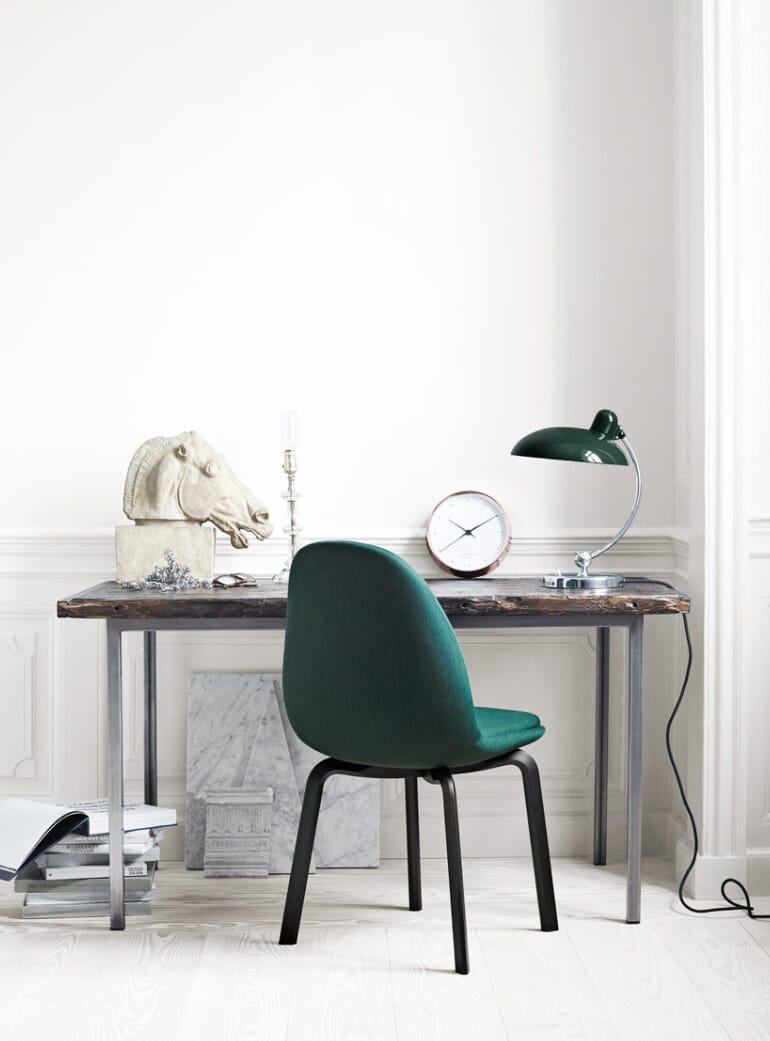 Dark Green Kaiser Idell Desk Lamp
Fritz Hansen Desk Lamps
Fritz Hansen desk lamps, like the studio's whole catalogue, come in many different styles, shapes and sizes. Take the Tall White Cross-Plex Desk Lamp for example – the minimalist lamp stands on a base formed of two crossing pieces of plexiglass. Designed by architect Bodil Kjær, the lamp is instilled with architectural elements. The clean, straight lines of the base leave just enough space for the cord to climb the centre to the bulb. On the other hand, Fritz Hansen's Dark Green Kaiser Idell Desk Lamp is a much older design and it shows. The retro, sweeping shapes lead into one another fluidly. As opposed to the hard exactitude of Cross-Plex, Kaiser Idell's soft curves lend rooms a sense of calm.
Fritz Hansen Wall Lamps
Closely related to our previous selection, the Matt Black Kaiser Idell Wall Lamp features a smaller shade that extends from the wall on a scissor mechanism. Exemplifying the brand's dedication to premium craftsmanship that doesn't skimp out on style, this scissor lamp boasts a sophisticated matte black finish and is constructed using the best materials.
Fritz Hansen Pendant Lamps
10 points for those who can guess which famous landmark Jorn Utzon – the designer of the White Concert Pendant Lamp – designed? Correct, the Sydney Opera House, of course. Exhibiting the same ethereal unfurling of layers as the opera house, this lamp softens light with its four shades and parabola of drawn steel. The even light is distributed between shades, the bottom shade casting light into the parabola which prevents glare regardless of the lamp's height. In stark contrast to the seeming weightlessness of Utzon's lamp, the Black Suspence P2 Pendant Lamp's substantial wooden black form mimics the look of traditional bell weights.
Most striking about each of our selections is that, regardless of their disparate immediate appearances, they are linked by underlying values. While it's difficult to determine exactly what connects each design, we're pretty sure it comes with over a century of experience and learning, watching design develop and fostering the best parts.
Shop all Fritz Hansen at OPUMO.
Look to new arrival Gobo Lights for lighting that is decidedly modern.