Fitjar Islands is a brand that is truly a product of its environment. Its founder, Jorunn Hernes, is inspired by the striking natural beauty and clear waters of western Norway's windswept fjords. It's in the midst of this wild context that the Fitjar Islands Foundry can be found. Artisanal soaps and grooming products are packaged every day and sent from this fantastical location to the rest of the world to elevate our bathroom routines.
+
Folgefonn Shaving Soap + Moisturiser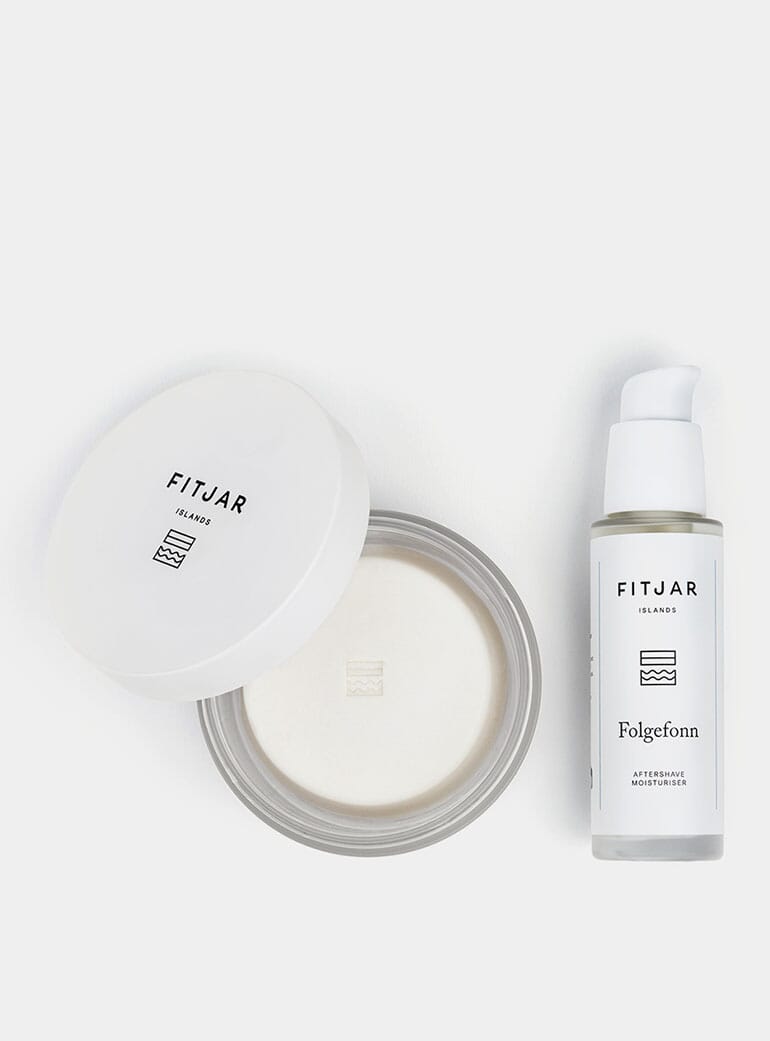 Folgefonn Shaving Soap + Moisturiser
It's not only the visual beauty of these islands that captured the imagination of Hernes. As there's little human activity in the area owed to the harsh climate, the vegetation dominates the landscape. The lack of human interaction has left the countryside completely untamed, shaped only by nature. Life on the islands is constantly changing to the season, making the Fitjar islands a natural and inspiring place to begin a company showcasing the power of natural ingredients. Fitjar Islands products contain no parabens, no mineral oils or harsh ingredients, the majority of the range is vegan-friendly and absolutely nothing is tested on animals.
Bring a product of the rugged Nordic landscape into your home. With Fitjar Islands' eclectic range it's easy to find a way to update your grooming experience, here are the three products that have changed our routines.
Perhaps it's more common nowadays to use an electric razor, but we think there's something to be said for the art of the wet shave. The tactile aspect of wet shaving is one of its great attractions as well as the precision. The Jumpstart Set is, as the name suggests, an all-in-one set to kickstart your journey to wet shave perfection. Including a classic razor, 10 razor blades, a vegan shaving brush and a 150ml jar of Havn shaving cream, it contains every step of the routine. The gentle herbal blend of smooth cedar and blooming heather comes direct from the wild landscapes of Fitjar.
It becomes more and more important to moisturise as we move into the colder months. This doesn't just mean our faces, although this is important, the rest of the body needs it too. This hand & body lotion is scented with juniper and fresh cut lumber which gives the lotion a woody base with refreshing top notes. High quality ingredients ensure a non-oily feel and a discrete scent.
We know what you're thinking: this is just our last choice in a different container. It is indeed. We just wanted to show you that this brand is doing their bit to combat the idea of single-use plastics. Instead of throwing out the old and buying a whole new bottle of your luxurious Fjellheim Hand & Body Lotion, just opt for the eco-friendly refill, from which you'll get two new lives for your new favourite lotion.
Shop all Fitjar Islands at OPUMO.
Vielo follows design values of simplicity and beauty in their fragrances, ingredients and packaging. Find out more about the brand with this guide.