Cashmere has always been synonymous with luxury. The high quality fabric is the king of the knitwear world, beloved for its unparalleled warmth, softness and durability. We all have a favourite cashmere sweater or hoodie that we whip out every winter. But have you ever stopped to wonder just what it is that makes this fine material just so special?
We enlisted the help of Luca Faloni, esteemed knitwear craftsman and founder of his eponymous menswear label, to give us the full lowdown on cashmere, from its key characteristics to how to care for it.
What is cashmere?
Cashmere comes from the fibres of cashmere goats, found predominantly in Mongolia and China. The goats' fibres are collected and divided into different quality ranges, based on thickness, length and colour, before being dyed and spun into yarns. The reason cashmere tends to be more costly than other yarns is due to the laborious process involved in producing it, as well as its scarcity: It takes at least two years for a single cashmere goat to generate enough fibres for one jumper.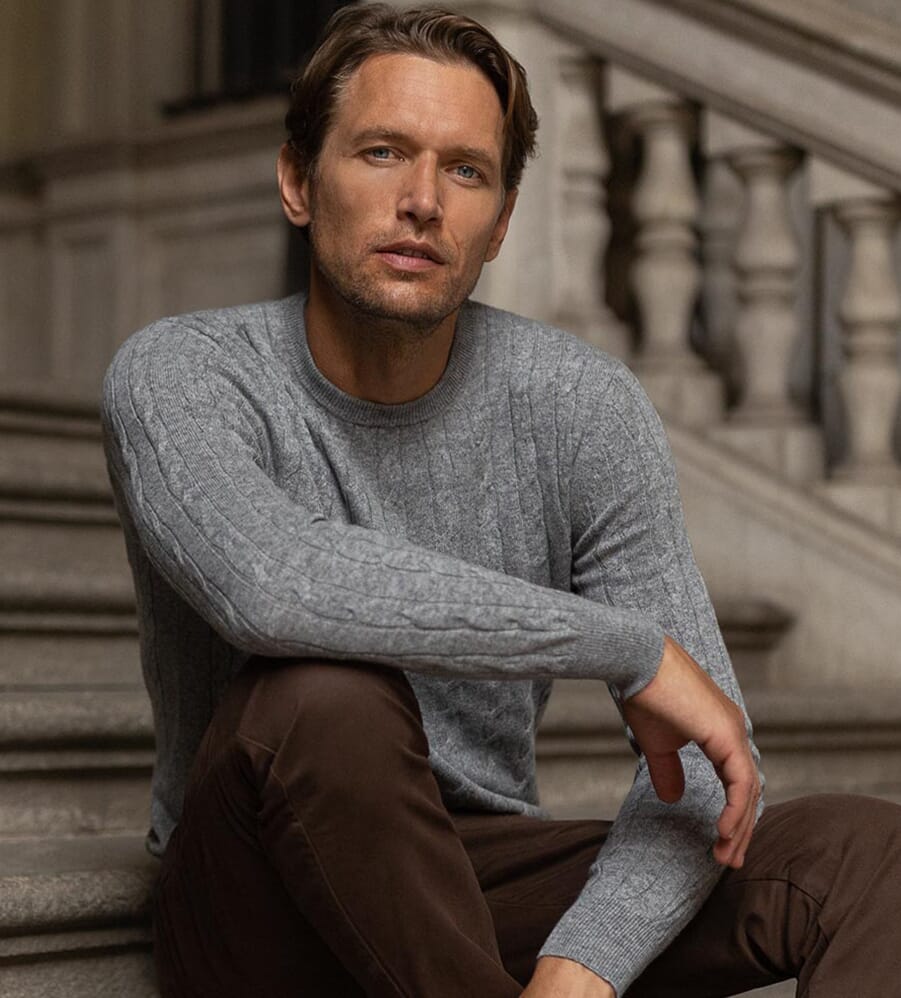 Why choose cashmere?
Cashmere is certainly a superior type of wool, but why? Here are just some of the qualities that set it apart from standard wool.
Warmth: The insulation capacity of cashmere is three times that of normal wool, so it will regulate your body temperature and keep you warm.
Softness: The uniquely small diameter of the fibres lends cashmere an ultra fine texture that makes it feel super soft (and never scratchy) against the skin.
Shape resilience: High quality cashmere doesn't shrink when washed correctly, and will retain shape better than standard wool.
Durability: When cared for correctly, a high quality cashmere jumper can last up to ten years, stepping up the longevity of your wardrobe.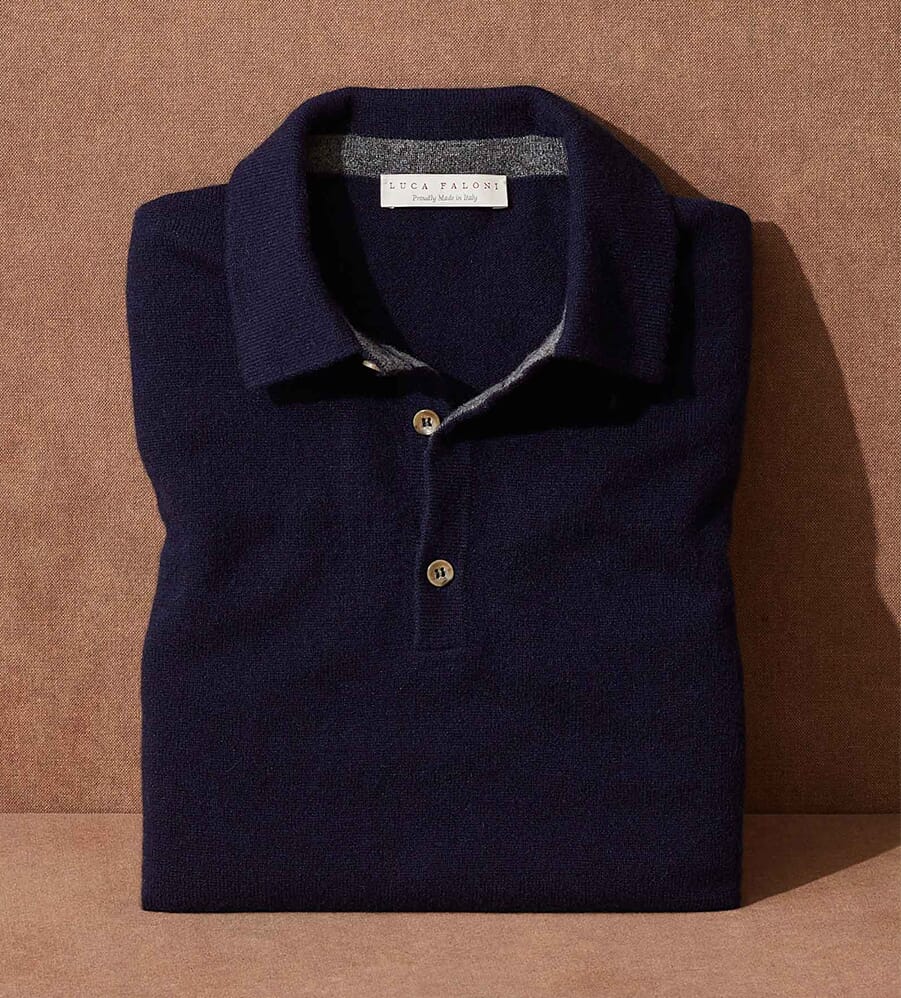 What to look for
When investing in cashmere, it's imperative that you check the label in order to ensure that you're buying 100% cashmere and not a cheap blend. Not all cashmere is equal: Fibre lengths range from 28 to 42mm, and the longer the fibre, the more luxurious. When it comes to thickness, the diameter of fibres can range from 15 to 19 micron – the lower the thickness, the softer the yarn will be. Be sure to look out for two-ply cashmere garments, which means two threads of yarn have been twisted together to give a more resistant, softer and warmer knit.
Luca Faloni uses 100% two ply pure cashmere from Cariaggi, a supplier with 60 years of experience in spinning yarns. Its fibres reach an average length of 40 mm and a finesse with a micron of 15.5, cementing the label as a leader in luxury cashmere.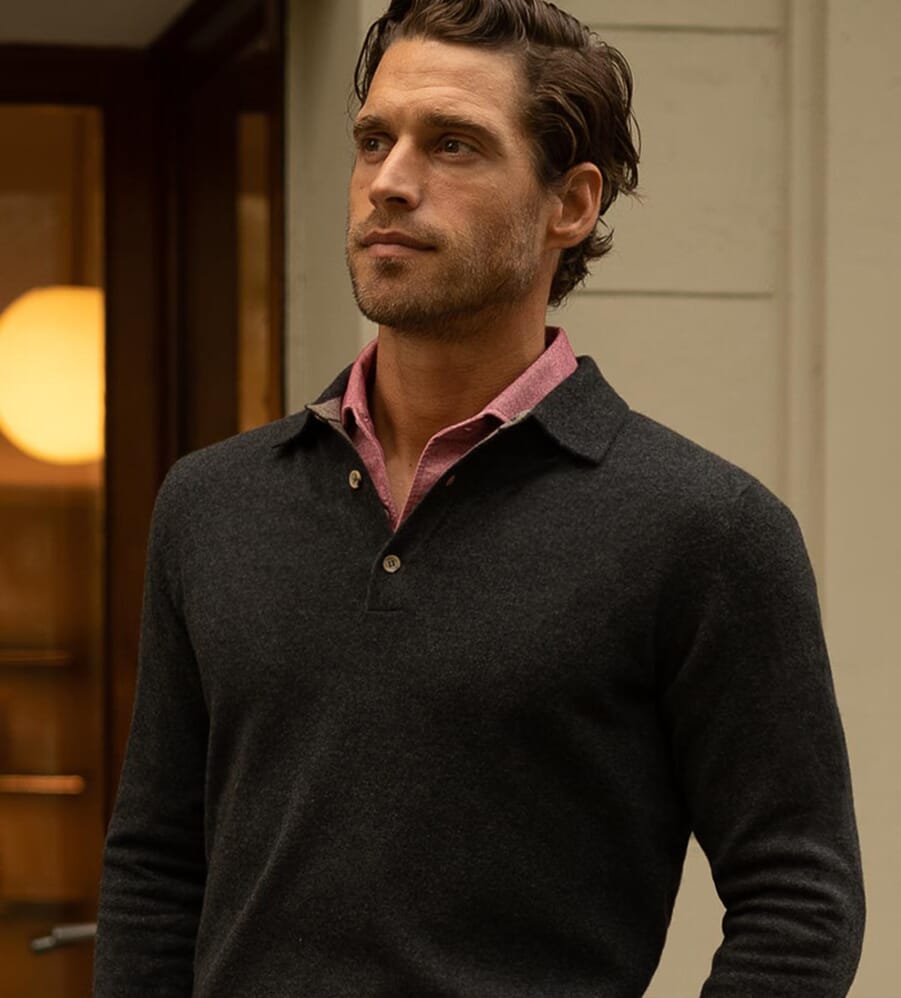 How to care for your cashmere
In order to get the most out of your cashmere and see it stand the test of time, it pays to look after it properly. Here are Luca Faloni's top tips for caring for your cashmere:
Washing:
Hand-wash with cool water (30°C) for best results
Always turn the garment inside out before washing
Use a delicate washing detergent or specialist cashmere wool wash
You can also use baby shampoo to give extra softness and maintain a soft and fluffy texture
Do not bleach
Drying:
Do not wring the garment – remove excess water by gently pressing with a towel
Lay the garment on a flat surface and stretch it while damp to its original shape
Never hang cashmere garments to dry, they will stretch and lose shape
Let it dry at room temperature over an airer, avoiding sunlight
Iron at low temperature, using a pressing cloth as a divider; never iron directly on to the fabric
Maintenance and storage
Always fold your garments when storing to avoid them losing shape
When not using for an extended period (i.e. during summer), place inside a dust bag or sealable garment container, with lavender or moth balls inside to protect from moths
Avoid pulling at loose yarn and remove any pilling with a cashmere comb or shaving machine.
---
---
Shop all Luca Faloni at OPUMO.
Want more knitwear? Here are some of our favourite knits this season.
---
---