Portuguese architecture has become a focal point of a lot of noteworthy projects of late, and the Rua Rodrigo da Fonseca transformation at the hands of Aboim Inglez Arquitectos is the latest product of the country's impressive array of interior design.
The original dimensions of this apartment in Lisbon inspired local architectural studio, Aboim Inglez Arquitectos to make the most of its surface. Standing at just thirty-three metres long and seven metres wide, the space had to be completely redefined in order to bring natural light into all of the rooms.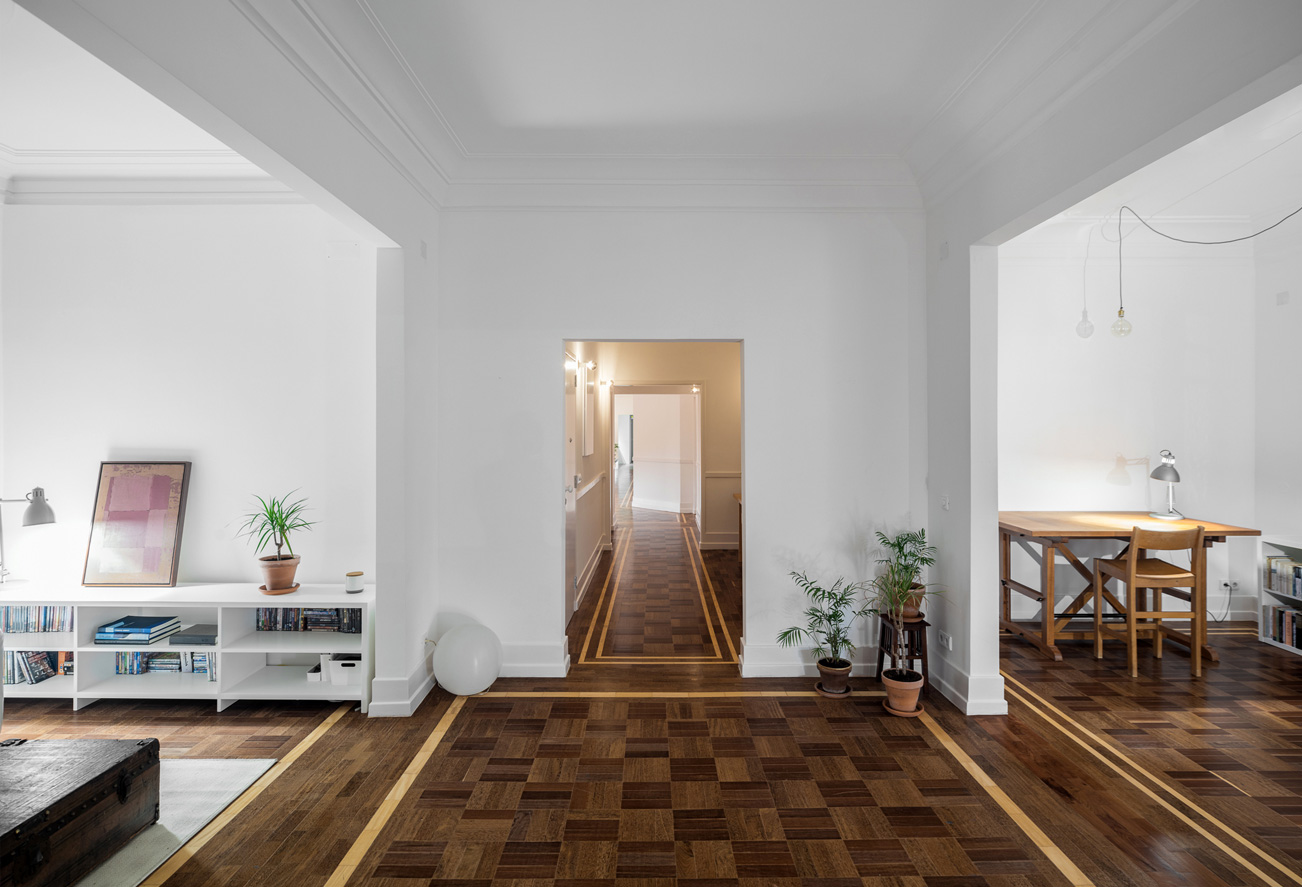 In the process of stripping back the interior of Rua Rodrigo da Fonseca, the architects revealed the existing hardwood parquet floors which inadvertently became the focal point of entire the design. They restored the original wooden floor where possible, and redesigned and replaced it in certain areas where it was missing. The parquets have different tones and are arranged to create alternating light and dark squares, creating a variety of patterns bound by strips of light wooden boards that trace the outline of areas.
"The concept of the pavement design is original from 1938," Aboim Inglez Arquitectos explained to Dezeen. "We believe it was used to stress the independence of the rooms and circulation areas and at the same time acting as the element that unifies the whole house."
The wooden panelling acts as a base that adds a retro feel to the entire interior. Living areas were organised to face the streets, while the kitchen and dining rooms were relocated to the opposite site, overlooking the more private courtyard. Complemented with minimalist wooden furniture and industrial elements such as the stark concrete kitchen floor, the apartment marries the future and the past and proves the beautiful potential of vintage interior design.