Seeing as the majority of our summer stock has now landed online, and with many of you set to jet off on holiday in the next couple of months, we thought now was the right time to put together some of our favourite pieces into some sort of easy-to-digest and easy-to-wear holiday outfit. So here it is, the 'How To Look Good On Holiday in 2019 Edit #1', featuring the latest releases from Garrett Leight, Garbstore, Alex Orso and more.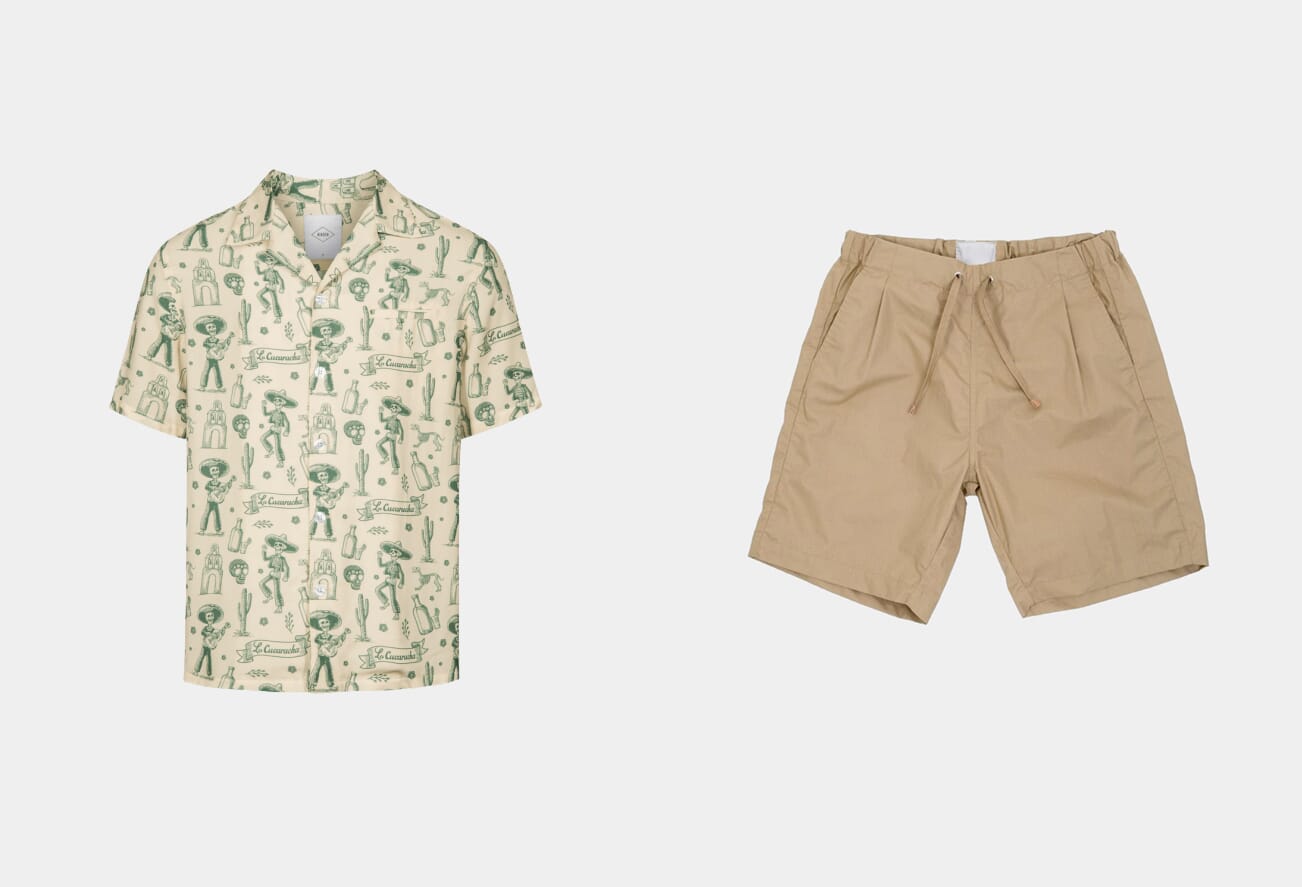 It needn't be all boat shoes and slip on sneakers on holiday, thanks to brands such as Buttero who has released a premium, padded interpretation of the brand's classic Tanino Low silhouette. The knock-on effect of such style innovations is that the classic silhouette is now looking a lot more practical and comfortable to wear through summer thanks to its padded collar, supple leather uppers and tonal aesthetic. It pretty much nails them on as the ultimate smart-casual shoe to be wearing this summer.
The Cuban collar, camp collar, bowling shirt, call it what you like; the relaxed shirt offers the best of both worlds. It can act as a neat, considered layer under a lightweight jacket when it comes to a summer evening and better still, it can offer a bit of pattern and personality when worn on its own. This La Cucuaracha pattern shirt from Nikben – the Swedish brand best known for its signature range of statement swim shorts – has a slim-fit profile and a relatively low-key Mexican-inspired design that keeps things interesting without going overboard.
You'll probably be wearing swim shorts all day long, which is fair, especially as a lot of swim shorts can operate from the beach to the bar during the day - if you don't believe us check out the 5 swim shorts you need to be wearing this summer. Anyway, you can't find yourself wearing swim shorts in the evening which is why you need to opt for a versatile, fairly tailored pair such as these Garbstore Tan Recliner Shorts. The best thing, though, beyond the light tan colour hue, is the fact that the shorts come with an elasticated waistband which means they are just as comfortable as the swim shorts you'll be wearing during the day, although no one will notice a thing.
The moment you actually gear yourself up to buying a new pair of sunglasses is the very moment that summer arrives. As in right this very second. If you're looking for an understated, easy-to-wear, incredibly well-crafted pair of sunglasses then these Calabar Sunglasses from Garrett Leight are a real winner. The retro wayfarer silhouette has been updated with a new temple design inspired by 1950s car fins, alongside prominent plaques and semi-flat lenses.
The addition of a simple silver pendant to your summer suitcase is an easy one to explain, that's because necklaces are so easy to wear. Stick on an Alex Orso necklace over a bold print shirt or even a classic plain t-shirt and the effects are easy to see. The front of the two washers on this exclusive to OPUMO Alex Orso Pendant has a high polish silver finish while the back surface has a high shine rhodium finish. But, best of all, Alex Orso chains are sold to your preferred chain length. So, there's no excuses, really.

Gear up for summer with all the latest releases at OPUMO.