The adoring eyes of Instagram has grown the platform to become a substantial online hub for men's style. The success of which has elevated certain users into the ultimate portrayers of the aspired men's lifestyle. None more so than Fredrik Risvik, who's clean monochrome colour palette across wardrobe and home interior alike, has made him a creditor in the expanding Scandinavian influence on the modern man's style.
OPUMO sat down with Fredrik for an exclusive interview about his elusive style; ranging from an in depth insight into his Scandinavian abode to how the ideal aesthetic can be so easily achieved.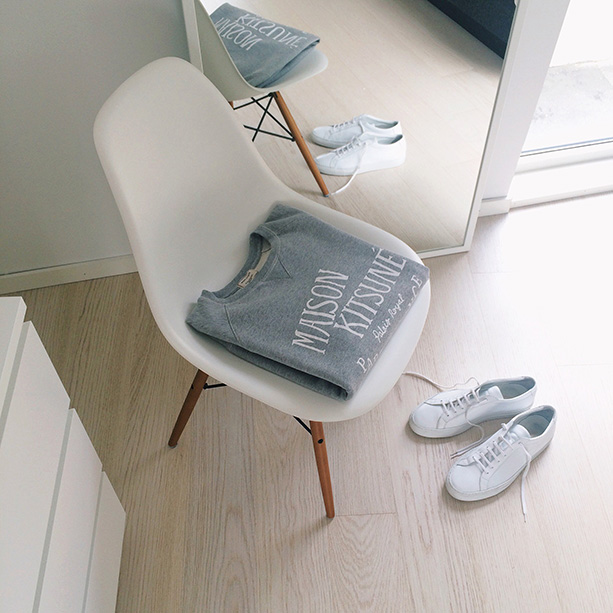 Your home has been described as clean, contemporary minimalism – But how would you describe your home aesthetic? 
It's the surroundings I feel comfortable in. Minimalistic, organised, thought-through, and naturally conceived.  My home is the result of my situation in life right now.
Where did you find your inspiration to create such a clean, minimalist interior?
Interior design is something I've always had a great interest in, so when I got my own place it meant I could turn my thoughts into reality. I always buy piece for piece depending on what I like and I don't consider whether they will all be a good fit together. As for me it's more about the feeling I get when looking at each individual piece, they all have a personal story. And as for inspiration, I mostly receive it from a good feeling, like looking at something well made, It could be a sweater for instance. I want people to have that same good feeling and relax when visiting my home.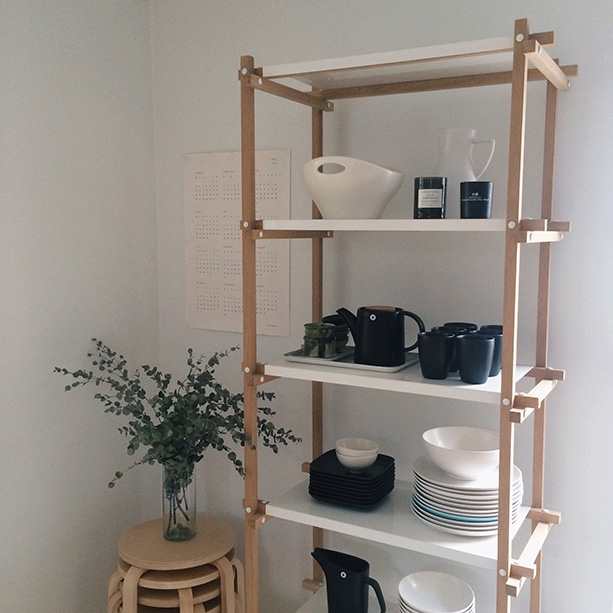 There is a strong Scandinavian style across your home of course, and as everyone knows Scandinavian design and innovation is taking over right now; why do you think this is?
For us living in Scandinavia this has been around us at all times, as these designs are very often old Danish classics. So with our generation and the clothing brands we've seen pop up over the last years, a lot of them use these furniture choices in their own stores, lookbooks, showrooms, in collaborations and so on. This is a result of the people behind the brands getting a bit older and finding new interests and inspirations. So as a result we see these influences incorporated within the brands we all look out for, so the widespread Scandinavian appeal, I believe, evolves with interest and awareness to reach a new peak. So much so that the the minimalistic approach to clothing is now representative of how we all want our lifestyle to be as a whole.
What are your key components in creating a stylish home? 
The little things you at first don't see. Everyone can essentially go out and buy the "right" designer chair and coffee table, but it doesn't necessarily make it a stylish home. If thought is put in to your coffee cups, bowls, and the things you style your home with, and perhaps an unexpected accessory that others wouldn't have thought of getting themselves – then these are the items that make the difference to a stylish home.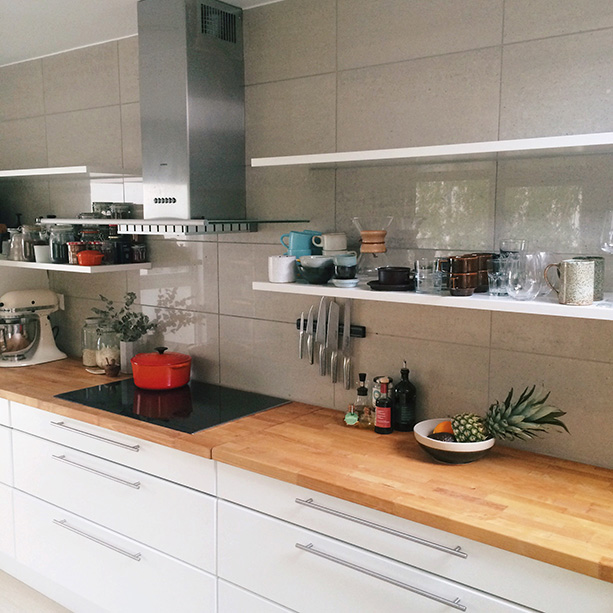 For you; what is the most important room in a house?
Everybody says the kitchen, and I do agree. This is where we can have people over to cook dinners while still have a conversation over drinks. But I must say I enjoy the living room more! Put on your favorite tune, relax with a hendrix/tonic rolled up in a nice blanket and read some magazines. I like the silent part of a home, somewhere I can really disconnect.
What will be your next in-house purchase, what have you got your eye on right now?
There is so many beautiful items I would like at some point, but the things that's highest on that list would be a pair of the PK22 lounge chair by Poul Kjærholm, the EJ 450 Delphi leather sofa by Hannes Wettstein and of course adding more of the Vitsoe system.
What advice would you give people in creating a stylish, contemporary living interior? 
Take your time! Being in a situation where you just can't go and buy whatever you want makes you really think through what you want in the long term. Go for classics and add your personal touch to make it feel like it's your home.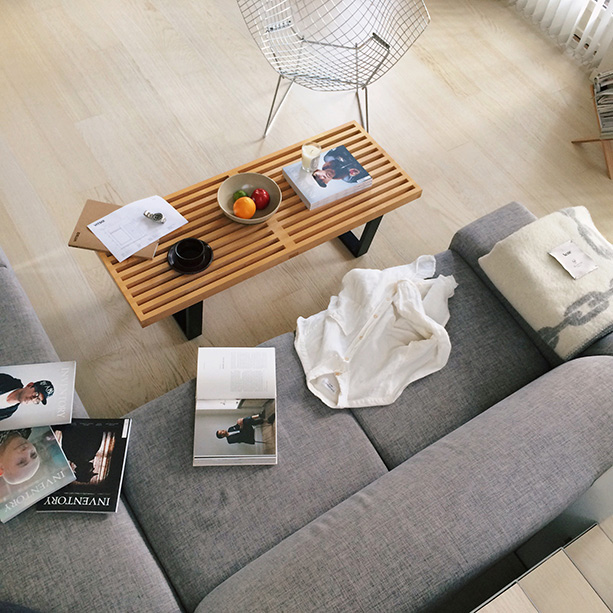 You travel a lot. Are your travel experiences reflected in your home's interior? Or, alternatively, does the fact you are away from home for long periods of time affect your choice of interior design? 
We collect a lot of ceramics from our travels, so lots of memories are brought into our home, not just something we could have got from the local interior design shop. Visiting the Margaret Howell shop is always inspiring and being away from our home is usually when I get the most inspired too. But inspiration also comes when you least expect it. That's when a notebook gets handy! Let's just say I've already drawn up my dream house from my notebook.
Your choice of colours across the house reflect the same palette as your infamous wardrobe; particularly strong white and grey accents- was this intentional? 
I like to be surrounded with things that keeps my mind calm, and like my choice of clothing, these colours make me at ease. So maybe it's all in my subconscious somewhere!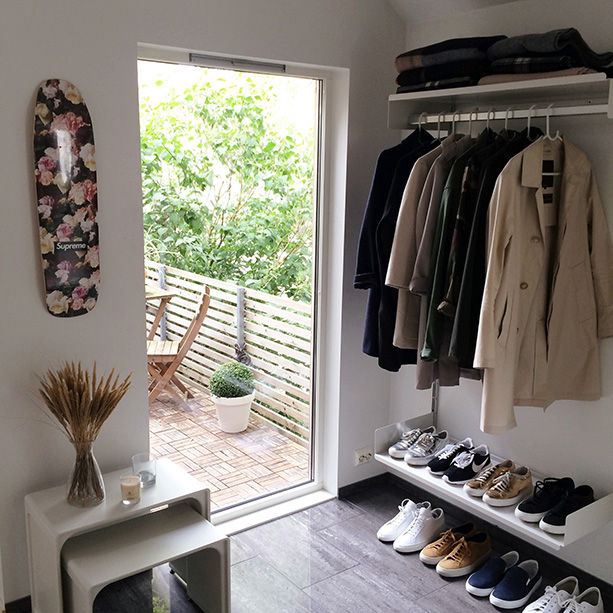 You are huge on Instagram and consequently get a lot of love on there; we all get to see inside your stylish home- but why do you use Instagram- what do you like receiving from it?
I use Instagram as everyone else, I didn't do anything to try to get big in any way and I would have done the same as I do if I only had 200 followers. This is a product of myself and an insight of who I am. So what drives me to use it is all the friends I've made through this social media app and the positive feedback from all my followers - something that I truly appreciate. I also try to get back to everyone who have questions as that's something I'd appreciate myself, so for sure, building connections and friendships with likeminded people, for me, is the best thing about Instagram.
What designers/brands do you think the OPUMO audience should look out for?
Common Projects, which is all I wear, and Diemme are my favourite footwear brands! YMC, Oliver Spencer, Folk and Wood Wood makes some nice basics in high quality. I think the most important thing when buying new products is to get the item from the ones who do it the best. For example Garrett Leight sunglasses are on point, Mismo bags are a personal favourite and when I wear belts it's only by Andersons.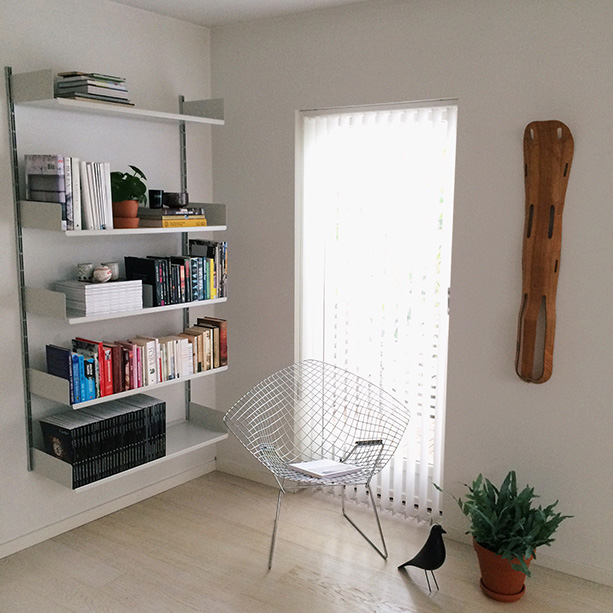 Follow Fredrik Risvik on Instagram; @fredrikrisvik