On balance, we think that leather is our favourite material. The ancient material is still so widely used today because of its durability, practicality and it looks great. High-quality leather bags, leather belts and gloves have so much going for them, but our favourite aspect is that every leather product ages differently. Your premium leather sneakers may not be as pristine as day one, but they tell the stories of their life through the creases and blemishes. In the same way, as the leather softens on your new minimalist leather briefcase, it'll grow more unique by the day. We could sing the praises of leather all day, but we think it's better if we let the masters show you. Here are the 4 brands you should know about when it comes to handmade leather bags and more.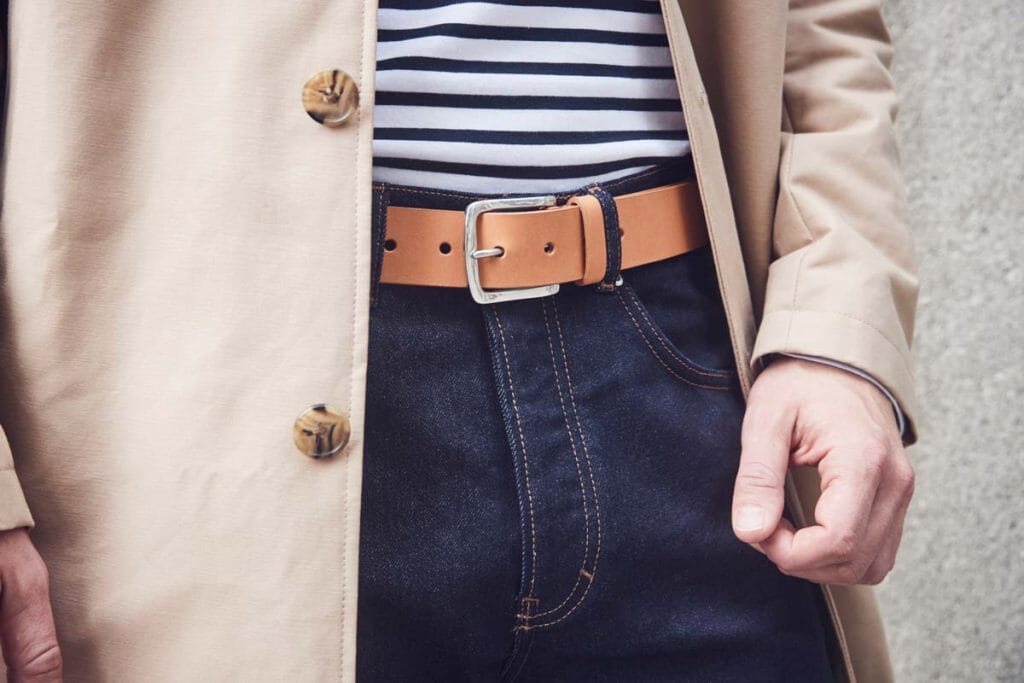 Awling
There are a few items in the contemporary wardrobe that are archetypal leather goods. One such item is the belt. A men's leather belt is an absolute essential, and within premium leather belts, Awling is one of the first labels on our mind. Founder Chris Goldstraw is a professional architectural photographer and has used this meticulous eye for detail to distinguish Awling belts as some of the best men's leather belts on the market.
Awling Original Belt 
Handmade in England from Italian vegetable-tanned, full-grain leather, Awling's signature Original Belt is pretty special in its pared-back tan/polished pewter scheme. All focus is shifted to the premium materials used for this minimal leather belt because of the lack of detailing. Apart from a debossed logo to the inside, this leather accessory is all about the leather.
---
---
Dalgado
Dalgado is another name that looms large in the world of high-quality leather belts. Similar to Awling, Dalgado uses minimal design principles to shift all focus the the premium materials and artisanal craftsmanship of each leather accessory. For Dalgado though, leather runs deeper than belts, as this label offer another essential leather companion: men's leather gloves.
Dalgado Emanuele Deer Leather Gloves
Leather gloves have been a status symbol for centuries but in recent times have fallen out of favour in exchange for gloves made using technical materials. Recent years have seen a resurgence for luxury leather gloves thanks to their sartorial elegance. Dalgado reminds us why we should all own some with the Emanuele Deer Leather Gloves crafted by master glove artisans in a fourth-generation family business in Naples, Italy using full-grain deer leather. 
---
---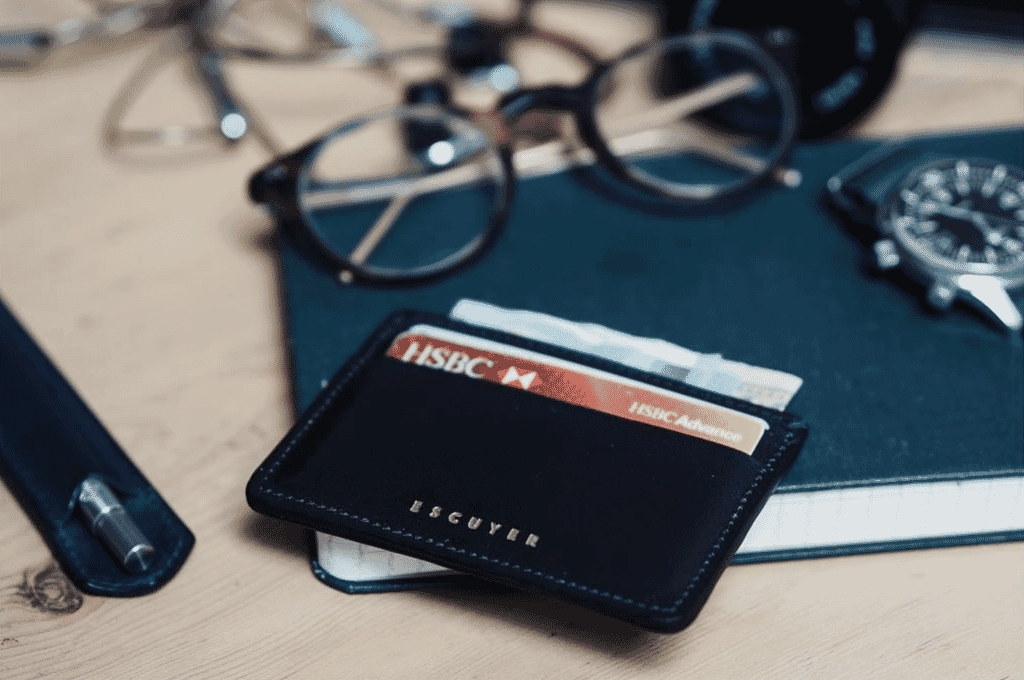 Escuyer 
Getting its name from the old French word 'escuier', meaning 'squire', the man who would carry a knight's armour and shields, Escuyer really is the companion you need in the modern day. From premium men's socks to small leather goods, Escuyer is a label created to be there for you with fundamental essentials when you most need them.
Escuyer Black Cardholder
Crafted from some of the world's best vegetable-tanned leather from a tannery in Tuscany, Italy, Escuyer's Cardholder ages over time to tell your story. The premium leather weathers to display the scars and scrapes that you'd expect of a knight's armour and, in 2020, it's essential items like a men's leather cardholder that constitute our everyday armour.
---
---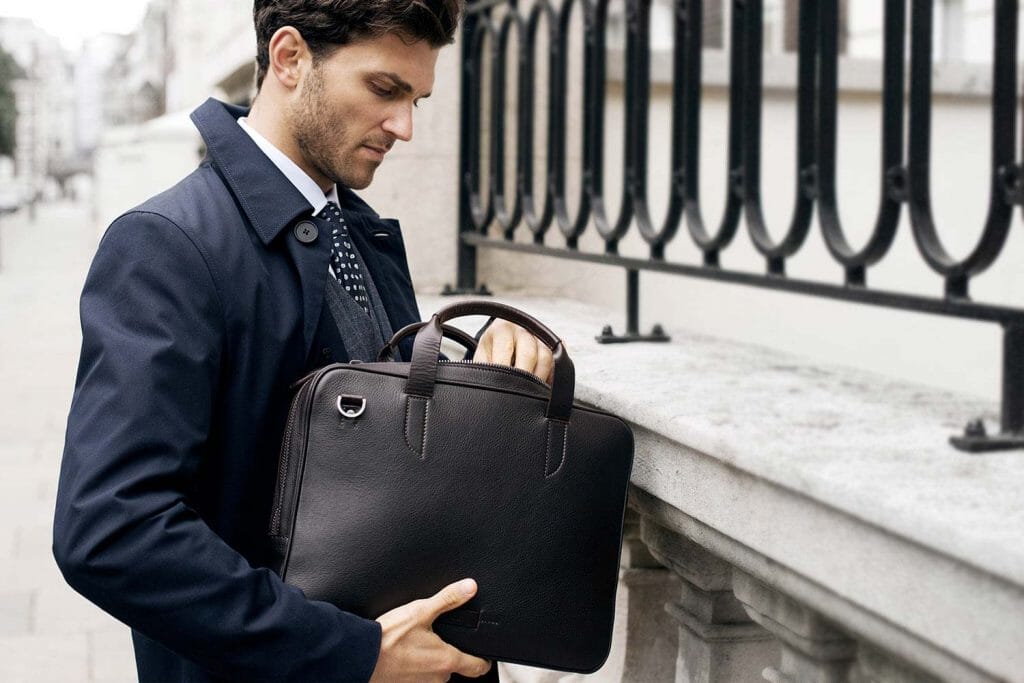 Carl Friedrik
Founded by brothers Niklas and Mattis Opperman, Carl Friedrik is the product of a frustration in not being able to find well-designed, high-quality leather goods. Carl Friedrik exclusively deals with naturally tanned leathers and the finest craftspeople to produce premium leather briefcases, men's travel bags and minimal leather wallets.
Carl Friedrik Bolton Grained Leather Briefcase
We couldn't complete a roundup of our favourite leather pieces without a premium men's briefcase. Carl Friedrik's Bolton Briefcase is made in Naples by a small, family-owned leather goods factory and sits at the intersection of tradition and modernity. This men's leather briefcase takes the best parts of tradition – minimal design and premium materials – as well as modern utilities like a laptop sleeve and multiple smaller pockets. Upgrade your everyday carry with the help of Carl Friedrik.
---
---
Shop all men's accessories at OPUMO.
Time to bring leather into your home? Read our interview with Inabo, the Swedish label making some of the most luxurious leather slippers.
---
---