Words by Lucy Thomas
Launched in 2014, Tom Pigeon has been making ripples in the art world with its abstract and minimal prints and diverse range of handcrafted designs. Located in a tiny fishing village on the east coast of Scotland, the studio demonstrates the art of simplicity with the help of its unique environment and experimenting with characterful composition, too.
To unravel the artistic process behind the studio's work we sat down with Tom Pigeon founder Kirsty Thomas to find out how she navigates the art world and what the future holds for Tom Pigeon.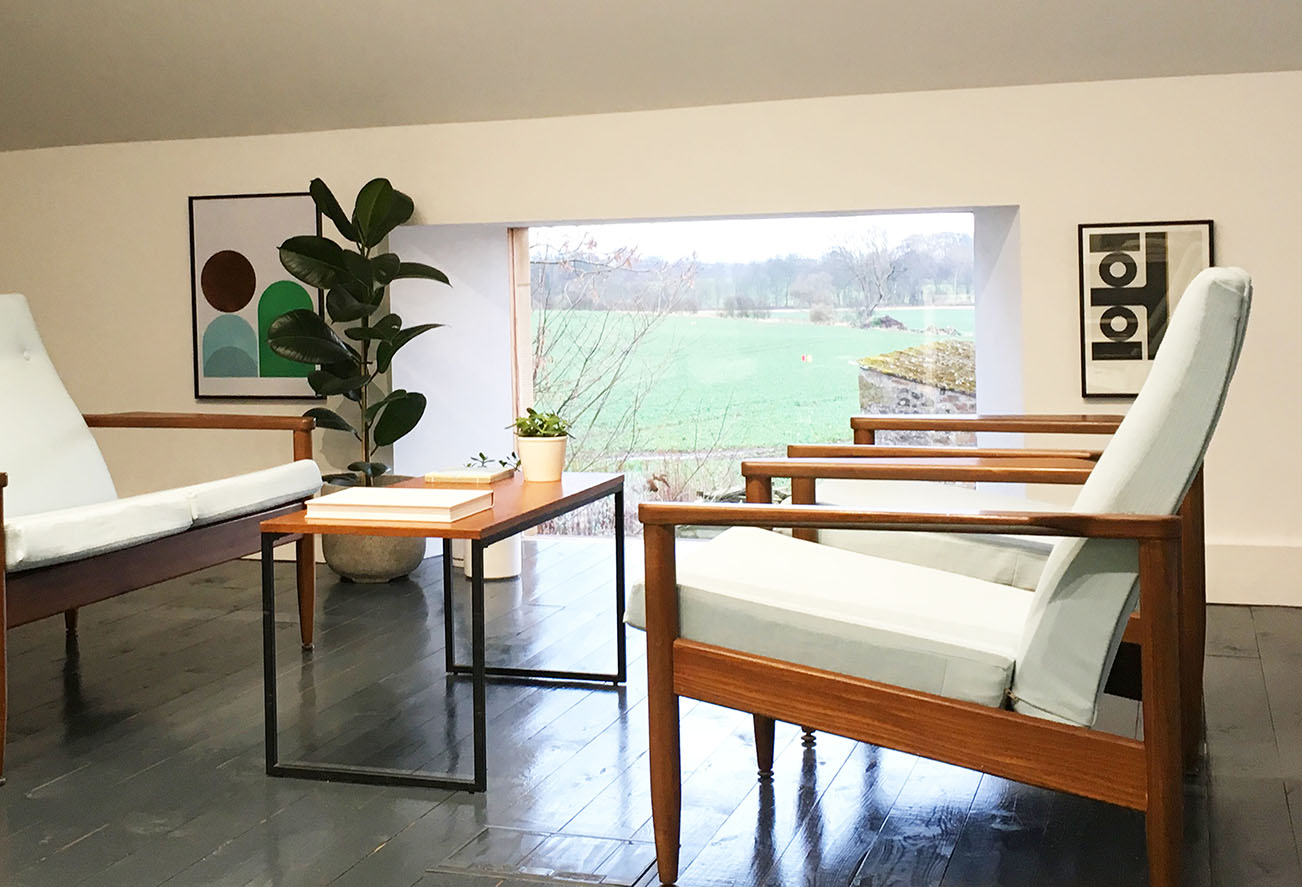 What are you currently reading, listening to and looking at to fuel your work?
I would say that much of my reading and listening is about rest and escapism rather than actually fuelling my work. I generally read very trashy fiction, to be honest, so it rarely fuels my work other than to offer me a break from studio life and a chance to recharge. In the studio we listen to a lot of 6Music but I also love programmes and podcasts like Adam Buxton, The Mavericks, The Food Programme and Gardeners Question Time. While, visually, I love the work of Charles and Ray Eames, and artists like Chillida, Malevich, Calder and Nicolson – the clarity of mid-century art and design is a big influence on what I do.
Is there a motto or personal philosophy you stick to when creating pieces? Has that changed over time at all?
I don't really have a motto but colour and composition are my main focus when creating work – achieving a balance is really important too. Often, I will create work with lots of detail but then realise that I need to peel back loads of layers to bring it back to its most simple composition. I think when it comes to my work, that's when I am happiest.
In terms of how that has changed over time I would say that I've certainly developed more of an appreciation for 'Less is more'. I now feel braver about this simplistic approach and I think its okay for a piece to have just one or two forms in a couple of colours. I mean, minimalism is a bold thing to pull off and it has taken me time to feel confident with it. Fortunately people seem to be happy to support me on this journey too.
How important is environment in your art and how much does Cellardyke and Scotland influence your work?
The environment, and often our local seaside geography, is a big influence on my work. I think it's quite difficult not to be influenced by the colours and forms that you're surrounded by whether that's in a city or the countryside. The colours of sunrises and sunsets here are amazing and the bold forms of harbour walls or the geometry of sails and masts definitely inform my work. However, I am equally inspired by Brutalist architecture and that informs a lot of my work, too.
Do you think that your art is limited or propelled by your location?
I think my art is propelled by my location, not only in terms of the visual language but also because the remote location allows me freedom to escape, to think and to assess my working practice. I believe there's a greater opportunity to achieve a work-life balance here too – we have a vegetable garden next to the studio, I walk or cycle through farmland to get to the work, we swim in the sea or sit on the beach after work.
Tom Pigeon was created to 'make the kind of things you would like to own and live with' - what is lacking in the art world and what do you think you bring to it?
I don't really feel that we were trying to fill a gap but rather to bring our own simple aesthetic to the marketplace and create handcrafted products that are accessible and affordable. We have always been keen to work with other makers and promote the amazing skills of British craftspeople – printmakers, metal workers, textile producers, jewellers. These are the brilliant people that bring our products to life.
What do you want to achieve when you make art?
To make people smile, to bring a little bit of joy and colour to people's homes.
What has been your most touching experience as an artist so far?
Feedback from happy customers is always great and I feel very lucky to be able to make a living out of my work. However, it's really important that, as a studio and as an artist, I can give back to our community or those who need more support. We have worked on a number of projects which feed back into these groups and these are the projects that feel most worthwhile. We create graphic work for our local community cinema, donate stationery to local schools, auction original artwork for Shelter Scotland and have created an internship programme with the art school at University of Dundee.
What current art world trends are you following?
Whilst it is almost impossible to escape, I try not to follow trends in the art and design world. I think the danger with this is that you can easily become too influenced by other people's work and this then sneaks into your own practice. I don't want to work in complete isolation but would rather my influences come from a wider social and historic landscape – mid-century modernism, minimalism, traditional signwriting, naïve art, craft etc.
How do you navigate the art world?
I am definitely a visual learner and think I look at the world in a very aesthetic way. I think there is art and design in almost everything you look at – it doesn't need to be in a book or gallery or on social media to make it worthwhile or important. Essentially, I like things that tell a story, show the artist or makers 'mark' and use materials in an honest way.
We always search out modern and contemporary art galleries in new places we visit but also try to find shops selling the work of local makers or open studios, workshops and vintage stores. I don't really feel like it's a process of "navigation", its more natural than that, it's the stuff I enjoy. Saying that, I will also seek out market gardens, vegetable plots and food markets wherever I go too.
Do you have a certain direction you would like to take Tom Pigeon?
We are currently looking at extending the print collection into textiles. I like the idea of creating work that is more tactile, whether that be through painting, three dimensional forms, or textiles.
Keep up to date with Tom Pigeon by following them on Instagram @tom_pigeon  and shop the latest Tom Pigeon prints at OPUMO.