BE Architecture's Mermaid Beach Residence is situated along a surfing beach in Queensland, Australia. This concrete-heavy property was designed as a family home that reflected interests like yoga, reading, entertaining, the beach and cohabitation. The final result is a modern property that embodies the natural emotional need for permanence: the house exists on a beach – a place of erosion, movement and impermanence – as well as holding up to cyclonic winds, thunderstorms and oppressive sunlight. Mermaid Beach Residence provides privacy and protection as well as conversely opening up to be a relaxed family home.
While the street-facing façade gives little away with its timber fence and overhanging concrete first floor, the tone is set for a house brimming with intriguing details. The façade sees a tension between smooth and textured off-form concrete, the textured concrete has been 'scabbled', a process which involves grinding back the skin of the concrete by hand to reveal the aggregate underneath.
Within the house there are four generous bedrooms, walk-in wardrobes, a home office, yoga studio, swimming pool, open courtyard, garden and terraces. The central courtyard offers a place for residents to enjoy the outdoors even when ocean winds pick up.
The interior palette is kept simple, featuring just concrete, stone and timber to reflect the client's appreciation of minimalist Scandinavian design, simplicity and uncluttered open spaces. Light floods in through extensive glazing and the concrete interiors reflect it, effectively lighting the whole house naturally and accentuating the contrast between harsh angles and sweeping curves within the property. 
Another main requirement of the project was sustainability. Solar panels on the roof provide enough power for Mermaid Beach Residence's electricity, complementing the solar hot water system and the garage prewired for a battery-powered car.
Mermaid Beach Residence is a great-looking project that fulfils its owners' briefs in style as well as going the extra mile by instilling the project with a deeper meaning, and it's in this extra mile that lies the property's timeless quality.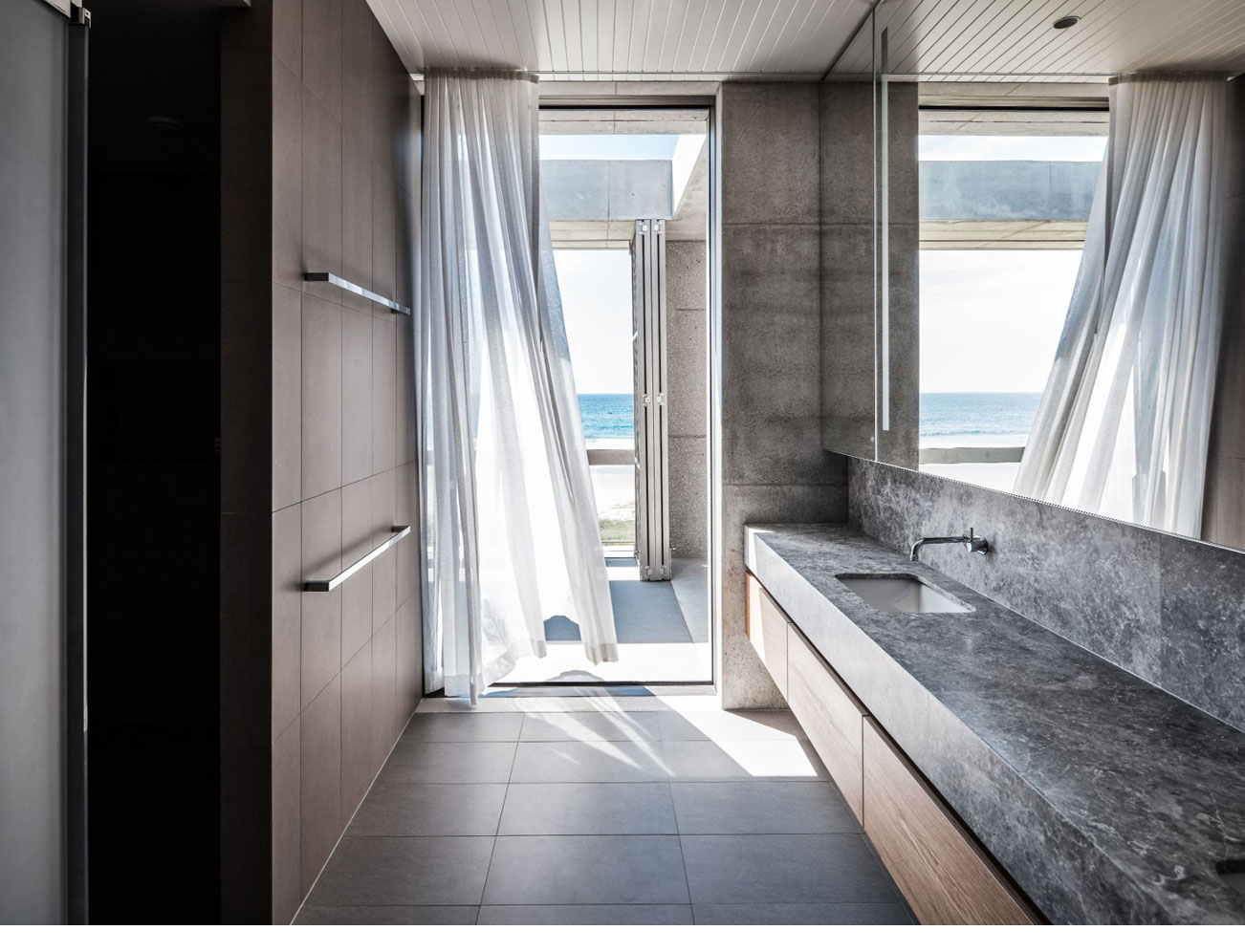 Photography by Andy Macpherson.
Like the effect of concrete interiors? Lighting can be a great place to start, take a look at GANTlights.
For more proof of concrete's architectural and symbolic effectiveness, look no further than Balmain Rock House.